Planning to turn your idea into software or want a partner to take up your existing project? Now you can
Download Software Development Partner Guide
and get a complete understanding of how you can get started. You can download it for free and read it anywhere, any time.
Technology is changing swiftly at a breakneck speed. Startups are disrupting every industry imaginable with smart entrepreneurs constantly emerging with new innovative ideas to make the world a better place.
On the contrary, the biggest challenge for many startup entrepreneurs is the huge investment to execute their ideas. So, how do you gain big profits for your startup idea without spending thousands of dollars and the number of years spent in building your product? The answer is MVP.
So, let's start by imagining your dream idea converting into reality. Now, you are just one step away from bringing your idea to life with MVP development. Isn't it exciting?
An MVP is the minimal featured product that is offered to customers for first validation check after development and within the feedback in return, businesses start building the final product. Moreover, an MVP can supercharge your digital product and help you scale it.

Considering the MVP approach in product development means you follow the 'build-measure-learn methodology of Eric Ries. Practicing an MVP will give you reduce costs, build long-term customer relationships, test critical business functions, reduce time, and strengthen your business.
Why Choose To Work With An MVP Development Partner?
Partnering with the right MVP development company helps the development team works collaboratively with each other and ensure faster product releases and within budget. Here listed down the main benefits of hiring MVP Development Company:
Provides More time: Your development team can now spend its crucial time and focus on core areas to boost your startup's growth. Joining hands with an MVP partner makes it easier and faster to succeed in this fast-running competitive business environment.

Provides More Real Business Insights: It's important to consider how much expertise and industry knowledge the company you're working with possesses. You will hear many stories of companies that successfully developed many MVPs. Hence, it will provide you real business insights that help you move ahead in the industry. These professionals understand better how to make your product successful.

Provides More skilled Expertise: While working with MVP you'll get the opportunity to work with a team of talented and experienced developers owning a diverse set of skills. You have the teams excelling in ideation, design, UX, and product creation working on your startup's MVP development. This team accelerates your product to grow faster through the development process.

Provides More Resources: Here you will save your funds outsourcing to a software development company as compared to hiring in-house teams. This ensures product testing started faster without investing your entire budget early on in the development process.

Few Considerations Before Saying Yes To MVP Development Company
Now, as you have a better understanding of how your MVP partner will add value to your business, listed down few considerations to keep in mind before choosing an MVP Development Company.
A Full-Fledged And Updated Website. The company you choose should showcase its entire products, services, and other offerings through its website. It should be well updated. A well-known development company will be honest about what it sells and take pride in everything it does. The website should be impeccable in its design.

Reviews and Testimonials. Trusting a company you found on a listing of some website isn't always the easiest thing to do. Recommendations from trusted sources can influence your decision. You're might be confused on whether or not the company you choose to work with is reliable or not, if not consider referrals. Moreover, by seeing good reviews and testimonials, you'll gain real insight into how your working relationship could work.

Same Experience working with Other ventures. While refining each MVP development company, check their client work profiles before making a decision on which one is the right fit for your startup. Also, you need to examine the portfolio of previous projects of companies selected. Do follow up with the ones they've worked within the past. Also, contact their founders to get a brief idea of their experience.

Willingness to sign an NDA. A non-disclosure agreement (NDA) is a contract that makes sure the company agrees to all the terms and conditions. Also, it won't disclose information about your startup to anyone. If the company is not willing to sign an NDA, there's will be a chance that they may use or leak your information on another project or even provide that information to your competitors.
5 Quick Step-By-Step Process To Develop An MVP
Here is a quick 5 step process to develop an MVP.
Step 1: In-Depth Market Research
The first step to building a minimum viable product is to perform in-depth market research to get real market insights. Analyze the demands and requirements of your target audience, and also if there is any competition out there in the market for the same product.
Step 2: Define User Flow
Defining the user journey would be the next step in planning your MVP development. There should be a clear answer to the questions like-How users will use your product and in what stages? Look at your product from your users' point of view and map their journey.
Step 3: Prioritize Core Product Features
The third step in planning your MVP development is listing all the features and prioritizing them accordingly. Also, start creating a list of the features that would actually work. By the end, you will have a list of core features that you will need to install in your product.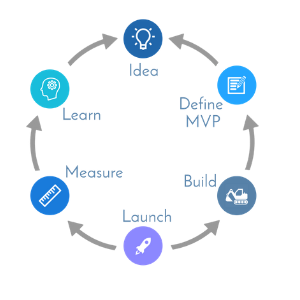 Step 4: MVP Development
By partnering with the right MVP development company is the most convenient, time-saving, and cost-efficient way of building your minimum viable product. They will provide you a much better result with their rich experience and expertise.
Step 5: Track Feedback & Measure
Once your minimal product is built and launched on the market, you start analyzing customer feedback and upgrade your product according to that.

How Spotify Taste Success With MVP?
There are numerous success stories of startups that developed MVPs and became a million-dollar venture.
One of them is Spotify. Most of us must have heard about Spotify -the digital music platform where you can easily listen and download songs.
So, do you ever think how did Spotify manage to develop a product that matched its vision without losing investments? The professional architects at Spotify chose an iterative approach to work by connecting the principles of lean startup, the agile method, and the MVP approach.
Spotify is a music, podcast, and video streaming application to engage music lovers. Presently, it has over 100 million subscribers. Music lovers love Spotify for its different playlists and music sets created specifically for different moods and occasions.
In its initial phase, Spotify started with a basic approach. It developed a low-cost prototype at an initial phase, launched only at a certain level of quality, and performed iterations based on the feedback received from customers.
The professionals at Spotify used an iterative development cycle consisting of 4 stages:
Think It: Define the product, create prototypes, and test its viability.
Build It: Create a physical MVP suitable for user testing.
Ship It: Launch MVP into the market
Tweak It: On the basis of feedback received, launch a constant process of iterations aimed at product improvement. Continue until it's time to release it, or revise the product.
Today, Spotify has more than 345 million monthly active users. It has seen consistent quarter-over-quarter growth of its active user base since 2015.
Top 5 MVP Development Companies You Can Partner With
Before choosing MVP development, your prime concern is to get faster product launches and instant customer feedback for your product. Let us help you in making the right decision. Here we've come up with the Top 5 MVP Development Companies that you can consider for your minimum viable product development.
Bacancy Technology
The popularly known MVP development company, Bacancy Technology offers excellent minimum viable product development solutions to validate your MVP and its viability to turn your MVP idea into reality.
The professionals at Bacancy help you develop your MVP in 6 sprints:
Diagnosing the problem
Specifying the project scope
Agile project development
Iteration
Launching MVP
Support and maintenance
They have an expert MVP software development team that is well proficient in cutting-edge technologies.
Innovify
Innovify having eight years of industry experience offers MVP development services to customers for developing MVP software functionalities and features with faster development.
The company provides a fully flexible wide range of digital services that you can access anytime as per your specific business requirements.
Prototype.net
The team at Prototype.net has years of expertise in developing high-quality scalable web and mobile applications. The professionals at Prototype guide you for your MVP development, selecting the strategy, and identifying the most necessary features for your MVP.
The company develops a unique roadmap for its MVP development services and also helps you streamline your MVP development.
Mobisoft Infotech
Mobisoft Infotech has rich industry experience in assisting startups in risk management, years of expertise, and cost management.
The MVP developers at Mobisoft have the specialized skills to turn your dream idea into minimum viable product reality. Moreover, they will help you get the product-market fit faster by investing money and time smartly.
UIG Studio
UIG studio's MVP developers' team has expertise in all trending technologies and rich experience of working on numerous projects. They provide reliable and scalable MVP development services for your MVP's fast release under the assistance of experienced developers.
UIG Studio is a renowned MVP development company offering multiple services such as UI and UX design, ongoing support, and maintenance, in addition to MVP development.

Concluding Thoughts
Just imagine your startup idea could be the next Facebook or it might be the next Amazon. The best solution is to keep testing your ideas until you see the one that works.
Developing an MVP is essential for most startups today. These efforts come with enormous benefits, after each iteration, your product upgrades. This is where having the right MVP development company working on your startup's MVP plays a pivotal role.
The companies have been listed based on their high-quality services, expertise, experienced developers, flexible hiring/business model, on-time project delivery, and other components.
If you're a startup owner having an idea and a limited budget don't worry about anything, an MVP is one of the most cost-effective and time-efficient methods to get your product straightway to the market.