Within any form of work in the digital sphere, the rise of mobile is hard to ignore. We used to be sure of how people interacted with companies, but with the advent of portable technology and mobile commerce, we now are less sure of who is interacting with what, and when. Having worked on hundreds of Magento eCommerce projects ourselves, we feel it is more important than ever to make sure your Magneto set up has a fully functional mobile strategy, and in this article we will discuss a little bit about why Magento is the perfect platform for you to use.
Magento mobile development - why do you need a mobile strategy?
The world is changing and the rise of smartphones has revolutionised the way people buy and therefore how we promote and market our products. You will need to be sure your Magento mobile strategy is ready, fully optimised and has the customer in mind at all times. Some facts below indicate the exponential growth of mobile shoppers over the years.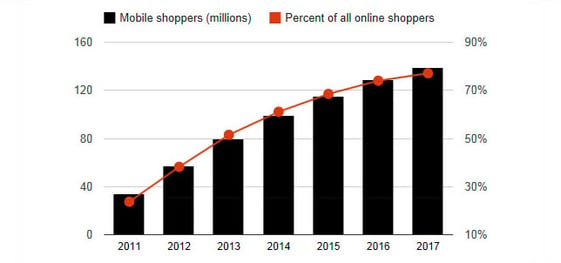 Source: Magento
It's predicted that mobile commerce will account for 15% of all online sales in 2015 if the rate of traffic increase stays the same. Mobile commerce figures for 2014 were 81% higher than they were in 2011
It's clear therefore that if you don't have a mobile strategy - you are missing out on a lot of potential traffic and sales. In today's world, mobile statistics are easily trackable and measurable and mCommerce is rising in popularity. You do not want to risk being left behind by the competition when it comes to accessing your customers wherever they are.
It's important to make sure you you use the right analysis and measurement of trends on your website to get the best out of a mobile strategy - Google Analytics is a good starting point for this, and can be a great help to see what devices customers are accessing your store on. A figure below demonstrate how to use Google Analytics to analyze your customer trends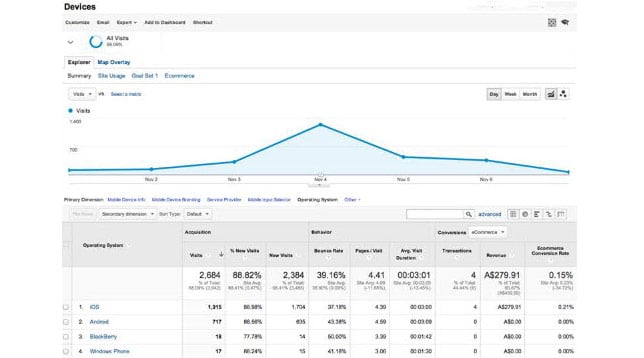 Source: Magento
Choosing your mobile strategy baseline
There are essentially three main ways of reaching your customers online through a Magento platform - each strategy is different and requires different techniques and skills to build for which we highly recommend seeking professional help, but no matter which strategy you choose, you need to make sure it's the right one for your site's build and structure.
Native Mobile Development
Native development is essentially mobile development designed to run specifically on a particular device, and that device only. Good examples can be found on Google Play and the App store, for example.
This approach is popular with users and encourages excellent customer interaction and functionality flow
Can be expensive depending on the level of customization you require.
A native app is highly recommended for a bespoke mCommerce app corresponding to your eCommerce store.
Dedicated mobile website
A dedicated, mobile-ready Magento platform that is completely separates to your main desktop website would be a good example of a dedicated mobile site.
It comes in really handy when you need to render a completely different user experience when compared to your desktop portal. It sometimes become necessary to have a different mobile user experience as user engagement in desktop and mobile often are different.
You should closely analyze your customer trends to make an informed decisions. Based on such customer analytics, it is a good idea to follow your customer trends and change the mobile UX to something they really feel comfortable with.
There are some really proficient mobile website experts out there and we strongly recommend a detailed consultation with the one you chose before a dedicated site is designed, built and structured around your eCommerce needs.
Responsive web design
With a new device-agnostic approach being adopted by many companies, responsive web design for your store is intended to adopt the layout of the screen it's being accessed on.
The downside of this is speed - as the files being loaded will be the same as the desktop version of the site (very negligible lag though), however a good responsive designer can circumvent this issue and provide something that is not only functional but attractive and has the user experience in mind.
If you have a lightweight Magento store, it will be a good idea to adopt responsive design for your business as it allows you to quickly open up to the mobile audience and leverage on the new inflow of your mobile traffic
How to make a profitable web strategy
Part of making a profitable web strategy is having the right plan of action and the right platform for your store. You will need to ensure, with your online shop, that Magento is mobile ready and you will also need to start with your customers interactivity and trends in mind from the beginning - look at mobile users geographically, add mobile awareness to your Analytics dashboard and track conversion rates between different devices. Ask you can improve these figures, and what needs to be done.
There are huge areas of opportunity in mCommerce, especially when using a stable, highly popular platform such as Magento. The table below indicates a quick summary of each different mobile strategy for quick reference

Choosing the right mobile strategy and using Analytics and tracking to build your profitability is key in mCommerce - and as there is no sign that mobile shopping is slowing down among consumers, now is a great time to get your mCommerce strategy in place.
We would highly recommend getting in touch with a capable eCommerce Development Company that can help you leverage all the strategies discussed above.