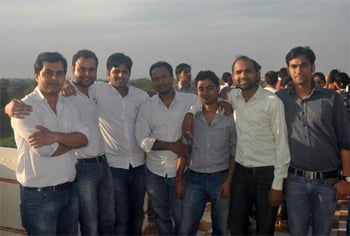 Holi is the festival of colours; a day that symbolizes the victor of good over evil, and a festival that is most enjoyed by the youth! Holi also celebrates the arrival of spring with lots of colours, compassion, fun and food! Yes, you cannot possibly celebrate festivals in India without the mention of food. Ask anyone and they'll tell you how irresistible gujjiyas, the special Holi sweets, are.
Colours, fun and food is exactly what Classic celebrated it's Holi with this year, like every year! Needless to say, we played Holi with all Classicies in classic style. It is a culture at Classic to celebrate every occasion with fellow colleagues and friends like a big family! We all look forward to events and celebrations, and now these extraordinary times of getting-together and celebrating together have become an integral part of the culture at Classic.
We had the Holi Hungama at both our offices, Delhi and Panchkula, on March 26, 2013. This year, the joy doubled as we combined the Holi celebrations with our monthly chit-chat get together. It's a monthly event we do at the end of the month where we welcome new members in the Classic family, celebrate birthdays, acknowledge the star performers from each team and of course, have a lot of fun together.
So this Holi celebration kickstarted with the chit-chat session where we did the regular and had one giant cake to cut in the end. Everyone was eagerly waiting for the cake to be cut so the holi celebrations could take off! In Panchkula, we played Holi in the outdoor office corridors; while in Delhi the celebrations took place on the terrace of a newly-built next-door hotel!
Everything was set.,.sweets, snacks, cold drinks, colors and the DJ was geared up too. Everyone was just waiting to douse each another with colors. The environment was exciting enough and all it took was hardly a few minutes before everyone started playing Holi, putting colors & wishing each other a colorful life and, shouting the mass-favorite - 'HOLI Haiiii!!!'. Though we had kept the dress code white, but it couldn't remain so for long. Well, that was the idea.
We invited our Korean clients, who were visiting our Delhi office on the Holi-celebration-day, to join us and celebrate the festival of colors. A bit hesitant in the start, he let us put only very little color on him, but enjoyed alongside while taking a lot of pictures! The next few hours saw all of us drenched in colors, grooving to the music and having a great time together!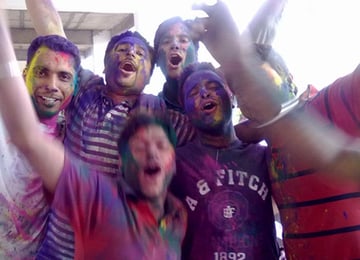 Gradually, hunger set in. Yummy snacks, especially the Chole Bhature, were a hit! Some people were still at dance floor dancing crazily, some were busy eating, while some were making plans to also meet the next day to play Holi again.
It was quiet a sight to see everyone dancing and enjoying together and we are still in a hangover of those moments. Holi Hai!!!! See, we still cannot stop. After about 3-4 hours of nonstop fun and party, it was the time for everyone to leave for homes, so everybody did with their smiling color covered faces. But it wasn't the end. We were all set for the bigger celebration that followed the next day.