For ages, businesses are competing with each other to establish as a big brand by developing incredible digital products, introducing creative offers, out-of-box marketing strategies, creative advertising via effective distribution channels and what not.
Apart from this, the most important what they focus on is delivering the inevitable user experience to the end-customers.
Developing an attractive website or creating a user-friendly app is not just enough, the more substantial gains are in end-customer experience. The processes are to be re-optimized keeping customers in mind.
What Is Digital Experience Platform?
The acronym 'DXP' stands for Digital Experience Platform, which is the most buzzing keyword in the digital world and has already marked its place for the coming future IT industry.
Digital Experience Platform (DXP) has emerged to deliver customers an incredible user-experience in addition with high-tech functionalities and best-in-class features. Today, big brands and businesses strive to provide connectivity and simplicity to consumers. A Digital Experience Platform is a business software that helps to bind customer experience. It permits users to optimize their customer's digital experiences across all potential Touchpoints.
Digital Experience Platform is not just a single product but a suite of products that works collaboratively. DXPs provide the customized architecture for big enterprises to digitize business operations, deliver inevitable customer experiences, and collect actionable and real-time customer insights.
Let's get into more detail about how DXPs are profitable to the IT world.
"A digital experience platform (DXP) is an integrated set of core technologies that support the composition, management, delivery and optimization of contextualized digital experiences."
"A digital experience platform provides the architectural foundation for flexible, agnostic core services to maximize scale, quality, and insights across channels and systems while delivering context-specific tooling for practitioners to build, manage, and optimize digital journeys on "owned" channels (web, mobile, messaging) and orchestrate third-party experiences (e.g., social, retail marketplaces)."
Forrester's Mark Grannan gave a comprehensive answer when he was asked about the differences between a Content Management System and a Digital Experience Platform:
"A Web Content Management System (CMS) is critical for developing, managing and optimizing web, mobile, and other content-based experiences. However, many tools also tackle this mandate. So, while it's an important part of the Current Offering of our evaluation, based on weightings it nets out to only 7.5% of the overall score. Secondly, web CMS has evolved in line with the broader digital experience portfolio evolution. Whereas some critics considered web CMS solutions 'bloated' a few years ago, we think times have changed. API-first architecture and cloud deployments are reshaping the packaging of digital capabilities into more granular tools that can be assembled on demand."
Big brands have to put their customers at prime to gain revenue and growth sooner.
Why Are Digital Experience Platform Becoming More Popular?
Because the customers want immersive content and incredible experiences. The big brands use Digital Experience Platform due to the following reasons. And they are-

You can control every Touchpoint
The number of interaction points is rapidly growing and you need to manage it well to continue in your development processes.
You do not just have to jump on each Touchpoint as fast as customers are expecting, rather you keep it all consistent in content, feel, and logic.
For example: If you write an FAQ document once and it can be used across web, mobile, Chatbots or whatever platform it is. You just update your FAQ document once, and it's updated everywhere.
It means you can easily access and control every Touchpoint you want to.
DXPs connects the business
A well-managed marketing platform is required to attract customers attention, to handle inventory and transaction in an eCommerce platform, supportive environment to work with existing customers and freedom to choose other Touchpoints that best fits your business needs.
An open DXP have all these capabilities that provide the experience altogether with minimal interruption.
A department having a preferred tool at right place, can easily connect it to the DXP with APIs. And also can add and remove tools with an ease.
DXP is built on a flexible architecture
The structure of the DXP has to be flexible so that the above connections can work.
Due to this, developers and marketers can make faster and independent changes of each other as back-end logic is decoupled from front-end presentation.
With DXPs flexible architecture the improvements can be made modular, making and deploying changes in one area without interrupting others.


Acquia announced as a leader in the Gartner 2020 Magic Quadrant for Digital Experience Platforms (Dxp)
Benefits Of Digital Experience Platform (DXP)
Before moving into further detail, let's first have a look at how Digital Experience Platform benefits marketers and entrepreneurs.
Improved employee productivity
Digital Experience Platform highly influences the working operations within a company, leading to enhanced internal productivity.
See how employee's productivity increases:
Can access the vital information whenever required
The communication gap between the departments are eliminated
Better communication and collaboration improves efficiency
Multilingual management is easier with built–in language tools
Customization facilitates improvements in productivity
With customization in the processes, the team can easily change settings and upgrade tools if needed according to the requirements. To achieve a much better outcome every time, flexibility should be there in every work process.
Customer loyalty
Business owners can get complete in-depth of customer data from this system. With this, they have a unique opportunity to sketch a 360-degree clear picture of potential clients globally and can transform their offerings to particular client needs.
In-depth researched customized content is directly proportional to customer satisfaction. Customers like it when they receive it in a fast and efficient manner.
Considering a digital experience platform helps you to contribute in establishing long-term relationships with your customers.
Data-centric decision making
One of the core benefits of the DXP is the in-depth analysis that prepares the Roadmap for making customer profitable decisions and that can drive the development of enterprises.
Gathering information is not just enough for winning the battle, you better use it wisely and turn data into action.
DXP is the platform that provides you with an opportunity to understand your clients in a better way and making the right and profitable decisions for both customers and your business.
Long term cost-effectiveness
DXPs not only provide perfect solutions to its customers but also they are for the long run purpose.
And they are not cheap ones for sure.
The flexible architecture with integration capabilities with improved sales can more than offset the basic expenses.
DXPs provide long-term cost-effectiveness.
Single control center
DXP is the one-stop solution to all queries related to multitasking. Imagine a scenario, when you have to keep a track of user responses across various Touchpoints, after that analyze and collect data, and deliver relevant data, providing customer support in parallel.
All these tasks should be done with various software solutions. Isn't it an expensive task to perform?
Undoubtedly yes.
DXP act as a single control center and helps you in switching between different solutions to perform multiple tasks. It optimizes the processes with all possible implications that results in a customer-centric approach of doing business.

Popular Digital Experience Platform Vendors
IBM
IBM has been a constant leader of Gartner's reports, created comprehensive and innovative Digital Experience software that includes both IT and marketing-friendly.
The core capabilities it includes are omnichannel experience, intuitive content management, personalized content delivery, integration with internal systems, and intelligent data analysis.
Adobe
Adobe DXP provides an open and flexible architecture and that too with smart tools and services, to develop custom web applications that best fits your business requirements.
Adobe Sensei is the smart layer of this platform that is based on Artificial Intelligence (AI) to enable data-centric decisions and customized customer experiences.
Salesforce
As we all know, Salesforce is considered Global leader in Customer Relationship Management (CRM), it targets every size companies, and tends to improve their communication with customers.
The Salesforce brand is best known for its simplicity, rich functionality and scalable architecture.
Liferay
Liferay DXP grants users the ability to create incredible experiences within your existing business processes. It offers application security, integration with multiple tools and frameworks, collaboration with social media channels, business process automation, multi-channel support, segmentation and personalization.
Liferay DXP is best suited for the intranets, partner and customer portals, ERPs, mobile app development, web platforms and so on.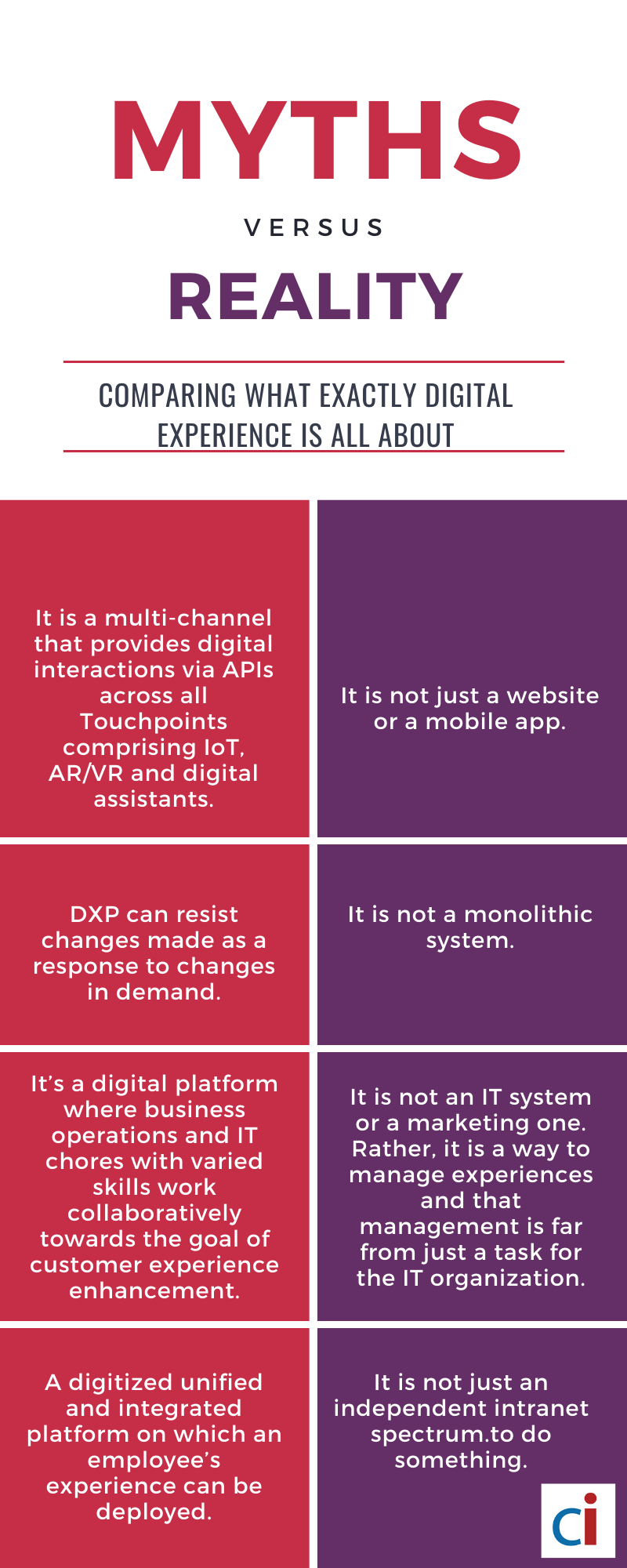 Today's DXP is the platform you need tomorrow to achieve the tangible results.
Evolution of Digital Experience Platform
Let's dive into a brief description showing how Digital Experience Platform evolves.
Content Management Systems (CMS)
Content management systems facilitate small and medium-sized business enterprises to manage crucial content at centralized place primarily on PCs and mobile screens.
The CMS enables multiple users in an organization to create, organize and track the content, images and videos while providing version control and management. It makes easier for the big names to maintain consistency of voice and content across their online domains.
Web Experience Management (WEM)
As Customer support channels are rising, WEMs introduced cross-channel functionality for content and data. WEMs are facilitating brands disparate business units to share information digitally.
WEMs provide big brands a clear vision into user's behavior. It can define consumer personas and make content more consistent across all in-person and digital channels.
Digital Experience Platform (DXP)
DXP was one of the first digital platforms to fully integrate multi-channel marketing experiences.
This platform allows businesses to deliver content to Touchpoints everywhere.
DXP is a step ahead than a CMS or WEM by helping big companies to produce digital experiences across websites, apps, IoT devices and many more.
DXP are built to deliver the right content to the right person at right time and that too at right device.
key takeaway
Delivering optimal digital experiences has become a key business differentiator.
DXP software manages, delivers, and optimize user experiences consistently across all Touchpoints.
Being an integrated set of core technologies, DXPs support the composition, manageent, delivery and optimization of contextualized digital experiences.
Digital Experience Platform- The Next Step In Your Digital Transformation
As you can see, today's world is digital. There's always ahead, no turning back. Nowadays, Digital innovations, software advancements, hardware up-gradation, digital transformation, cloud and what not, every spectrum is crossing its capabilities and going beyond to delivering extreme incredible customer experience.
Irrespective of what businesses are doing in the digital transformation now, at the end, their ultimate goal is to deliver seamless user experience.
DXP is not just about creating a digital experience; it's about creating and delivering the best digital experience to the end-customers.
All you just need to collaborate your digital channels with business operations and then apply business tactics to your customer interaction.
Forrester ,analyst, Liz Herbes notes: "Real digital transformation spans both the experience layer and the operations core."
So, it's high time to deliver the best digital experiences to your customers. Let's get more digitized this 20s.