COVID-19 outbreak is currently creating a disastrous situation in the entire world. The numbers are increasing around the globe with each passing day. The pandemic led many countries like India, America, and Spain to announce a lockdown so that they can control the situation a bit.
But what about the health of the patients at home? From where they can get the medical ailments and the required treatments during the crisis.
TeleHealth is becoming a larger part of digital transformation in health care. It is emerging as a critical component the health during the crisis. It transforms the current paradigm of health care and provide improved health outcomes in the most efficient manner.
The demand for TeleHealth services risen due to pandemic and lockdown. Today, in this fast running digital world, TeleHealth service is pivotal as the pandemic is on a large scale.
Delivering the BEST CARE when you need it most.
The Global leaders across the nation are all set to introduce TeleHealth services right into your homes.
Few days back, United States President Donald Trump introduced TeleHealth- through which patients can visit any doctor by phone or video conferencing with no additional cost. The doctors can now be more flexible to treat patients with apps like Face Time and Skype.
More than three billion people have been asked to stay home in almost 70 countries and territories amid Coronovirus pandemic.
Countries like India, UK, France, and some US states have imposed a mandatory lockdown for the coming weeks.
According to a CMS report, the share of GDP, healthcare costs, which represented 17.9% of GDP in 2017, and will constitute 19.4% by 2027.
US President Donald Trump announced, "the states also have the authority to cover TeleHealth services for patients".
New York Governor Andrew Cuomo tweeted "state has ordered co-pay fees to be eliminated for TeleHealth consultations. It keeps you safer, and it keeps those around you safer."
A Look At Virtual Health Village
Florida health system has created a TeleHealth platform that permits patients to communicate with the doctors about their illness, access virtual visits, see patient's medical records and also schedule appointments online.
The health portal is named by the officials as a "virtual health village".
79% of patients said that scheduling a Telemedicine follow-up visit was more convenient than arranging an in-person follow-up.
The portal giving their patients more chances to collaborate on virtual care and avail services from outside the hospital or doctor's clinic.
"ON-demand" Channel Growth
The rise in demand for primary health care services has led to the emergence and popularity of on-demand healthcare delivery channels.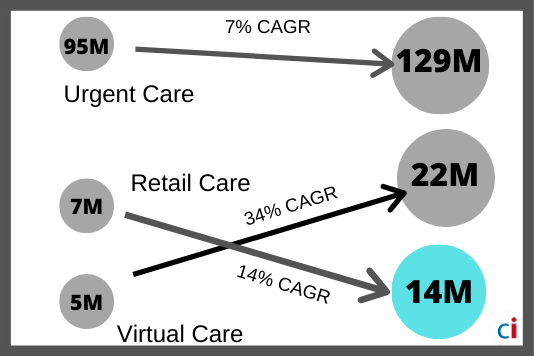 Why TeleHealth Is Important?
TeleHealth is emerging as a critical component of the health during the crisis. It changes the current paradigm of care and permits for improved access and improved health outcomes in most efficient way.
Cost-efficient

No scheduling of appointments, reduce hospital visits
Easy consultation with doctors everywhere and from anywhere
Improved access to patients in distant locations

Assists People with Limited Access to Specialized Care

Improves patient-doctor relationship
Statistics Showcasing Virtual Health Care
The survey results showing 9 of 10 physicians see the benefits of virtual care, with regards to the patient experience. 66% showcase improving patient access to care, on the other hand, 52% dedicates to improving patient satisfaction. And the last 45% is for staying connected with patients and their caregivers.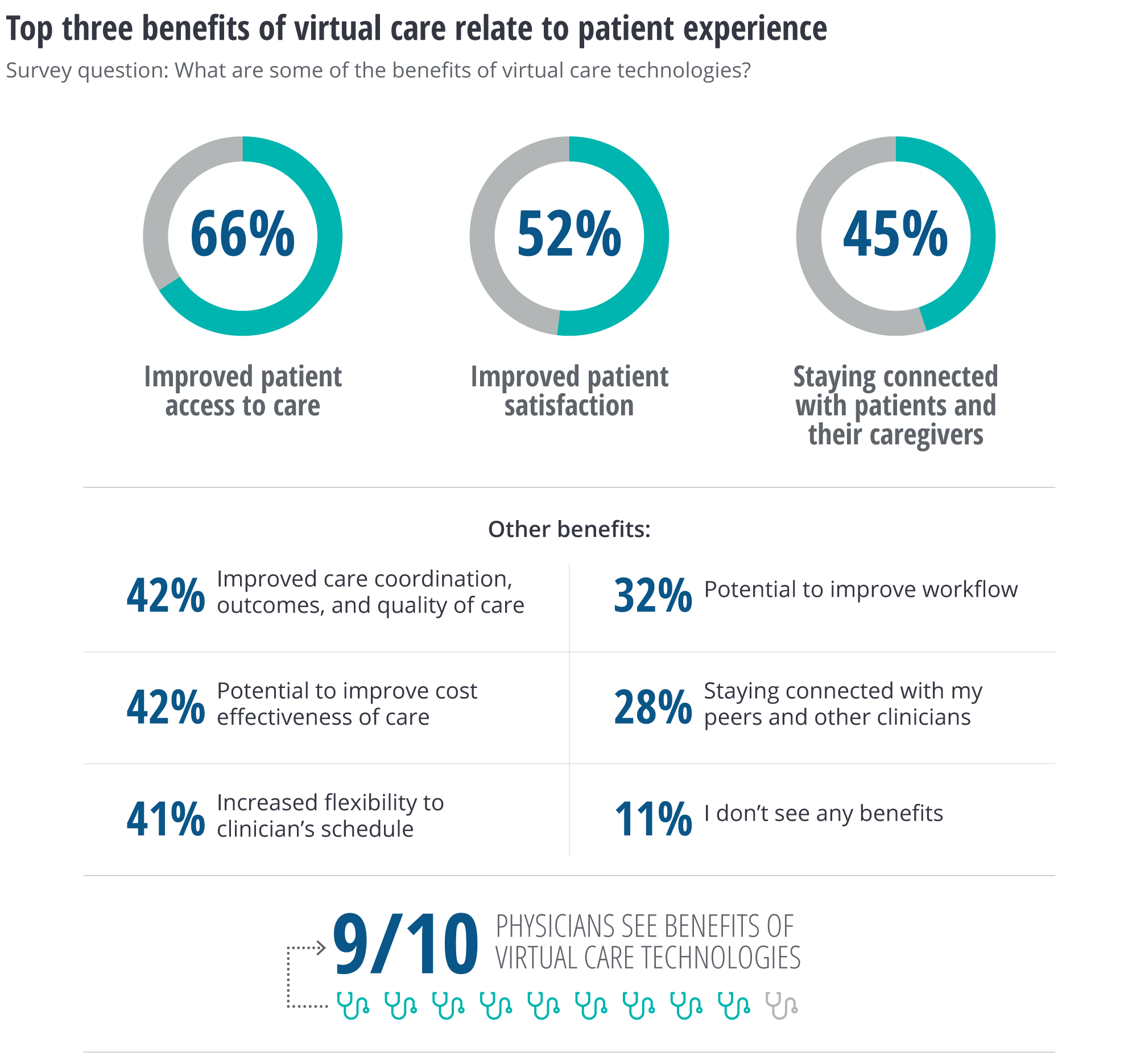 Source: Deloitte
According to a survey, when it comes to usage, patient portal consultations are used most often. Physicians used portals 64% on a regular basis, on the other hand, portal use is higher among primary care physicians nearly 74%. Physician to physician consultations is near about 43% and the last 32% is using virtual/video visits.

Steource: Deloitte
Nearly 74% of patients in the United States would use Telehealth services. About 74% of patients are comfortable while communicating with their doctors using technology instead of meeting them personally. 76% of patients concern more about access to healthcare rather than making human interactions with their healthcare providers.
Putting it all Together
All in all, virtual care is an excellent way to treat the patients at home in the best possible way amid Coronovirus pandemic by making the best use of the latest technology. Virtual care capabilities facilitate physicians to meet ever-increasing demands on their time and skill, caring for more patients, can deal with clinical complexity and supporting patients in playing a greater role in their care.
Virtual care is all about Connected, Cooperative, and Coordinated With Patients' Health.
Digital Health is playing a key role in delivering the best digital healthcare facilities to the patients at home during a pandemic.
At Classic Informatics, we provide digital healthcare solutions to all the business enterprises and health care providers who are planning to develop TeleHealth portals for the patients seeking medical consultation and treatments.
Stay Home. Seek Remote Care.