On this 14th August 2013, we celebrated Ceremony of 67th Independence Day of India at Classic Informatics (P) Ltd. It has been a tradition in Classic for years now, to celebrate this day with the same enthusiasm and energy as we do for other festivals like Holi, Diwali and more. August 15 being a national holiday, we celebrated it a day before, on August 14.
The office was amazingly decorated and people were immensely excited for the event. People still had memories of the great fun and celebration we had on this day last year and that was setting expectations even higher. It was great to see everyone come to office in Indian traditional attire; there were only three colors all around Saffron, White and Green. We planned an amazing evening for that day with many contests, competitions and fun activities. But the event started with National Anthem at 04.30PM. There's no better way could be to begin the Independence Day celebration than to remember the freedom fighters, their sacrifices and the sovereignty of the country.
After the National Anthem, we started with the collage making competition; the theme of it was of course related to journey of India to its Independence. Every team was given a topic to prepare and present a collage on. All the teams did a great job in collecting the information on the given topics and presented it superbly in their respective collages. Believe me, it was the toughest job for us to choose one winner out of all. In Delhi, the Android Team and in Panchkula PHP team won the competition by making great collages and presenting it with ease.
| | |
| --- | --- |
| | |
Post the collage making competition; it was time for the Face Painting Competition. This generated more excited than the collage one by the way. This time we decided to use our face to express our thoughts on India. All teams were given tri-coloured water colours. They were to pick one person from their team and use the water colours to paint their chosen colleague's face. Unlike what we expected, people were so open to get their face painted. It was awesome, people did a great job and the paintings were so expressive. On the small face people were able to express large feelings and give great messages. We had Gaurav Arora, Siddharth Pratap Singh, Amit Goyal, Aditya Nath Deva, Praveen Kumar Shukla, Ashish Sangal and Ajender Singh Bisht from Delhi and Pradeep Arora, Hitendra Singh, Baljinder Singh and Richi Agarwal from Panchkula as volunteers for face painting. Everyone was so happy and excited to see what is being painted on their faces. After good 30 minutes of painting we had some wow faces painted very nicely. It was again difficult to choose a winner but it didn't take much time for us to find the best team and face again. This time BD team from Delhi and .NET Team from Panchkula were the winners.
| | |
| --- | --- |
| | |
Everyone was completely charged and in full swing. The independence fever was on top of everyone and people were shouting "Vande Matram", "Inqulab Zindabad". It was great feeling to see patriotism everywhere. In between all the fun and excitement going on, we called all participants for the best dress male and female to come forward. Oh it was awesome, we had everyone looking great but we had to choose the best one. So finally based on the voting and recommendations of jury we were able to choose the best dressed male and female at both the locations. From Delhi, the best dressed Male was Ankur Srivastava and best dressed Female was Moumita Basu and from Panchkula, best dressed Male was Shashank Raheja and best dressed female was Seema Sharma.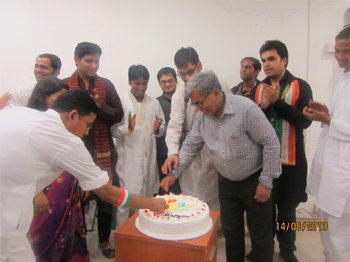 After the Independence Day celebrations, it was the time for us to begin with our monthly chit-chat. We welcomed the new family members, announced promotion and acknowledged the best performers from each team. We then celebrated the birthdays of our colleagues who were born in the month of July and August (before 14th August).
It was already 06.30 by now and the delicious snacks were ready. People were hungry after all the activities and efforts. We had all Indian snacks like Idli, Dosa, Alloo Tikki, Chat, Cake and more on this occasion and everyone enjoyed the refreshments.
The celebrations were really fun and no one wanted them to come to an end. But it was the time for everyone to go home and continue the celebration with their families and friends. We had great time and we would like to thank each one of our colleagues to make this yet another memorable event and evening at Classic and celebrating the independence day of India with such a great charisma.
We are now looking forward to Diwali, the count down for fun has already began. Stay tuned to celebrate Diwali with us.
Jai Hind!