You know what they say about travel - first it leaves you speechless and spellbound. Then it turns you into a storyteller. And it's always a beautiful tale to tell.
The planning for CIPL's yearly vacation / office trip was on since quite a few weeks. After all, planning that perfect trip does take effort, right? The location, Jim Corbett, was frozen for various reasons - firstly, it was reachable from both locations - Delhi and Panchkula. Secondly, besides enjoying in the resort and partying together, Jim Corbett was a destination that offers something more exciting - the Jungle Safari, which remains as one of the highlights of this trip.
Before I go on about the great time we had, let me rant about the one thing that miserably went wrong in this trip - the traffic! Both teams, Delhi and Panchkula, took almost double the hours to reach the resort than what was estimated. Unforeseen traffic situation and ugly road conditions led to miserable delays and caused us to spent too many extra hours in the bus, just waiting for the traffic to clear out. The only solace, we were all together. You can't imagine how much music, dancing, gossiping and games can happen when folks from Classic get together!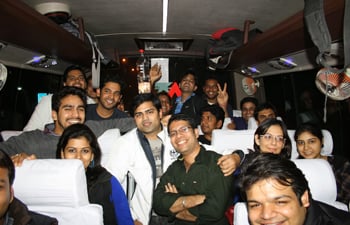 One look at the resort and all tired faces were rejoiced. Finding this resort, Corbett Tusker Trail, was a job very well-done. It was a full package - great rooms, clean property, surrounded by greenery, a lovely swimming pool, games room with table tennis, cheese, carom board and pool, outdoor sports like triathlon types, cricket, football, badminton and the works,, and best of all - finger-licking good food! The service, hospitality and the arrangements were all way above our expectations. And that feeling is always good, isn't it?
Minutes after the Delhi team reached the resort and hogged on the lovely brunch spread laid especially for our team, many got out on the grounds to play football and cricket. Others were chilling by the pool, dipping their feet, and taking a dip. A few others, headed for the games room. Like there are in all groups and teams, there were a few camera enthusiasts amidst us who captured the moments.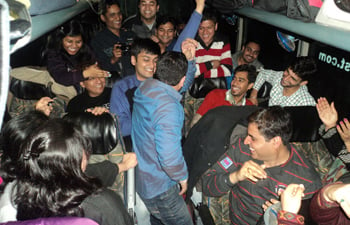 It was only by noon, after a delay of about six hours, that the Chandigarh team arrived. Of course they were tired, but the excitement of the trip overcame the exhaustion and it was a blast from thereon. After their welcome, all Classicities shared a great lunch together - getting to know each other, catching up, and just having a fun time together.
After a late lunch, everyone went back to some activity in the resort while a few others took time off and power napped. Shortly after, everyone headed for a guided nature walk in the jungle organised by the resort. That sound of leaves crushing under your feet, taking small steps beneath the spread of dense tree cover, and the moon and stars peaking from in between; the feeling of being connected with nature; it left us all with a warm, fuzzy feeling inside.
As the sun set, we were guided back to the resort and headed straight to our rooms to get freshened up for the evening party. And the party that followed, I can safely say, was the best bit of this trip.
A hall was booked for us in the resort for the party with some lip-smacking snacks and DJ and drinks. After cutting the cake, a monthly tradition in the office where birthday boys and girls of the past month cut a cake together, the CEO, Mr. Rajiv Mehta came on stage to give us a small inspiring speech about working passionately every day for our goals. And it sounds simple in words, but it truly is something of effort and dedication to implement in our lives. Thank you for your words and for a new outlook.
Following that, the DJ started to play the music, and he was pretty good! To ensure everyone participates, Pradeep (Sr. Manager - HR at Classic Informatics) called all the teams one by one (with no members excused) to come on the stage and shake a leg. Oh, that bit was so much fun! Almost everyone jumped on the stage as soon as the last team finished, and there was a tad bit too much dancing and fun that evening - something that words cannot do justice to.
If it wasn't for the time deadline for the DJ, we would have continued dancing till wee hours of the morning - for sure.
Once the music shut down, everyone headed for the dinner, which again was yummy. Sending immense love to Corbett Tusker Trail for laying out good meals for us; it's a must for a good vacation.
The music had stopped, but the party of course hadn't. After dinner, while some headed to crash, others continued to sit around the garden or the pool area, catching up with friends, talking, singing songs, and so much more. Some of the best memories - mostly moments that you will make you roll on the floor laughing - happened in the middle of the night at this trip! Tales of these moments are going to be shared for days ahead, pretty darn sure.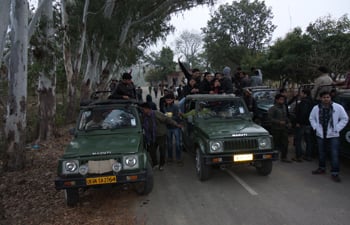 The morning after was an early one for all - when we woke up at 5:30 AM and headed for the Jungle Safari in jeeps at 6 AM, after a quick light breakfast (tea, coffee, biscuits and toasts). The Jungle Safari was amazing fun - one of the most adventurous activity that most of us have done in our lives. The excitement of being in the jungle, watching the breathtaking landscapes, amidst the lush and dense cover of trees - the Safari was unique and fantabulous.
The guides (at least a majority of them!) were very enthusiastic, and shared with us history about the Jim Corbett National Park, about identifying calls of the jungle, and helped us spot deers, peacocks, unique variety of birds.
Sadly, none of us spotted the Tiger, one of the main attractions of the Jungle, which of course is never a guarantee! We did hear the call of the elephant and some of us spotted elephants from afar. Regardless, put together the whole experience was spectacular. Glad that despite all the tourism, the park has managed to retain it's primeval ambience. The beauty of it all is truly breathtaking.
Back to our resort, a delicious breakfast was awaiting and shortly after, it was time to pack our bags. Everyone got together for the essential group pictures. The mutual feeling amidst all was bittersweet - it was so much fun getting together and no one wanted to go back; at least not yet!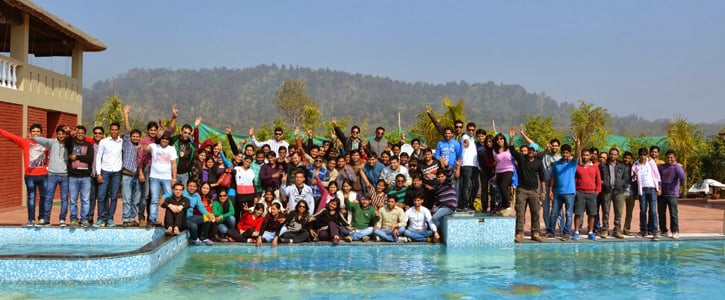 When you come back home and feel like it ended too soon, that's when you know you have had a fabulous time. But you also know that it's never going to feel enough. This year's CIPL's office vacation to Jim Corbett, spearheaded and organised by the HR Department at CIPL, was nothing short of perfection, really.
With new friendships that were forged and new memories that were made, this trip was truly a memorable experience; one that will stay with us for long.
A heartfelt thank you and a super tight beary hug to the HR Team and the Management, from all of us.