Planning to outsource your next product development? Download our Outsourcing Costs Guide and get the complete analysis of the costs included in the endeavor. It will help you know
outsourcing costs, calculate the cost-benefits of outsourcing, and some tips and strategies to succeed in reducing costs with outsourcing.
In a world where a new competition is born every second, the core focus of companies should be on leveraging all the tools and techniques at their disposal; and outsourcing is outshining in this list.
It not only allows you to manage business functions of any scale but also helps you cut down the business costs by 20%-30%.
Don't believe us?
Check out our complete guide on Outsourcing Costs that gives a detailed analysis of how much outsourcing costs and how it helps you save over $140,000 in a simple MVP development task.

Many organizations, big as well as small, have experienced savings in their costs by outsourcing software development or IT services to offshore locations. In fact, today, cost savings is one of the first motivators that drive companies towards outsourcing. And we are not just saying because we believe so; we have numbers to prove the same!
1. Almost 27% of organizations outsource to reduce costs, states recent IBM research report.

2. In an Australian survey of 7500 public organizations, outsourcing saved around 46% of costs over in-house.

3. Analysis of 210 studies in the past two decades reveals a whopping 85 of them to be talking about outsourcing as an effective way of reducing cost.

4. A 2003 McKinsey Global Institute study states outsourcing IT services reduces cost by 60% in the US.
5. A drop of $121.14 million in non-IT operating costs was witnessed as IT outsourcing spent increased to $96.14 million.

6. As per a Deloitte study, 64% of the companies consider cost-savings as the primary factor driving them towards outsourcing.
Is Outsourcing For You?
Cutting down costs is the aim of any business, especially the budding ones. Outsourcing has turned out to be an efficient way to reduce operations costs. Companies can find remote developers or teams working in offshore locations and get their projects completed. But how do you know that outsourcing is for you? We'll help you decide. For that, we need you to answer the following questions honestly.
Is your budget becoming too tight?
Is cutting costs the only thing on your mind right now?
Is finding the required techs in your city going off budget?
Are your resources not being utilized to their fullest efficiency?
Are your training costs exceeding while turning up in employee turnover?
Are you losing sales because of inefficient processes?
Did you nod your head in agreement, to one or more of these questions? We're certain outsourcing software development to India, China, or other Eastern countries might be the solution you are looking for.
But wait! Let's not jump to conclusions so quickly. Before you get in talks with an outsourcing company for your software development work, make sure that it answers the following questions for you.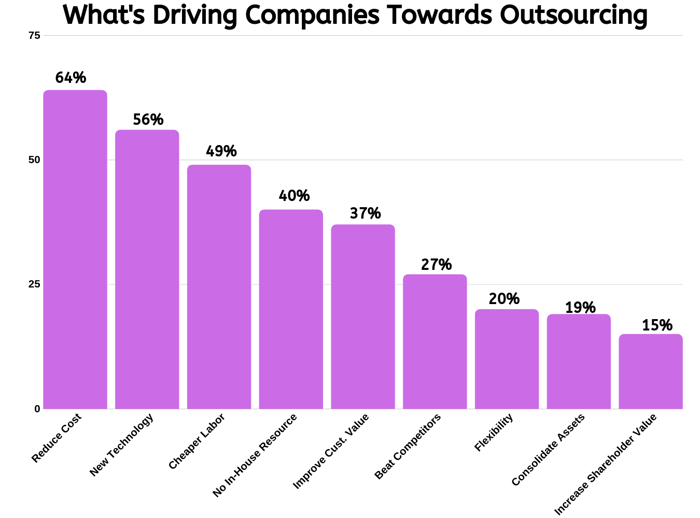 Questions To Ask Before Making An Outsourcing Decision
Now that you know reducing cost is what your company requires in order to thrive and stay competitive, are you sure outsourcing is the apt solution for you? Are you inclining towards it solely to reduce costs? Will it solve all your company's problems?

While a majority of the companies outsource software development to cut-down their operational costs or fit within the tightening budget, outsourcing your development work solely, for this reason, might turn out to be a problem for your firm. In order to come to a conclusive decision, here are some questions that one must ponder.
How do you calculate outsourcing costs?
Are there any hidden or indirect costs in outsourcing?
How can outsourcing reduce costs for you?
Are there any best practices for cutting costs with outsourcing?
Have these questions in your mind too? Keep reading below to find answers to all these questions.
How Do
You Calculate Your Outsourcing Costs & Savings
No discussion on 'how to save money with outsourcing' would be complete without a discussion on outsourcing cost and cost savings calculations. One of the best approaches to calculating outsourcing cost savings is through differential cost analysis. This approach helps in accurate evaluation of the outsourcing cost and how much a company would save from the same. Here's a four-step approach to determining the outsourcing cost: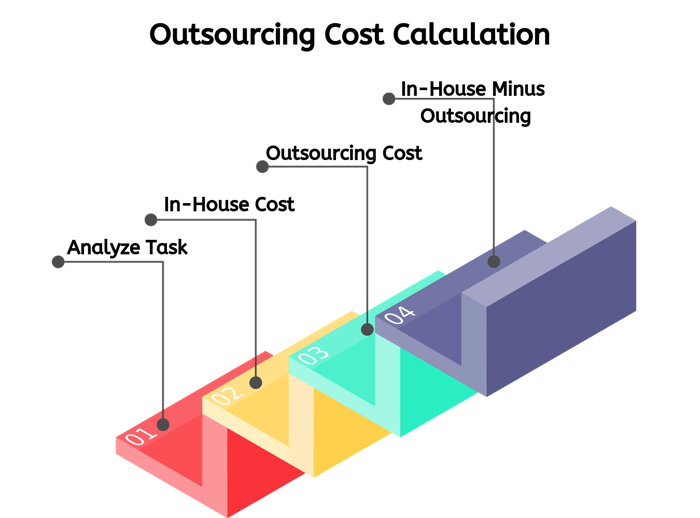 #Step 1
Analyze the core operation to be outsourced and specify its quantity and quality along with your business preferences. This would help you differentiate between the core operations that you can do in-house and services you might need to outsource.
#Step 2
Now that you know what functions you need to outsource and what quantity and quality you are looking for, it's time to how much you can save by not getting those operations done in-house. This would include the hiring cost, salaries, software, equipment, supplies, benefits, etc. Avoid including sunk costs in this cost analysis.
#Step 3
The next step you need to take is to calculate the overall cost of outsourcing the development work. It would include everything from the bid price, contract administration cost, hourly rate multiple hours of work, transition cost to the cost of the administration of the tasks and much more. From the total amount you have calculated, minus the amount that you might receive from selling the existing supplies and software.
#Step 4
Now comes the part where you get the final cost savings from outsourcing. This could be deduced by getting the difference of the total in-house costs and the total outsourcing cost.

Staying unbeknownst of the actual costs of the services might lead to false savings. Do not assume the potential savings! Do the maths! Know the numbers and make calculations to know how much your company can save by outsourcing software development to countries like India, China, etc. In order to know the actual, it is imperative you also know the hidden costs in outsourcing.
What Are The Hidden Costs In Outsourcing?
While outsourcing is proven to cut down the costs for any organization, it would only prove effective if you take into account all the hidden and indirect costs as well while calculating the overall outsourcing costs. Some of the hidden costs that you might come face-to-face with while outsourcing are:
Creation of the contract

Managing the project and monitoring during iteration

Searching for the right vendor

Retraining existing staff for outsourcing methodologies like Agile

New virtual environments for collaboration & communication

Imposed intermediaries for project assurance
How Can Outsourcing Reduce Costs For You?
One of the first things that any company that is new to outsourcing asks is how outsourcing can actually reduce costs for them. Outsourcing software development to India means a lot for your business and the most important advantage it brings is- it reduces your costs by a large margin. Don't believe us? Here are various ways in which outsourcing cuts your company's cost: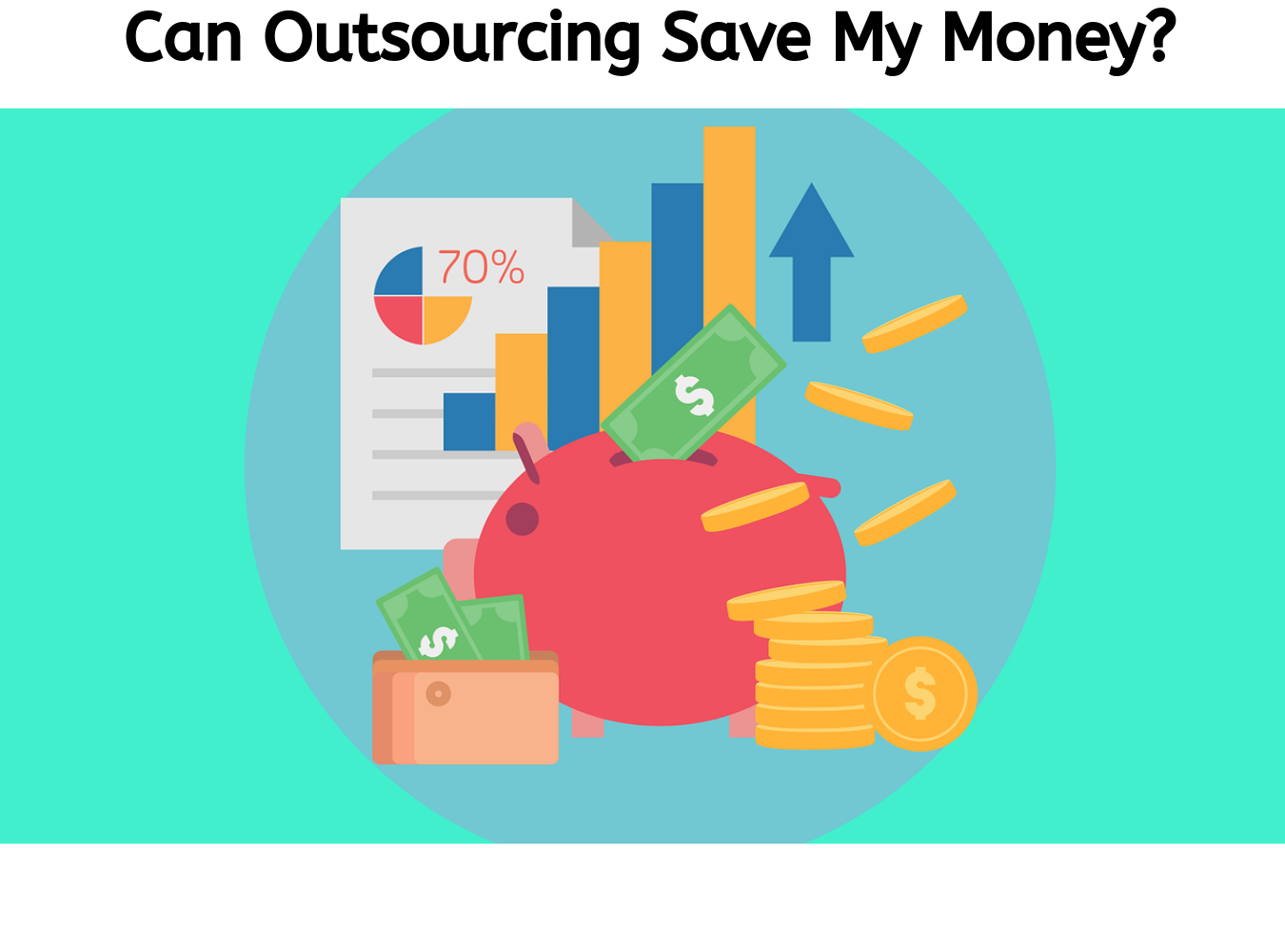 Cutting Down the Hiring Cost
When going for in-house development, one of the first costs that a company is faced with is the cost of hiring. You need to get an Applicant Tracking System, have a human resource team, scan through resumes, or even get recruitment services to find the right developer. Outsourcing eliminates this cost on long screening & many interview rounds.
Leveraging Low Wages In Offshore Countries
While hiring is a strenuous task, finding the candidate with the required skills and expertise can be a tougher nut to crack. Not only is it easy to find the required tech skills in offshore companies, but you can even hire dedicated teams or remote developers at hourly rates. You might even get a developer at as low as $15 per hour.
Improved In-House Operations aka Increased Sales
Once you start outsourcing your business operations, its impact could be clearly visible in the company's returns, sales, and revenue. While the complex tasks are offered to outsourced service providers, the in-house team can work on core operations and work on improving customer experience.
No Cost Of Training Employees
The digital ecosystem is constantly evolving and each day a new technology or update in existing technology emerges. Training the in-house teams to keep the updated can come with a huge tag. This can be avoided by working with remote tech teams.
Get Latest Technology Stack At Lower Price
Finding the latest technology stack in each country comes with a different price tag. In the US, you might have to pay $250-$850 per hour for a developer. But, when outsourcing software development to India, China, or similar offshore companies, the same skills might come at $25-%50 per hour. This is, in fact, one of the biggest advantages of outsourcing to India.
Pay Per Product/Project Without Commitments
When you hire an in-house developer, there is a certain commitment attached to it. Many times, you are obliged to keep paying for a resource despite knowing it is not being fully utilized. But with outsourcing, there are no such commitments. You only need to pay for the services outsourced and once the project is completed, you can let them go.
Best Practices To Cut Costs With Outsourcing
While we all have read and heard a number of best practices for outsourcing, here we are going to talk about the best practices that can help you cut costs. Let's get reading to start saving money on outsourcing.
Outsource A Managed Project
One of the best practices to save a lot of costs when outsourcing is to get managed projects. You will get a project manager, developers, and complete technology stack in such an approach. All you need to do is define and brief about the project scope and they will deliver the completed project at the set deadline. Instead of searching for developers or teams as per their man-hours or paying per hour for developers, a managed service model can save you time as well as money.
Link Service Lines Together
By asking your outsourcing company about other areas of their expertise and connecting different service lines together, you can save a lot of costs incurred from outsourcing different tasks to different companies.
Check-Out New Delivery Methods
Having a fresh product is the business plan for most companies. But, by utilizing the plethora of new multi-tenancy models working on pay-per-use approach like cloud computing, Software as a Service or SaaS application, infrastructure on demand, virtualization, application modernization, and many more, you can save cost various IT services. Check these models and ensure if they could work for you. If yes, go for them as they could save your money big time.
Integrate Out-Tasking With Outsourcing
Out-tasking is hiring offshore developers as an extended part of your in-house team and getting them to work on a particular task. Your company could be doing the major functions but some aspects of the function would be outsourced. Instead of outsourcing the complete project, you can outsource various tasks to perform to specific services for which you lack expertise.
Make Use Of The Hybrid Model
Getting the benefit of both onsite and offshore delivery model is promised by the hybrid model. You get a business manager on-site for direct interactions but the development work would take place in an offshore location. Adopting the hybrid approach can save you a lot of money with outsourcing.
On An Ending Note…
Outsourcing Can Do More Than Just Reduce Costs
Outsourcing is the way to go if reducing costs is on your mind. But, you need to be clear that it is more than just that. Having a cost-saving-focused approach for outsourcing is good but you cannot disregard the other pros of outsourcing. It can save time, offer you the latest tech-stack, let your managers focus on the core functions, and much more.
Outsourcing is certainly the future and if you need to stay competitive, following this approach can take you to new heights. And now that we know it can reduce costs, in many cases by up to 60%, you shouldn't have any doubts about adopting this approach.
Classic Informatics is one of the trusted outsourcing companies in India that is offering a myriad of services like web development, app development, enterprise solutions, and digital marketing services. If you goal is also to reduce costs, we can help you achieve that!
---
Published On 28th October 2019; Updated on 20th April 2020