Classic Informatics has turned 18!
As Classic Informatics has completed another year, it's time we sit back and take a walk down the memory lane. We started from being a small team and have now grown exponentially. These 18 glorious years in the IT market have been remarkable. Although this journey has seen many ups and downs, we've been together through all of them and succeeded in overcoming all challenges. Today, we are proud to be a strong family that can face all obstacles and turn them into stepping stones to success.
And this journey wouldn't have been possible without our family members- the CLASSICITES!
On this occasion, let's quickly hear it from our people, how their journey has been with Classic Informatics.
Sharing The Nostalgia - Our Oldest Members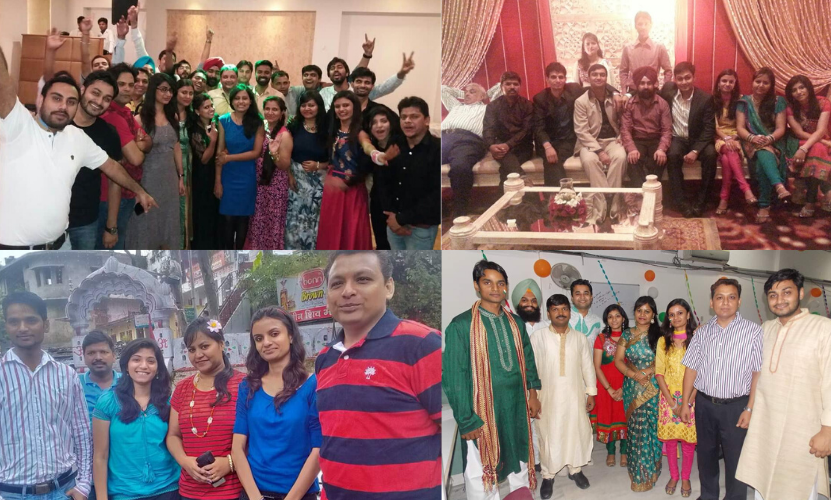 Classic Informatics is a close-knit family and its members are its core strength. We've all grown together- both personally and professionally with the company.
It's journey over the past 18 years is reflected in the journey that each of its family member has experienced. So, on this occasion, we have members from different teams in Chandigarh and Delhi office share their stories.
Let's walk down the memory lane and re-live the moments through the stories of some of our oldest team mates.
Premkant Prem (Technical Architect) - 13+ Years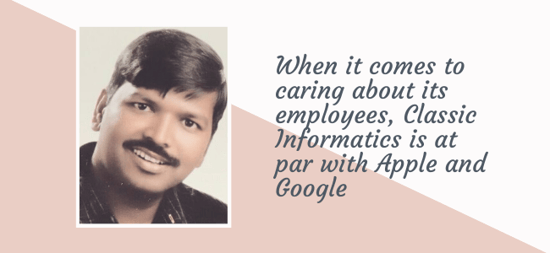 There is something about Classic Informatics that keeps me glued to this organization. When I look back at my 13 years' journey, there aren't one or two but several factors that have strengthened my loyalty to the company.
The perks of working with Classic Informatics are endless. I can go on and on about how the company has made the journey a smooth ride for me.
It encourages great collaboration with employees and promotes transparency in work. The policies are extremely employee-friendly and there are many health benefits the company offers. I personally love the company culture where it promotes a friendly environment and everyone shares a close-knit bond. You receive full appreciation for your work- both in verbally and monetary- which keeps you motivated to perform better. And the best part, the management is always ready to help you in all your problems, be it professional or personal.
Rajesh Chandra (Delivery Manager) - 13+ Years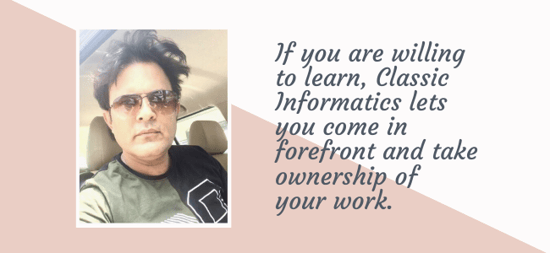 My journey with Classic Informatics has been amazing, with the graph always moving upwards. The management is always open to giving opportunities to those who are willing to learn. They don't believe in micromanagement and let the people take ownership of their work . You'll never see the managers being on your head, controlling all your actions.
I was given the creative freedom to work and deliver the best and that's something I like to follow in my working approach as well.
I remember one instance, it was just two-three months after I had joined Classic Informatics. Rajiv had scheduled a workshop for all the managers. And surprisingly, I was among the invitees. He wanted me to attend the workshop because he saw some potential. They have an eye for talent and if they see you taking responsibility and ownership, they'll give you the wings to fly.
Once, we even stayed till five in the morning to meet a project deadline. On another occasion, Rajiv was in Panchkula and we had to stay back till one or two in the night for a project. He would stay with us and help us do the R & D.
Imagine the CEO of the company sitting with 4-5 team members in the office till one in the night! This kind of response from the management always kept us motivated.
I started out working on technology. After some years, I was asked to lead a team, then manage projects, and now I take care of almost every project that is delivered from our company's end. That's the kind of growth you can expect in Classic Informatics if you are able to build trust among stakeholders through your work!
Another thing I've learnt here and would like all the managers to learn is to not go astray from the roots. For instance, despite having my hands full, I still like to keep myself updated with the latest technology. I might not be coding but I still know about all the trends and updates in the industry.
I believe one should not be blank about any technology when you are in this field. The manager should always be aware of the technology so that the team doesn't feel like their manager is not aware.
Neha Kapur (Project Manager) - 9+ Years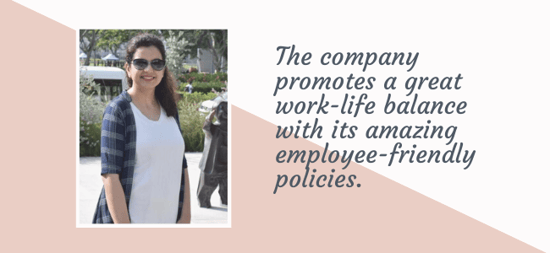 From being a Business Analyst to a Project Manager, my journey with Classic Informatics has been beautiful. My career as grown with the company's growth and this has been exponential. I've got to work on different types of projects and our project portfolio testifies to this.
I always got the space to let my creative and innovative juices flow. I was also given the freedom to take ownership of the project and make the decision around it. This unwavering trust that Rajiv has bestowed upon me is a true encouragement.
The company encourages a great work-life balance as well. And I can say that because I've grown from being a carefree girl to handling many responsibilities as a wife and now as a mother. Despite having my hands full personally, I've never felt the need to look around for another opportunity because of Classic Informatics' employee-friendly policies.
Amandeep Singh (System Architect) - 10+ Years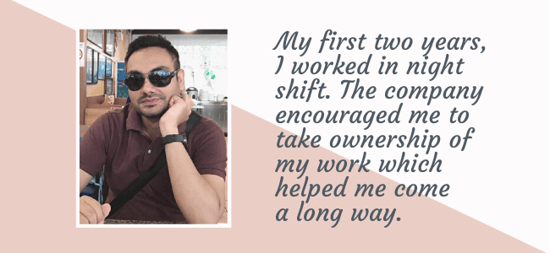 I started with Classic Informatics around 10 years back and had joined in night shift. I was the only one working in night shift back then along with another developer on the same project. But these two years of working on that project in night helped me learn a lot.
Classic Informatics gave me the opportunity to take ownership of my work and be responsible for the project's IT administration.
An incident I vividly remember is when I was called at the Delhi office for some IT emergency. Premkant accompanied me and we were able to diagnose the problem and find a solution. And the very next day, we were back in Chandigarh, continuing with our everyday work commitments. These instances have helped me become better professionally.
Classic Informatics has definitely helped me learn, grow, perform, and prove my worth.
Arvind Yadav (Sr. Executive - Lead Generation) - 9+ Years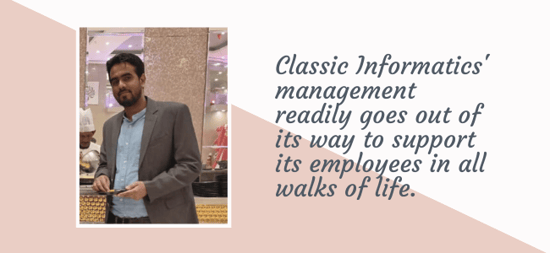 Classic Informatics has now become like a family to me. I was totally new in Delhi and very nervous when I came for the interview here. "All is Well" was the only thing that Kuldeep sir said and his words were enough to calm my anxious nerves.
The company gave me the opportunity to show my worth and I'll be forever thankful for that. I've learned so much from Classic. I wasn't a technical person when I joined the company. The skills I've acquired are from the opportunities that I've been offered here.
Just two or three months after I had joined, I had to go back home for my sister's wedding. I was left astounded when they sent a gift for my sister on her marriage and I knew this was the beginning of a strong and long-lasting bond.
Dharminder Jasuja (Sr. System Analyst) - 9+ Years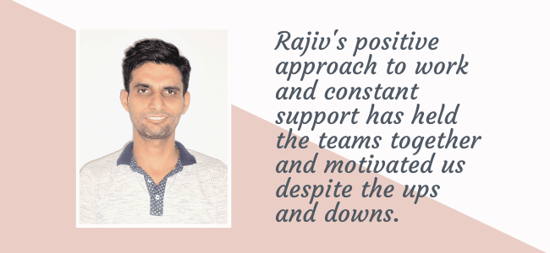 I started when the company wasn't at its successful best. But today, I can say that the honesty with which the company works is remarkable. I've never seen them cutting costs on some false pretext despite going through any crunch.
In the past nine-ten years of my association with Classic Informatics, I've seen the company mature in all verticals- financially, technically, infrastructure-wise.
Talking about the culture, it was always very welcoming. Classic Informatics considers each of its members as a family. HR policies have always been very employee-friendly. And now, we've seen Classic Informatics mature to a whole new level with the quick adoption of digital tools during the global unrest. I'm really proud to be associated with this company.
But the tale of Classic Informatics' journey does not end here.
There are many other team members who were filled with nostalgia when asked to look back on their journey with the organization.
Here's a snippet from their tales.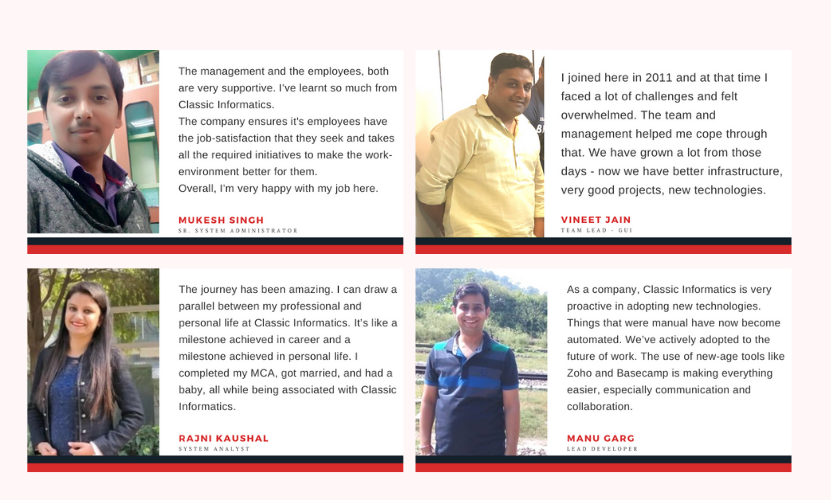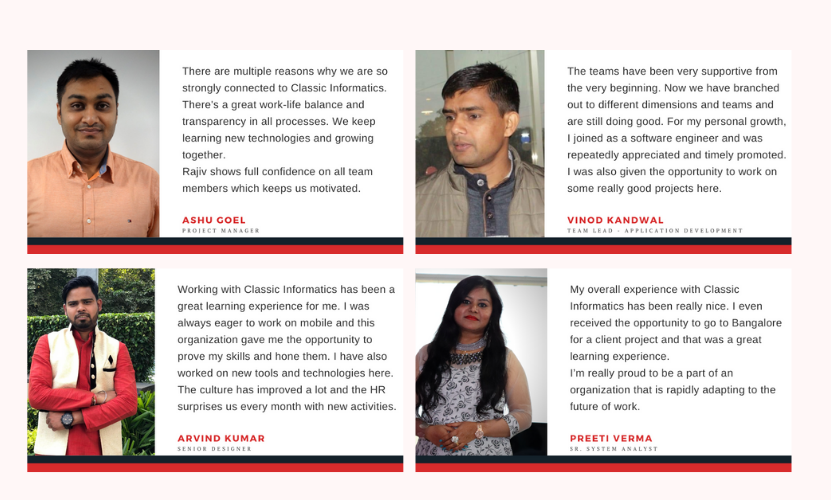 Classic Informatics is blessed with some really talented and creative souls. One of those is our Sr. System Analyst Preeti Verma. On completion of 18 years, Preeti has penned down a beautiful poem. Here it goes:
Happy 18 Years, Classic Informatics
When I was in office, I'd want to leave early,
Now I sit in quarantine, missing office dearly,
Happy Faces, where morning start with coffee or chai,
Or sometimes just discussing about client's reply
Year's pass by quick, time flies,
It was only yesterday in office; we were together celebrating our lows and our highs
We discussed mails to write, reports to send
We found colleagues who became family and promise to stick till the end
18 years of dreams, 18 years of timeless moment of love,
Now that we are away, seems like blessings from above
When this is over, maybe we will still complain about life or be in a different phase.
But nothing will beat Classic for being the most amazing place.
---
A Tale Of The New Teammates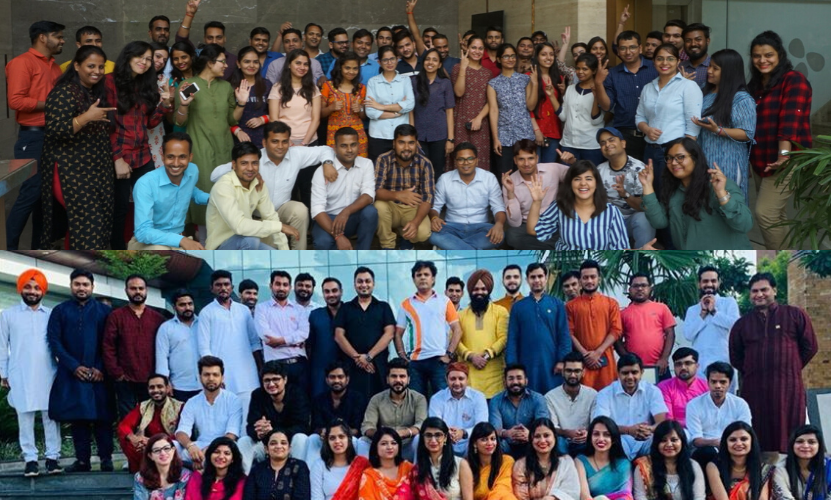 The Classic Informatics family has grown over the past eighteen years. We've been growing and our family has welcomed new members with open arms from the very beginning.
We've grown so far by adding new specialists and experts in our team and that's how we are able to succeed. The constant support from our old members and the fresh perspective from the new members has enabled us to keep growing.
Let's hear from the new teammates how their journey has been with Classic Informatics.
Sarabjot Singh (Angular Developer) - 1 Year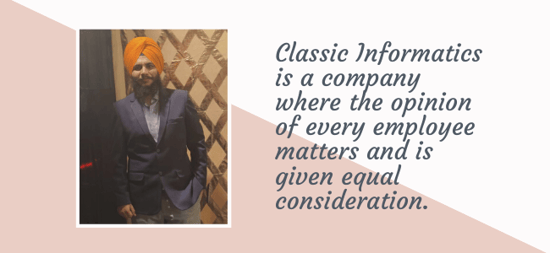 It's been only a year since I joined but I can say that I've had a remarkable growth here. I had worked on different projects before but here, I was given the opportunity to interact with clients as well. And this helped me hone my skills.
This is one organizations which lets you explore new technologies and work on different aspects of the project. It doesn't believe in binding or limiting a person to a particular task. Instead, it encourages individual growth by letting you expand your horizon and giving you room to grow.
The cultural activities conducted from time-to-time by Classic Informatics have also been great in keeping our spirits high. The events, get-togethers, chit-chats, and other interactive sessions help in breaking the monotony and helping us bond. We are a close-knit family which promotes a healthy working environment.
Arti Singh (Sr. Executive - Lead Generation) - 3+ Years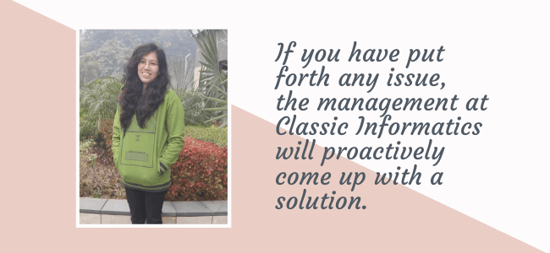 Classic Informatics is an organization that I believe leaves no stone unturned to keep its employees happy. What I love the most about the company is the flexibility it offers to let the employees have a perfect work-life balance.
The environment is very positive and supportive. If you have any issue, you can directly pass it on to the management or HR and they will come with a solution at the earliest.
Ashish Rawat (Business Analyst) - 2 Years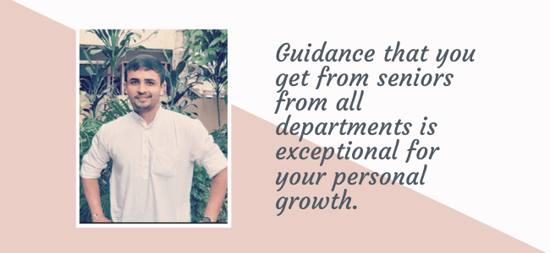 Overall, my journey with Classic Informatics has been a very smooth one with the growth graph always in the upward direction. I came here with a basic-level understanding of web and mobile. But two years down the line, I can say that I've been able to learn a lot. My skills have improved and the managers and developers are to thank for that. I'll be forever indebted to them.
If you are willing to learn, the company will offer you an abundance of guidance to succeed.
The opportunities are endless here. You'll get expert guidance from not just your managers, but from all departments that can help you get a boost in your career.
Rahul Balodi (.NET Developer) - 2+ Years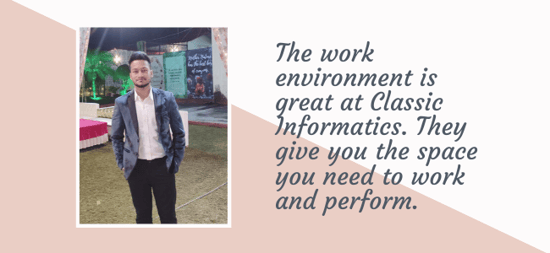 As a professional, I have had a great experience working with Classic Informatics. I've been given the chance to work with multiple client and all from different horizons. This has enabled me to learn a lot of new things.
I especially like the working environment here as they do not promote too much micromanagement like other organizations. They give you your space to work and the freedom to let your creativity flow, which is amazing.
Until The Next Year...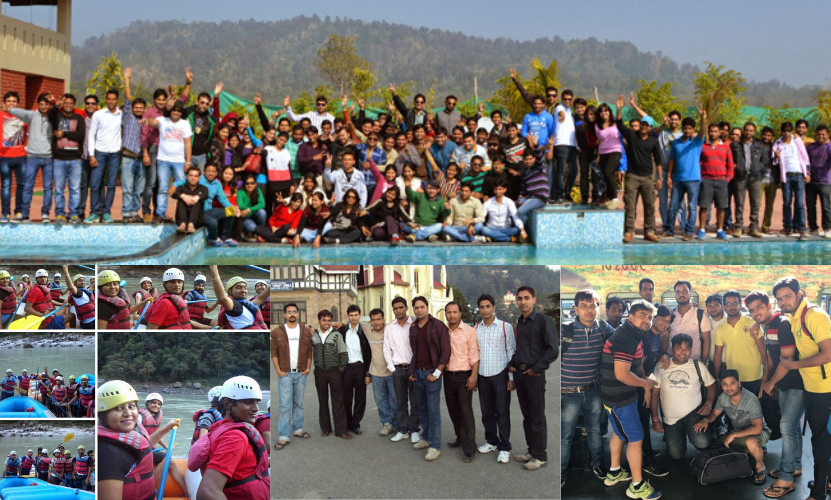 Classic Informatics has proudly completed 18 years. The journey has had it's ups and downs but ultimately, we've made it through it all. We are looking forward to many more years to come and the love and support of our dear team mates.
We intend to make the next year even more exciting, eventful, and successful. Our plan is to grow in the realm of technologies that we have and the project portfolio we are showcasing right now.
Here's to many more years to come!