Last updated on 14th July 2020.
The digital landscape is rapidly changing with the changing consumer demands. Today, every second is crucial for the businesses to deliver inevitable user experience, fast customer response, follow mobile-first approach and enhance productivity.
Users are now more demanding with personalized experiences, greater connectivity between devices, and more interactive elements in their web experiences.
Presently, market is crowded with a large number of Content Management Systems (CMS), but Drupal has made a special place for itself. Drupal is an open source and easy to use CMS that can be used to develop powerful applications and websites.
Popular brands using Drupal include General Electric, Warner Media, Johnson & Johnson, and eBay.
In this article, you will be provided with an honest review of Drupal 8 and answer to your question as why one should go for Drupal 8. Being used for developing custom websites, enhancing customer experience, dyanmic content and more, Drupal's popularity is going to increase further and we will tell you why.
Mobile-First Approach
To cater to the growing demand for a mobile-friendly experience, Drupal 8 adopts the mobile-first approach. It incorporates built-in themes, admin pages, and new admin toolbar and many more. Every bit of Drupal 8 can be easily managed from your smartphone, with a responsive experience that works well right up to the widest displays.
Drupal 8's web services makes it a powerful platform for serving up content to mobile apps, other web applications, or any other place you want the data. "Headless Drupal" is fully supported, meaning whatever application your user interacts with can pull data from Drupal, without ever actually visiting the Drupal site itself.
New Theme Engine
The new theme engine Twig, is a flexible, secure and fast template engine for PHP. The templates are now compiled with an easy-to-learn syntax for optimized PHP code. Twig consists of a sandbox mode to test non-trusted or new template code and thus helps to enhance security. With Twig, it is now much easier to design good looking and appropriately working Drupal websites.
Authoring Experience You've Been Waiting For
Earlier, authoring in Drupal has been extremely inconsistent, and entirely dependent on how much the initial developer put in place to make writing and editing easy.
CKEditor, an HTML text editor, that acts as Drupal's default WYSIWYG editor, but which further simplifies web content creation by offering word processing features directly to your website pages. The content editing feature allows you to change the content using "quick edit", without going to the other page. Drupal CMS development empowers you to deploy the content as you want and where you want it.
It starts out with a very nice user experience right out of the box. The authoring environment has been revamped based on extensive usability testing, and now matches or beats anything on the market.
A More Secure CMS
Drupal 8 has far more secured than any prior version. This is crucial to website security because core modules have a much higher level of scrutiny than community contributed modules do. Also, unlike some contributed modules, Drupal core updates are released regularly.
In earlier versions of Drupal, Views was available as an add-on module, but now it has been integrated within the core CMS of Drupal 8. This helps non-technical persons to easily customize the front page, listing blocks, admin pages, filters and so on.
Built-in Layout for Site Builders
Drupal 8.5 provided a huge boost for site authors called Layout Builder, which can be configured to provide the ability to dictate the page layout on a per page or per content type basis. It provides a flexible solution to create multiple layouts using a simple user interface (UI).
This new module can eliminate altogether the need to get a developer involved every time a new layout is needed. With Drupal 8, you can even achieve drag-and-drop layout while editing the page if the site was developed to support that workflow.
Introducing Workspaces
Workspaces are the new core modules that are onboarded with Drupal 8. It provides an Agile-like workflow for your content creation process. It's meant to be used on a group of new pages, existing items like menus, and other content like tags, to be published all at once.
Also, Workspaces allows for the creation of multiple environments, and movement of content between the environments. You could designate production to be visible to site visitors, while staging would be the old equivalent of unpublished pages only visible to privileged users.
Drupal 8 Brings Future Proofing to Your Site
Drupal 8 will make your site more future proof than ever in two ways:
It allows for content to be accessed beyond a browser

The new release cycle allows for major new innovations to be built into core
Drupal 8 architecture comes up with the features like flexibility, high performance, adaptability feasibility, and scalability.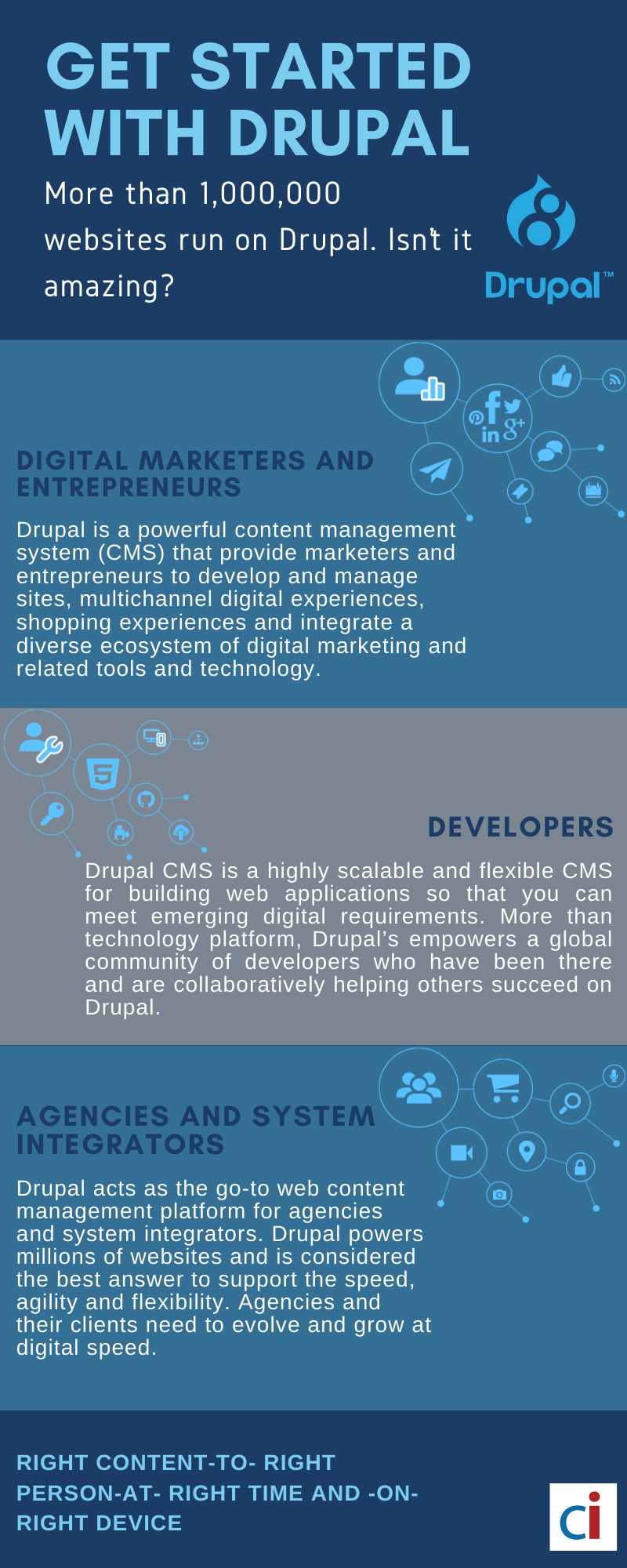 Built in Multilingual Capability
The multilingual module of Drupal 8 empowers you to translate phrases in different languages that are to be displayed on your Drupal website. Through this improved feature of translating anything within the system, utilizing built-in user interfaces, it now becomes extremely easy to maintain any multilingual website.
It also offers block language visibility, especially if your website has more than one configured language. With Drupal 8, you can now easily swap out language specific content using block visibility. You now also have "Views" with language filtering for built-in content that allows you to get customized views for specific languages and apply dynamic language filtering for pages.
Drupal Usage Statistics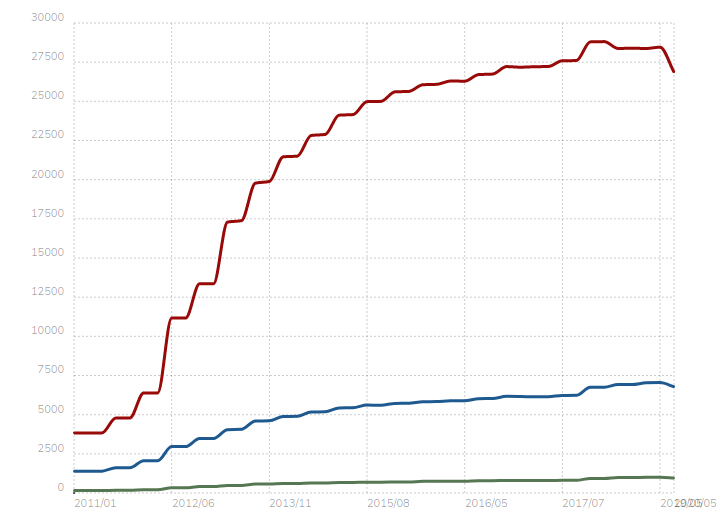 Built-in Media/Media Library Modules
With the release of Drupal 8, the media module was added to core, finally making Drupal's media capabilities on par with CMS platforms like WordPress.
When combined with the Workflow module (also now built into core), it's easier than ever to upload, manage, and reuse media assets, then move content between workflow states (e.g. "draft", "review", and "published").
The Media Library module introduced in Drupal 8.6.0 provides a simple method to embed YouTube or Vimeo videos directly in your content text areas.
Why To Love Drupal 8?
Drupal is among the most popular CMS currently and is highly preferred by the top companies. See why businesses love Drupal.
Drupal is easy to build
Drupal is Secure
Drupal is Flexible And Scalable
Drupal is all about faster and responsive development
Drupal support multi-site functionalities
Powerful Functionality for Developers
Check out some examples of Great Modules that empowers developers to create robust and customer-centric websites.
Vast Community
Drupal has a large user community which regularly contributes to repositories. Here are a few figures to illustrate this:
38,695 active developers

1.2 million accounts

2,000+ commits / week

31,199 modules and 2,141 themes

2,400+ events each year

Benefits Of Integrating Drupal CMS
Dig out some benefits that business enterprises can gain while building a website on a Drupal-based platform.
Content publishing at Rocket speed

Maintaining Uniformity and Consistency in delivering customer experience across the Different Channels

Improving Operational Efficiency by facilitating Content Publishing with less or zero support from the technical team

Using a single code base to easily manage multiple platforms to simplify management of code base
Last Words
The website is the digital soul of any business. If the website is complex in nature and does not help in showcasing the business vision clear, then ultimately the business is going to suffer.
Drupal's modular approach and ready-to-go configurations provide fast access to the market and the ability to keep pace with digital evolution. Drupal is among the leading technologies dominating the IT industry and providing businesses the flexibility and scalability to innovate by keeping your user's behavior and preferences in mind.
At Classic Informatics, we help you build classy and Digital-First websites that can deliver your clients an inevitable user experience and also improves your ROI.