Cloud Expo Europe 2023 turned out to be one of the largest cloud gatherings of the year in the United Kingdom. The event aimed to bring together cloud evangelists, cloud innovators, key decision makers, and other business leaders to openly discuss the future and scope of innovations using cloud services & technologies.
The event was organized by Tech Show London and ran for two days - the 8th and 9th of March at ExCeL London. Over 14,000 tech enthusiasts attended Cloud Expo Europe 2023, with 39% of the attendees being C-suite executives, directors, or key decision-makers. With a line-up of 500+ speakers across the 16+ conference stages, there were a number of inspiring stories, thought-provoking ideas, and conversations around the future of tech.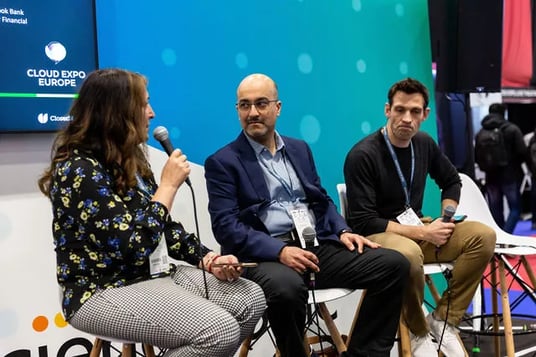 The Mainstage of the event was opened with a personal message from the Mayor of London, Sadiq Kahn. This kickstarted two days of exciting discussions, connection-building, and networking with other cloud players and business leaders. It was filled with expert cloud insights, constructive debates, and exciting tech talks covering the top cloud conversations. Many other critical topics, like skill shortage in the tech sector, security in cloud infrastructure, ensuring responsibility in AI, and more, were discussed openly at the event.
Classic Informatics was thrilled to be exhibiting at this large-scale cloud event. Our London team attended the conference and networked with several potential clients, cloud strategists, and more to discuss innovation at scale. Mr. Roshmin Nair, our London office business development manager, supervised the event preparation and ensured everything ran smoothly.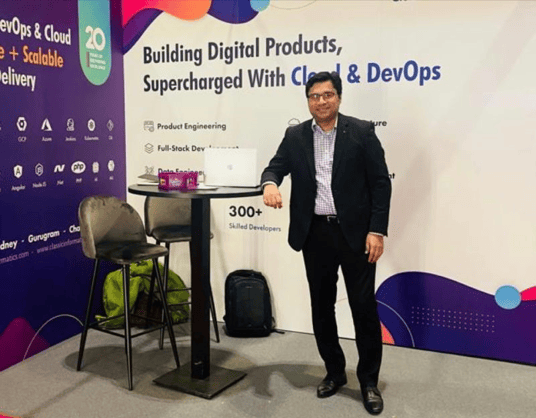 We were among the 300+ exhibitors showcasing our cloud services & solutions to over 10,000 attendees over the span of two days. We got to meet several startups, enterprises, cloud evangelists, and other tech enthusiasts at the conference. These businesses belong to several industries that we serve- FinTech, entertainment, retail/eCommerce, and more.
Classic Informatics was located in the DevOps Live section of the conference center, and our team had a lot of fun answering questions about cloud & DevOps. Mr. Roshmin handled the event with complete expertise. He had a discussion with over 50 people, including startups, tech enthusiasts, and potential customers. We discussed their current tech challenges when shifting to the cloud, our cloud & DevOps tech stack, and more.
Many businesses were eager to know more about the advantages of DevOps on their product development cycle, while others wanted to understand our cloud & DevOps technology stack and offerings. Many other interactions existed on the business accelerators, frameworks, and other benefits of DevOps as a methodology or cultural shift.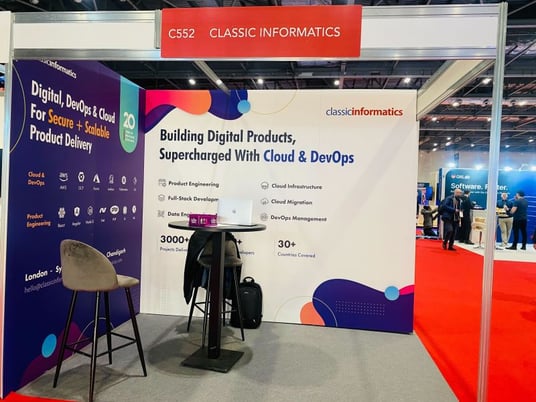 All in all, Cloud Expo Europe, along with the four other events, DevOps Live, Cloud & Cybersecurity Expo, Big Data & AI World, and Data Centre World organized by Tech Show London, was a super successful event for Classic Informatics. We loved the electrifying atmosphere and the countless networking opportunities that came to us.