Diwali ain't just the festival of lights.
It's the festival of happiness. The victory of good over evil. The victory of light over darkness. And the triumph of knowledge over ignorance. And for all of us at Classic Informatics, Diwali is one of the most anticipated and awaited festivals of the year. We are always excited to celebrate Diwali with our friends and colleagues at the office.
While we used to love getting together for Diwali, we've been celebrating it virtually for the past two years. And this year too, owing to our distributed teams, we decided to celebrate it virtually so that all of us could get together and no one misses out.
Although it was virtual, we could see everyone decked up in colorful ethnic clothes, sitting there, all smiles, with their family members.
And as the clock struck 4, the event commenced.
We all joined through the Zoom link and got together to begin the celebration.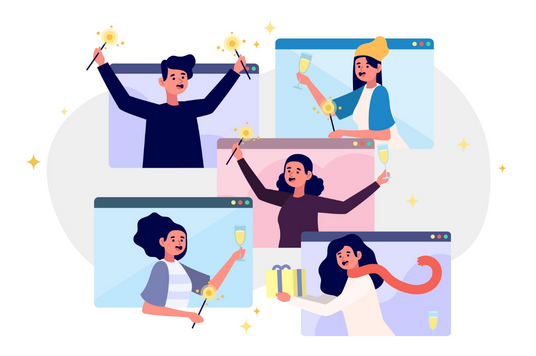 Our CEO, Mr. Rajiv Mehta, also joined in to share his wishes with us and kickstart the festivities.
Light, Camera, Action
The celebration started with a bash. We are a family of some really talented people and their kids are even more talented.
So, it started with some amazing singers coming forward to showcase their talent. First, we had two kids, who are blessed with a great voice, come up and show their talent. And it was definitely a treat to the ears.
Next, we had our very own team members sharing their love for singing. And we sure have some awesome singers among us. They sang some soothing Bollywood songs and medleys of Diwali songs to celebrate the festival.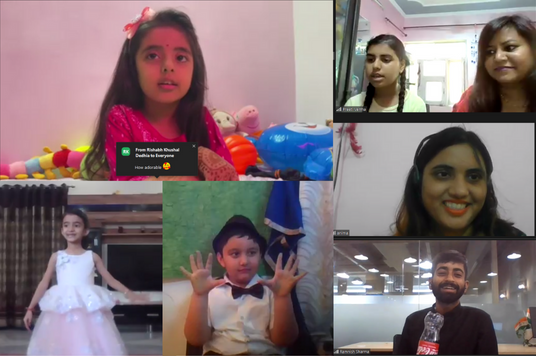 And then it was time for some dance performances. Kids of many of our employees came forward with their prepared dance numbers, and they had some great moves. Their performances definitely set the mood right for the festival. And even we couldn't stop ourselves from tapping our feet to these beats. We also had two stunning duo performances, where kids, along with their parents, came forward to display their dancing talent.
Singing and dancing are not the only talents our employee kids possess. We even had our very own magic show and show & tell show!
Game of Numbers- Tambola
Then came the most awaited and the most exciting part of any Diwali party- the Tambola!
Any Diwali party or celebration is incomplete without the game of numbers- Tambola. And of course, it had its own Diwali twist.
We had eight calls to make for the game. These were:
Shubh Arambh: Call for the first seven numbers crossed out
Ek Ladhi: Call for the first row crossed out
Do Ladhi: Call for the second row crossed out
Teen Ladhi: Call for the third row crossed out
Even: Call for all the even numbers crossed out
Odd: Call for all the odd numbers crossed out
Dhoom Dhadhaka: Call for all the numbers crossed out in the ticket
Phir Se Dhoom Dhadhaka: The second call for all the numbers crossed out in the ticket
And we even had a surprise waiting. There was a third Dhoom Dhadaka that took the game to another level and acted as a sweet surprise for all.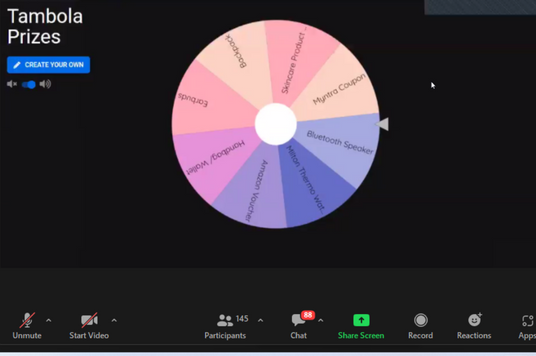 We had planned a number of exciting gifts for all the winners as well. There were earbuds, a backpack, skincare products, Myntra coupons, a handbag/wallet, a Bluetooth speaker, a Milton thermos bottle, and Amazon vouchers. Every winner had a spin-the-wheel moment where they get the gift where the arrow lands. It was certainly a fun game and full of surprises.
Emoji Wali Diwali
Once Tambola was over, we entered the next segment of our Diwali celebration. This was an interesting Diwali-centered game where all of us had to guess the name of the item based on emojis. All the items were related to Diwali so people could tell anecdotes about the items as well. It led to quite a fun-filled time and some really funny guesses for some of the emoji combinations.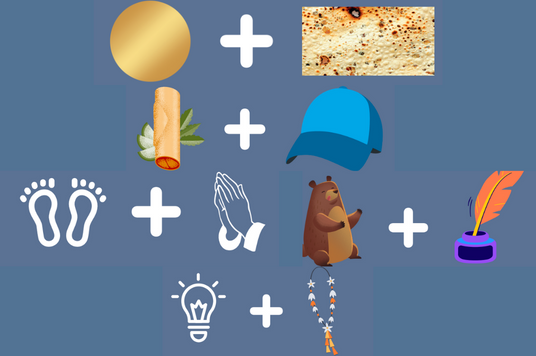 Diwali Hungama
Another very interesting and exciting segment planned was the Diwali Hungama. We had different games in this segment. These included Bolly Boom, Desi Race, Diwali Trivia, Facts/Fiction, and Alphabets vali Diwali game. All of these had us glued to the very end. And of course, all those who gave the right answers received some exciting gifts or vouchers.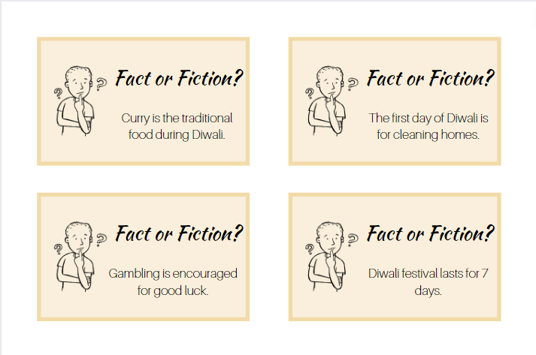 Diwali Dhamaka
The most exciting part was reserved for the last. This was our lucky draw content and it was filled with some pretty big surprises.
This year, we had five spin winners and amazing gifts for each. We have amazon vouchers, a smartwatch, air fryers, and an LED TV reserved for the first four winners. And the biggest surprise was the mega jackpot. The last spin winner won an iPhone 14.
That's right. The lucky winner of the Diwali Dhamaka contest won the latest iPhone, iPhone 14.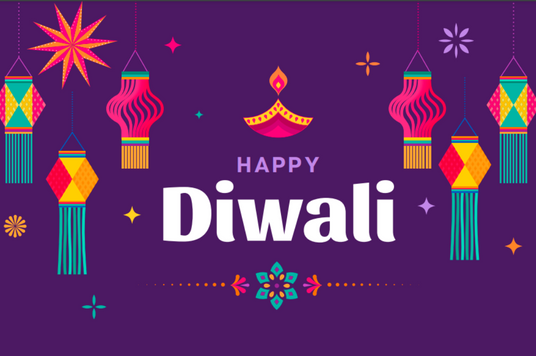 Until Next Time...
It was indeed a celebration to remember.
We had been planning it for weeks and it turned out to be a big hit. Everyone enjoyed themselves, chatted with their teammates, and got to know each other better.
Diwali is all about spreading happiness and we made sure to put a smile on the faces of everyone, especially our winners and participants.
So, that was all for this Diwali celebration. We look forward to more such festivities and celebrating Christmas and New Year together.
Until then, stay safe and have a joyous Diwali.
Happy Diwali to all!