When it comes to eCommerce, having a comprehensive and user-friendly platform is a must. You can have the most lucrative niche of products on the market; you may even have a store idea that is totally original.
Without an eCommerce platform that can support your ambitions, however, all of that hard work will be for naught.
The platforms that we recommend in this article have been tried and tested by both small and large businesses. If you are looking for advice on where to sell books, clothes, toys, electronics, or even handmade arts and crafts, building your eCommerce store on any of the platforms listed here will be a winner.
So, what are the best eCommerce platforms in 2022?
Let's take a look.
#1. Shopify
At 16 years old, Shopify is one of the oldest eCommerce platforms on the market. But don't let its age deceive you – Shopify is still as popular and powerful as ever.
Shopify has always been a great platform for small businesses, and this is still true in 2022. It's also been expanding its capabilities to appeal to larger businesses. This includes features like Shopify Plus, which offers more powerful tools and customization options.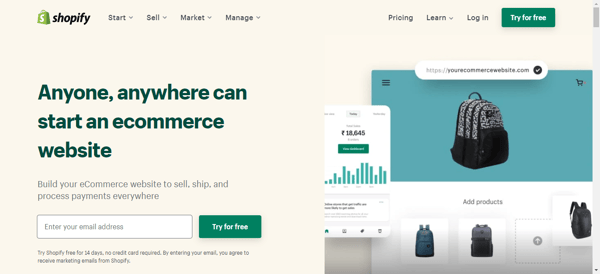 Shopify is also very user-friendly. It's easy to learn how to use, and even easier to navigate, making it a great choice for first-time eCommerce users.
But what really sets Shopify apart is its amazing customer support. If you ever have a question or need help with anything, the Shopify team is always available to assist you. They're knowledgeable, helpful, and quick to respond – which is why Shopify is one of the most popular eCommerce platforms on the market.
Why sell with Shopify?
Easy to use and navigate
Prices start at just $29/month
Great customer support
Expands to meet the needs of large businesses
#2. BigCommerce
With 60,000 merchants and growing, BigCommerce has undoubtedly reached incredible success since its beginnings in 2009. The company's platform is favored by businesses of all sizes for its scalability, ease of use, and abundance of features. This popularity is only set to continue into 2022 with no signs of slowing down.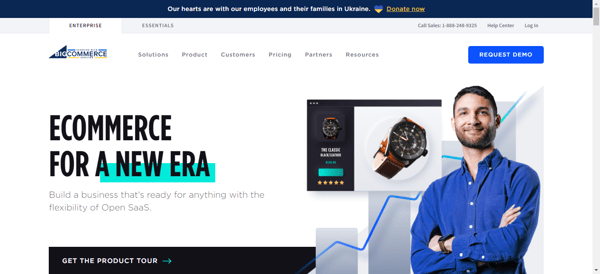 BigCommerce offers everything you could possibly need from an eCommerce store, from a built-in blog and SEO tool to unlimited product listings and 24/7 customer support. Plus, with its growing community of developers, there's always someone on hand to help create the perfect custom solution for your store.
Whether you're well-practiced in CSS or a complete stranger to web design, BigCommerce's SaaS solution makes it easy to create a professional, functioning online store. Plus, with its ever-growing range of integrations (including Amazon and eBay), you can connect your store with the rest of the world in minutes.
Why sell with BigCommerce?
60,000 merchants, including Fortune 500 companies

Affordable prices start at $29.99 per month

Scalable to grow with your business

Wide range of features, including a built-in blog and SEO tool
#3. WooCommerce
The WooCommerce open-source eCommerce platform is a plugin built for those using WordPress to advertise and sell their products. Considering that 34% of the internet is run by WordPress, this is a huge market.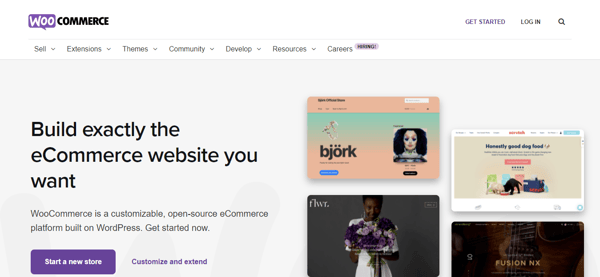 WooCommerce was created in 2011 and has been constantly updated with new features and security measures. It is currently used by 2.2 million websites, making it the most popular eCommerce platform in the world.
Aside from the transaction fee associated with your provider, WooCommerce is completely free to use. It also integrates with a huge number of third-party plugins and applications so that you can easily add features like accounting, shipping, and marketing tools.
Why sell with WooCommerce?
Extremely customizable to fit your needs

Integrates with third-party tools and applications

Huge user base (2.2 million websites)

Constantly updated with new features
#4. Squarespace
Although Squarespace is not an eCommerce-specific platform, there are currently a few hundred thousand stores operating through the site. This is because Squarespace offers an all-in-one platform that is simple to use and perfect for businesses just starting out.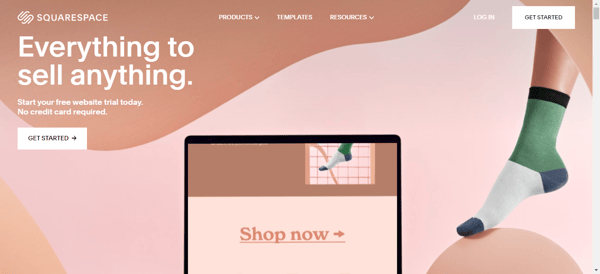 What makes Squarespace a great eCommerce platform in 2022 is its scalability. As your business grows, you can easily upgrade to a more expensive plan or even switch to a self-hosted solution. Squarespace also offers great integrations with other services like shipping providers and email marketing platforms.
Squarespace recently added Squarespace Commerce, which provides merchants with a comprehensive toolkit for building and managing an online store. These features help with tasks like arranging payments, promoting your products, and tracking orders.
Why sell with Squarespace?
All-in-one platform with a simple, intuitive interface

Scalable and easy to upgrade as your business grows

Great integrations with other services

Recently added Squarespace Commerce for comprehensive eCommerce toolkit
#5. Volusion
Over 185 million orders have been placed through the Volusion platform, making it one of the most popular eCommerce platforms in the world. Volusion offers users a wide variety of features, including an easy-to-use drag-and-drop builder, unlimited product listings, 24/7 support, and more.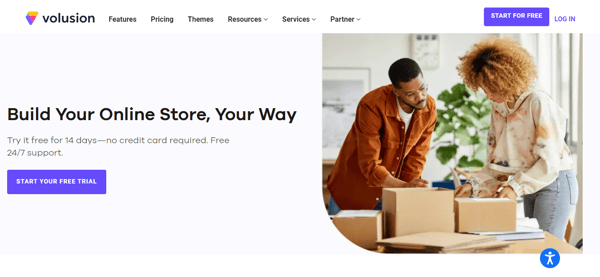 Volusion provides plenty of support for piecing your store together, but for those who are already experienced in things like CSS editing, there are options to edit more detailed aspects of your store's appearance. In addition, Volusion has a thriving community of users who are always happy to help out.
Why sell with Volusion?
Comprehensive SEO tools

Allows for customization of every store element

Useful extras like promotional newsletters and a barcode generator

Totally secure platform

Compatible with a variety of payment processors including PayPal, Stripe, and Authorize.net
#6. Shift4Shop
If you are looking to sell your products without needing to worry about backend coding and the finer details of setting up an online store, Shift4Shop advertises itself as the best platform for your eCommerce store. You can drag and drop products, manage inventory and shipping, set up coupons and discounts, add a blog, and more.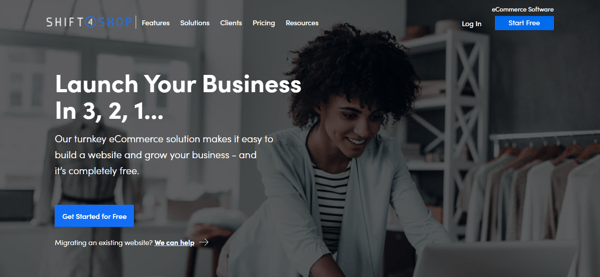 One of Shift4Shop's main appeals is the wide variety of stores you can choose from. There are both free and paid templates to get you started on everything from a simple dropshipping company to a boutique handcrafts store. Shift4Shop also offers a wide range of features, including abandoned cart recovery, order tracking, and more.
Why sell with Shift4Shop?
User-friendly platform that is easy to get started with
Choose from a range of free templates or pay for premium options
Websites are automatically optimized for a better customer experience
Integrated marketing tools to help promote your store
In summary
In 2022, the online marketplace is absolutely brimming with options for businesses of all sizes. Today, we can find countless online stores where to sell books, apparel, sports wear or linen suits and more. And while there are a few clear front-runners, the competition is heating up and any of the platforms on this list could easily take the top spot. With that in mind, it's important to carefully consider your needs and choose the platform that best suits your business.
The platform you choose is sure to make a big impact on your online sales, so take the time to do your research and find the perfect fit for your business!