A global IT outsourcing company with offices in Delhi, Sydney, and Chandigarh, Classic Informatics is known as the digital innovation company.

Of course, with so many developers in India — the country has the fastest growing software developer base globally — businesses have lots of options. So, what makes Classic Informatics a top choice among those looking for web development company?
There are lots of reasons that make us the right partner for your development needs. To name a few, we follow a strict culture of constant learning and improvement, we've been building digital products and apps since 2002, and our team of engineers and agile specialists works tirelessly to make technology solve real-life problems.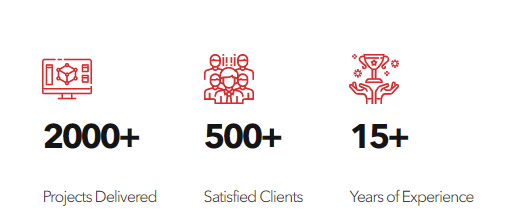 We could go on, but any company will speak highly of themselves. Classic Informatics' real differentiator is that we have client testimonials that confirm we're a top Indian developer. Since partnering with Clutch, a source of reviews that connects vetted industry leaders with buyers, we've received in-depth and transparent feedback from current and past clients about what it's like to work with us and the types of results we deliver.
We're excited to have 12 glowing reviews on our Clutch profile, and we're eager to collect more! Our most recent review is from Moneycatcha Pty Ltd, a financial services software development company. They approached us to design and develop an interface layer for their products and underlying infrastructure. The client provided requirement documentation, and we got to work. Our team delivered input on what visualization technology to use and ultimately created an interface that's capable of consuming and displaying data.
The client was extremely satisfied that we completed the work on time and on budget thanks to our strong project management capabilities. They appreciated that we scheduled regular meetings and tracked progress closely using Jira.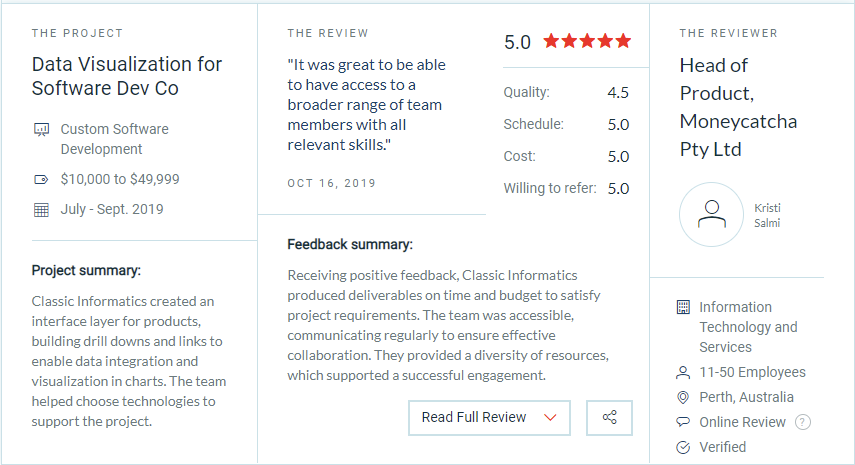 We received another 5-star review from an internet agency that is part of a larger media company. They needed help fixing code within existing mobile apps for their five regional job portals, and their in-house developers didn't have experience with native apps. Luckily, being a top mobile app development company, we do!
Our team came onboard and quickly resolved issues within the mobile apps' code, effectively stabilizing the performance. We also implemented new features. In an effort to continuously improve the apps, we provide ongoing support and maintenance.
"They are a professional outfit & provide top quality work. The committed deadlines are always met. We will certainly work with them for all our mobile app requirements in the future." — Technical Application Manager, Mediengruppe Oberfranken - Digital GmbH & Co. KG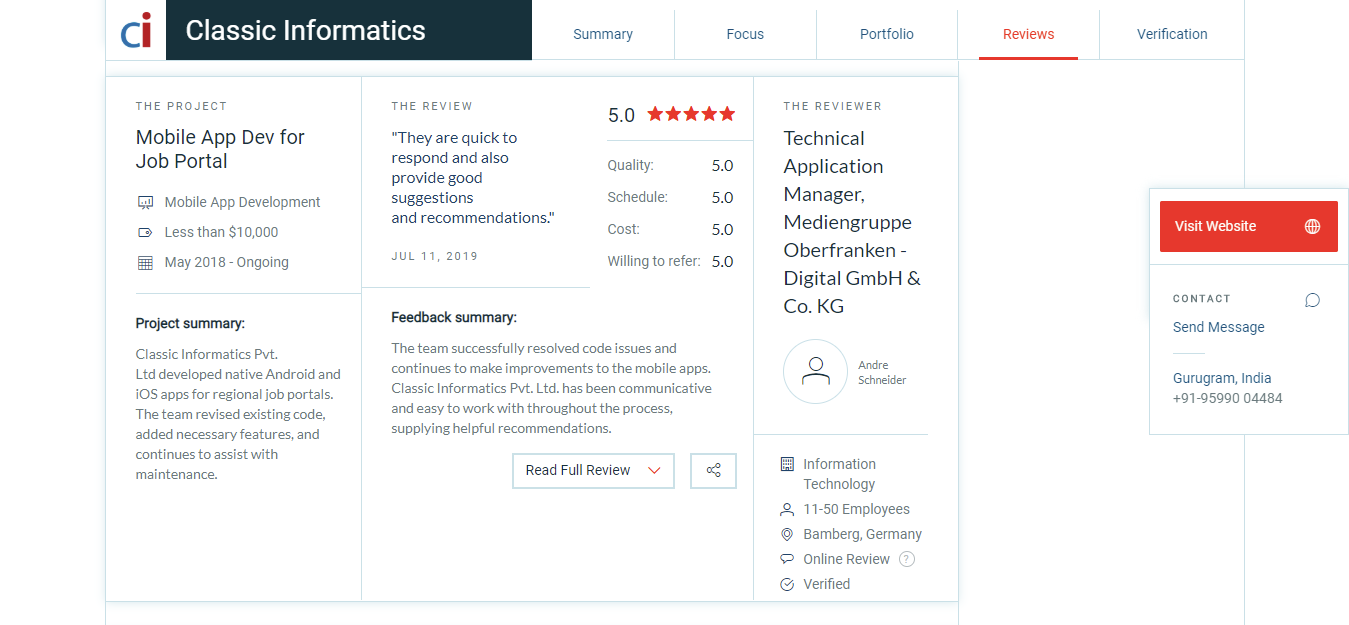 The client praised our structured process, which includes formulating a plan, designing a first draft of the app, developing prototypes, and building the app. They deem us "extremely easy to work with" and appreciate the insightful suggestions we provide.
Be sure to check out Clutch and its sister sites to read further reviews. Of nearly 700 firms, Clutch ranks us amongst the top 10 web developers in Delhi! Clutch lists the best companies based on client feedback, so we're very grateful to our clients for helping us achieve such an esteemed ranking.
Now that you're gotten the low-down on why we're the best of the best, contact us to discuss your project!