We all witnessed the enormous strain on the global healthcare workforce, healthcare infrastructure, and amenities overwhelmed with its challenges during the pandemic. This has led to the emergence of innovative technologies in the healthcare sector.
Be it about getting online consultation with healthcare providers sitting at home, health apps to track and monitor sugar levels, or wearing smart bands to check heart rate, and so on. Now, it can be done in minutes.
All thanks to digital healthcare technologies and apps that are emerging with every passing day.
The healthcare industry has seen a massive transformation with these technological advancements that have accelerated the whole ecosystem using data-driven digital tools and applications.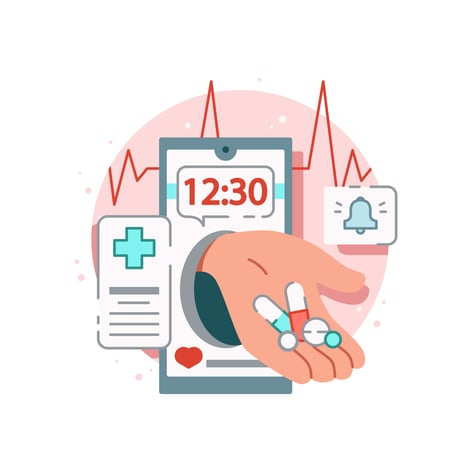 From artificial intelligence to cloud computing to big data, all these cutting-edge technologies have paved the way to deliver faster and efficient health care services and provide real-time access to patient histories.
Also, it provides myriad innovative opportunities for healthcare professionals to make the best use of these latest techs to enhance the healthcare sector and strengthen the patient-doctor relationship.
As per research, the US Healthcare market is tremendous, and its digital health market is expected to reach 504.4 Billion USD in 2025 from 86.4 Billion in 2018, at a CAGR of 29.6%.
This article is all about the emerging healthcare trends you should consider for embracing digital healthcare transformation in the coming year.
Trend 1: Remote Patient Monitoring
From smart bands that can monitor your sugar level to tracking blood pressure and other vitals, remote monitoring health apps can do it all in no time. Broader use of healthcare technology-enabled patients and healthcare professionals with regular virtual visits.
Remote patient monitoring is a healthcare trend that helps patients and their healthcare get connected and stay in touch during the entire treatment process to manage critical illness. Healthcare professionals ensure non-stop patient monitoring and provide them with a set of wearable measuring devices. It reminds patients to take regular medication and take measurables timely.
Moreover, this tech solution helps healthcare institutions cut down on time and costs and deliver high-quality healthcare without physical interaction.

Trend 2: Internet of Things (IoT)
Big data in healthcare is all about gathering a massive amount of information by adopting modern technologies that collect patients' medical records used for multiple purposes. It helps patients avoid preventable diseases, improves the quality of life, minimize treatment cost, and forecast epidemic outbreak.
Using big data in healthcare helps convert huge volumes of patient data into real valuable insights to provide better patient care. Unlock the potential of healthcare digital transformation by delving into the intricacies of the FHIR data model
As per recent reports, big Global data in the healthcare market is expected to reach $34.27 billion by 2022 at a CAGR of 22.07%. Globally, the big data analytics segment is set to be worth around $68.03 billion by 2024.
Here's how big data provide benefits in the healthcare sector.
Big data helps healthcare professionals to learn about patients' medical past and start treatment based on that. It ensures more significant improvements in patient safety and quality care.

With the rise in the number of patients and their medical records, many healthcare institutions started using Electronic Health Records (EHRs) while making it easier to maintain and access such massive data.

Also, healthcare professionals use predictive analytics to watch out for the recovery rates of cancer patients and the treatments with the highest success rate for this disease.
Trend 3: Artificial Intelligence
Artificial intelligence has already influenced plenty of different industries. And Healthcare is no exception.
AI played an influential role as the digital front door for healthcare institutions. The technology is used for voice recognition or uncovering keywords in chatbots that enable calls and messages.
Artificial Intelligence-powered healthcare monitors critical patients better in real-time with quick medical risk identification and early clinical treatment.
NLP(Natural Language Processing) applications support Artificial intelligence that can systemize clinical documentation by structuring the records and improving patients' overall health.
As per research, the global artificial intelligence in the healthcare market size was valued at USD 6.7 billion in 2020 and is expected to expand at a compound annual growth rate (CAGR) of 41.8% from 2021 to 2028.
According to KPMG's survey, healthcare business leaders say their organizations prioritize their AI investments during the next two years on telemedicine (38%), robotic tasks (37%), and the delivery of patient care (36%).
AI's ability to solve significant industry problems also helps track the spread of COVID19 and helps healthcare scientists with vaccine development and distribution.
AI applications in the real world-
Virtual Nurse assistants for a personalized patient experience

Robotic surgical systems to conduct surgical procedures

Thermometers based on machine learning for diagnosis and treatment

Trend 4: Virtual Reality
Virtual Reality is one of the most applied healthcare trends today and healthcare software development is playing a vital role in it. It enables healthcare professionals to deliver better patient care and digital health amenities to patients. Implementing virtual reality is the best way used to provide improved patient care. Virtual reality is thriving and expected to grow in the coming years from small clinics to big hospitals.
Virtual reality utilizes a computer-generated simulation of a 3-D image or environment that allows an individual to hear, see and interact using special equipment, for instance, headsets. The simulated environment takes users inside a virtual experience.
According to the research by GlobeNewsWire, the market for Virtual Reality in Healthcare will reach $7 billion by 2026.
Virtual reality assists healthcare providers in performing complex surgery. With this technology, surgery teams can rehearse their planned intervention with the help of VR sets. There are fewer chances of error likely to happen during complex surgeries.
Trend 5: Cloud Technology
To address privacy-related concerns effectively, cloud computing tech assists the healthcare sector in storing patients' critical data and making it easily accessible. With this, healthcare providers can easily make well-informed decisions on cloud-powered, real-time data related to patients' health.
The evolution of cloud computing helps address security issues that have led many healthcare institutions to shift their interest. It helps cut storage cost, offer increased computing power, and eliminate silos of data across the organization.
Moreover, health data will be easily managed, recovered, and accessed with cloud technology.
As per reports, the global healthcare cloud computing market is forecast to grow by $33.49 billion by 2025, whereas in Europe, its annual growth rate is nearly 15% by 2026.
Trend 6: Blockchain
Blockchain is one of the most prominent technologies that owns the immense potential to revolutionize the healthcare sector.
Blockchain technology ensures accurate and secure results considered the most important things to consider while handling healthcare data. With blockchain, no amount of data is changed or deleted, and every transaction is tracked chronologically.
The technology is a distributed system or network that generates and stores data records. It maintains a digital ledger of connected data blocks that represent shared or accessed information on its peer-to-peer network.
Advanced analytics will use this refined and optimized information to generate real insights for patients and caregivers. It helps create more intuitive and personalized care ecosystems for patients.
According to BIS Research, global spending on blockchain in healthcare is expected to reach $5.61 billion by 2025 and save the industry up to $150 billion annually.
Conclusion
That's our list of the top trends in healthcare for 2022 and beyond. So, are you ready to witness the upcoming healthcare revolution with these healthcare trends? These emerging trends have empowered healthcare professionals with robust and scalable technologies that helped them deliver faster and cost-effective healthcare services by any means.
The healthcare industry will continue to thrive with these evolving trends.