The mHealth industry has undergone a rapid digital transformation due to the increase in the usage of mHealth apps with every passing day. More and more people today rely on mHealth apps for almost everything, from receiving medicines at the door to faster doctor consultation, getting medical treatment, and monitoring health at every passing moment. And that too with a single click.
All thanks to technology.
The evolution of mHealth apps has changed the entire paradigm of the health tech domain while ensuring to make people's lives healthier and longer.
Not only can patients leverage these apps' benefits, but even mHealth professionals can also embrace their mHealth efficiency while delivering improved patient care with these mHealth apps.
The mhealth apps offer them greater interoperability and secure care to enhance clinical communication and workflows.
mHealth applications are booming every passing year, with a projected revenue generation of around $289 billion by 2025.
This article will help you understand how mHealth apps prove fruitful to your physical health.
Why Should Healthcare Professionals Think About Developing mHealth Apps?
Here are the reasons why mhealth apps are a big necessity for healthcare professionals.
Minimizes The Risk Of Incorrect Diagnosis
Diagnosing a patient with correct clinical measures is vital while treating a patient. With the assistance of mhealth apps, healthcare professionals will reduce the risk of the wrong diagnosis. As the mhealth apps provide them with accurate reports of the patient health conditions, it facilitates them to prescribe the right medicines and perform the correct treatment practices
Easier Access To Medical Records
With mHealth apps on board, healthcare providers can easily maintain and manage the bulk of records and documents. To reduce the paperwork, they can simply manage records on apps without worrying about misplacing the report. Using the EMR(electronic mobile records) app, patients and doctors can access medical records anytime and anywhere.
Lower The Burden Of Appointment Scheduling
Gone are the days when patients need for the appointments standing in the long queues. Also, hospital staff has to manage the patient's list, their time of visit, medication, consulting doctor, etc. But all thanks to the mHealth apps that save their time in doing all that stuff. They can now take patient bookings and schedule slots for patients via apps, and the process is shorter. Thus it also cut down patient waiting time.
Make Bill Payments Easier
Managing hospital bills and payments from discharged and patients with ongoing treatment was quite difficult earlier. The hospital staff had to take payments and maintain track of patients' bills manually. There is no need for patients to wait in long queues to make the payments. Also, hospital professionals will reduce the paperwork and time of payment clearance.
Helps With Informed Clinical Decisions
mHealth Apps provides endless opportunities to healthcare professionals to make their daily operational tasks easier and faster. It helps them research new medical devices launched, changes in the healthcare industry, new medical services and ailments, and so on.
Healthcare professionals can collect the varied types of data and help them share it across teams to learn and understand new medical cases.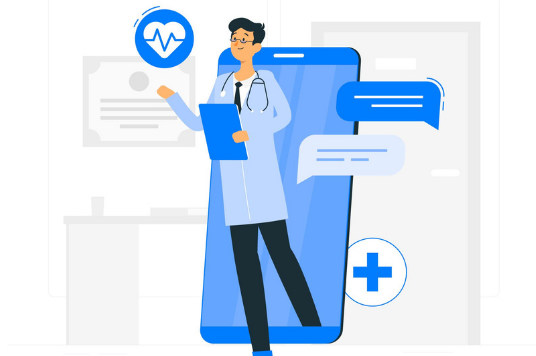 How Are mHealth Apps Beneficial For Patients And mHealth Providers?
mHealth has emerged as a vital component in the mHealth industry during the pandemic. It empowers us with improved health outcomes in the most efficient way.
The global mHealth app market is expected to reach up to US$102.35 billion by 2023.
Moving ahead with the article, check out how mhealth apps prove fruitful to patients and mHealth professionals.
1. Cut down Your Medical Expenditure
Patients often hesitate or neglect the proper care or treatment in the thought of medical expenses. Medical consultation is getting costlier day by day as private hospitals and clinics charge as per their wishes from diseased patients.
The emergence of mHealth apps seems profitable to patients seeking treatment by lowering several cost factors. Also, it provides freedom to patients to get the best mHealth facility from the various mHealth providers available. It empowers them by cutting travel expenses, appointing scheduling charges, costs, and so on.
2. Instant mHealth Facility
On-demand mHealth is in trend now. It facilitates patients with instant mHealth service that provides the best care in case of emergency.
With mHealth apps, you don't need to wait for appointment scheduling. Instead, you can quickly get treated within minutes.
No matter wherever you are, whatever be the time, you will get your health issue resolved with the best-experienced doctor.
3. Transforming mHealth To Remote Environment
Educated upper-class people will get suitable mHealth facilities. But what about the lower-class people living in rural areas? How they can avail primary mHealth.
With mHealth applications on board, patients can get mHealth amenities at any location. Using the apps can simply reduce their travel time and, most importantly, wait in long queues. Just they need to have the app installed on their phones.
4. Minimized Diagnostic Errors
Even a slight misunderstanding or mistake done by doctors might cause severe damage to the patients. Most of the issues are because of wrong has taken diagnostic measures or lack of information.
mHealth applications facilitate fast and easy maintenance of patient records accessible to all doctors and patients.
Moreover, you can use AI and data analytics tools to deliver intelligent and real-time diagnostic solutions with great accuracy and a zero percent error rate.
5. Facilitates Customized Care To Needy Patients
Every patient, whether critical or not, needs specialized care. Each patient has a different medical history, medical conditions, ongoing medical treatment, medicines, etc.
mHealth services have to be customized relating to different patients.
Seeking specialized and customized care is every patient's right, and with mhealth apps in existence, it is perfectly done.
mHealth apps easily store and maintain records of all the patients and make them quickly accessible whenever required.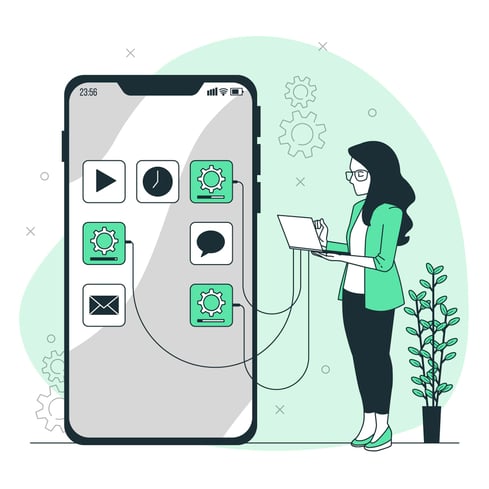 6. Improves Personal mHealth
The evolution of mHealth apps lets people understand the importance of personal health. Like so many diseases arising with every passing day, it's crucial to have a system that delivers the right mHealth amenities to the patients whenever they require them.
The trending wearable devices, fitness trackers help patients monitor and track their health regularly. Fitness and health wellness apps and mental health apps encourage people to take care of their bodies from every aspect and take action at the right time.
Types Of mHealth Apps
According to a survey, the mHealth business will reach a revenue of $102.4 billion by 2022. Currently, there are many types of mHealth applications already booming in the mHealth market. Here mHealth apps are listed below, which provides pictures in making changes.
Remote Monitoring Apps
Attending patients standing in the long queue at the hospital was an old tradition that passed away a few years back. Now, we are working remotely in every field to deliver the best services to the customers.
The rise of remote monitoring apps helps mHealth professionals to take care of their patients and track blood glucose levels, heart rate, blood pressure without even contacting the patient.
The apps help mHealth providers check their patient's health conditions and monitor them throughout their medical treatment. Also, it allows professionals to store patients' records, including medical test reports, medicines, etc., that doctors can access anytime they want.
Telemedicine Apps
Telehealth app development offer patients with virtual mHealth amenities. They can now manage appointments, verify symptoms, ask medical queries, receive e-prescriptions, and so on. It simply connects patients and doctors without any physical contact.
mHealth apps let people lead a happy and healthy life using trending technologies. Telemedicine apps provide real-time mHealth services at an instant to the patients seeking treatment.
Technologies including virtual reality, augmented reality, and AI offers excellent potential to enhance the quality of telehealth services.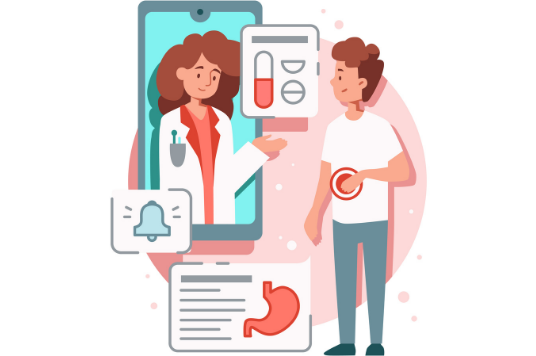 Fitness And Health Apps
Wearable monitoring is a new trend in the mHealth industry. Wearable devices connected to your smartphone or any other digital device can monitor various aspects of your daily routine.
Wearable monitoring consists of two aspects-monitoring vital signs and tracking fitness activities. Wearable devices like wristbands and smartwatches can continuously monitor heart rate, pulse rate, glucose levels, and much more. The information it collects is all stored in the mobile apps used by the patients to react to the instant changes in their bodies.
Clinical And Diagnostic Apps
With diagnostic apps, the doctors can now collect patients' data, maintain records based on their medical conditions, evaluate and share them. Thus, providing you easy access to patients' Electronic Medical Records (EMR) and Electronic Health Records (EHR).
This clinical app lets mHealth providers view lab results, check electronic health records, or perform digital imaging.
Moreover, it helps patients and doctors to check the symptoms and diagnose the illness. They can now quickly schedule their appointments using this app.
Appointment Scheduling and Management
With this app, patients can simply schedule online appointments with their respective doctors faster and easier. Not only these, but patients can also plan and set reminders for their medical prescriptions, water consumption, calorie consumption, sleeping time intervals, reminders to their next dose of medicine to be taken.
Top mHealth Apps In 2022
The global mHealth market is diversifying with every passing year. It is estimated to reach $100 bn by 2021, accounting for nearly half of the predicted total digital mHealth share of $206 billion.
The global mHealth app industry has been divided into several app categories, including apps for mHealth professionals and patients. Let's explore them in a bit more detail.
Trending mHealth Apps For mHealth Professionals
mHealth apps for professionals drive a significant development in the mHealth industry. With the evolving new technologies and applications every passing day, mHealth professionals are forced to use the applications to meet the changing needs of the patients. These apps will provide them with value-added features that help them enhance their mHealth efficiency, clinical communication, and workflow and thus improve patient care.
Let's have a quick look at all of them.
Medscape
Medscape is a one-stop resource for mHealth professionals that helps them deliver improved patient care and provide better services using comprehensive clinical information and resources.
The app provides mHealth providers with the test of medical news from various fields and specialties, medical information, etc.
Cerner Ambulatory
This app facilitates mHealth providers to manage their workflows and hospital management processes quickly. mHealth professionals can use this app for customizable charts to track and monitor their daily tasks and efficiently manage their essential records.
It may include the number of patients treated, medical records, medications, and many more.
Cerner Ambulatory helps you a lot in minimizing your paperwork, thus reducing time and money. You can streamline every small or big process in the office by synchronizing things at each step. The app is free to download and use and also available on iPad, iPhone, and Android.

ReferralMD
ReferralMD is an application that delivers reliable and quick solutions to help monetize mHealth referrals and minimize your all-related cost.
It helps reduce your paperwork associated with referrals, insurance, documentation by automating almost everything involved. The app enables primary care professionals and specialists to effectively control the cross-organizational referral communications and measure the performance of their facilities.
It improves the quality of mHealth while reducing communication costs. The apps improve the quality of mHealth that depends on multiple tools professionals use to perform daily tasks. It ultimately enhances efficiency in their medical practices.
VisualDX
Another beneficial mHealth app for mHealth providers is VisualDX that provides you with a rich library of over 32,000 disease variation images. This app is quite helpful when diagnosing a rare condition. You can simply view pictures of patients from all different age groups, skin types, etc. VisualDX assists mHealth providers in making more accurate clinical decisions based on the images database and intuitive search features. This extensive collection will grow every year as the mHealth technologies change.
PEPID PEDS
This app is a clinical decision support app designed primarily for emergency room doctors to diagnose patients faster. It is also helpful for nurses, medical students, resident doctors, pharmacists, and other medical professionals.
This app helps treat patients' symptoms with PEPID's Symptom Checker and diagnose patients based on patient symptoms, physical exam findings, and lab results. You will get alerts related to possible multi-drug interactions with a single screen and offer you reliable suggestions. The app provides numerous reference videos for clinical procedures, physical examination, push notifications, drug approvals, etc.
Trending mHealth Apps For Patients
The rapid increase in mHealth apps has improved patients' lives by providing fast doctor consultations and medication without any hurdles.
From getting online consultations from doctors sitting at home to getting medicines at doorsteps to checking heartbeat or pulse rate using wearable devices, all, they can do with a single click of the app.
Let's have a quick look at some trending mhealth apps that benefits patients in multiple ways.
MyFitnessPal
MyFitnessPal is a mHealth wellness app that encourages people to improve their health through proper diets and fitness exercises.
It guides you about what you should eat by providing detailed information about proper nutrition and your food intake calorie count.
The app has an extensive database of over 11 million food information, nutritionist-approved recipes, and inspiring workout tips from renowned experts. It helps you to enhance your entire healthy lifestyle.
Practo
Practo app is the widely used mHealth application during the pandemic where all telemedicine facilities reside in one place. It facilitates faster doctor consultation, booking appointments, lab tests, medicines, getting health reminders, and even storing health records.
The app facilitates you to chat with your doctor whenever needed. You can select any mHealth provider you want based on the ratings and reviews of the specified doctors.
You can make an informed choice about which doctor to consult.
MySugr
MySugr is a diabetes tracking app that allows diabetic patients to track their sugar levels, carbs, and estimated HbA1c. The patients having severe diabetes using this app have transformed their lives completely. Regular recording of sugar levels in the app allowed them to control their present sugar condition better.
Not only patients but even doctors can also review the records entered to treat their patients better. It encourages patients with Type 1 and Type 2 diabetes to cope with their present condition to live healthier lives.
Headspace
Headspace is a meditation app that improves your living conditions by providing mental peace and taking care of your mind and body.
It helps you reduce your blood pressure, lower down anxiety levels, depression, and insomnia.
Headspace is a top-grossing meditation app in 2020 that reduces your mental stress, improves your sleep, etc. The app provides a free subscription for beginners, and the paid version called Headspace Plus gives you complete courses of meditation and anxiety.
Teladoc
Teladoc app lets you connect to your doctor anytime you want via phone calls or video conferencing. It provides patients with fast and easy communication with doctors who help them resolve their health issues sincerely.
If required, mHealth providers can quickly prescribe proper medication and connect you with the right pharmacy to get your medicines.
Teladoc integrates Apple HealthKit to enhance customer experience. This integration enables providers to make a better diagnosis and helps import patients' latest medical records.
Wrapping Up
mHealth is the most thriving industry during pandemic times. The mHealth industry has entirely transformed and opened up immense space for the evolution of more and more apps, making people's lives even healthier.
With this, we will witness remarkable growth in mHealth app development as it efficiently adopts the latest tools and technologies to develop a robust mHealth app.
Modern mHealth applications are designed to monitor patients' physical and mental health and establish smooth communication between mHealth providers and patients.
mHealth professionals have shown their immense potential while delivering mHealth services and providing patients with extensive care. We at Classic Informatics help you build the best mHealth solutions using the latest technology and empower your mHealth application development with on-demand apps.