Planning to build your SaaS application? Now you can
Download SaaS Product Development Guide
and get a complete understanding of how you can get started. You can download it for free and read it anywhere, any time.
Cloud computing has taken the business enterprise world by storm in recent years. It has revolutionized the way organizations operate. By shifting to the cloud, companies can access applications and data from any device with an internet connection, making it simple for employees to work from anywhere.
Yet, numerous entrepreneurs and managers are still trying to figure out what it is and whether or not they should be implementing it in their businesses. In this blog post, we'll explore seven gains of cloud computing that may help you make up your mind.
If you're on the fence about cloud technology, these benefits may convince you to try it!
1. Anywhere, Anytime Accessibility Using Any Device
One of the topmost advantages of cloud computing is its ability to provide anytime, anywhere accessibility using any device for example, Cloud LMS (Learning Management System), allows organizations to deliver and manage online training courses efficiently, cloud data warehouse provides a way of storing and managing large amounts of data and lets you quickly access and use your data. For companies offering work from anywhere, this means teams can access corporate data and applications from any location at any time using any internet-connected device. This can boost productivity by enabling employees to work flexibly and collaborate more efficiently.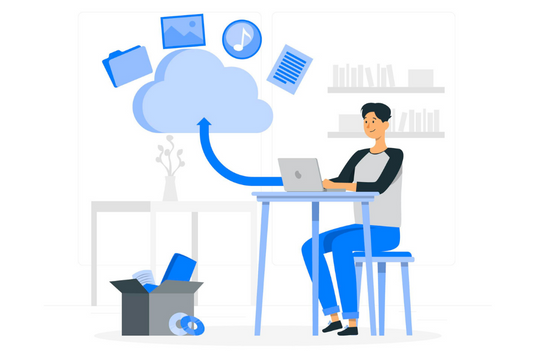 Nonetheless, it also raises various system concerns. After all, if cloud providers store data and applications remotely, it becomes much easier for unauthorized users to gain access. Fortunately, cloud vendors offer a variety of features that can protect corporate data. For example, several providers apply authentication and authorization controls that restrict access to authorized users only.
In addition, most providers encrypt data in transit and at rest, making it much more challenging for hackers to steal information. As a result, while anywhere, anytime accessibility can pose a risk to corporate data, cloud computing provides the tools necessary to mitigate that risk.
2. Better Security
As businesses increasingly move to the cloud, companies often cite cloud security as a significant concern. Regardless, the truth is that cloud computing can offer improved security compared to traditional on-premises solutions.
Organizations must invest in their security infrastructure with traditional on-premises systems, including firewalls, intrusion detection systems, and virus protection software. This can be expensive, and it can also be challenging to keep up with the latest security threats.
One of the main advantages of the cloud is that it allows businesses to outsource their security needs to experts. However, when companies store data on-premises, they're responsible for ensuring its proper protection. This can be an obstacle, especially for those that don't have dedicated security staff.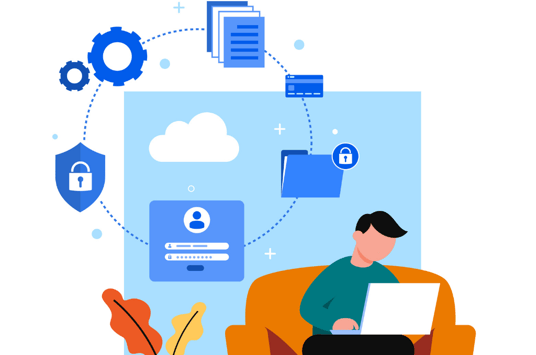 In contrast, businesses can utilize the cloud provider's expertise when they store data in the cloud. Cloud vendors typically have teams of security professionals responsible for keeping data safe.
This can lead to significant cost reduction and ensure companies always employ the latest security technologies. In addition, cloud-based security systems can be more effective than on-premises systems because they can take advantage of the vast resources of the provider. As a result, organizations that shift to the cloud can enjoy improved security at a lower cost.
Of course, no system is perfect. There are always hazards associated with storing data remotely. However, you can mitigate these threats by taking steps such as encrypting data and adopting multi-factor authentication. In taking these precautions, businesses can ensure that their data is safe in the cloud.
3. Improved Disaster Recovery Capabilities
As the universe becomes increasingly interconnected, the risk of large-scale disasters also escalates. In the event of a massive earthquake, flood, or other natural disaster, conventional backup, and recovery systems can quickly implode. This can lead to widespread data loss and significant disruptions in service.
However, cloud computing provides a way to improve disaster recovery capabilities. For instance, by storing data and applications in the cloud, companies ensure they can access them even if their on-premises system gets destroyed during catastrophes or other emergencies.
In addition, cloud-based disaster recovery plans are typically more affordable than traditional on-premises solutions. This is because you don't have to invest in the hardware and software necessary to implement a disaster recovery plan. Instead, you can pay for the services you need on an as-needed basis.
Furthermore, cloud computing can improve disaster recovery times. This is because cloud providers often have multiple data centres in various parts of the world. As a result, if one data center is down due to a natural disaster, you can readily switch to another data center and continue working with minimal disruption.
4. More Efficient Resource Management
A study estimates that the global cloud computing market will reach $947.3 billion by the year 2026. In particular, that will be at a 16.3% compound annual growth rate (CAGR). Cloud computing has been a game-changer in the way businesses manage their resources. With cloud computing, organizations can be more efficient in their use of resources, including storage, servers, and applications.
One of the primary reasons for this is that companies no longer have to invest in their infrastructure. In the past, businesses would have to purchase their servers and storage devices and then manage them in-house. This could be expensive and time-consuming.
With cloud technology like AWS, Azure, and Google cloud, organizations can instead rent storage and servers from a vendor. This can be cheaper than purchasing and managing your infrastructure. In addition, it can free up time that you could better spend on other tasks.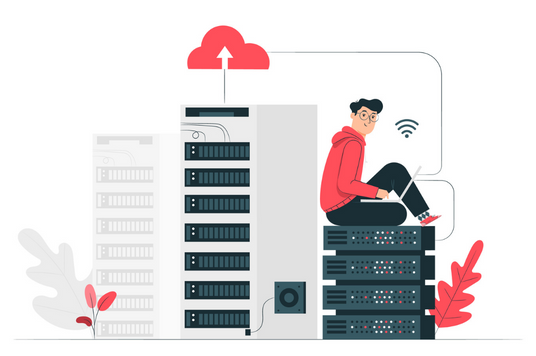 Not to mention, some providers offer pay-as-you-go pricing models that make it easier for companies getting SaaS application development to scale up or down as needed. Likewise, vendors offer autoscaling capabilities that automatically adjust capacity based on changes in demand.
Moreover, the solution can help businesses be more efficient in their application use. In the past, companies often had to purchase multiple licenses for the same application or SaaS product. However, with cloud computing, they can instead subscribe to a single application and then use it across all their devices, similar to SaaS products. This can save money and ensure employees have the same tools regardless of location.
5. Greater Collaboration Opportunities
Another value of cloud computing is that it enables employee collaboration opportunities. In fact, a report shows that 57% of organizations are transferring their workloads to the cloud. With cloud computing, employees can share documents and work on projects together, even if they're in various parts of the world. This is a huge advantage for organizations, as it allows them to tap into a global pool of talent and expertise.
In the past, the need to be in the exact physical location often hindered collaboration. However, this technology allows teams to collaborate seamlessly with colleagues worldwide, regardless of location or time zone differences. As a result, it makes it quicker for companies to get work done and helps promote creativity and innovation.
Furthermore, cloud migration and computing has made it straightforward for businesses to set up virtual teams. This solution allows organizations to connect human resources, marketing, payroll, and accounting departments. At the same time, it lets workers access systems they need to perform their jobs. For example, the best cloud accounting software can significantly help accounting personnel.
6. Faster Innovation Cycles
Many organizations today are looking to cloud computing to speed up innovation cycles. In the past, businesses would have to make substantial infrastructure investments to deploy new applications and features. This would often lead to lengthy development cycles, as companies must wait for vendors to deliver new hardware and install it before they can start testing.
With cloud-based platforms, companies can test new applications and features more quickly and easily. They can provision a new virtual server in the cloud and immediately begin testing. This allows businesses to get the latest products and services to market faster, which can be a fundamental competitive advantage.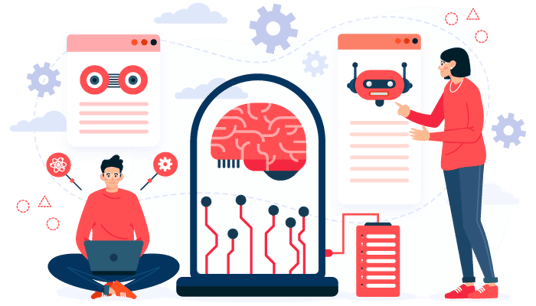 However, please note there are several issues that organizations must be aware of when it comes to this benefit. Firstly, if companies aren't careful, they can invest a lot of money in product development to add new features that may not be successful. Secondly, businesses must ensure that their employees can keep up with the pace of innovation. Otherwise, workers may get confused, frustrated, and overwhelmed.
Fortunately, cloud computing addresses all these concerns. Since companies can only pay for their use, there's no risk of wasted investment. Also, the platform allows employees to access new features and applications quickly. Therefore, they can always be up-to-date with the latest innovations to achieve digital transformation. As a result, organizations can reap the benefits of faster innovation cycles without experiencing any significant issues.
7. Environmental Sustainability
Finally, environmental sustainability is a hot issue for countless companies today. With the ever-growing list of regulations and restrictions on carbon emissions, businesses are under more pressure than ever to go green. Cloud computing can aid businesses to be more energy-efficient and reduce their carbon footprint. With on-site solutions, organizations often use more energy to power and cool their servers.
However, with cloud services, companies can rely on remote servers, which use less energy overall. This can help organizations save money on energy costs while also helping reduce their environmental impact.
In addition to being more energy-efficient, cloud technology can also aid companies in cutting down on paper use. With cloud-based solutions, businesses can share documents and collaborate online without printing hard copies. Likewise, companies can adopt mobile form apps such as ProntoForms to automate their processes. You can read this detailed ProntoForms review to understand how the software streamlines workflows.
Overall, cloud computing provides many advantages for organizations working towards environmental sustainability. By using less energy and fewer resources, companies can save money while also doing their part to protect the planet.
Key Takeaways
Cloud computing provides anywhere, anytime access to data from any internet-connected device. While it can boost productivity, it also raises some concerns. However, the solution offers the tools necessary to mitigate those risks.

Companies can utilize the cloud provider's expertise by storing data in the cloud. This results in significant cost reduction and ensures that businesses consistently implement the latest security technologies.

Similarly, cloud technology can improve disaster recovery capabilities by allowing you to quickly get back up and running in a natural disaster or other emergencies.

In addition, cloud computing will enable organizations to use resources, such as storage and servers, more efficiently by renting them from the vendor.

Cloud-based platforms have made it simpler for companies to set up virtual teams and collaborate with colleagues worldwide.

In the same way, the solution lets businesses speed up innovation cycles by allowing them to test new applications and features quickly and easily.

Lastly, cloud computing can help companies to be more environmentally sustainable by reducing their energy consumption.
Optimize Workflows with Cloud Computing Technology
Cloud computing has revolutionized the way companies function and manage their data. The benefits of the technology are vast, and organizations that have yet to make the switch should consider doing so to improve efficiency, security, disaster recovery capabilities, and more.
While there may be some concerns about the impact of cloud computing, overall, the solution is a more sustainable option than traditional IT infrastructures. If you're not already taking advantage of these benefits, it's time to switch to cloud computing and management software.
You can always get in touch with a cloud & DevOps company to analyze your data and set up the optimal could infrastructure to help you make the switch.