The Internet is perhaps the greatest technological innovation of the twenty-first century. The integration of the Google Search engine within this innovative technology has been changing numerous aspects of our lives.
It is estimated that the Google Search engine records more than 246 million visitors and around 3.5 billion interactions every day. These statistics explain why the concept of Search Engine Marketing (SEM) has gained such traction that virtually all major companies post their ads on a search engine.
Google launched Google AdWords in October 2000. It is a paid marketing platform falling under the PPC (Pay Per Click) marketing channel. In PPC, the advertiser pays for every click received on an ad. Thus, the greater the number of clicks an ad generates, the greater is the expansion of the customer base. Google AdWords was rebranded as Google Ads in the year 2018 with several new updates over the existing product.
Why Google Ads?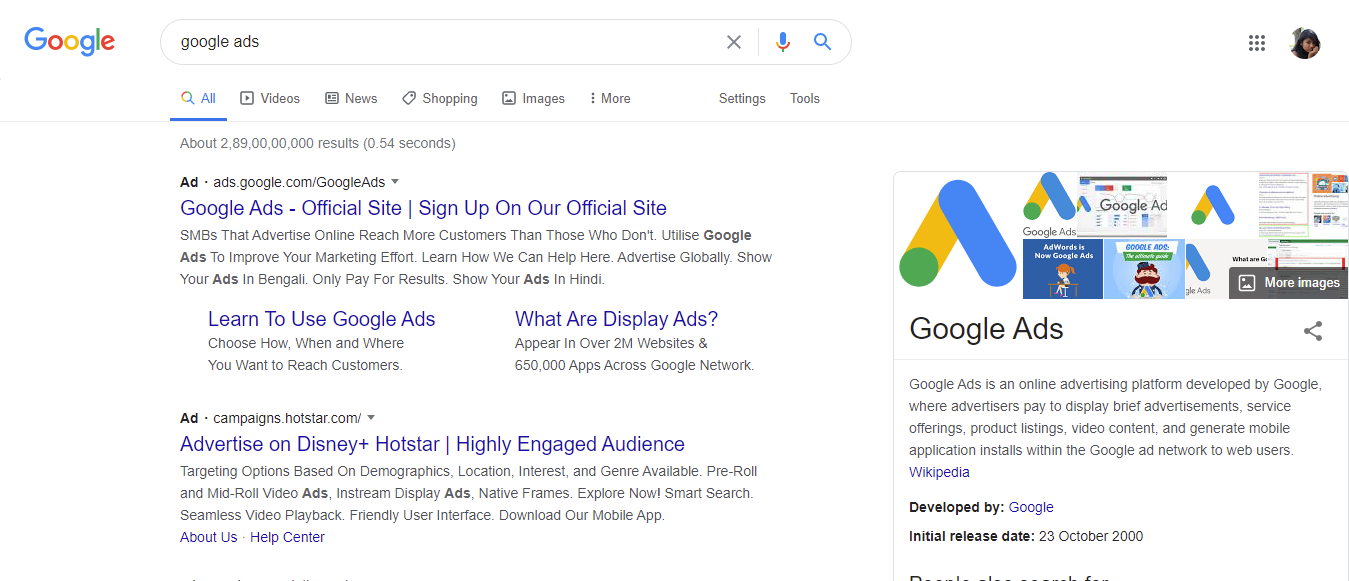 Advertising is a very critical aspect of any business. To sell any product or service, a business needs to reach its potential customers. There are many advertising tools, techniques, and proven startup marketing ideas for 2020 available in the industry today. Product and services ads are still showcased on television, newspaper, posters, magazines, and so on.
Even with a plethora of advertising options available today, Google Ads is rising in popularity. This can be proved by the fact that 97% of Google's revenue is generated through advertising. Google Ads is dominating the paid search market today with over 73% of the total market share.
Google is arguably the best medium to reach any business's potential customers today. A Google Adwords management company can assist an early-stage startup or a thriving mid-sized organization with Google Ads services. A PPC management agency can help a business maximize the click and conversion rates of any featured advertisement. Companies using Google Ads services may receive an estimated 700% return on investment.
Google Ads span over the most popular channels apart from the Google Search engine. Some of these channels include YouTube, Blogger, and millions of other websites falling under the Google Display Network. With so many mediums available, an advertisement is certain to be seen by its potential customers.
Google Ads provides a click-through rate of 8% with display ads recording an estimated 180 million impressions per month. YouTube advertisements have proven to be quite effective as almost 43% of customers buy something when they see it on YouTube. 65% of users looking for a product or service over the Internet click on a Google Ad.
Thus, Google and YouTube ads certainly need to be a part of any business's marketing strategy today if it wants to reach millions of customers.
Latest Google Ads Trends of 2020
Many new Google Ad trends have been observed in 2020. Advertisements using PPC management services are undergoing revolutionary changes. Many of these trends can be attributed to the growing prominence of AI-related algorithms.
General observation clearly shows that advertising features are becoming more intuitive and intelligent. PPC management agencies are now evolving their tools and techniques to improve their services.
Google Ads have now become better at providing suggestions and conducting analysis.
Some of the most popular PPC trends of 2019 and 2020 that will reshape search engine marketing are as follows:
Smart bidding to help businesses. With this new approach, Google has taken out the need for guessing the bid price out of the picture. Using Machine Learning, Google Smart Bidding option will create the best ad campaign within your budget. It would help in maximizing conversions, targeting cost per acquisition, and improving your return on investment.

Offering relevant content to buyers even when they are not with a search intent on Google Discovery. It has cards for all kinds of content that match the user intent and with Discovery Ads, you can have native ads that would display in these feeds. All you need is to create visually-appealing and mobile-friendly ads.

Source: SearchEngineLand

Ads integration with Google Lens. This is not yet rolled out by google but we can certainly expect to see this happening in near future. Commercials would include AR experience to promote things like that done by Stranger Things 3 promoters.

The focus of search engine marketing is shifting from keywords to the target audiences. With new features allowing the selection of target audiences, Google Ads allows efficient utilization of advertisement expenditure.
Responsive search advertisements are now replacing text ads. These advertisements adapt their content to match the search terms of a potential customer. You can create ads with 3 headlines and 2 descriptions and Google would show ads based on the search intent of the user.
Automation and AI are now used extensively, leading to better-guided ad campaigns. With more data available for machine learning algorithms to function, human intervention can be reduced.
The focus on cross-channel advertising and attribution has increased. It is well-recognized that multiple channels of advertisement exist today, including websites, social media platforms, emails, mobile ads, smartphone apps, and so on. As a result, the number of attributions is also increasing, and this also impacts the conversion rate of every ad that spans across multiple channels.
Video advertising is rising in popularity with time as observable on YouTube, Snapchat, Twitter, and even Facebook. It recorded a 30% rise in 2018 compared to 2017, and the trend is expected to continue moving forward.
Remarketing is another very popular trend that mainly focuses on persuading users to revisit a website or an ad once they have left it. Remarketing is a step towards audience-based marketing, which is focused on understanding the shopping behavior of a user. It basically tracks user activity on the websites they have visited and display ads.
The emergence of intelligent personal assistance devices like Alexa will lead to a shift in focus towards the voice and visual search. Content can be forged into a more conversational tone for greater impact.
The impact of account managers and PPC marketers will be a defining factor this year. Automation and AI will need a human touch, which may be provided by a Google Ads management company.
The content of Ads is expected to evolve or undergo a few changes. With multiple versions of headlines and descriptions available, marketing strategists may need to decide what combination of heading and description to use. For example, whether to use the third headline with two description lines. This will largely determine the cohesion of the message in the Ad.

PPC automation will be an integral part of ad campaigns. Powered by AI, it will save hours of work and help copywriters focus on the creative aspect of the ad.
Notable Updates in Google Ads in 2020
Double-Edged Sword Update: In a move, Google updated both broad match modifiers and phrase match keywords. In this update, Google would not just show your ads to those who have typed the same keywords (in same or random order) but also show ads to those who have typed words that mean the same intent. With this update, advertisers would be able to reach 3-4% more of their target audiences.

Ad Extension For Video Ads: With YouTube being one of the largest video search engine, Google ensured the advertisers a new way to leverage video ads without asking the viewers to leave YouTube. Clicking on the ads would show a drop-down menu for your users to select and interact with your business.

Pop-Up Lead Form Ad Extension: Generating leads from Google Ads would become easier now as Google has enables a pop-up lead form. You can add this extension for the CTA so that the user won't be taken to another page and a pop-up form would appear on SERP where they can fill in the required details.

Smart Campaigns: Google Ads can help small businesses with limited budgets post their ads more efficiently by introducing Smart Campaigns. These campaigns follow a results-driven approach, allowing the customer to directly contact the advertiser through calls, driving actions on websites, or visiting the store in person.
Google Ads Manager: The introduction of the Google Ads Manager assists analytics and provides suggestions to help a brand reach their desired audience. Google Ads Manager will suggest growth opportunities through its featured algorithms. It also connects with Google Analytics, Data Studio, and BigQuery data to provide a better insight into the market and current trends.
Cross-device Activity: Google Ads has improved cross-device conversion counts by adding cross-device activity to all attribution reports.
Cross-account Management: Google Ads has also reduced the time taken to carry out tasks by introducing full cross-account management. This will help users manage tasks on different Google Ads accounts concurrently.
The Navigation: The navigational attributes of the Google Ads features have improved, resulting in more efficient execution of tasks by introducing an Edit panel on the right-hand side.
Smooth Reporting: The Google Ads section has allowed leveraging the power of AI to introduce a new Recommended Columns section. Google Ads can help users choose reporting columns based on their campaign type and account settings.
Click Share: Google Ads has facilitated boosting search campaigns by introducing click share and improving the overall ability to receive additional clicks. Click share can provide realistic data about the number of clicks that an ad can receive.
Parallel Tracking: Google Ads has enhanced the loading speed of a landing page through parallel tracking. This is made possible by keeping other processes, like calculating click response, to the background.
TrueView: Google Ads also allows maintaining a budget by introducing TrueView for action, which is aimed at maximizing conversions. A target CPA (cost per action) can be set, and it can be ensured that ROI goals are met.
Final Remarks
Google Adwords services are widely adopted by organizations today owing to Google's ever-evolving algorithms and its unparalleled reach.
There are several PPC management agencies available today that can help companies reach their target audience. These agencies provide suitable tools, techniques, and expertise to maximize clicks on an ad. Therefore, the time is ripe to utilize the potential of Google Ads to exhibit any offered product or service to its target customer.