Lead generation or demand generation in SaaS marketing can be challenging, especially in a competitive market. However, companies can significantly increase their lead volume and conversion rates with innovative strategies and tactics.
In fact, according to recent research, almost half of SaaS companies report that case studies are highly effective for boosting sales. But effective lead generation goes beyond case studies; there are a variety of creative tactics available to SaaS marketers today.
From content marketing to personalization tools and referral programs, the opportunities for generating leads in the software as a service space are practically limitless. By utilizing innovative strategies and technologies, companies can use these opportunities to drive more leads into their sales pipeline and convert more prospects into customers.
What Is Lead Generation In SaaS Marketing
Lead generation in SaaS marketing is a strategic process of identifying potential customers and gathering their contact information to convert them into paying users.
The main components of lead generation are discovering the target audience and educating them about the value of your product or service, developing lead generation strategies to attract their attention, and capturing lead data such as:
Next, it's important to nurture those leads down the sales funnel until they complete a conversion. Through lead generation tactics such as:
You can move prospective customers through your pipeline until they become loyal customers.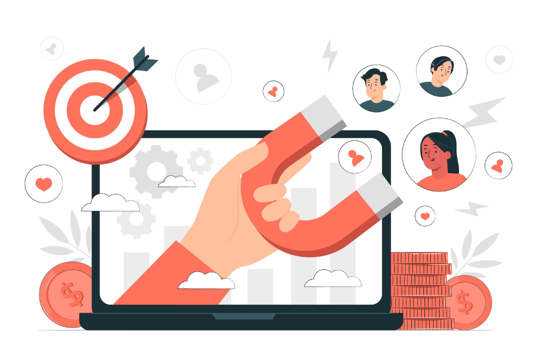 What Is Demand Generation In SaaS Marketing?
Demand generation is the process of creating content that helps you attract more potential customers and convert them to boost revenues. For businesses that have undertaken SaaS product development to build their digital product, it is crucial that you have the brand visibility required to develop awareness and drive sales. This mean, establishing the authority of a business beforehand to develop a more meaningful relationship with the potential customer. With the right strategies of demand generation, businesses can amplify their brand reputation and drive quality leads in the process.
Ways To Improve Demand & Lead Generation In SaaS Marketing
When it comes to demand generation or lead generation, there are a myriad of tactics deployed by businesses of all verticals and scales. However, not all get the results they envision.
This is where where this write-up will come in.
Below, we have encapsulated nine of the best and proven ways to help businesses improve their demand generation and lead generation in SaaS marketing.
1.) Engage in Guest Blogging
Guest blogging is an increasingly popular digital marketing strategy for brands to consider for SaaS lead generation. Writing and publishing content on other well-established websites can help you build authority, authority in the digital world helps brands gain knowledge and trust from customers.
By creating partnerships with these digital authorities and other third-party sites, you put yourself in a position to reach an audience that would otherwise remain untapped.
Guest blogging also allows you to use data-driven keywords that you can use to optimize your lead gen efforts. When strategically connected with the right channels, it offers organizations a great way to create visibility, impact ROI, and increase website traffic. Especially for businesses who have taken SaaS application development to launch their product, guest posting on relevant sites can help reach a larger audience with similar mindset.
2.) Communicate on Social Media
In the digital age, sales teams are leveraging social media more than ever as a key tool in their lead-generation efforts. Communicating through platforms such as Twitter, Instagram, Podcast, and LinkedIn can help a sales team to reach a much larger audience with their message and increase the chances of generating leads for SaaS marketing.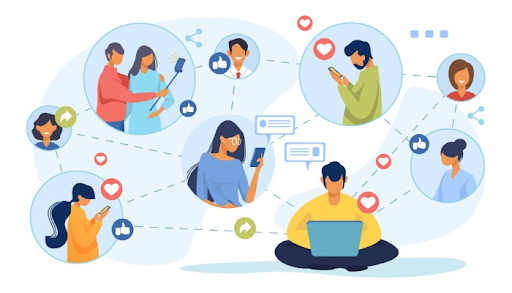 Not only does organic content reach people far and wide, but when paired with the right influencer or sponsored placement, sales teams can target potential customers and get ideal results.
With the consumer market's usage of social media on the rise - 92% of marketers now used social media to build their brand - sales teams should take advantage of this cost-effective technique to improve lead generation in SaaS marketing.
3.) Improve SEO
Improving your website's SEO is one of the most important techniques for generating leads in SaaS marketing. When your website has higher visibility on search engines, you create opportunities for people to find and learn about your product or service.
By leveraging SEO reporting tools, you can optimize your rankings and capture more leads. Utilizing these powerful tools will give rise to higher visibility of your brand in search engines.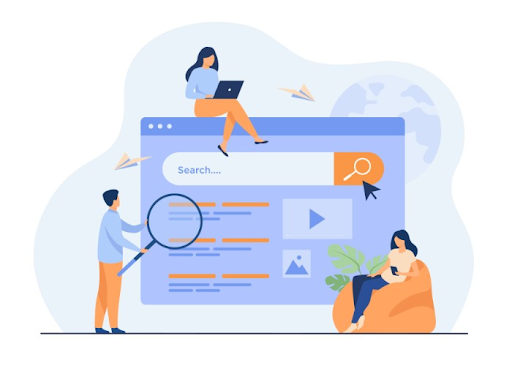 Businesses that rank at the top generate leads in more than 33% of those ranking on the second page of search results. By strategically using high intent keywords, your marketing team can enhance visibility, maximize clicks, and ultimately drive stronger purchase intent.
By budgeting for the necessary tools, services, and resources to better optimize your search results, you can ensure that you're investing your money in the things that will give you tangible results.
For example, if you offer a software development services specifically tailored to small businesses, it helps to ensure that your website contains relevant content intended for small business owners.
This way, you maximize the chances of being found at the top of search engine results on pages when someone searches for relevant products or services. This can lead to increased demand and, in turn, lead generation so it is why improving your SEO ranks is one of the most effective approaches for amplifying your SaaS marketing efforts.
How Classic Informatics helps you to increase your visibility and brand awareness?
Classic Informatics can help you come out of the shadows and into the spotlight.
One way to increase visibility is through content marketing. Content marketing helps attract more followers on social media, generate social/referral traffic to your website, and establish a distinct voice in your content. This will help build brand awareness by creating a customer experience that they can relate to and remember.
Another way to increase visibility is through native advertising. Native advertising fits right into its environment, making it easier for customers to find and recognize your brand. This method of advertising also helps create loyalty among customers, as well as faster conversions than other methods.
Finally, another way to increase visibility is by consistently showing up across multiple platforms. This means using different methods such as email campaigns, social media posts, blog posts, etc., to reach more customers and stay top-of-mind with them. When it comes to executing such a multi-faceted strategy, a comprehensive tool for email marketing like Mailchimp can be a valuable asset.
Overall, Classic Informatics services can help you increase your visibility and brand awareness by using different strategies such as content marketing, native advertising, and consistent presence across multiple platforms. What are you waiting for, get in touch with us now!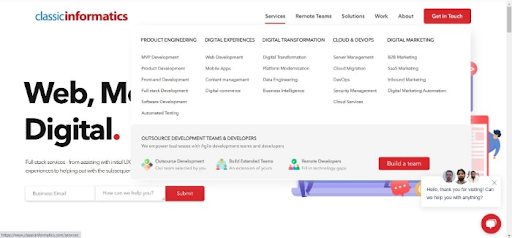 4.) Collect Visitor Data
Collecting website visitor data is key to lead generation in SaaS marketing. By collecting data such as page views, time on the page, and location, marketers can identify the lead's journey through the lead generation funnel.
This data can be analyzed to optimize lead capture by course-correcting areas that are hindering lead conversion such as lead capture forms on landing pages or overly long questions within said forms.
Moreover, it allows marketers to create tailored digital experiences for website visitors that could lead to qualified leads. Collecting visitor data is essential for honing in on the ideal customer profile, which contributes greatly to overall sales and ensures a high ROI for any marketing campaign.
5.) Utilize Chatbots for Better Responses
Chatbots have become an integral part of SaaS marketing in recent years by providing swift and accurate responses to customers while they are on the landing page.
In addition, they can be used to serve up targeted offers and discounts the moment a customer visits a landing page, so businesses can take advantage of all opportunities to convert visitors into paying customers.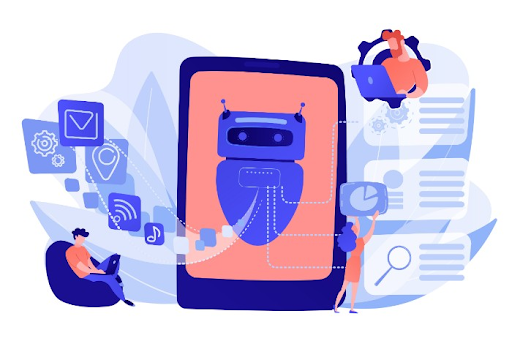 Used in tandem with effective landing page optimization techniques, these machine learning-based services can greatly improve lead generation and consequently boost overall revenue for SaaS companies following an almost effortless business model.
Incorporating chatbot technology certainly promises exciting opportunities to create a more productive workflow irrespective of the size of the business.
6.) Add Exit Intent Pop-Ups and Offer Valuable Downloads
Demand generation is one of the key sales processes for SaaS marketing, and adding exit intent pop-ups and offering valuable downloads are effective ways to improve this process. Exit intent pop-ups appear when a user is about to leave a website, prompting them to stay and take action.
Adding these pop-ups for generating business leads may be prompted by special offers or discounts, helping to capture sales that would have otherwise been lost. Offering valuable downloads is equally effective in improving lead generation efforts; providing helpful resources can provide customers with the evidence they need while making them more likely to purchase a product or service.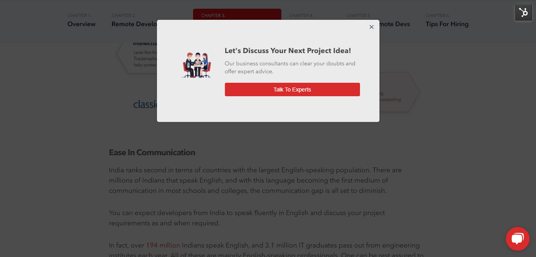 Together, exit intent pop-ups and providing valuable downloads are powerful tools that should be employed as part of any SaaS marketing lead generation strategy.
7.) Ask for Referrals
Asking for referrals is a sales tactic that many businesses overlook, but it can have huge benefits when used as part of a SaaS marketing strategy. The sales process itself can be simplified and streamlined, as you're getting leads from customers who already value and trust your brand.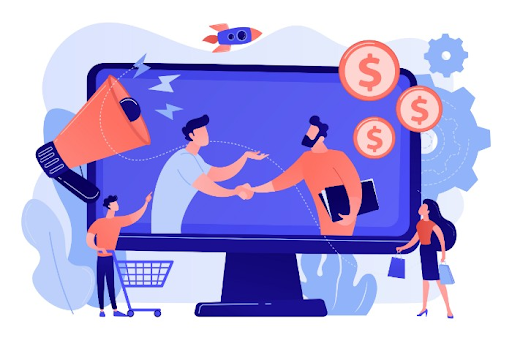 This results in higher lead quality by targeting potential customers who already represent a good fit for your product or service. Plus, research demonstrates that referred customers experience greater customer lifetime value than those acquired through other channels.
Ultimately, asking your current customers for referrals is one of the best ways to improve lead generation in SaaS marketing.
8.) Build Your Network on LinkedIn
Building your network on LinkedIn is one of the most effective methods to improve lead quality and navigate the sales cycle more efficiently in SaaS marketing. Not only does it allow you to grow an active community, but it also serves as a hub for thought leadership content.
Having quality connections helps you segment and target your potential customer base more effectively than ever before, allowing you to filter out irrelevant leads that add no value to your product pipeline. Gaining an Understanding of LinkedIn connection degrees can help you determine the relationships to prioritise. This, in turn, can expedite network growth and ensure a consistent flow of high-value leads.
Once relationships are established, those quality connections not only provide access to valuable opportunities but can even help speed up the sales process. In sum, tapping into LinkedIn's vast network is key to acquiring quality leads from the get-go and unlocking new SaaS marketing avenues that are essential for long-term success.
9.) Create a Social Proof Wall
Social proof walls are becoming an increasingly popular SaaS marketing tactic because they offer quick and easy user engagement. A social proof wall allows SaaS businesses to display reviews, ratings, and other social media interactions on their websites, such as comments and shares.
This encourages new users to join in the conversation, creating buzz around the SaaS product or service and demonstrating that current customers are satisfied with what is being offered.
Additionally, since customers can see how others have used a SaaS product or service, social proof walls help SaaS businesses build trust with their audience and improve lead generation. And also you can have a phisical wall in your office with a nice and motivatingn interior design quote
Put simply, having a social proof wall as part of your SaaS marketing plan can help promote positive customer experiences, lend credibility to your brand's reputation, and get more people interested in trying out your SaaS offering.
Wrapping Up
Lead generation and demand generation are essential for SaaS businesses to stay competitive in the market and improve their long-term success. There are many tactics SaaS businesses can employ as part of their lead generation strategy, such as using exit intent pop-ups, providing valuable downloads, asking for referrals, building network on LinkedIn, and creating a social proof wall.
By utilizing these tools in addition to other aspects of your SaaS marketing plan, you can improve lead quality and generate more business leads that will help take your product or service to the next level.