A million apps have jammed the market. In such a juncture is there a possibility of entry of new mobile applications. If yes, then how is it possible to be taken notice of in that sea of infinite options available for users? Is there a marketing approach available to generate traffic for a mobile application?
This indeed is the right time to tap the mobile application market before it becomes stagnated with all possibilities. If there's a new idea springing up, the application definitely needs to be developed but then it also needs to be coupled with the correct marketing approach. A bad launch will only create duplicates of the same idea and will enable competitors to create a similar application and be more successful than the one with the original idea.
The shelf life of a mobile application is very less and hence mobile apps marketing becomes even more important to enable the outreach of the application within that quick turnaround time. Below is a chart that highlights the current trend. Applications indeed are here to stay as they continue to dominate the mobile web.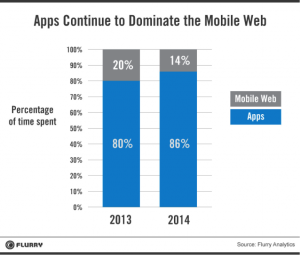 (Source: Flurry Analytics)
Lets then run through a quick guide of mobile apps marketing:
Create a brand value:
Right from the screenshots of the app to the logo of your company, exists your brand value. Customers are themselves tech savvy in today's marketplace and they do browse through fundamental elements like credibility, brand and customer reviews. The icon in the application store represents the brand and the enterprise. The first impression is often the last impression and creating a brand value would definitely establish a relationship with the user.
Tap Keywords:
Keywords should be given high priority. They are like the address of your app. Customers will reach to your app only by searching for some keywords. Hence in the description of the app, the possible keywords with which you want customers to associate your app with need to be incorporated in the same. Also the name of the application can be thought of on similar lines.
Discover the competitors:
You can find out your competitors by looking at the other results on typing the same keywords as used by your application. This enables you to understand the type of competition and choose the category under which you want to label your application. A fierce competition in one category might make you settle in another category.
Post Launch:
Application analytic programs can be utilized post the launch to keep a track of the performance of the app. How often are the users being online? If they are online, are they active or passive users? What demographics is currently using your application. These analytic programmes can help an enterprise discover its limits and flaws and help channelize the marketing then required.
Feedback:
Customers are happier to have a personalized space in the mobile app market. They like to interact than to just be passive consumers. Hence it is essential for a mobile app to make itself up for proper reviewing. Users using the application need to be daily encouraged to take the step and rate the application. This rating is very important as a lot of applications are ranked by the third party in the event of the same keywords in order of the rating of the application. Plus customers do read reviews to see the suitability of the service for them and also they communicate with other customers in the form of reviews.
Digital marketing:
Besides all these traditional methods of marketing mobile apps, one of the most important approaches to increasing visibility of mobile apps is via digital marketing. We have to agree that brand retention is an idea of the past and does work today only in certain cases. The trend now is of content and inbound marketing. Leveraging content and inbound strategies can create a potential market of the customers who really want to use a service. It cuts down on passive consumers. It can all start with a simple blog, creating a podcast and useful content. Customers serve themselves information via content and hence powerful content can easily attract customers to use a service.
The Top Mistakes to Avoid
There is no dearth of mobile application development and that's accurately why we need mobile application marketing. But on a quick note, always beware of the possible mistakes of mobile apps marketing. Here's a quick run through:
Mistake #1:
Treating the mobile experience as a desktop experience. Drawing from the basic functionality, design elements corresponding to a mobile experience needs to be incorporated. At the same time, input functionality needs to be redesigned according to the mobile phone experience.
Mistake #2:
You wanted to make an app but ended up making a mobile website. This happens when enterprises try to fool the customer by treating a website with the feel of an application. But then this can only end customer relationships.
Mistake #3:
You ignore your customer base. Ignorance is not bliss in the field of mobile apps development. The Application store is not the right place for customer reviews and feedback and hence the application itself needs to have its own feedback system in place.
Mobile apps development and mobile apps marketing go hand in hand and can't be separated from each other. If they do not co-exist, then entry of new mobile apps would become impossible and customers would never be able to reach to what they are seeking. Hence it is very important to note that for an application to find its market, proper marketing needs to happen before the launch, at the launch and also after the launch.