The rapid technological transformations come with evolving trends in the field of website design. The year 2021 showed renewed optimism when it came to shaping the design elements.
The huge cultural shifts of the global pandemic reverberated throughout the market of web design. The trends forecasted for 2022 aim to go much beyond the cliched components by focusing on the website mechanics that is fluid and functional.
Humans are superficial beings. We base our opinions, decisions, and perspective on appearances and visuals. In marketing, this is a win-win situation.
A website is like the front door inviting prospective customers to invest in their business for any company. It is why a professional, user-friendly interface is pivotal in building credibility and exposure.
In today's digital landscape, creative designing strategies remain effective in growing your customer base. With the right website, you can create an online presence that makes your business stand out in the competition and drive sales.
First impression matters.
As custom website design trends and cutting-edge software development continue to promote opinionated business branding, the field of web design continues to flourish. With this article, you can understand the web design forecasts for the coming years and leverage them for successful business outcomes.
What are the Main Elements of Website Design?
Website design is the process of planning, organizing, and arranging content and ideas online. Core web designing is not only about the visual appeal; instead, it is more about functionality. The intention is to present content on electronic web pages so the end-users can access it when needed.
The visual key elements of website design are as follows –
The Layout: The developers arrange texts, graphics, and ads for customers to find all information they are seeking. Maintaining integrity in design, balance, and consistency is necessary.

Fonts: The choice of fonts enhances the efficiency of website design. Its combination with color, scheme, image, and graphics decides the overall website tone.

Colour: The proper color selection depends on the website's purpose and clientele. Ensure to consider the color psychology, as it complements web design and conveys an ideal brand message.

Graphics: Graphics include photos, logo, icons, and clipart. It should be made user-friendly at par with the website's font and color implementation.

Spacing: Proper incorporation of spacing makes your website look organized and easily navigable. It critically balances the text, graphics, and photo. Modern web designers prioritize whitespace to a significant extent.

Content: Create optimized website content that is relevant, informative, and understandable. Incorporate the correct keywords and align them with your brand quotient.
Effective Website Design Trends for 2022
Web design trends are constantly changing. That is what comprises its beauty as well as difficulty. With new SEO practices and technological advancement, online websites have become the pulse of every business.
Subtle innovations in design are paving the way for the next big thing to become larger than yet another mainstream norm.
#1. Mobile-First Design
As more people continue to access the internet through their smartphones, mobile-friendly websites are bound to perform the best. It is crucial to consider how the users like to view things on their mobile screens.
The thumb-friendly website also comes into play here. Designing a simple and intuitive website offers an optimized thumb scrolling experience for various mobile platforms. You can check notifications and type messages with more ease.
#2. Dark Themes
The popularity of the dark theme has gained significant momentum. While most apps like Facebook, Instagram, Twitter have shifted to this interface, the e-commerce business websites are likely to adopt it in the coming years.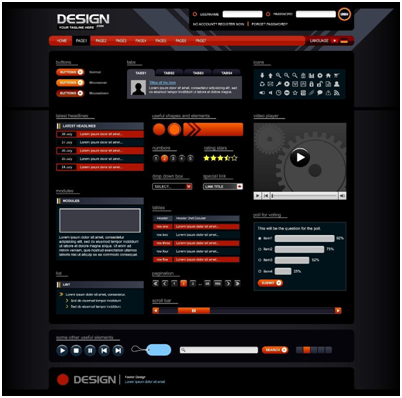 The dark theme lets you obtain many positive aspects during website designing.
Create accent colors and highlight due to contrasts
Perceive the entire content at lower levels of brightness
Low energy consumption extending the life of your laptop screen
Less stressful and soothing for eyes
#3. Custom scrolling
As per our common understanding, scrolling through a website is possible vertically. The option is the same for laptop or computer scrolling using a mouse.
However, the expansion of technology is letting developers bring custom scrolling options for all. With horizontal scrolling and gesture control, you can enjoy a comfortable view of website information on tablets and phones.
On the other hand, scrolling on all planes allows better interaction with the device. The same can happen during website viewing, as you can check the products from any side or angle.
#4. Flat Design
While minimalism is already in trend, by 2022, the concept of flat design may strengthen further. It has become an aesthetic as well as a practical choice for designers. With the rise in the ethos of Apple design, the idea etched in the public's consciousness.
Flat design is about simple shapes; rather, it places together intriguing geometrics with monochromatic palettes. All this helps with the faster website loading speed, easy navigation, and increased adoption.
#5. Web Design in Motion
By 2022, e-commerce websites can make the user experience as seamless as possible. In an age of instant gratification, the tools of micro animation like GIFS, CSS, and HTML5 may boost audience engagement.
Images convey more than words.
The audience can understand what the website is all about. It forms an opinion in the blink of an eye, further adding to the website's credibility.
#6. Muted tones
More web designers may favor using calm, neutral, and muted tones for the website background, theme, and color illustrations. This modest approach to designing can give you something restful to look at.
Practically, the visitors may stick to the website for a longer time, increasing conversion rates. Earthly colors combined with a clear topography can create relaxed websites focusing on heightening the user experience.
#7. Voice Functioning
By 2022, voice search may be a commonplace element in website design. The voice-activated internet interfaces can allow swift website communication, promptly fulfilling customer demands.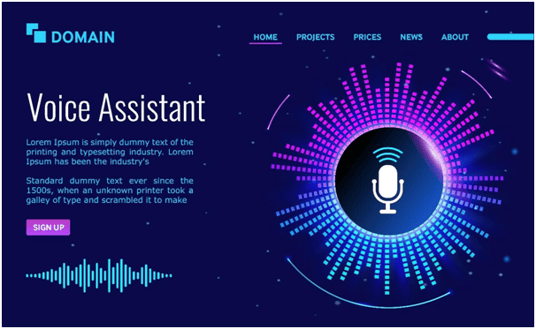 You can specify your requirement without waiting for a longer response time. The effective implementation of contactless navigation will, therefore, make it fun and engaging.
#8. Flaws as a standout factor
You cannot consider imperfections as unattractive. In fact, in the coming days, it is likely to draw more audience attention.
A strikeout asymmetrical website design can create an enticing outlook and make the overall appearance unique and authentic. Flaws can be vital for creative web design, and going unusual may be the new trend.
#9. Chatbots
By 2022, chatbots can completely replace customer support or service. They give us better human responses and benefit e-commerce businesses in manifold ways. Even in website designing, chatbots may handle 90% of customer communication after filtering actional items.
#10. Working with layers and shadows
For an illusory 3D effect, the designers can use creative elements like floating soft shadows. Believed to be a simplistic technique, it may become a crucial part of website designing by 2022.
As customers, you can get the illusion of a larger space and recognizable products and also be aware of proxy servers as a good design will let you analyze what's genuine and what's not. Volumetric animations may see complete exclusion in the coming days.
Conclusion
The field of website design is never predictable, and this is what makes it exciting. The top forecasted trends for 2022 can make you realize its dynamic influence in shaping human lives.
While the designers continue to bring website inclusivity, you can discover other design aspects that may likely drive website development in the coming years.