Last Updated on 17th November 2021.
Adoption of Magento 2 by an e-commerce business requires good effort but in the end, it is all worth it!
Introduction
Consider the following scenario:
It has been a year since the business proposition of online sales for M/s. Exquisite Wines. Owner and CEO William has everything under control— varieties of Wines, assembly and dispatch centers, distribution and logistics, and even the website www.e-wines.com (again, hypothetical) are ready to launch. Except for the software solution to run the business.
On the other hand M/s. Furniture Stop started by Steve has been in business for 6 years in the online sales of furniture of all kinds. They have been on Magento 1 since the beginning. Furniture Stop is facing a major transformation and has felt the need for software upgrades especially keeping in view mobile devices.
Here, hypothetical CEOs William and Steve represent two of our valuable customers who encountered a (somewhat) similar situation. Our suggestion to both was: Magento 2.
Let's see why:
Magento 2 Features
Magento is an open-source e-commerce platform written in PHP. It has been constantly evolving with time and meeting the demands well— Magento has released 30+ versions in its 10 years of existence, clocking over 235,000 stores.
Magento 2 in its current form (release 2.2) is studded with features like:
Great User experience

Superior Catalog Management

Quicker Checkouts

Mobility Support

Faster/more-powerful Performance

Excellent Analytics/Report generation

Easy integration with other apps

Many extensions

Migration support and extensive developer support
Technically Magento 2 comes well equipped to help businesses like (M/s) Exquisite Wines and (M/s) Furniture Stop in many ways. One of the reasons why people love Magento is that it keeps getting better with every release.
The path of migration for so many patrons of Magento has been clear: it is either Magento 1 to Magento 2 or other products to Magento 2. Migration to Magento 2 is a considerable effort and must be done with good strategy and planning; however, there are many engaging reasons to seriously consider moving to Magento 2 platform. For instance:
If you are already on Magento 1 (like Steve), I have news for you. The support for Magento 1 has been extended, but it would probably won't last long. And if you own some other solution or are currently looking for one (like William), then there several compelling reasons to consider moving to Magento 2:
Ease of scaling (up or down depending on business needs)

The flexibility of features, great support, and feasibility of customization to quote a few

Another

number of compelling features

improved performance

Key payment platform integrations

Better admin interface, better support, mobile internet

Uniform experience across devices.
Statistics and Examples
Magento is the 3rd most popular e-commerce platform in the world today with over 250,000 merchants and supported by 150,000 trained developers, as per the latest report by BuiltWith.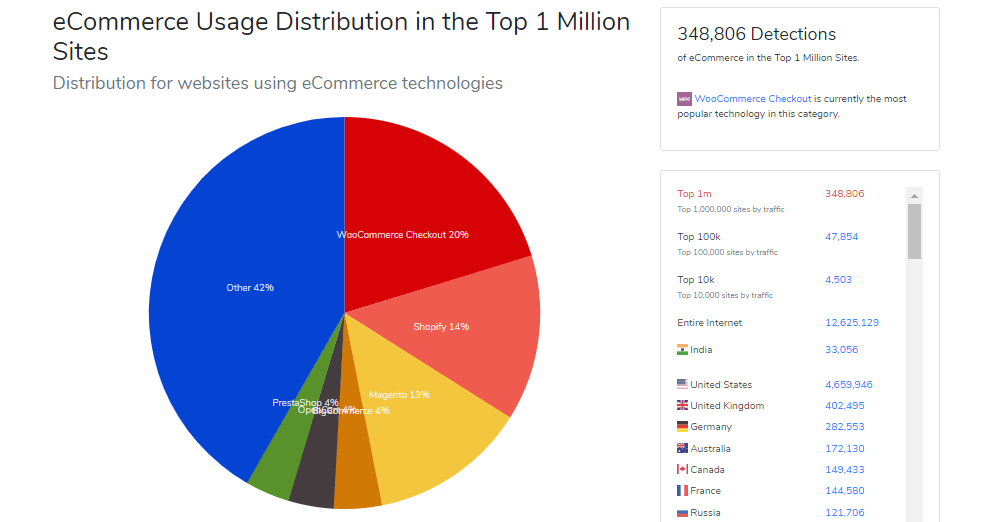 Out of a total of 1,385,764 websites worldwide powered by 140 technologies, Magento accounts for 155,611 websites, Magento 1 at 148,183 websites and Magento 2 at 8,502 websites, with them ranking at numbers 2, 3, and 26 respectively after WooCommerce of IBM according to the current rating by the source.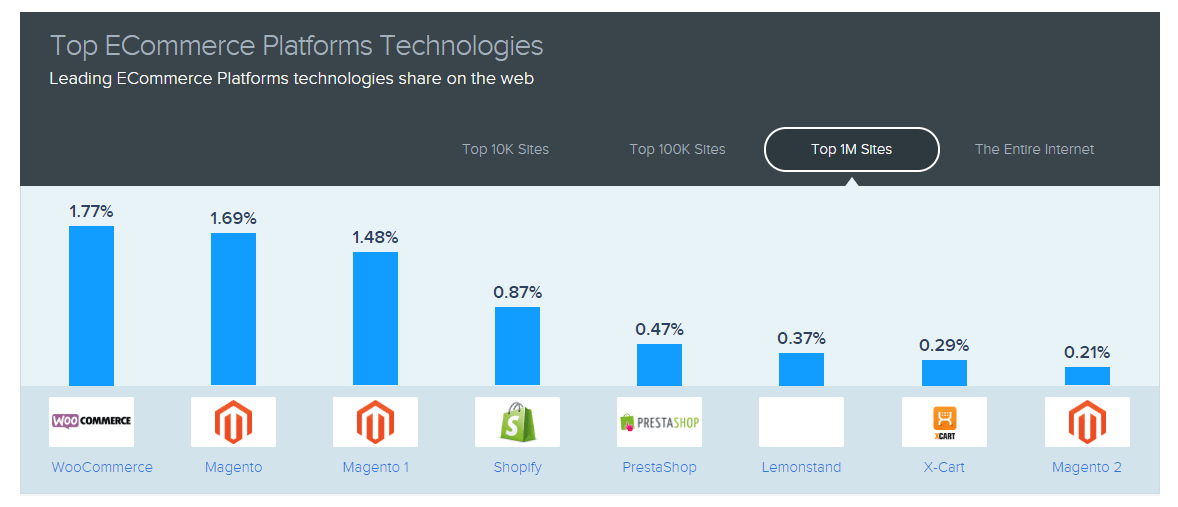 Source: SimilarTech
Advantages Of Magento 2
You can enjoy immense benefits from migrating magento1 to Magento 2:
Listed down are a few of them:
Improved performance and scalability
Facilitate fast and user-friendly checkout process
Mobile friendly and easy-to-upgrade
Better admin Graphic user interface
Permit Seamless Integrations
Magento Latest Updates 2021
The year 2021 is full of updates for Magento. The popular eCommerce platform Magento has scheduled a lot of updates for its users. Here are the updates you can witness in 2021.
Provide Online Support For Payments- Helps you streamline the purchase done by buyers.
In-Product Guidance- Helps you deliver a personalized experience to Magento users with excellent power-packed features.
Image Optimization- Helps to improve storefront rendering performance.
Quality and Performance Upgrade- Helps to improve your Magento experience.
Upgrade to PWA Studio- Helps you build the PWA easier by increasing time to market with reduced costs.
Enhance Security Level-Expansion of ReCaptcha and protection against spam
Platform Quality Upgrade- Helps you focus on website performance and quality upgrade that includes low indexing time for product price and catalog rules.
According to Statista, U.S. mobile retail sales are expected to reach $432 billion by 2022.

Migrating to Magento 2 with Classic Informatics
Magento 2 is a technologically superior platform with a number of features such as a number of extensions, improved security, payment gateways, easy product-catalog setups, testing platform, and customization features just to mention a few of them. Although Magento 2 comes with a data migration tool the additional features are better handled by an experienced e-commerce developers' team (Why don't you try ours? Check out a few profiles here).
So how do we go about it? Or better yet: How we helped Exquisite Wines and Furniture Stop seamlessly migrate to Magento 2.
Timeline
Exquisite Wines: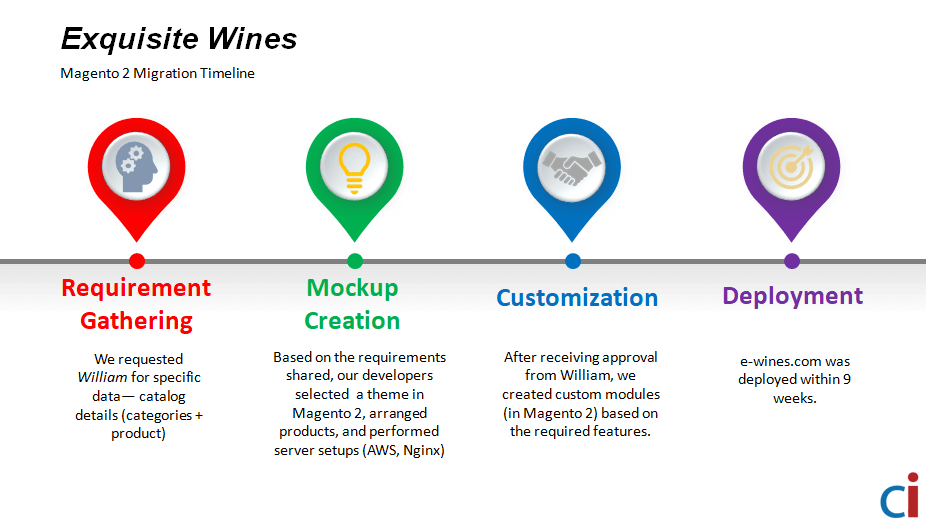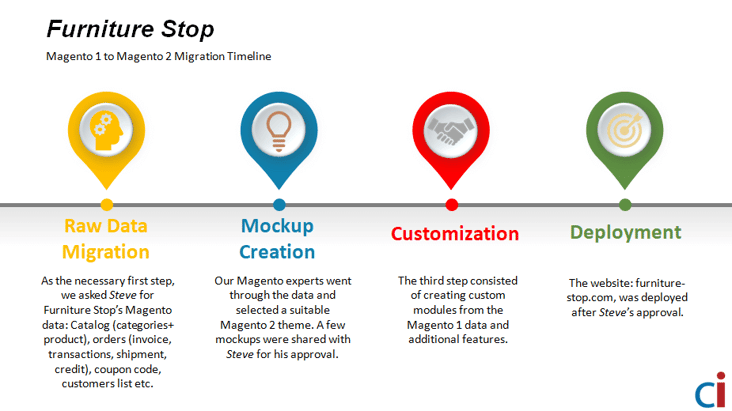 Time Estimate: It thoroughly depends on the size and type of your business— if you own a small business we can typically migrate you in a few weeks. The timeline can extend up to 2-3 months for a medium-sized business. It took us 9 weeks to fully setup Magento 2 for (real) Exquisite Wines. And if you own a large business (like Furniture Stop) it could take well over 3 months depending on the features required.
Classic Informatics' Game-changing Magento Services
As ecommerce developers and B2B e-commerce solution makers, we help businesses build, scale, and transform their eCommerce applications to deliver memorable digital experiences to your users and help you run the business effectively. With over a decade-long experience in cutting-edge eCommerce technologies such as Magento, Magento 2, Shopify, WooCommerce, our subject matter specialists helps you develop, test, maintain & scale applications to build on your revenue streams.
We do any-cart to Magento migration, porting from older Magento versions to Magento 2.x & more. We offer round-the-clock application monitoring, instant support, smooth version upgrades, & more. We strive to ensure the highest up-time & operational longevity!Take a look at oureCommerce portfolio for more insights.
Conclusion
The world of e-commerce is evolving, growing, and becoming more competitive. New entrants, as well as established players, need effective software solutions for their business operations. Magento as an e-commerce solution has several features to offer. The adoption or migration must be done well. Our reputation is built on our results. You can count on us.