Magento has emerged as the leading eCommerce platform for delivering supreme eCommerce solutions to businesses today. Many vendors, business owners and entrepreneurs are seeking to take their ecommerce business to the next level with Magento.
Migrating from Magento 1.x to Magento 2.x is the most commonly used buzzword today in the world of eCommerce. Magento declared it will end its official support to Magento 1.x in 2020. This left businesses with no option but to quickly migrate to the 2.x version.
So, Which version of Magento are you running? If you're still using version 1.x, you should know about the enormous benefits of Magento 2.x that delivers a modern, scalable and reliable ecommerce solution for businesses with supreme flexibility and customizations.
Magento 2.x is a completely new platform with fast page loading, stress-free customer experience, fast response time, efficient check-out capabilities and what not.
This guide will explain everything from the reasons why there is a need to migrate to Magento 2.x, the migration process, tips during migration, cost, and so on.
Why Is There A Need To Migrate To Magento 2.x?
Are you wondering why every ecommerce business owner is running behind migration today? Why do they find it beneficial to upgrade Magento at this point of time?
Here is the answer to these questions.
Executing new changes on the previous Magento platform will be more time-consuming for developers, and more costly for businesses.
For efficient upgradation, ensure better utilization of your time, cost and resources to meet end-customer needs. The journey of Magento 1.x to Magento 2.x migration is not so pleasing. It is a roller-coaster ride that is full of challenges.
Magento has recently announced that they will be discontinuing support for Magento 1.x after June 2020. This means that you have 15 months to plan and migrate from Magento 1.x.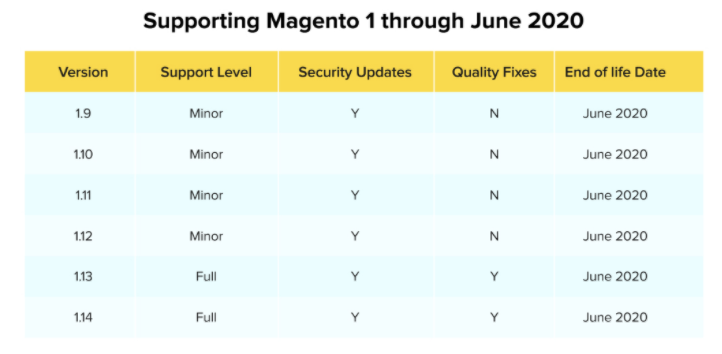 Businesses often noted that they have a less need for Magento extensions due to the native capabilities of Magento Commerce 2. It not only simplifies the development and maintenance process, but at the same time also enhances the performance.
Listed down some of the reasons as why this Migration is a need today:
Security Breaches
In June 2020, Magento will stop publishing Community and Enterprise 1.x security patches, leaving your site vulnerable to cyber-attacks and hacks. By staying with Magento 1.x, you're seriously putting your site and customers at high risk.
Module Updates
As Magento 1.x won't provide you any kind of support, many of its modules will also become outdated. Developers then focus their time and effort on Magento 2.x extensions. This module is often critical to your site's functionality and could stop working abruptly, without any future plan or fixes.
Number Of Magento Developers
There will be fewer Magento 1.x certified developers willing to participate in Magento 1.x projects. Many companies will focus their resources, efforts, and training toward Magento 2.x. The more time you take to upgrade beyond Magento 1.x, the less of a chance you may have to find a right partner to support your migration within your timeline.
| Parameter | Magento 1.x errors | Magento 2.x features |
| --- | --- | --- |
| Speed | Slow page load causes shopping cart abandonment. | Fast page load results in better conversion rate. |
| Technology Stack | Doesn't support latest PHP stack | Supports latest PHP for clean coding |
| SEO Performance | Lack of meta tags function affect the SEO | Facilitates meta tags for better SEO |
| Security | Old securing algorithm & missing factor authentication make websites hackable | Fresh hashing algorithm with factor authentication secure the store |
| Analytics | Smart analytics and reports are missing | Smart reporting and analytics intelligence |
| Add To-Cart | Add-to-cart response time is ordinary | 66% faster add to cart response time |
| End-to-End Checkout | Average end-to-end checkout | 51% faster checkout response |
| Browsing | Catalog page view response time is slow | Faster response time for catalog browsing |
| Orders per Hour | Can only manage limited orders per hour | Can take more orders per hour by 100 to 120% |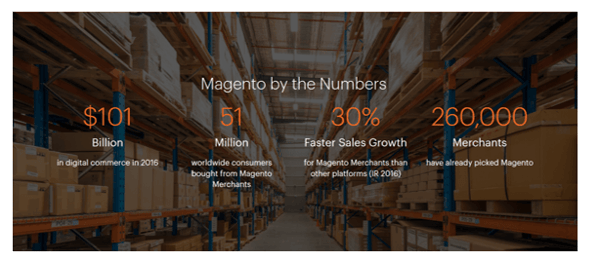 Magento
Magento 2.x- A Powerful Upgraded Magento Version
With a user-friendly checkout method, improved indexers, and database optimizations, Magento 2.x proves to be a number one choice for E-commerce store merchants!
Improved security and rich-featured functionalities are some of the reasons why leading eCommerce businesses such as Tile Giant, Pino's, Graze, Land Rover, and many others have already upgraded to Magento 2.x. They better understand that a significant software upgrade can boost their business revenues.
Migration to an upgraded version will certainly require a professional Magento developer with an upward learning curve.
Although, migrating is never painless, even when you're migrating between two versions of the same system, upgrading from Magento 1.x to Magento 2.x can offer you enormous benefits.
Adoption of Magento 2.x by an e-commerce business requires good effort but in the end, it is all worth it!
Magento has a 1.2% share of the CMS market.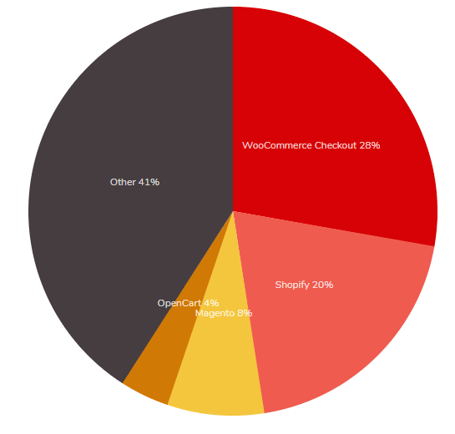 What makes Magento 2.x different from Magento 1.x?
Magento is the most secure, user-friendly with a huge module library. The platform facilitates stunning user experience and creates engaging shopping experiences.
Magento 2.x incorporates features like:
Inevitable User experience: The upgraded Magento responsive front-end design makes it easier for users to browse on all devices. This responsive design also enhances the overall user experience.

Faster Performance: The page loading time of the latest version of Magento 2.x is way faster than the older versions. The load time of the homepage, category pages, and product pages is less than 1.5 seconds and that too without using the front-end cache.

Streamlined Checkouts: The checkout process has become easier and faster in the latest Magento version. Checkout is available for guests without registration. Magento 2.x automatically recognizes registered users based on their email addresses.

Low Cost and Easier Extension Updating: Magento comes before Drupal and WooCommerce for eCommerce development. Installing new extensions and modules makes it simpler and cheaper as compared to the Magento 1.x version. The process has become simpler now with an easy modification of the front-end functionalities.

Ajax Add-To-Cart:

Every time a product is added to the cart in Magento 1.9.x, the system reloads the page, which damages its performance. This can mount to seconds, which can cause customers to abandon their carts.

Thanks to Ajax add-to-cart, the new system doesn't have to reload the entire page when a new item is added to the cart, which also enhances the user experience.

Simpler navigation: With Magento 2.x ,admin navigation is simplified and more modernized now. The new admin interface is a welcome feature for those who don't own Magento developers. There are more than 250,000 active eCommerce sites powered by Magento, as of 2020.
Overall retail eCommerce sales were $1.86 trillion in 2016 and are expected to grow to $4.48 trillion by 2021. – Statista
Classic Informatics' Game-changing Magento 2.x Migration Services
As eCommerce developers and B2B e-commerce solution makers, we help businesses build, scale, and transform their eCommerce applications to deliver memorable digital experiences to your users and help you run the business effectively. With over a decade long experience in cutting-edge eCommerce technologies such as Magento, Magento 2.x, Shopify, WooCommerce, our subject matter specialists helps you develop, test, maintain & scale applications to build on your revenue streams. We do any-cart to Magento migration, porting from older Magento versions to Magento 2.x & more. We offer round the clock application monitoring, instant support, smooth version upgrades, & more. We strive to ensure the highest up-time & operational longevity! Take a look at our eCommerce portfolio for more insights.
Pre-Migration Checklist
Here is a list of things that you need to take care of before migrating from Magento 1.x to Magento 2.x :
Take a complete backup of the Magento 1.x data store including all files, folders, and the database.
Create a clone of your Magento 1.x store. Do not use the live store for the Magento migration process.
Analyze your store. Keep what you think is necessary and delete the rest for Magento 2.x migration.
Check whether your current theme(s), extensions and custom code are compatible with the Magento 2.x.
Migrate the data from the cloned database of your Magento 1.x store.
Remove obsolete and useless data from the database. This includes logs, recently viewed products, compared products, etc. before the Magento 2.x migration process.
To make the Magento migration process as hassle-free as possible, install a fresh copy of Magento 2.x on the same hosting server where your Magento 1.x store is located.
And, before we move on to the Magento 2.x migration processes, you should also ensure that the store traffic and other SEO related practices are streamlined.
A 4-Step Magento Migration Process (Magento 1.x To Magento 2.x)
According to the official documentation, Magento 2.x migration process involves four different stages:
1. Theme Migration
Magento 2.x introduces new methodologies and technologies for delivering enhanced shopping and store experience to the merchants and users. Developers can take full advantage of new ways of creating awesome Magento 2.x themes or modify the current ones to make them compatible with the Magento 2.x standards. Also, you cannot directly migrate your Magento 1.x theme to Magento 2.x.
You have to create a new theme for Magento 2.x and make it responsive for the best user experience.
If you wish to have a hassle-free process, buy and install a Magento 2.x theme from the Magento Marketplace or other reputed source.
2. Extension Migration
Extensions are one of the integral components that provide new features and extended functionalities of your Magento store. The next step in the Magento migration process is to install the desired Magento 2.x extensions available on Magento Marketplace.
You should keep in mind that Magento 1.x extensions will not work on Magento 2.x. You will face severe compatibility issues while integrating Magento 1.x extensions into Magento 2.x.
Only install those relevant extensions that are available and needed for your Magento 2.x stores. The Magento developers, community, and development companies are still working rigorously on porting Magento 1.x extensions to Magento 2.x.
3. Customization
Usually, the custom code used by your Magento 1.x store is compatible with Magento 2.x in many cases. Magento offers a Code Migration Toolkit that helps you during this migration process. Due to structural differences in the two platforms, Magento migration may require additional hard work to make sure that the custom code successfully integrates with the Magento 2.x store.
To know more about the integration, visit the GitHub repository of the Magento Code Migration Toolkit.
4. Data Migration
The last step you need to perform during the Magento migration process is migrating your Magento 1.x settings and data to Magento 2.x. Magento has officially released Magento 2.x Data Migration Tool that helps developers migrate their store data and settings using CLI commands. It makes your migration process a lot easier.
Data Migration Tool helps you migrate the entire data from the database of Magento 1.x platform to the database of Magento 2.x platform based on a set of rules defined in the XML files.
Presently, the Data Migration Tool only transfers data and settings. Extensions, themes, and other code customizations of the Magento 1.x store cannot be automatically migrated to the Magento 2.x store.
You will have to reach out to your theme/extension provider to see if they have provided an exporting option yet for the Magento 2.x platform.
Before making a decision to migrate to Magento 2, it's important to prepare a detailed migration plan comprising each step with detailed information.
Here is the detailed flowchart from Magento: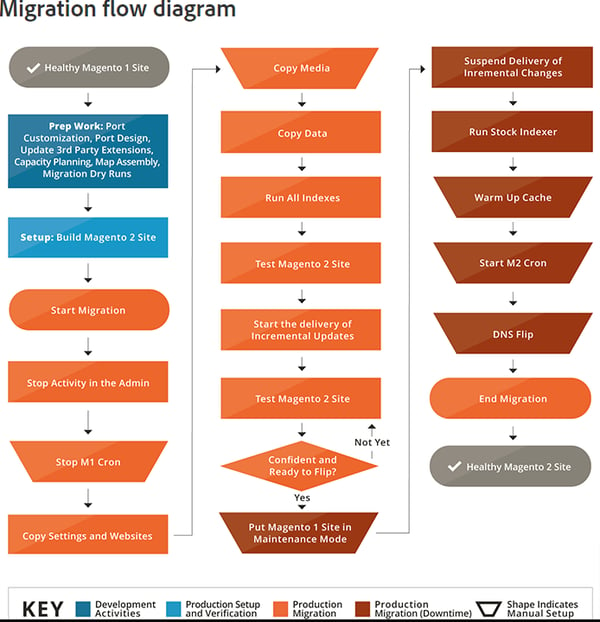 Why is Magento 2.x is a Perfect Choice For Your Ecommerce Business?
Compared to the now-obsolete Magento 1.x, the latest version offers a myriad of benefits that can significantly impact your business growth in the long run.
More than 250,000 merchants worldwide use Magento as their eCommerce platform
Let us look at some of the essential benefits of migrating Magento 1.x to Magento 2.x.
1. Improved Performance and Scalability
Magento 2.x is undoubtedly more efficient than Magento 1.x in every aspect. It's equipped with an improved indexer that helps in increasing its query performance speed. Also, it is well equipped with an improved indexer that helps in increasing its query performance speed.
Moreover, a prominent HTTP accelerator technology, Varnish Cache simplifies cache requests. Here, it is simpler for one admin user to create and edit eCommerce product information without data conflicts in Magento 2.x.
Magento 2.x has enhanced performance and scalability because it:
Improves web pages for faster delivery
Boosts server response times for all website activities
Enhances proficiency of backend operations
Improves database flexibility and scalability to deal with peak loads
2. Advanced Security Features
Magento 2.x has highly focused on security features. Securing user details and offering a secured checkout process, is an efficient upgrade to Magento 2.x. This is considered a very crucial requirement of an advanced eCommerce website development.
Few Ways how security is maintained in Magento 2.x:
Password: It enhances password security by using SHA-256 hashing algorithms within its password management system.

2-Factor Authentication: It offers an incredible 2-Factor Authentication extension, which gives an additional layer of protection to your business and customers.

Dynamic Backup Plan: It permits to have a full backup of their Magento store files by downloading them with an FTP client. This allows store owners to have an hourly offsite backup plan and downloadable backups.

Unique Admin URL: A unique admin URL of your Magento store offers a secure protection layer by making it difficult for hackers to locate it.
3. Fast Checkout Process
Magento 2.x platform provides a fast and easy checkout for your eCommerce site. It helps you recognize visitors as guests, eliminating the login or registration form required for users to continue the checkout process.
Also, displaying an active shipping rate based on a specific country, region, or postal code. In Magento 2.x, you can easily integrate any payment method into the checkout procedure. There are several payment options available that include Paypal, Braintree, and Stripe.
Magento 2.x checkout process includes the order summary, so your customers can easily review their shipping information. This makes the checkout process hassle-free and enhances customer experience.
4. Advanced Reporting
Reporting is considered very crucial in succeeding in your eCommerce business. The new advanced reporting features, located in Magento Admin, offer 20 reports through its web interface. This feature gives you insights into three critical areas, such as:
Orders:

the number of orders, AOV, and taxes and shipping fees collected

Customers

:

the number of registered accounts

Products

:

the number of products orders and which product sells best
The reporting is dynamic and real-time, offering you the metrics that you need for better management of your eCommerce business.
5. Database Segmentation
Magento 1.x offered a single database for customers, admins, and developers. It causes database overload. So, if there was a heavy load at the admin's end, the customer side would get affected, thereby affecting User Interface.
However, Magento 2.x offers a split database solution. There three categories it involves are: product data, checkout and orders.
These categories help in segregating the database, and prevents any negative impact on each other.
6. Mobile Friendly and Fully Responsive
Magento 2.x offers mobile-friendly and responsive designs for delivering the perfect checkout experience.
The admin panel in Magento 2.x is touchscreen-friendly – making your site easy to use and easy to navigate irrespective of the device you're accessing it from.
7. Rich SEO features
Organic search is the main source of traffic to eCommerce stores. Magento 2.x offers all the SEO features a website needs for generating traffic.
It offers two major features:
Merchants can build SEO friendly URL structures

The Magento 2.x website enables Meta-implementation. The introduction of rich snippets allows you to optimize XML sitemaps to raise the search engine rankings.
8. Magento 2.x is a vast community
The open-source platform has more than 315,000 developers throughout the world and more than 280,000 running businesses. Everything is backed by a huge community that is available for support, development, and customization.
Magento 2.x is packed with a huge library of third-party extensions. You can easily add them to the functionality of your store. The integrations are compatible with popular payment gateways such as PayPal, Sage Pay, World Pay, Klarna, and various other applications.
9. Easier Product Uploads and Enhanced Customization
With Magento 2.x, product uploads have become a lot easier as a step-by-step guide is provided with it to help the admins. Users can also easily add product videos and photos. This helps in making the product gallery more attractive and engaging for customers.
Customization is another edge at a company's disposal. In Magento 2.x stores, the users can keep a track of the past preferences of the customers and pitch to them the offers and discounts in which they are more likely to be interested.
Quick Magento benefits favorable to your eCommerce business:
Open-source free of cost platform
Fast browsing of products
Drives huge traffic to your website
In-build powerful tools
Full support of reporting and analytics
Multiple payment options to customers
Magento 1.x To Magento 2.x Migration Cost
Segregating the Magento 2.x migration cost under the below points.
1. Magento License Fee:
Magento 2.x version is available in two editions— Community Edition and Enterprise edition. The Community Edition has no cost for the license fee. It's entirely free of cost. However, for Magento Enterprise Edition, there will be an annual license fee. The license fee for it starts from $22,000 per year.
You can also get cloud hosting solutions in the form of Magento Commerce Cloud in the pricing of $40,000/yr to $190,000/yr.
2. Optimal Data Import Cost:
Magento 2.x offers a safe data migration option. The data like description, orders, product attributes, tags, customer details, meta titles, content, tags, etc should be considered under one single list. This will help you in verifying the list post-migration. Also, you can easily cut down migration costs when you filter unwanted data behind before the migration process.
3. Third-Party Extension Cost:
Unfortunately, you can't use Magento 1.x Extensions in Magento 2.x. Magento 2.x provides extensions with features same as of Magento 1.x. Map these extensions in Magento 2.x and get your old extensions replaced. But, the third-party Magento 1.x extensions can be migrated to the newer platform, but the cost and timeline will be highly dependent on their complexity.
4. Theme Building Cost:
You can't migrate the Magento 1.x theme to Magento 2.x. Since they both have different coding and frontend templates, you will have to formulate an entirely new theme that may cost you a big amount.
You can also purchase themes from the Magento 2.x store. As you have to spend on store themes, buying directly from the Magento store would at least save your time.
5. Magento 1.x To Magento 2.x Customization Cost:
If you are using a customized Magento 1.x store so far, migration to Magento 2.x would need necessary changes in the code. You'll have to appoint a developer to make your custom code compatible with Magento 2.x. It will be added to your cost.
6. Magento Partner Agency Cost:
Choosing a Magento development company is optional. They have a group of certified Magento professionals who have in-depth knowledge and experience regarding Magento 2.x and migration. You may hire Magento developers from agencies who charge anything between $30 to USD 170 per hour.
Comparative Analysis Of 4 Powerful Ecommerce Platforms
If you are looking to understand the difference between all these e-commerce platforms in a better way based on their performance, pricing, reliability, and security, there are some of the facts that you should know about it.

Out of a total of 1,385,764 websites worldwide powered by 140 technologies, Magento accounts for 155,611 websites, Magento 1.x at 148,183 websites, and Magento 2.x at 8,502 websites, with them ranking at numbers 2, 3, and 26 respectively after WooCommerce of IBM.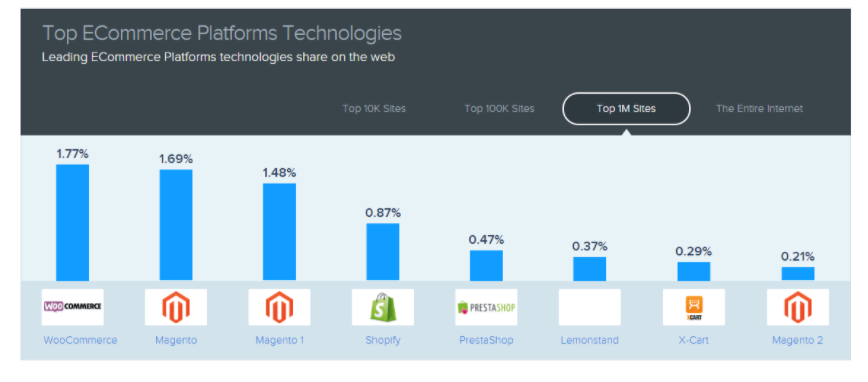 Top Ecommerce Brands Using Magento 2.x
Starting an eCommerce business is a challenging task and demands experts professionals making crucial decisions and performing the right steps that need to come together at the right time. To help you with that, let's check out how these 4 big brands picked Magento 2.x for their eCommerce website development to build a reliable and user-friendly store.
Land Rover
Land Rover is a brand offering clothing for men, women, and kids. They are also specialized in SUVs and all high-class vehicles. To enhance their brand performance, they updated their web store to Magento 2.x and added it to their main website. The outstanding website layout and design, and user-friendly navigation go well with its brand name. This is what we called an inevitable customer experience.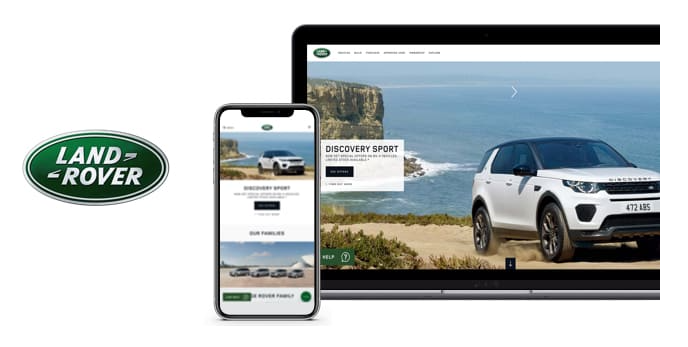 Graze
Graze, a leading healthy snack food brand in the world officially launched Magento 2.x for its website in the beta version. The site theme focuses on making a strong and inevitable presence. It stands out in Magento web development because of its commitment to brand uniqueness and image-focused approach to e-commerce.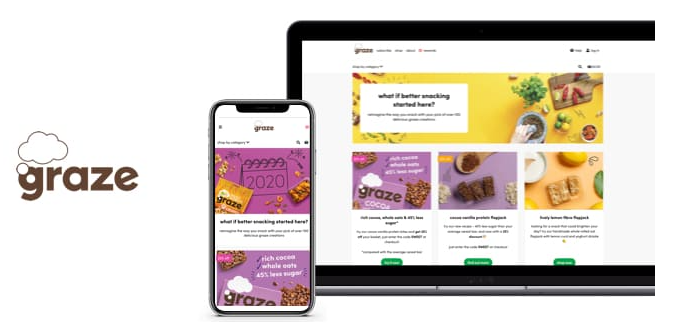 Helly Hansen
Helly Hansen is a big clothing brand that built its website on the Magento 2.x platform back in 2016 to increase online selling. The site offers waterproof jackets, outwear, boots, and coats for men and women to use in trips/treks or sportswear.
It includes advanced integrations like WordPress and Salesforce to engage the visitors and returning customers. You can see various categories on the landing page that directs you to the listed subcategories. This helps users pick the most attractive products.

Paul Smith
Paul Smith is a British fashion designer who has strengthened his business to an established eCommerce store. The site is very useful to their customers and easy to navigate. Every product page has all that you require – from a wish list feature to a store finder, to a sizing guide, and care guidelines.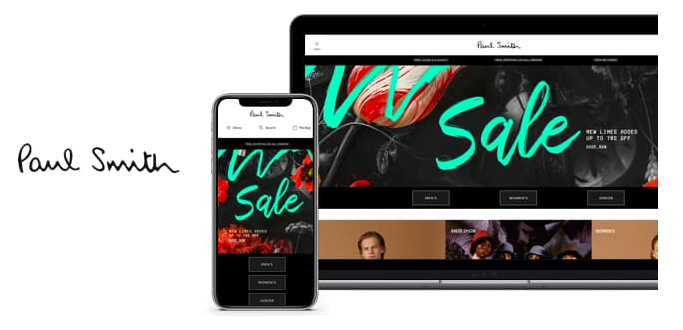 To engage customers with interesting things, the website created a stories section where they get personal about their brand, ethos, and the general vibe they need to deliver.
Key Takeaways
Here are some quick key takeaways to summarize why Magento 2.x is a buzzword today.
Versatile Content Management studded with Marketing and Promotional tools.

Responsiveness to grab more deals from increasing mCommerce

Supporting Multiple shipping options and payment gateways support

Most used eCommerce platform by companies

A complete package for digital shoppers (Quick checkout, order tracking, contact us details, live chat, multiple payment options, and intelligence search filers)

Powerful and one-stop solution for all e-commerce businesses
Final Thoughts
That was all about how to migrate from Magento 1.x to Magento 2.x!
Magento 2.x provides advanced eCommerce experiences, smooth implementation, and ultimately the features and capabilities that will lead your company to excel in the eCommerce industry.
The process is a bit complicated and requires professional attention! A Magento upgrade is inevitable, so why delay and wait for your Magento 1.x store to become obsolete? Test the store functionalities and enjoy all that Magento 2.x has to offer to benefit your business!
Reach out to our Magento development experts who can assist you with Magento 1.x to Magento 2.x migration without breaking your current site or losing any data.