For all those who are planning to outsource, we have put together an Outsourcing Costs Guide. This is an all-encompassing guide that will tell you everything you need to know about your costs, calculations, savings, and tips to save more.

You can also

Download our Outsourcing Costs Guide and read it on the go.
If you want to build a website or web application for your business, you may consider getting it done in-house or by outsourcing it to a web development company.

For building a website or web app in-house, you require a team of skilled professionals, i.e. you would have to hire web developers and designers. Hiring new employees for just building a website or app does not seem to be a wise and cost-effective step.
Outsourcing web development comes out to be a viable option in this case. Whether you are a solo business owner, or runs a startup, small or medium-sized business (SMB) or a big company, outsourcing has many advantages to offer.
But if this is the first time that you are thinking of outsourcing IT project, it is not surprising that you might be confused. Questions such as these may come into your mind -

Is outsourcing web development the best option for my company?

What advantages I will get from outsourcing?

Should I go for an in-house team or IT outsourcing services provider? And so on.

In this article, I will try to provide answers to the above questions and clear your doubts regarding outsourcing web projects. For most of cases, outsourcing web or software development is quite beneficial over doing it in-house. There are many reasons that support choosing outsourcing website development or web app development, thus making it a preferred choice. The main reasons are discussed below -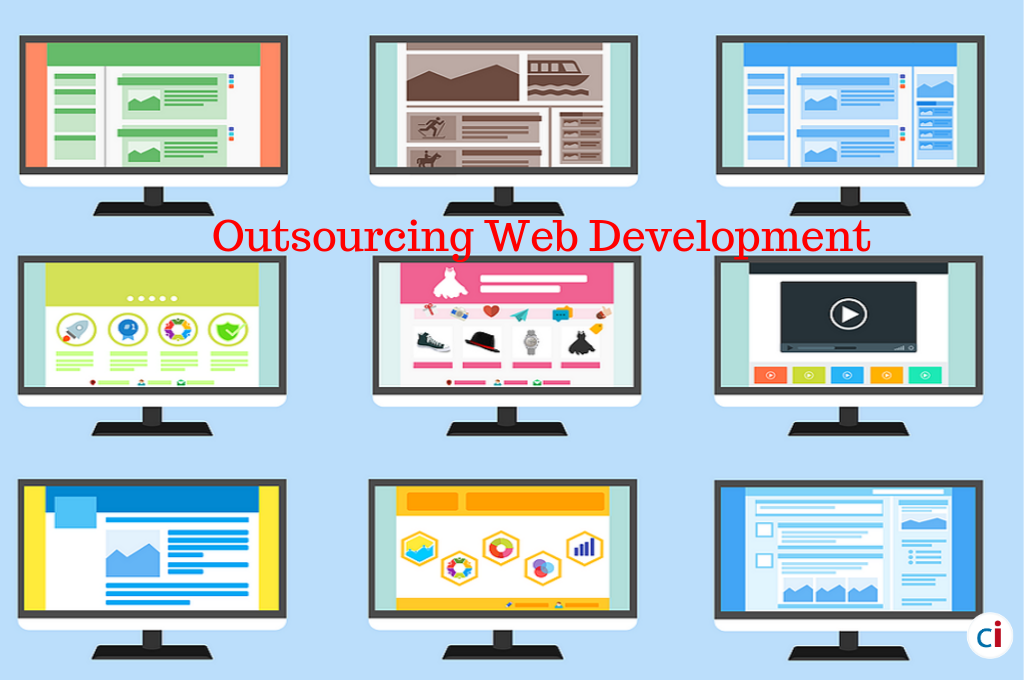 Better Affordability
Outsourcing product development is far more affordable than making use of a team of in-house developers. This is due to the differences in the economies of the developed and developing countries. The cost of living in countries such as India is significantly less than that in countries such as the US, UK and Australia.

You may think that the lower cost of living in the developing countries implies lower talent in these countries, but this is not the case in reality. Countries like India boasts of having some of the finest web and software developers in the world.

By availing IT outsourcing services, you can save on hiring a team of developers, buying IT equipment and tools, buying or renting an office space, employees' salaries and benefits, electricity bills, etc. The money that you can save by outsourcing to India can be invested in the growth of your core business. If you are a startup, then you definitely know that every penny you save casts a significant impact on your business.
Easy Access To Global Talent
Creating a robust and visually appealing website or app that offers rich and engaging user experience requires highly skilled and expert professionals. By opting for outsourcing, you get an opportunity to choose developers and UX/UI designers that best suit your project requirements from a vast pool of talent spread across the world.
Building such a team in-house requires a lot of resources in terms of time and money. According to a

Glassdoor's research report

, in recent years, in the United States, UK, Canada, France and Germany, there has been an overall dramatic increase in the time required for hiring processes. It takes 48.1 interview process days to hire an IT specialist, 35 interview process days to hire a software engineer, and 28.3 days to hire a senior application developer.
An outsourcing services provider can provide you a ready-made team of experts in a very short span that can complete and deliver a high-quality product on time. You can even find team of back end and front end developers to outsource full stack development of your product.
Have Full Focus On Your Business Growth
App or website development, when carried in-house, requires a lot of attention on your part. You have to carefully monitor the project, ensure that the best coding practices are being followed, quality standards are being met, and finally, you have to test it and fix all the bugs.
Doing all this makes it difficult for you to focus on your core business functions, thus negatively impacting your business. You can get rid of all the above tasks and concentrate on your core business operations by availing the services of an expert web and mobile
app development outsourcing
services provider. Service provider's team of expert developers and QA specialists will ensure that you get a product that fully meets your specifications and quality standards.
While the product is being developed by an
IT outsourcing
service provider, you can focus on the marketing campaigns so that your product has a grand launch.
Save Time And Increase Efficiency
By outsourcing, you save a lot of time that would otherwise be spent on building an in-house team and accomplishing the project. Working with an outsourcing company is quite easy and straightforward. It takes very little time to explain your project requirements to the experts. Once you have explained them, the rest of the things will be taken care of by the service provider.

As a team of expert and experienced developers will handle the project, it will deliver you the web app or website in significantly lesser amount of time compared to your in-house product development team. Offshore development team will leverage time zone difference to provide you a continuous work cycle. Thus, through outsourcing, you will be able to accomplish your project with greater efficiency.
Robust IT Infrastructure, Latest Technology And Trends
A web development company provides robust IT infrastructure so that its developers can produce high-quality products. Offshore web developers make use of the latest technology and tools, and follow best coding practices and stringent quality standards.

Remote developers provide you the latest features in your product along with ensuring that the product configuration fully meets your requirements. To keep developers and designers updated on the latest tools and technologies, outsourcing companies provide them regular training. Remote developers attend seminars and events that showcase the latest trends and technologies.
High Quality
If you will hire an in-house team of web developers and designers, you may have issues with product quality. These issues can arise if your in-house team is not adept and experienced enough to guarantee the best quality standards.

When you outsource, your project is handled by seasoned professionals. They have a lot of experience, knowledge and skills in doing the things in the best way to ensure high quality. The final product delivered to you will not only be of high quality, but also will be robust, scalable and feature-rich.
Scale Up And Down As Required
A situation may arise that you may require more developers to work on your web project. In such a case, you have to expand your in-house team by hiring more staff. Hiring a suitable person requires a lot of time. Also, till the new staff is onboarded, your web project work will not progress.

Scaling up the size of the team of offshore developers and designers is much easier than adding new members to your in-house team. Web and software development outsourcing services providers have a lot of experience in providing their clients new developers for their projects within hours.
Get Support As And When Required
You may hire an in-house team of developers and designers, and this team may provide you the desired product. But, even after your product is in your hands, the work of your in-house team is not over. Your product will need support and maintenance from time to time. Thus, you will have to keep some specialists on permanent basis on your company's payroll. This is a costly affair.

After your outsourced web project has been completed, your outsourcing vendor can continue to provide support for the developed product as and when required. Thus, if you get a technical glitch in your product or want some changes in your finished product, you can approach your outsourcing company and get the changes done. This support may be availed free of cost for a specific time period or at a very reasonable price.
Get All Specialists In One Team
Web development does not only require developers, but also professionals such as designers for enhancing users' experience, quality assurance specialists for ensuring bug-free products, and project managers for ensuring success of the project. Getting all these people on board in your company is a costly and cumbersome task.

Web and mobile app development outsourcing companies provide you all the specialists in one place. Thus, an outsourcing vendor can build a high-quality and appealing website or web app efficiently and easily in comparison to doing it in-house.
Shift In Responsibility And Risk Mitigation
The entire responsibility of developing a high-quality product shifts from your shoulders to the outsourcing services provider. If unfortunately any mistake occurs in product development, it is the responsibility of the service provider to rectify it. If a mistake occurs when your in-house team is handling the project, then it is your problem and you have to get it fixed.

A web development outsourcing company appoints an experienced project manager that takes the responsibility of mitigating any risks involved in accomplishing the project by proper planning and implementation of best practices.
Outsourcing web development is a time-tested and widely used business practice. It is an effective way of building robust, scalable and feature-rich apps and websites that help businesses in achieving their digital goals.