Last updated as per latest costs: 14th October 2021
Cost reduction in software development was the secondary benefit of outsourcing until last year.
The pandemic turned the tables around. And cost reduction came back on top.
Deloitte's global outsourcing survey revealed that 70% of organizations turned to outsource with one priority in mind - reducing costs.
This wasn't the same a few years ago. Until 2018, companies inclined more towards speed to market, gaining a competitive edge, improving user experience, scaling faster, and other business-driven objectives than they focused on cost savings.
But 2020 ushered cost savings back in the forefront.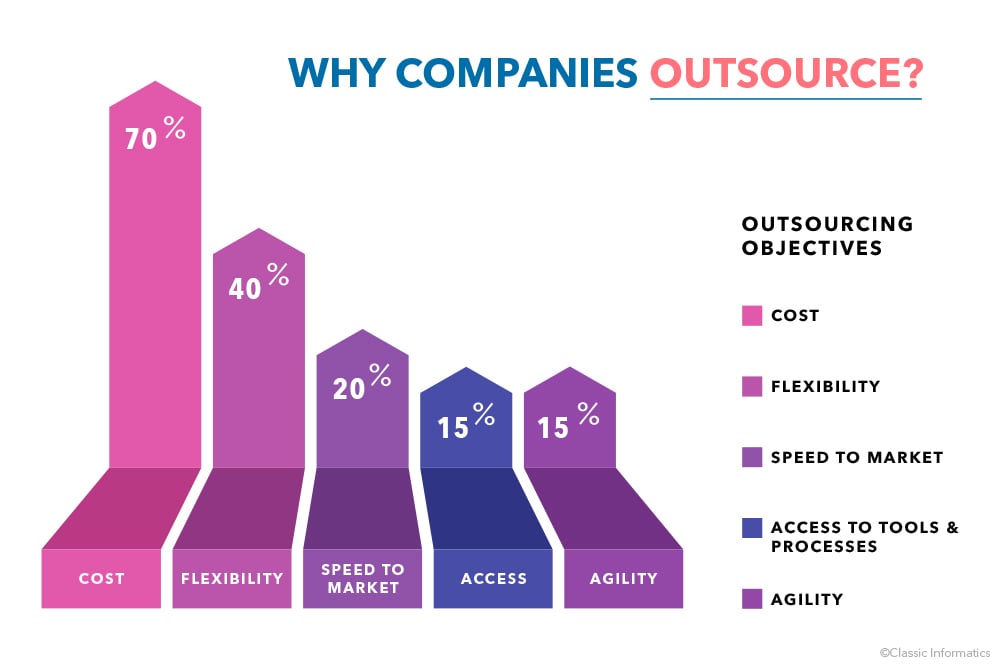 Outsourcing helps save costs. This has been an accepted notion for decades. Businesses since the early 80s have been outsourcing important operations to other offshore service providers to reduce their overall cost in development.
But how do you calculate how much cost savings you can have by outsourcing?
This is what this guide will help you uncover.
In order to calculate cost savings and benefits from outsourcing, you need to understand the costs included in outsourcing and how it helps them save more.
If you have any inhibitions about outsourcing software development to other countries, this guide will help you clear them out.
It will help you analyze your outsourcing costs, calculate the cost benefits of outsourcing, and give you some amazing tips and strategies to save even more with outsourcing.
Cost Overview
The outsourcing industry has boomed in the past few years as it enables organizations to save costs.
But many are still not able to calculate and reduce costs.
This chapter tells you why.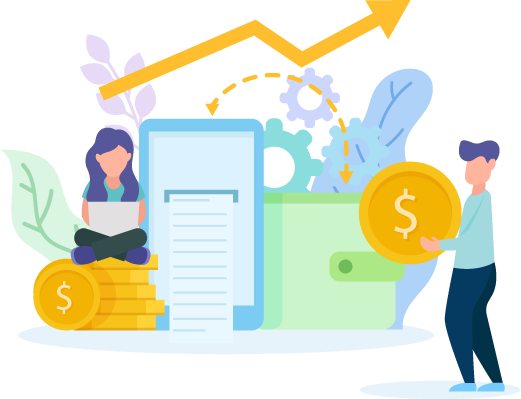 Outsourcing has enabled businesses to save costs. But what exactly do you pay when you outsource is a question many businesses ask before delegating their development tasks to an external company.
In order to know how much cost you have reduced, it is important that you know the outsourcing cost inside out. However, before we start talking about outsourcing costs, we'll throw light on some mind-numbing outsourcing cost statistics.
Proven Stats Around Outsourcing & Cost Reductions
Outsourcing is not an emerging technique, it has been in the industry since the 1960s. In the past half a century, it has ballooned to a mammoth. Let's start by focusing on this study by Gartner to understand it better.
A Gartner study has revealed that the worldwide spending on IT outsourcing crossed the U.S. $300.7 billion benchmark in 2011 itself. Analyzing the growth, it has forecasted that this global spending would see growth by 4.4 % CAGR till 2015. For the coming years, industry analysts have predicted that the IT outsourcing industry might see a growth of 4.42% in the years between 2019 and 2022.
The need to expand with a shoestring budget for the entrepreneurs and the growing digital transformation in the industry for enterprises are key drivers for increasing inclination towards outsourcing.
Well, that was just a glimpse of the bigger picture.
Let's take a more focused approach to talk to the point. Here are some research and studies that show how companies have embraced outsourcing to cut costs.
Deloitte 2020 outsourcing survey reveals that cost reduction is back to being the top driving force behind outsourcing decisions.

Cleveland State University Research analyzed 210 studies and found out that over 85 of them said that cost savings was the biggest reason for outsourcing.

Sloan Review states that the IT outsourcing spend increased by around $96.14 million whereas the spending on non-IT operations dropped by $121.4 million.

South Dakota State University Research states that over 7500 Australian public organizations that outsourced operations claim to have saved over 46% of their cost.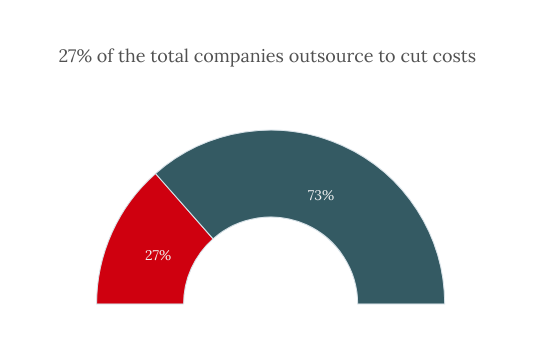 A lot of research and studies have been done to reach these concluding numbers. But in order to reach the number around cost, profits, and margins in your outsourcing ventures, you need not drown in such research or studies.
So, why is every startup that is outsourcing IT services to India, unable to estimate its outsourcing cost?
Why You Are Unable To Calculate The True Cost?
Some companies are naturally organized and data collectors. They know the importance of analyzing the cost of their business operations and are able to compare both estimates. If that's you, congratulations! You already have a competitive edge.
But for the rest of us that need to start putting more effort, let's quickly talk about the problems companies face with their outsourcing costs.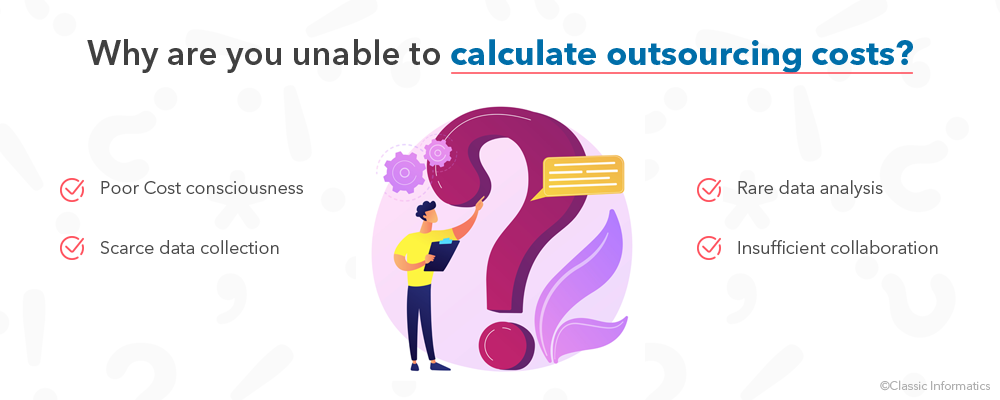 Before you start outsourcing and exploring more about outsourcing costs, you need to focus on your current cost. One of the biggest hurdles faced by companies when outsourcing is their poor cost-consciousness.
What is it?
Poor Cost Consciousness: It is the inability to know the actual cost of operations at various levels like process, product, and activity.
And poor cost consciousness is not the only obstacle stopping you from cost calculations, there are many other barriers as well. Some other challenges that a majority of companies face are:
Scarce data collection
Rare data analysis
Insufficient collaboration
These also pose a challenge to proper cost estimation and might deter you from succeeding with outsourcing.
Not having complete information about the cost of the current operations could drive you away from deriving the actual outsourcing cost. Before you even think about outsourcing to reduce costs, you need to calculate your company's true cost of operations.
Now you Know
The outsourcing industry has boomed over the past decade.

Many companies have accepted cost reduction as a major driver for outsourcing.

Many companies have even been successful in reducing costs with outsourcing.

Still, many companies are unable to calculate outsourcing costs, let alone reduce them!
---
Chapter 2
Outsourcing Costs
The outsourcing bill does not only comprise the bid price or the salary of the development team.
There are several other costs involved as well.
Get the complete analysis of hidden outsourcing costs in this chapter.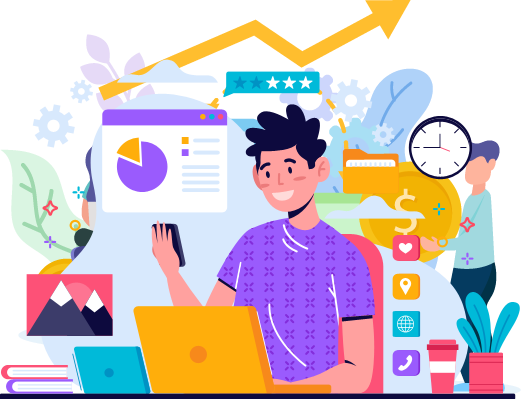 Outsourcing is considered to be the proven way to cut down operational costs.
True. Many have been able to save hundreds and thousands of dollars by handing over their projects to partners globally.
But, the costs involved aren't as straightforward as they seem to be.
Some say outsourcing cost is the sum you pay to the vendor as per the bid, there are others who incline to the opportunity and incremental costs of outsourcing.
To break outsourcing costs, let's analyze the true cost of outsourcing, the bills attached to this venture along with the hidden costs.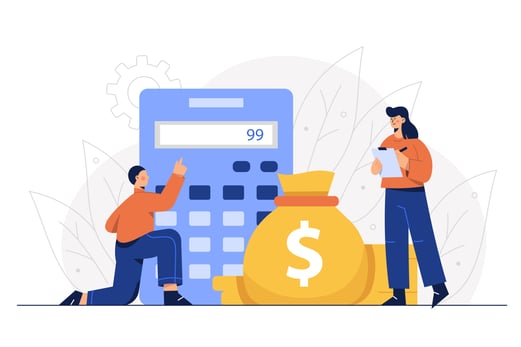 What Are The Direct Costs Of Outsourcing?
How could we go further into outsourcing costs without first understanding what all charges you will be billed for if you start outsourcing IT services, web development, or any other services? Here are the main cost components of outsourcing.
Salary Or The Pay Check
The first and the foremost cost is the remuneration or salary you pay for the remote developers or the team you hire for your remote product development. Depending on your project needs, you might need to choose from getting a single developer to work on your project with your in-house, a full team, or even want the complete product development managed by another firm.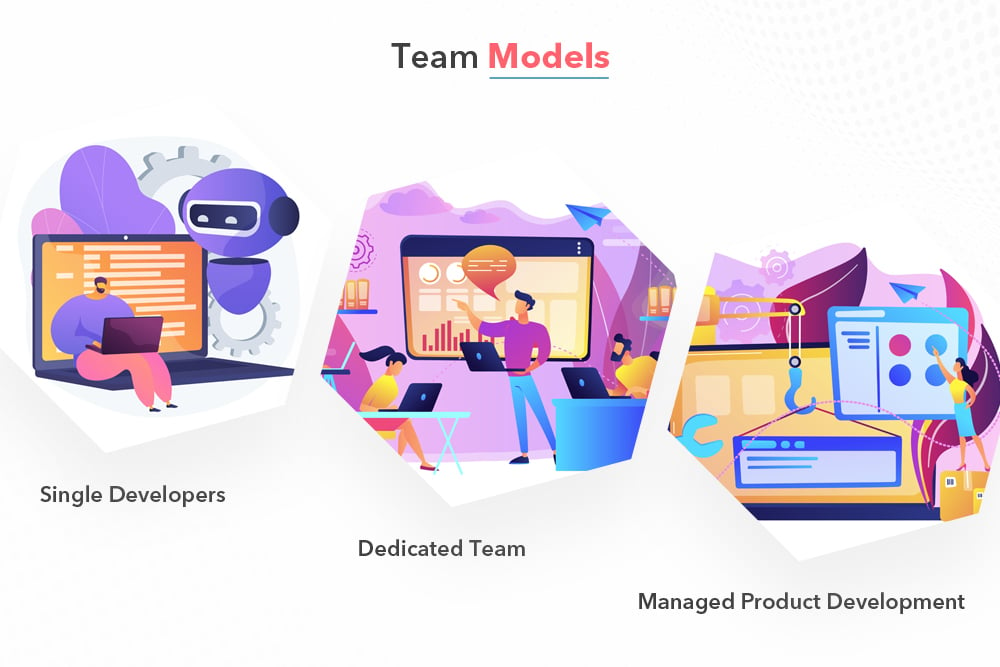 Let's say, we are outsourcing product development. What are the costs included in it? Let's find out.
Hiring Single/Independent Developer:
You can hire a developer, dedicated programmer, or coder who would work on your project on a per-hour, month-to-month or long-term contract base depending on your requirements.
When is it ideal for you to hire a single developer?
You need someone to fill specific technology requirements
Expert requirement for a project
Cost of Hiring Single Developer
There are different costs included in hiring single developers. When you hire developers from offshore IT destinations like India, the Philippines, the cost comes out to be as low as $25 per hour only and ranges up to $45-$50 per hour. The hourly cost of remote developers from India and other similar countries with lower wages varies between $25-$50 per hour depending on the experience, skills, technology stack, and other mastery they have. For other countries, the cost might range between $50 and $150.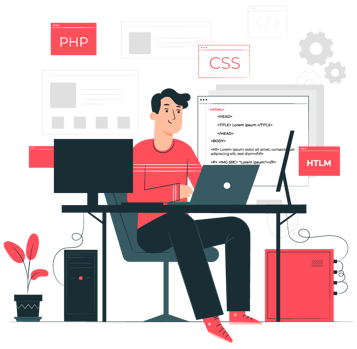 Cost savings on hiring a single developer:
By paying only for the hours that the remote developers work for you, you save on all the money you would otherwise spend on the breaks and hours when your in-house developers are being non-productive.
Here is how much you might have to pay for hiring remote developers from India: The cost comes out to be as low as $20 per hour only and ranges up to $45 per hour compared to $50-$150 in some countries.
Hiring Complete Development Teams
If you are looking for a team to develop or design a particular part of your product, you can opt to hire development teams. These can be your complete teams with the developer, designer, tester, QA specialists, and the project manager or team for any particular task like designing, development, etc. You can set up a team for complete work in an offshore location or can have a team as an extension of your in-house team. A dedicated team is a part of your in-house team, just working from a different location. You can set their salary and leverage the skills that they bring to the project.
When to hire a full team for development?
You need a dedicated team for a complex project
You want to onboard an expert team as an extension of your in-house team
Cost Of Hiring Complete Teams
When you decide to build a product development team with an offshore company, there are different costs included in it. While the software outsourcing company would quote a price for the complete team, to calculate it, you can sum the per hour fees of all the developers together. So, if you need a team composed of a senior software developer, junior software developer, project manager, business analyst, QA engineer, and UI/UX designer, the charges would be a sum of their per hour fees. On average, this could come around $225 per hour or $36,000 per month.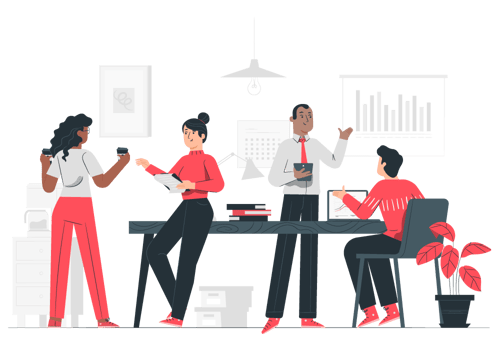 Cost savings on hiring a dedicated team
Getting a complete product team with everyone from the front-end developer, back-end developer, quality analyst for maintenance & support could save costs. You need not hire an expert from any field individually and can simply get a team that would comprise all the professionals you require.
Full Product Development
In such a process, you join hands with a company that would fully manage your project or product development, from brainstorming around your idea to creating MVP to launching it post-testing through managed projects.
When to get end-to-end product development?
You have a complex product or software architecture to build

You want a partner from ideation to development, launch, and scaling of the product
Cost of Getting Full Product Development
The cost of getting complete product development would vary as per your software requirements, size, complexity, team required, and time to build. However, a simple MVP development that requires eight weeks to build with a team of six can cost around $74,000.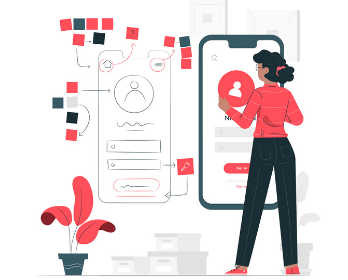 Cost savings on getting managed projects
With a managed product development project, you need to send your requirements, get the quote from the outsourcing agency, have a team set up for you, and get the project work done. They even assign a project manager, so you even save the cost of managing the product development.
Ad-Hoc Costs
While these are some of the direct costs in outsourcing, there could be a number of ad-hoc costs that might crop up during your outsourcing venture. Some of these out-of-pocket costs are listed down below:
Cost of getting the SSL Certificate for your product's security

Cost of creating the SSL certificate, if you want one

Cost of asking the developer to visit on-site or you visiting the company's office

Cost of technical consultant or project architect as a technology partner that you might seek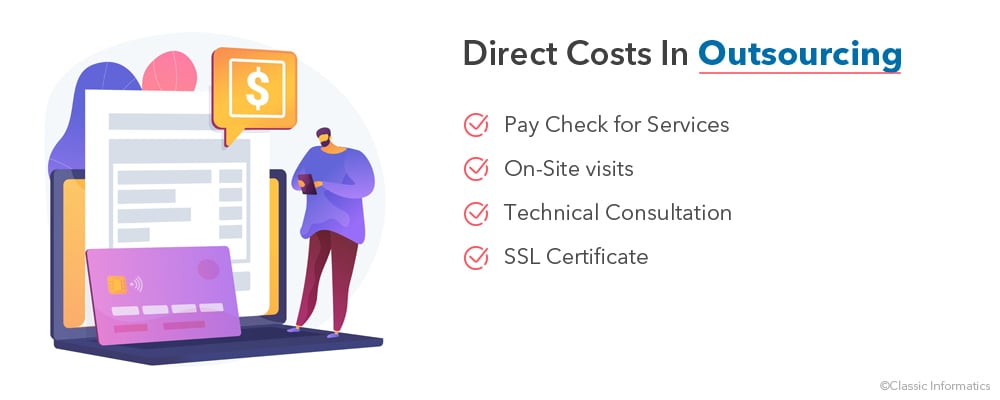 What Are The Hidden Costs in Outsourcing?
Think you have got it all on the tab?
Did you include the cost of hiring the developers and getting the complete outsourcing contract?
Is the cost of selecting the outsourcing company included in the bill?
You would have certainly skipped on the cost of the hours spent in knowledge transfer that the new team would need to get familiar with the project.
Well, while most people think that paying the project's price to the outsourcing company or paying the salary of the remote developers is the only cost they would have to incur. But there are some other costs too that you need to keep in mind.
There are many costs that are hidden in your outsourcing contract! Let's throw light on some hidden ones:
Cost of Hiring
This is essentially the cost of selecting the remote developer or outsourcing agency in India. This cost of hiring remote developer would also include:
Creating Request for proposal
Screening the applicants
Negotiating the terms
Documentation
Cost of Creating Outsourcing Contract



Forming an outsourcing contract is imperative for the success of any outsourcing venture. Everything required from the outsourcing relation needs to be specified in the outsourcing contract so that no scope for error, confusion, or misunderstanding is left on both ends.
It is the legal document that puts forward all the details of the venture about what the two parties are expecting and expected to offer. It also lays down the timeline, schedule, and everything. Through this contract, you also mention clauses of IP protection, Non-Disclosure, etc.
Here is a sample of an outsourcing contract: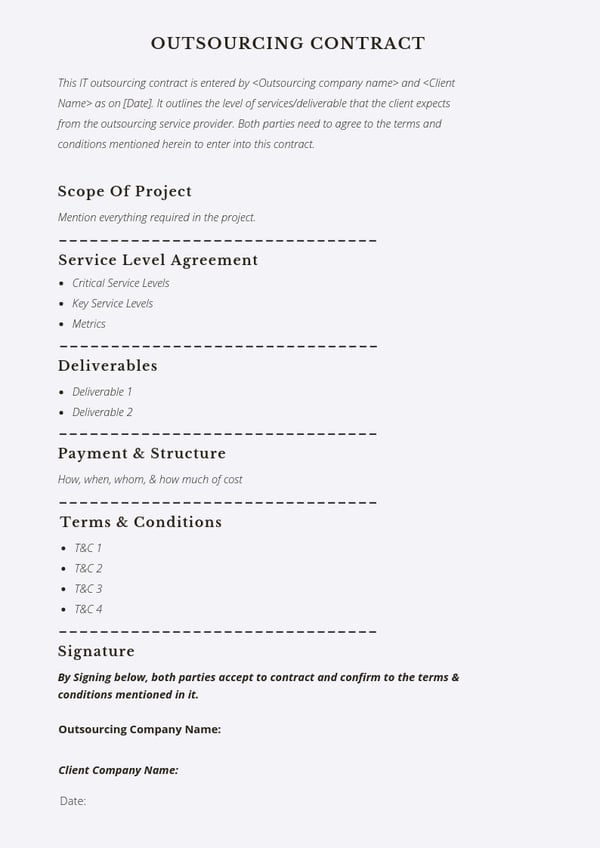 You need to get the contract formed by an expert who knows the legalities of creating contracts. This cost is usually forgotten when calculating the overall outsourcing cost.
Cost of Transitioning Or Knowledge Transfer
When you are outsourcing your development work, the costliest stage might come out during the transition. This is the phase when you are actually handing over your work to your outsourcing provider in India.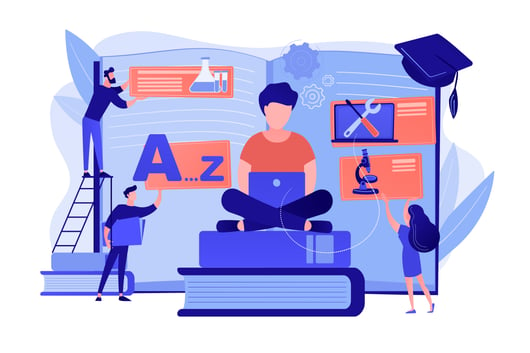 You are explaining to the developers about your project and sharing what you have. It might take some two-three for them before they get acquainted with the product idea to initiate work. This might be a very meager sum compared to the costs you'll actually save but this is a hidden cost that you should know well in advance.
Cost of Server Management



When in the digital world, it is important to make sure your product is up and running throughout. This could include everything from infrastructure monitoring and health scaling to vulnerability detection and alert generation. They would be required to make sure your products never experiences downtime. This could cost a business around $100-$400 per month for a single server.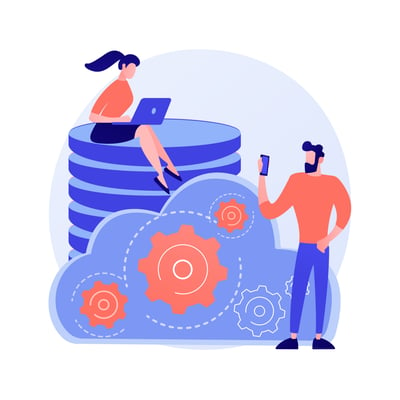 These are some of the hidden costs included in outsourcing. You need to be sure that you keep all these costs in mind while outsourcing software development.

Now you Know
There are several costs included in your outsourcing bill.

The direct costs include the salary of developers or the total cost that the outsourcing company would tell along with several other ad-hoc costs.

There are many hidden costs as well in outsourcing like the cost of hiring, server cost, contracting cost, cost of knowledge transfer, and many more.
---
Chapter 3
In-House Vs. Outsourcing
There is a stark difference between in-house costs and the cost of outsourcing.
Knowing these differences can help you make better outsourcing decision.
This chapter will help you decode the same with a simple example.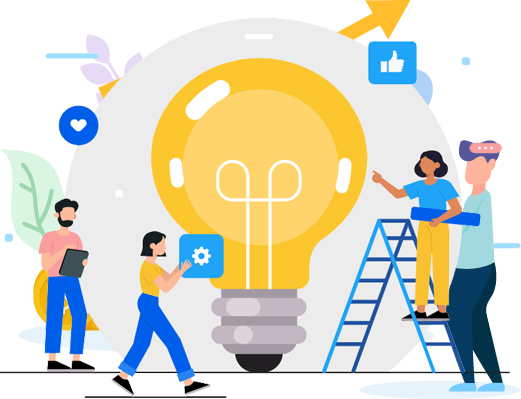 The one question that looms over the minds of clients is if outsourcing would actually be as beneficial as it is expected to be. For this, let's suppose you are planning to get product development outsourcing services, here's a breakup of the in-house cost and the outsourcing cost.
Let's assume you are building a product, say a simple application.
You will need a complete team with front-end and back-end developers, a UI and UX designer, a QA analyst, a business analyst, and a project manager to manage the work. Let's see how much the in-house development and remote development would cost.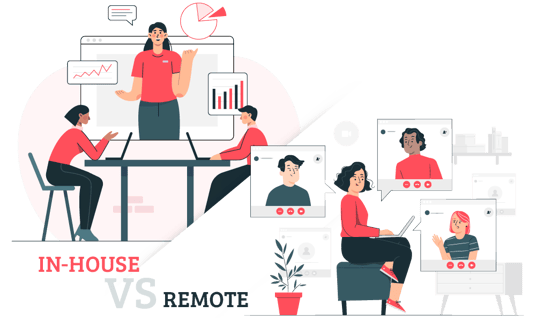 In this chapter, we will be covering topics like what are the inclusions you will see in in-house and outsourcing bills. Additionally, we have also highlighted the costs by taking the example of building an MVP in the further section.
Let's get into it.
In-house Product Development
There are several costs that go into building the software in-house. The first includes setting up a human resource team to screen through the candidates. As you will require a complete team for building the software team, you need an expert to build the team. You will need developers, designers, product architects, quality analysts, testers, graphic designers, and other members for the development process.
Additionally, there are many added paid benefits like sick leaves, annual bonuses, overtime pay, training tax, medical insurance, etc., that you need to pay to the developers you hire for your in-house team. Apart from that, you need to expand the infrastructure, build workstations, furnish the place, and also have to provide some refreshments, etc., to the developers.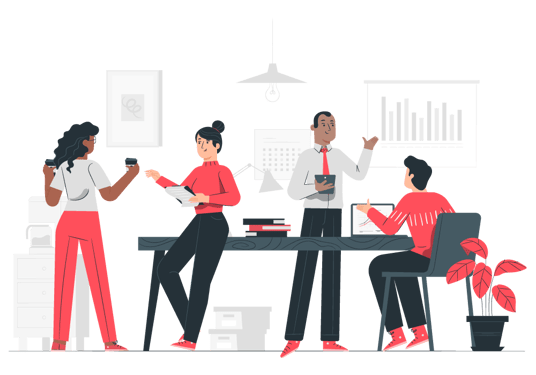 Some of the costs included in building in-house products are:
Cost per hire: This is the cost incurred while hiring the resource, before the daily/monthly salary you pay. You might have different specifications like experience, working methodology, technology expertise, etc. Additionally, Forbes reveals that the spike in tech talent demand has sky-rocketed the cost of hiring. On average, hiring a new resource in-house takes up to 42 days, adding to the costs.
Developer salary: The biggest cost in the overall process of building a product or software in-house is the salary of the in-house developers. Developers are asking for a huge price. And considering the current voluntary attrition rate, it won't be wrong to say that companies have to pay a good amount of money to keep developers. Even big companies are reviewing their compensation to retain employees.
Software licenses: The next cost that adds to the overall cost of in-house development is software licenses. There are several types of software and SaaS products that you will require to buy licenses for to build the product.
IT system: You need to provide your developers with hardware, devices, and other IT systems that they require. Additionally, you need to meet other IT infrastructure requirements crucial for a development team's seamless working.
Technology training: A Harvard Business Review article reveals that organizations spend over $350 billion globally on training. Yet, 70% of employees don't feel that they have the skills expertise to perform in their job. Companies spend costs and time in training old employees or the fresher they hire to save costs. However, this training adds to the cost.
Paid benefits: Considering how challenging it has become to retain tech talent, offering paid benefits like incentives, hikes, etc., adds to the overall cost of in-house development. These benefits could be anywhere between 1.25 to 1.4 times the base salary range.

Overhead costs: Apart from that, there are several other additional benefits or overhead costs that add up to the cost of in-house development. You will have overhead costs like utilities, support staff costs, management expenses, and much more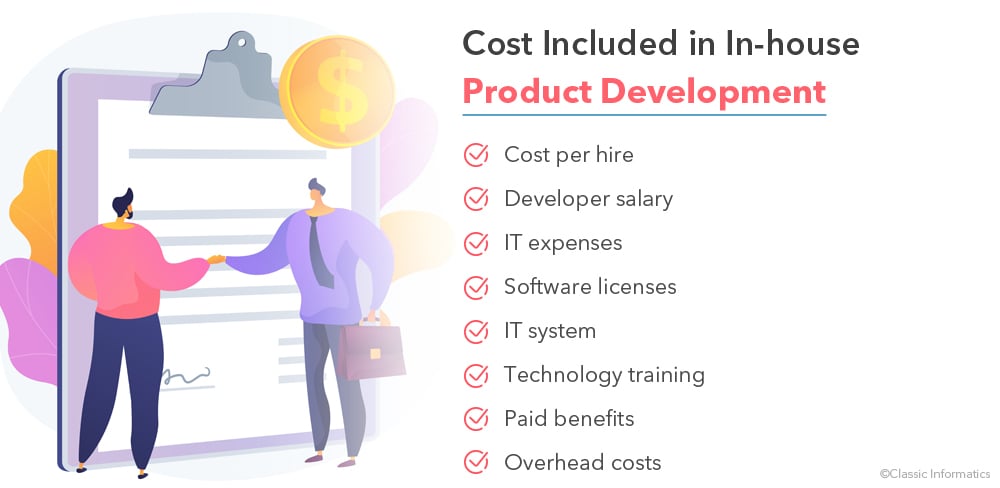 These are some of the biggest costs that are included in in-house hiring. You need to expand the infrastructure and either train the old employees on new tech to build the product or hire new developers for the same. Now that you have calculated the cost of in-house development, it is time that you take a look at the cost of outsourcing the same development.
Outsourcing Product Development
No doubt, outsourcing saves money. But how?
Now that we know how much it costs to hire in-house developers or build an in-house team for product development, it's time we see how outsourcing costs differ from in-house development costs. We already know what costs are included in outsourcing product development.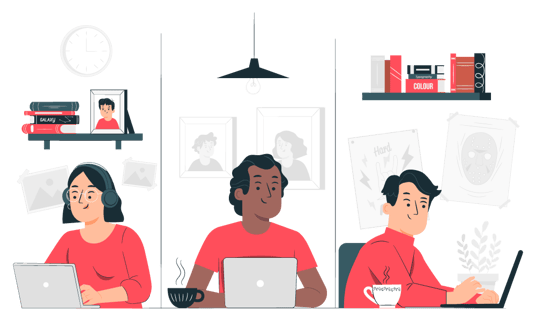 Let's take a look at them again:
Outsourced product development cost: The cost included if you are getting a complete product built by an external vendor. For a simple MVP, the cost of outsourcing product development can start from around $40,000.
Dedicated team charge: This is the cost when you hire a complete product development team and build a dedicated team for development.
Cost of hiring: This is the cost included in looking for the outsourcing vendor and hiring them for your product development.
Knowledge transfer: This is the cost included in transferring knowledge like tools, information, details, and other important documentation to the outsourcing team.
Server management: This is the cost you pay to the company for managing servers and ensuring scalability while avoiding vulnerabilities.

Contract formation: This is the cost of forming the contract that includes the IP protection clause, NDA, and much more.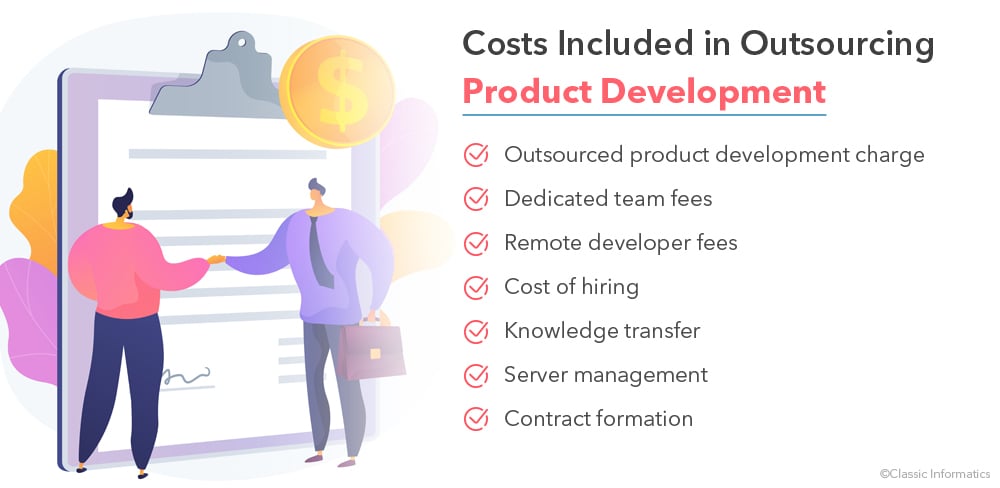 These are the costs that are usually included in outsourcing software development. Now that we know that major inclusions, let's throw light on the actual costs and how much the two approaches to software development would cost.
In-house Vs. Outsourcing Cost
Now that we know the costs included in outsourcing as well as in-house development, it is time that we start calculating the costs.
Here, we are keeping all the factors in mind and calculating cost savings that can be achieved on the basis of the size of the development and the team size that is required to build it. These two factors have been considered as they make up the largest portion of the development bill.
So, let's assume that we are building mid-size software. A team of 6-8 members would be required to build the same. The team required is a front-end & full-stack software developer, project manager, business analyst, QA engineer, and a UI/UX designer.
Additionally, we are considering the time taken to build a mid-size software to be around eight weeks or 320 hours.
In-house Product Development
Let's start with calculating the cost of building the product in-house. Here, we will be calculating the wages or salary that you will pay the development team. As per the Stack Overflow 2021 Survey of the USA respondents, here are the wages that you might have to pay:
Software Developer (Full-stack): $120,000 annually ($63 per hour)
Software Developer (Front-end): $115,000 annually ($60 per hour)
Project Manager: $165,000 annually ($86 per hour)
Business Analyst: $102,000 annually ($53 per hour)
QA Engineer: $110,000 annually ($57 per hour)
UI/UX Designer: $108,000 annually ($56 per hour)
The average hourly rate of the entire team that you build comes to be around $375 per hour. We have already considered the software to be mid-size like a minimum viable product and the development to take 320 hours.
This gives us the cost of the wages paid to the development team.
$375 x 320 hours = $120,000
This is only the cost that you will pay the developer or their hourly fees. But in-house development is not this straightforward. There are several added costs like IT infrastructure, added benefits on salary, paid benefits to employees, overhead costs, technology training, and much more. All of this can easily add an additional $50,000 to the overall software development cost in in-house development.
| | |
| --- | --- |
| Variable | Cost of In-House Development In The US (320 hours) |
| Cost of Hiring | $4,200 |
| Overall Team Salary | $120,000 |
| IT Expenses | $20 |
| IT System | Mac: $12,000 for 8 people |
| Technology Training | $1,000 |
| Paid Benefits | $6,500 |
| Software Licenses | $2,000 for 8 people |
| Overhead | $25,000 |
| Total Cost | $170,720 |
Outsourcing Product Development
Now that we know how much you'll have to pay when you decide to build your mid-size software or product in-house, let's start calculating the outsourcing costs.
Here, once again we are taking a team of 6-8 developers, just like we did in in-house development. To find the hourly wages of hiring remote developers in India, we have taken data from Accelerance 2021 survey report. Here is the per hour cost of hiring remote developers:
Senior Software Developer: $35-$40 per hour
Junior Software Developer: $25-$30 per hour
Project Manager: $45-$50 per hour
Business Analyst: $40-$45 per hour
QA Engineer: $30-$35 per hour
UI/UX Designer: $35-$40 per hour
If you want to hire a single developer, you can consider this pricing and hire them as per your requirements. You can hire them on a per hour basis or even for a monthly charge. For example, you can hire Angular developers for your project for $3,400 per month.
However, if you are looking to hire senior software developer, it could come around $6,400 per month.
Again, we take the average hourly rate of the entire team that would build the outsourced software. This comes to be around $225 per hour. We have the time of 320 hours for the MVP development that we have considered here. The overall cost paid to outsourced developers comes to be:
$225 x 320 hours = $72,000
If you are simply building a remote dedicated team for developing your product, your average monthly cost for the entire team would come around $36,000 per month.
However, even in outsourcing software development, these are not the only costs included. There are costs of hiring, transition costs, and other miscellaneous costs. These would add another $1,000-$2,000 to the bill.
| | |
| --- | --- |
| Variable | Cost Of Outsourcing Development To India (320 hours) |
| Cost of Hiring | $1,000 |
| Overall Team Salary | $72,000 |
| IT Expenses | $0 |
| IT System | $0 |
| Transition Cost | $1,000 |
| Paid Benefits | $0 |
| Software Licenses | $0 |
| Overhead | $0 |
| Total Cost | $74,000 |
From the two calculations tabulated above, we can easily see that outsourcing saves cost and there's a huge difference between in-house and outsourcing product development costs. Take a look below to see the huge difference in the cost of building a product in-house vs. getting it outsourced.
Cost of in-house software development: $170,720
Cost of outsourcing software development: $74,000
Cost savings: $170,720 - $70,000 = $96,720
As seen, outsourcing can certainly help you cut down your development cost by around $97,000 for a simple MVP.
And it's not just the cost that makes entrepreneurs and startups follow the outsourcing approach as it offers them the following:
Access to a vast talent pool that is unavailable locally
Provides round-the-clock productivity
Promises high-quality codes
Ensures faster project delivery
Allows entrepreneurs to focus more on their core business operations
Undoubtedly, outsourcing takes an edge by a huge margin. And while the costs might fluctuate with the size, complexity, or other factors of your software development, the margins would more or less be the same.
Now You Know
Comparing outsourcing costs with the in-house development cost is imperative to know how much you are saving and how much more can be saved.

You need to calculate how much you had to pay if you get the project done in-house first so that you have a benchmark to compare the prices to.

Once that is done, you can easily compare these costs with the costs of outsourcing to know the extra spend or the savings you can have to make a well-informed decision.
---
Chapter 4
Cost Calculations
Calculating the outsourcing cost can be done through different methods.
Differential cost, opportunity cost, and incremental costs are the three main costs.
You will learn more about cost analysis and calculations here.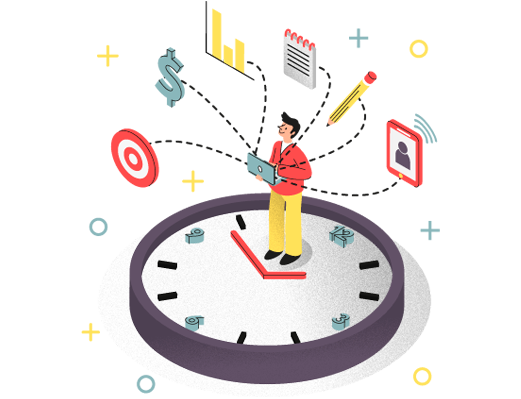 Calculating the outsourcing cost would not convince you to turn to outsource product development. You would obviously want to dig deeper and know the outsourcing cost benefits to confirm your decision. In order to analyze the actual cost and cost benefits of outsourcing, we can go for either of the three approaches:
1. Differential Cost Analysis
2. Opportunity Cost

3. Incremental Cost
But before we go ahead and start talking about calculating outsourcing or in-house costs, we need to throw light on the different factors that affect the cost of software development. This would add clarity in analyzing costs and making bigger calculations as you go ahead.
Factors Affecting Software Development Cost
In order to properly calculate software outsourcing costs and analyze the cost savings, one should know the factors that affect the same. Not all software development costs the same. Some software requires a very large investment while others like an MVP can be built in a few weeks within a smaller budget.
So, before we get to calculating the costs that you save from outsourcing software development, it is imperative to understand and throw light on the different factors that influence it.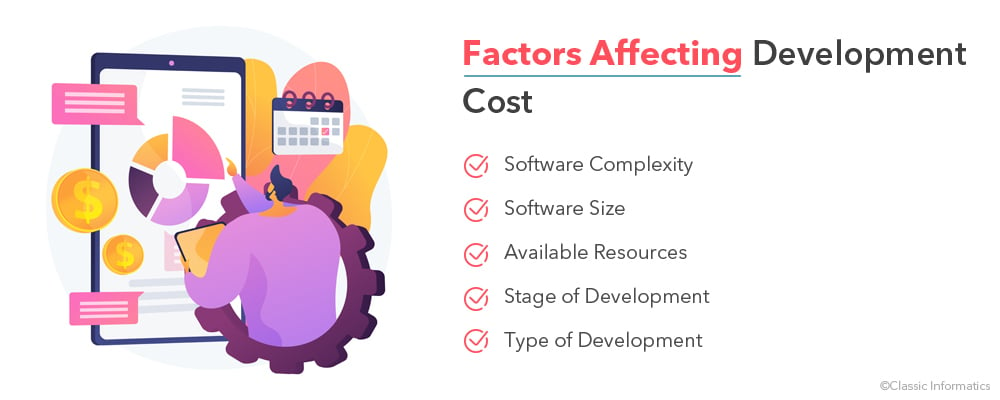 Factor #1:
Software Complexity
This goes without saying, The more complex your software, the higher would be its cost. So, whether you plan to build it in-house or outsource its development, the overall cost for the same would be a bit on the higher side.
A complex software contains different features and elements that add to the overall cost. Even when you plan to outsource it, you will have to look for companies with greater experience and expertise and a tech stack to build the product. As your product's complexity increases, so do the team requirements and the technology stack required to build it.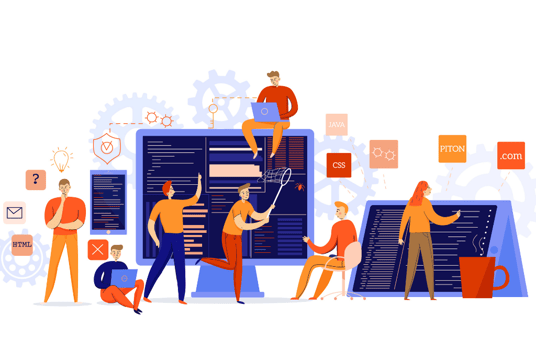 A simple website or mobile application can be built using different template-based platforms like low-code development, no-code development, WordPress development, Hubspot, and much more. However, to build a more complex, customer-facing software product, you will need custom software development which increases the overall cost.
Factor #2: Software Size
The next factor determining the cost of software development, whether in-house or outsourced, is the software size. Different organizations need different scales of development depending on the user base.
Small Size: Building simple software without a lot of custom coding requirements
Mid Size: Getting MVP development with a single feature and a simple version
Large Size: Developing large software with various functionalities, API integrations, database components, etc.
Enterprise Size: Creating internal or customer-facing applications for enterprises with tens of thousands of users with a need to deliver an exceptional user experience.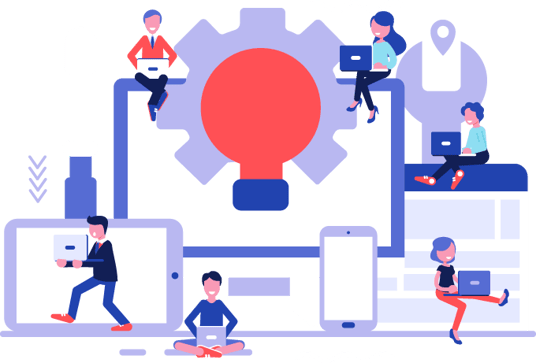 Depending on the size of the development you require, you will have to build your remote product development team. The bigger the software requirements, the larger the team, and subsequently, the higher would be the costs of outsourcing development.
Factor #3: Available Resources
The next important factor to consider when trying to calculate the cost of outsourcing is the current resources that you have available. This would cut down the number of resources you will require when outsourcing.
You need to chart out the current resources, technology experts, developers, and other engineers in your in-house team.
The next step includes analyzing their current responsibilities and the amount of time/work they have on their plate. Ensure that even if you reserve time from them, it won't overwhelm them.
Once this is done, you know the number of resources you have and the members you will need from the outsourcing vendor for your software development.
Including in-house resources, if you have some, would cut down the software development outsourcing cost as well.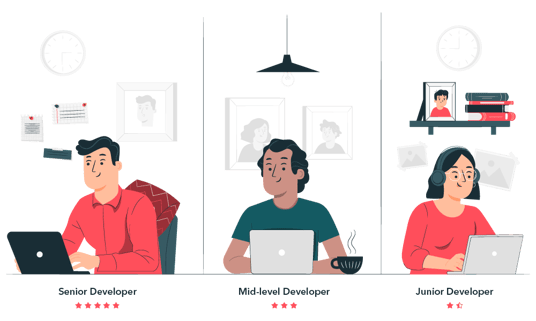 This will help you determine the team size that you will require from the outsourcing software development company. A typical software development team includes two developers (senior & mid-level), a QA engineer, and a UI/UX designer. Depending on your size of software and the available resources, you can determine the resource requirement from the external company.
Factor #4: Stage Or Scale Of Development
Another factor that influences the cost of software development and outsourcing is the stage or scale of development. Many companies join hands with an outsourcing company at the very beginning of their development. They scale their product with the same outsourced team. However, some companies build an MVP or first version of their software in-house or by some other vendor and switch to another company in the middle.
Factor #5: Type Of Development Outsourcing
When talking about software development outsourcing, most people think it is all about developing the product. However, there can be different types of development outsourcing that one can participate in. Some of these can be:
New product development: This is when you have a new product idea and need to build a completely new product from scratch.
Software integration: This is when you need to integrate a new feature or API or database into your product by building one or integrating with a third-party one.
Application modernization: This is when you have a legacy application running on outdated versions or platforms and need to migrate or upgrade it.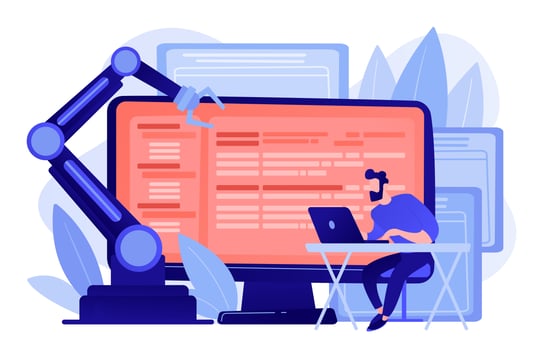 Custom software development: This is when you have a very specific requirement and it requires complete custom development from wireframing to launch.
Software scaling: This is when you have a prototype, MVP, or a version of your product already exists but you need to scale it to the next version or bigger product.
These are some of the factors that can help you calculate your development costs. whether you are outsourcing the development or getting it done in-house, cost calculations cannot be done effectively if you haven't taken these factors in mind.
So, now that we know the factors, it's time that we turn to analyze the costs through the three different methods we had listed in the beginning of this chapter.
While all the three approaches can be adopted to calculate the outsourcing cost benefits, the first approach, i.e, the Differential Cost Analysis is what would give you the exact numbers that you are looking for. So, here's a simple 4-step approach to Differential Cost Analysis in outsourcing.
Differential Cost Analysis
The simplest answer to 'What is differential cost analysis?' is the amount left when you deduct the outsourcing cost from the in-house cost. But let's understand this better by taking the costs that we have discussed in our product development work. Here's how you can find the actual cost of outsourcing:
#Step 1: Analyze The Task
The first step is to clearly define the services that you are planning to outsource. Having clearly defined steps and processes of the service would help you make a better analysis of the cost as well.
Here, we are developing a product so we would need to outline all the tasks like the platform that you need to target, user interface & user experience (UI & UX), functionality, backend infrastructure, level of customization, MVP or prototype creation, performance analysis, etc.
#Step 2: Calculate Actual In-House Cost
The next step would be to calculate how much you would have to spend if you did not outsource this operation. Start with jotting down all the direct and indirect costs like salaries, benefits, supplies, IT systems, hardware, software, etc., that you would have to provide.
In our case of product development, the cost of in-house development came out to be around $170,720. This cost only includes the salary, benefits, IT supplies, training cost, etc., of the developer you would hire.
#Step 3: Calculate Outsourcing Cost
Now that we have the in-house product development cost, the next step is to calculate the overall cost of outsourcing the services. This would include everything from the bid price to other integration you might have to undertake for a smooth transition.
In our case of outsourcing product development, the cost of the operation came out to be around $70,000. This would be your total cost of outsourcing.
#Step 4: In-House Cost Minus Outsourcing Cost
This is the final and the simplest step in the differential cost analysis of your outsourcing cost. Here it would be:
$170,720 - $70,000 = $96,720
Well, this certainly ensures that outsourcing reduces costs. Your savings from outsourcing product development instead of getting the product developed in-house comes at $96,720.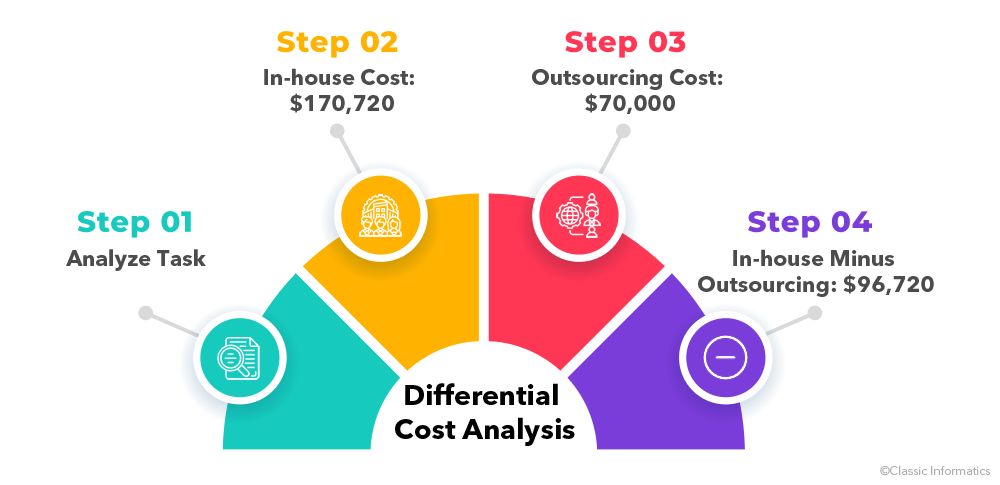 This was just the differential cost analysis method that gave us the numeric value of the amount saved from outsourcing. Let's look at two other ways of calculating outsourcing costs.
Opportunity Cost
Opportunity cost is the cost that you are giving up or forgoing when you are choosing one option over the other. Here, the opportunity cost would be the cost that we might let go of if you choose to undertake the operations in-house over outsourcing development. It could also be the benefit that you otherwise would have received but eventually gave up by in-housing rather than outsourcing.
Investopedia Definition: "The cost of an alternative that must be forgone in order to pursue a certain action. Put another way, the benefits you could have received by taking an alternative action."
So, let's know how much is not outsourcing your IT services costing your business:
You are not able to focus on your core competencies.
You have to compromise with low-tech skills for your operations.
You are keeping your in-house team burdened with multiple tasks and stressing them.
You are just getting work done but not creating any value for it.
You are not utilizing your existing in-house resources to the best of your capabilities.
Incremental Cost
Another cost that many companies tend to overlook when making their outsourcing decision is the incremental cost. It is the extra cost incurred by a company when it is planning to change the way it operates and functions. In outsourcing, the incremental cost would be any extra cost that you would have to incur when outsourcing your operations.
Investopedia
Definition:
"Incremental cost also referred to as marginal cost, is the total change a company experiences within its balance sheet or income statement due to the production and sale of an additional unit of product."
However, going by the calculations made in the previous chapter, it can be concluded that the incremental cost in outsourcing over in-house would always come out to be negative. But, if in any case, the outsourcing cost comes out to be higher than the in-house cost, the right way to decide whether you want to still outsource or not is by knowing how much revenue or profit it would generate.
Now You Know
Outsourcing cost is more than just the salary of the remote developer or the bid amount

There are many costs like transition cost, hiring cost, IP protection cost, etc., hidden in outsourcing

When comparing outsourcing costs with in-house development costs, outsourcing costs came out to be pretty low
---
Chapter 5
Outsourcing Reduces Cost
Outsourcing can reduce costs!
But how?
This chapter throws light on how outsourcing can help you reduce your costs.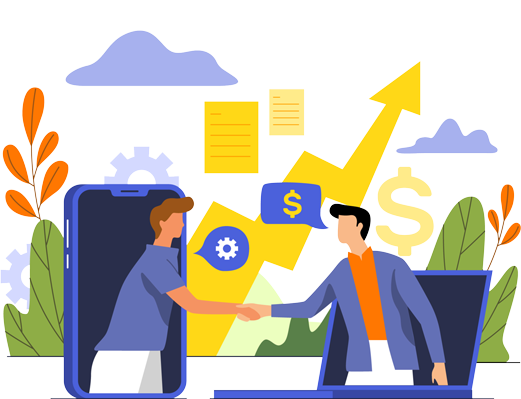 Want to reduce your business costs?
Try outsourcing!
Many have been singing the praises of outsourcing is cost reduction but none have cared to venture deep down and unveil the truth!
Does outsourcing actually reduce your cost?
How does it reduce your cost?
Do different outsourcing models have different cost reductions?
Do we only see the cost reduced in the operations we outsource?
This chapter finds the true answer to all these questions.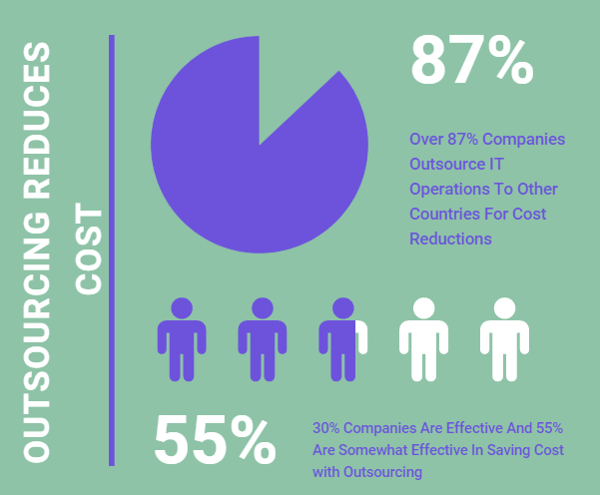 How Outsourcing Reduces Cost
By now, we have deduced that outsourcing does reduce costs. In fact, according to AMR Research, it was found that more than 70% of the respondents considered reduced costs as the main reason why they outsourced. The question that we would have to answer now is how?
How does outsourcing reduce cost?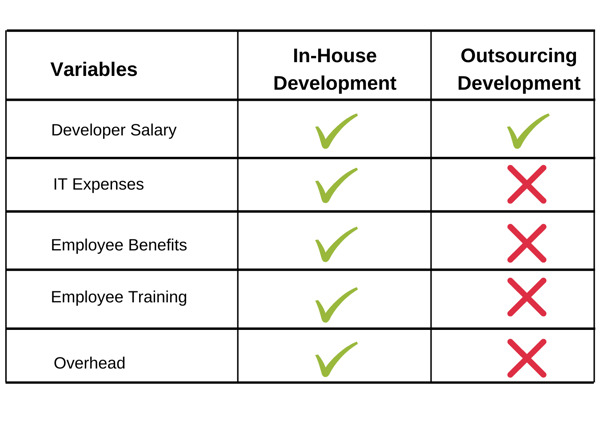 Apart from the differential cost, you can also include the opportunity and incremental costs to deduce how outsourcing actually reduces your cost.
When we talk about cost savings with outsourcing software development, there are continuous questions about how it reduces it. Different modes that you choose to outsource help you save costs in different manners. Let's take a look at that.
By Hiring Remote Developers
Many companies choose to hire remote developers from India, the Philippines, or other IT hubs to save costs. They leverage a global talent pool and don't have to compromise on anything while building the product.
By hiring remote developers from India, they can take advantage of the lower wages and fees charged by devs. Moreover, hiring remote developers for software development also eliminates other costs associated with in-house hiring like salary, added benefits, paid leaves, and more.
By Outsourcing Complete Project
The next engagement model that most companies choose while getting software development outsourcing is to outsource the complete project. This is one of the most effective modes in reducing cost. This approach is taken usually by:
Startups looking for a technical co-founder or CTO
Product companies having to build a complex product
Enterprises have an enterprise-grade product that requires custom development
Non-tech SMBs that are looking to launch their application
No matter what the organization or company type, outsourcing product development can help save a lot on the development cost.
You save on the infrastructure cost that would've been an add-on if you decided to expand it for an in-house team. The software vendor takes care of everything from the research to the development to management, saving costs on building teams, managing servers, and other IT costs. Additionally, you have the time to focus on core business offerings or improving the core competency of the product.
By Building Dedicated Team
Another common engagement model for businesses is to build a dedicated software development team that works as an extension to their in-house team. They get in touch with an It outsourcing company and build their own development team. The process is similar to building an in-house development team but faster, simpler, and cost-effective.
The IT outsourcing company offers resumes of the resources and tech talent that you require for the development. The entire team is usually managed by a project manager sitting with the outsourced team managing them throughout the development process. Moreover, the added benefits, infrastructure cost, paid benefits, and hardware/software cost are all taken care of by the outsourcing provider. You save on all these costs when you plan to build a dedicated team with an offshore IT outsourcing company in India.
Just knowing the cost of outsourcing is not something that a company should be satisfied with. You should always look for more!
Outsourcing promises to help you save money in development. But what if you could save even more by outsourcing. Keep reading below to find out how.
Can You Save More With Outsourcing?
Now that we know what is our outsourcing cost and how we can calculate it, let's throw light on some tips that can help us in reducing costs using outsourcing. While outsourcing can help you save costs, these tips would help you cut down even those costs.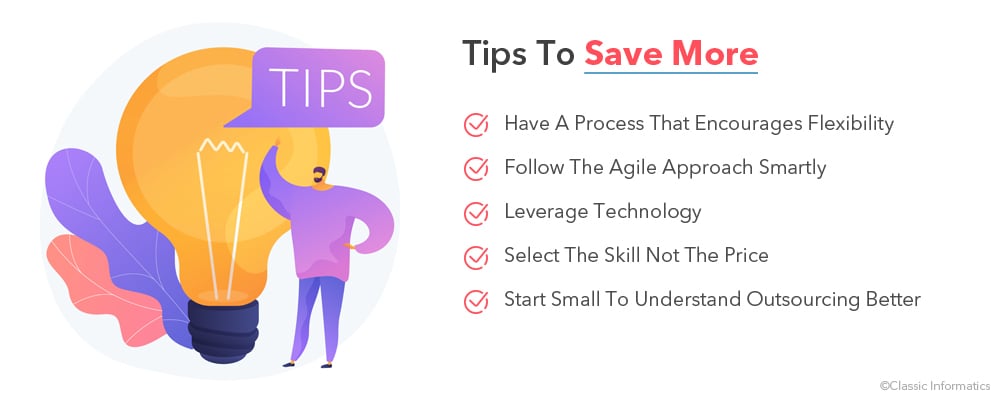 Have A Process That Encourages Flexibility

As an entrepreneur, outsourcing your project would come in easily if you have a process in hand. The best approach for this is the agile methodology. It is an iterative approach where you assign work in sprints for getting smaller chunks of work done in some time. A study has concluded that agile projects have a 28% higher chance of being successful in managing projects. If you are also planning to outsource your operations, it is important that you go with the agile approach.
The multiple short iterations in agile methodology pave way for a more effective and better-developed product.

It has the creation, testing, and release of the project in many iterations

It ensures that if any changes are required, they would be implemented during the project completion and the full and final product would be released on the committed date.

There is more transparency and increased collaboration in agile development

You can customize agile based on the way your startup works
Choose Suitable Management Approach

When it comes to software development, How well you are able to manage the development impacts the overall cost. There is a lot that goes into the management of product development.

A great and effective top for product managers or owners planning to build their product is to choose a suitable management approach.

As per various studies, it has been noticed that agile or lean approaches offer a faster return on investment. You build the product iteratively, i.e., build a smaller module, launch and get returns on the same. However, older methodologies like a waterfall are known to be a bit more expensive and promote product launch after complete development.

Go For Agile Development

The best advantage of the agile approach is that it works effectively with mini-deliverables. As a startup, you do not have the resources to separately assign an individual for looking into the project management closely nor do you have the extra funds to afford a completely failed or different end-product. So, the best way out in this case is to create mini-deliverables. These could be aligned with the sprints that the outsourcing company formulates. It could help you keep a tab on the outsourced product without having to indulge completely and also eliminating any chances of totally different delivery.



Leverage Technology

The next tip revolves around technology. When outsourcing your product development, you need to be at the technology forefront. There are a number of digital tools out there that could help you minimize and even eliminate a number of costs. These could include collaboration tools, project management tools, automation tools, Robotic Process Automation, etc., which could be very helpful in cutting down the total cost of outsourcing.

Select The Skill Not The Price

As discussed, going for the price of the remote developer for your project would be a big mistake. An effective tip would be to sort and filter the outsourcing service provider based on the skill that he/she has. You can even select the outsourcing agency by going through the technology stack. A good tip would be to find a developer and see their portfolio. It should always have more projects on the tech stack that you are looking for. They should not just showcase the skill on the resume but also have actually worked on it.

Start Small To Understand Outsourcing Better

Many companies tend to outsource all their operations in one go. You need to avoid doing that and take the outsourcing venture a bit slower. Take one step at a time only. Start by outsourcing any one operation other than your core competency. If you like what you are getting and it is turning out to be efficient and cost-effective, then only should you go further with the outsourcing venture.

Look For Vendors Offering Project Managers

There are several outsourcing companies out there that can offer great services and offerings with their outsourcing partnership. However, if they are not offering project managers, there could be an additional cost for project managers. To save even more during outsourcing, you should look for outsourcing companies that offer project managers along with the outsourcing relationship. This would streamline the entire process as they would become one true point of contact to eliminate all miscommunication and even ensure the team is working as planned.
These are some of the common ways that one can save more with outsourcing. However, many feel that cost savings are the only savings that one can have.
But that's not all.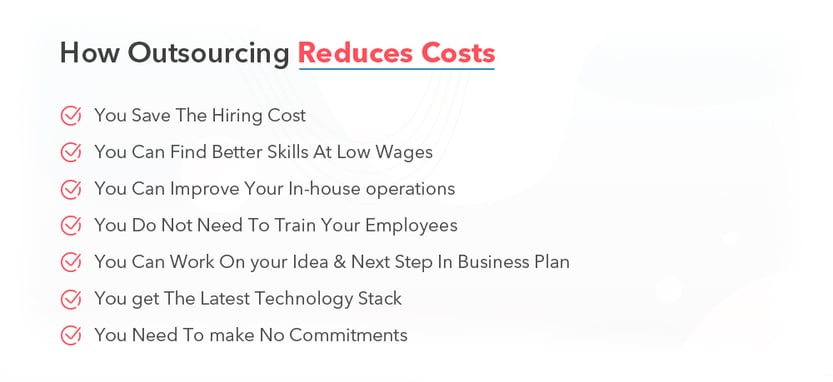 Is Cost Reduction Only For The Services You Outsource?
This is one question that has been asked time and again by many entrepreneurs and we're sure you must be pondering on the same by now. One thing has been established by now:
If you are stuck at the crossroads between choosing to outsource or setting up an in-house team for the same, reducing cost being a constant requirement, outsourcing should be the path to choose.
But would it justify the cost of that service be saved and nothing else?
Let's understand this with a case study published in MIS Quarterly by Kunsoo Han and Sunil Mithas.
The study focused on determining if outsourcing IT operations would reduce the non-IT operating cost or not. In this study, it has been revealed that by outsourcing IT services to India or any other country, the cost of non-IT operations was also reduced. The study concluded,
"On average, a one-unit increase in IT outsourcing as a percentage of revenue was associated with a 1.26-unit decrease in non-IT operating costs as a percentage of revenue."
How is it done? Let's see how they explain it.
Outsourcing IT operations would increase the operational efficiency of the existing team and the processes, it would free your in-house team and let them focus more on your core competencies.

The existing business processes that are supported by the in-house team would become more efficient, thus, reducing the overall operational cost of that process. NASCO, a service provider for the health insurance industry, outsourced its data operation to IBM to see a reduction in its cost in claim processing.

The existing technology nerds in your startup team could be directed to focus more on the strategic activities that can be useful in enabling the firm to gain a competitive edge.
Research by IBM T.J. Watson Research Lab was also quoted by the study to prove its point that IT outsourcing leads to a reduction in non-IT operations. It was conducted on 244 companies and concluded that the companies that outsourced IT operations have a competitive edge over their industry peers in the sense that they could better realize improvements in their business performances for the long term.
Now You Know
Outsourcing eliminates several costs like employee training, retention, technology training, etc.

Outsourcing not just reduces the cost of the operation or process outsourced but the overall company's cost
---
Chapter 6
Outsourcing Success Tips
Can you increase the cost savings from outsourcing?
Know the mistakes that can cost you a fortune when outsourcing.
Plus, get expert tips to save more and assure quality.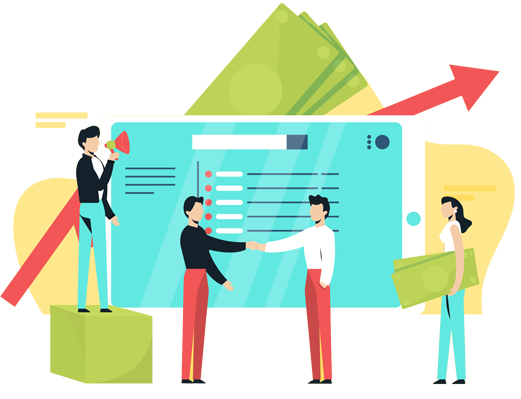 Calculating your outsourcing cost is the biggest hurdle and now that we have crossed it, everything seems like a walk in the park. But what if we add more flowers to blossom your way and tell you that you can save further with outsourcing?
Surprised, right?
Not only is outsourcing itself cost-effective, but it can also help you further cut down costs through a variety of practices, tips, and approaches. All you need to do is avoid the common outsourcing mistakes and adopt the best practices while keeping the tips for successful outsourcing in mind.
Let's explore further!
Mistakes to Avoid When Outsourcing
Outsourcing is a cost-effective way to get your operations handled by experts to increase efficiency and outcome. But as with any other venture, there will be some hitches and glitches that might dissuade you. There will also be some myths surrounding outsourcing that you need to debunk.
But while these hitches and glitches would only be stepping stones to your success, there could be certain mistakes that could put you on the list of outsourcing failures. Let's throw light on some of them:
1. Going For The Most Expensive Or Cheapest Developer



You might be enticed by the low cost of the developer you are finding offshore.
You might choose the highest bidder or the costliest developer thinking they'll deliver the best.
These could be two big mistakes.
While going cheap with outsourcing could lead to poor quality of work, paying the highest sum also wouldn't guarantee quality. You need to screen the developers properly before making any commitment.
2. Not Investing In Collaboration Tools
Collaboration issues and communication problems in outsourcing account for around 57% of IT outsourcing failures. When outsourcing, you cannot go over to your team members on their desks to clear any confusion or discuss your next idea!
A lot of ideas can be missed out or significant details of the project missed out while passing of information. With great collaboration tools, you can overcome this issue and bring everyone on a single platform. Make sure you have invested in good collaboration tools to avoid any failure.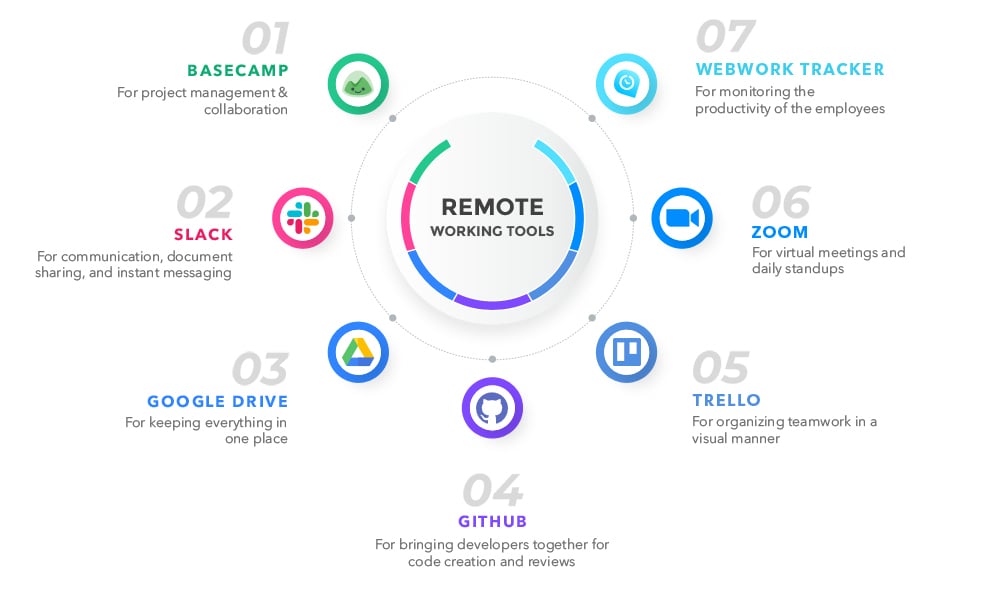 While many of the tools are free of cost, there are some tools that might have a freemium version, and for some, you might be asked to buy the premium version to unlock their features. Here's a breakdown of some of the costs of collaboration tools for remote working.
3. Not Interviewing The Remote Developers Properly



Hiring the remote developers without screening them as you would for any in-house candidate could be a big problem in the coming time. The developer or team would be working on your idea. Would you like to compromise on it? No!
So, make sure you have interviewed the product developer as you would interview any in-house hire to find the right candidate.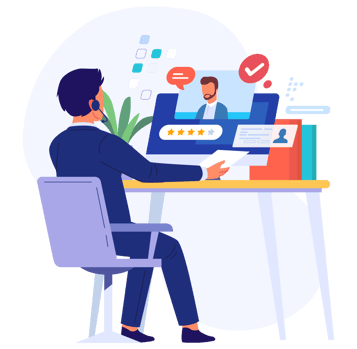 4. Unclear Goals And Unsaid Assumptions



Assumptions in outsourcing could lead to blunders. State and document everything, even if you feel it is obvious. Do not make any assumptions. Do you think your developer would complete this task? State it! Do you think they would provide this access? State it!
State the obvious and leave no room for assumptions. This mistake can be very costly for your outsourcing project.
Communication is the key ingredient to succeed in outsourcing or building an offshore development team. There could be thousands of ideas cropping up if I vaguely say 'Develop software that stores employee information'. But not all of them would meet your expectations. In order to get what you want, you need to tell what you want.
Be clear in specifying your project scope and goals. Leave no space for assumptions or misunderstandings.
To understand this, let's take the example of product development outsourcing.
You have mentioned the features you need in your product and a budget is defined. You assume that the cost of enhancing technology to the latest version when it is released mid-project would be included. The cost of in-house might remain constant during this. But when outsourcing, this would be considered an add-on. So, if you are expecting your outsourcing service provider to take care of certain tasks, make sure you have it clearly stated.
5. Not Forming The Right Contract
Related to the above mistake is this one! You are not just expected to say everything; you are expected to put it all in the outsourcing contract that both of you are going to sign. This would give you the assurance that everything documented there would be delivered. Hence, it should be created with complete due diligence.
6. Not Securing Your IP
Another mistake that most organizations, especially startups, make is to not protect their IP through legal means. As a startup, your idea, your intellectual property is your main treasure. Hold on to it tight and secure it through all means possible.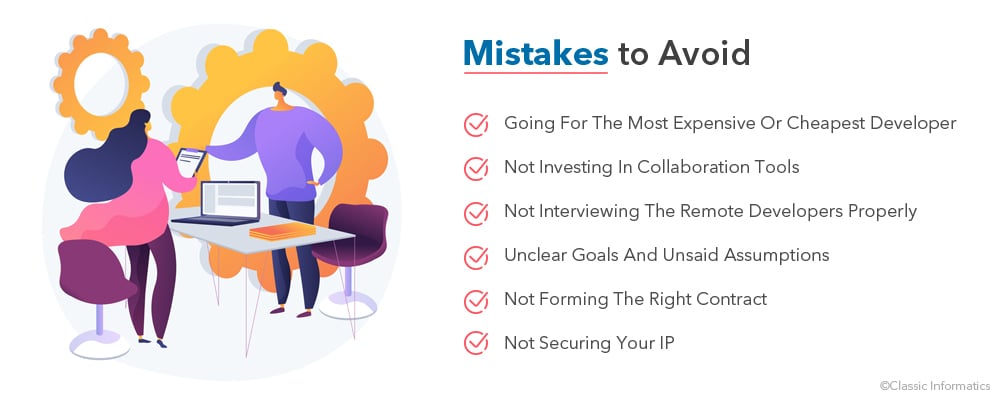 Best Strategies For Outsourcing Cost Reduction
While we have certainly talked about some great tips that could be effective in reducing your outsourcing cost, there are a few practices that might also be helpful in outsourcing cost reduction. These practices have been adopted by many companies and are emerging out to cut short the outsourcing cost, especially for startups.
1. High-Priority Tasks First



When it comes to outsourcing your tasks, it is always advisable to prioritize your outsourcing tasks. Also, ensure that only the high-priority tasks or features are developed first.
High-priority tasks could be anything that would create the foundation of your product or project. They could be the prototype, the main screen of the software, or the design.
This way, even if your shoestring budget exhausts or you run out of time, you can easily cut down the outsourcing relationship then and there while still having an MVP or something that does only require few modifications. Do not join hands with outsourcing vendors that want to take care of the easier tasks first and later work on important tasks.
2. Start With MVP Development
Another strategy that you can employ when you start outsourcing is to outsource MVP development first. MVP is the Minimum Viable Product with the bare minimum features to get your product out in the market.
MVP is the Minimum Viable Product that you can put out in the market and improve it as per the user response to it.
For startups, MVP development is a great approach. This would help you know how good the company is and if you and your targeted users are satisfied with the MVP, you can continue the outsourcing relationship with them to improve as the feedback offered. Startup unicorns like Uber, Airbnb, Spotify also used MVP.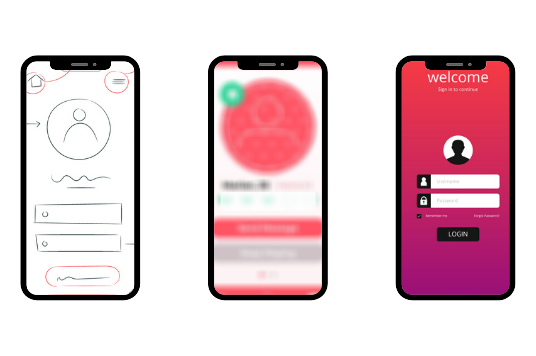 3. Go For The Hybrid Approach



Another cost-effective practice for outsourcing is to adopt a hybrid approach. This is where you bring together two approaches for outsourcing and transform them into one.
Hybrid development is the process where you get an Account Manager who would be in touch with you in your location while getting the development outsourced in an offshore location.
The best hybrid approach for outsourcing is to have the outsourcing company's personnel in your location who would take care of all the operations in the offshore location. This way you would make the most of both on-site and offshore development.
4. Outsource To India
Outsourcing to India is proven to help you save costs. The wages of Indian developers are pretty low compared to the prices charged by developers sitting in North America, Europe, South America, Australia, and several other regions.
India is expected to be the technology leader by 2030 as per a new Korn Ferry study. It will have over one million surplus, high-skilled tech workers, making it efficient to outsource to India.
With outsourcing-friendly government policies and various laws to maintain high standards of coding and outsourcing relations, outsourcing to India can be a great strategic move to save costs. Moreover, the wages of developers are comparatively lower in India, giving you greater leverage in terms of cost savings.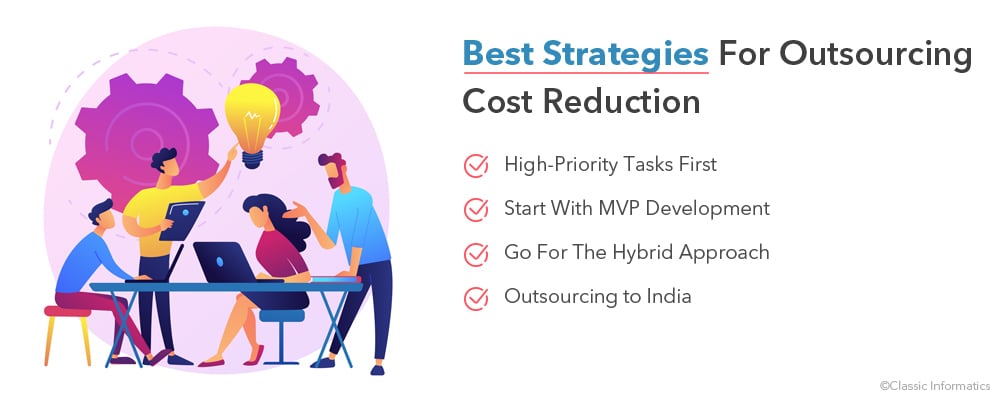 Finding The Right Company: Key to Unlock Savings
What is the key to unlocking cost savings in outsourcing, you ask?
A simple answer would be to find the right vendor. Choosing a remote developer from a trusted web development company for outsourcing mitigates your risks and can offer added flexibility, scalability, experience, etc., to the venture. If you have found the right outsourcing company, 90% of your risks are eliminated and the chances of outsourcing success scale up. Keep reading below to know how you can find the perfect company for your outsourcing venture.
1. What Is Company's Niche & Expertise?
The first thing you should check is their expertise, and not just the general experience, check their expertise in your industry. You would want them to have worked on other projects in your industry too so that they would easily understand your industry requirements and deliver accordingly.
Pro Tip: Look for the experience of the company along with their portfolio to know what kind of projects and industries they have worked for. Ask for their Github profile to know their expertise.
2. How Many Developers Are Working For Them?
As a startup, your goal is to grow with time and would always want to outsource to a company that can allow you to scale. Whether you want to add more developers to your extended team or want to find developers with new tech stacks, the company should be able to provide you with one.
Pro Tip: Ask the company about the teams working with them and the number of developers they have. Know if they could be onboard with your scaling strategy or not.
3. What Communication Channels Do They Use?
The communication channels and collaboration tools they utilize are also important. Talk to them about their communication channels and ensure they make use of the best channels for seamless communication.
Pro Tip: Go for a company that does not make a fuss and promises to get onboard with your preferred communication channels and tools itself.
4. Do They Let You Choose The Developers?
Know if the company is offering you the freedom to choose the developer of your choice. They should offer you the freedom to screen developers and choose the one you like. And in case, you don't like any existing developer, they should also offer you the ease to replace him/her.
Pro Tip: Do not choose a company if it does not let you screen or analyze the developer. Always find a company that gives you the freedom to work with the developer of your choice.
5. Are They Adapting to Your Time Zone?
Being in different time zones can pose a big challenge. However, you can use it to your advantage. They should be able to adapt to your time zones. It should not create a gap in their work or your involvement in the project.
Pro Tip: Go for a company that offers works in a different time zone but with a small overlap. This would ensure round the clock work for you development while giving you a window for discussions & meetings.
6. What Are Their Pricing Models & Methods?
Many companies might try to loot you by changing the pricing model of their developers once they are aboard your project. Find a company that sticks to a particular cost and lets you find developers on a fixed cost only.
Pro Tip: Look for the experience of the company along with their portfolio to know what kind of projects and industries they have worked for.
7. Are They Providing Consultation As Well?
For a startup, outsourcing is not simply about development, it is also about brainstorming and consultation to help them grow. You need to find a company that would offer consultation to help you improve and scale with your operations.
Pro Tip: It is important that you look for a company which is eager and willing to offer you FREE consultation regarding your product or product idea.
8. Is Their Technology Stack Up-to-date?
The technology stack that the company has also plays a crucial role in its expertise. You need to be sure that that company has access to new-age and emerging technologies to help you gain a competitive edge.
Pro Tip: Check out their technology stack before joining hands. They should have all the latest technology stack to make your product/software state-of-the-art.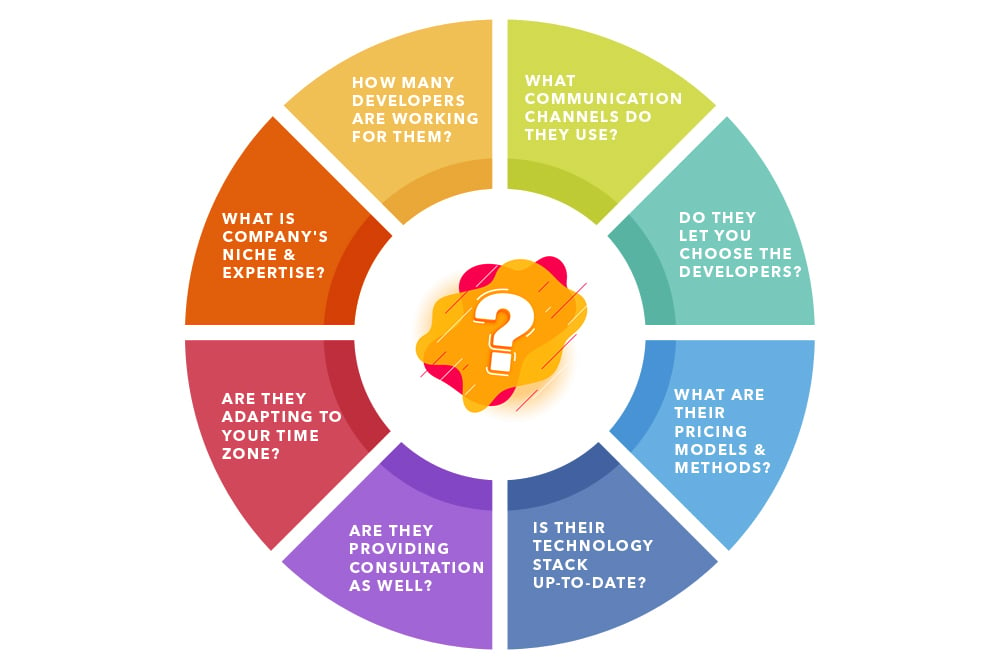 ---
Now You Know
There are various mistakes that you should avoid to ensure you are not among the companies that fail at outsourcing

There are many tips that you can follow as well to cut down your overall outsourcing cost

Apart from that, you can adopt the best outsourcing practices that have been proven to save money

In the end, it all boils down to the developer or outsourcing company that you select and you need to take care of certain things to find the right company as well.
---
Start Outsourcing, Start Saving
When your budget is on a shoestring and you can find an in-house team with the latest skills and technology stack, shift gears to the outsourcing route.
But costs should never be the sole reason you start your outsourcing venture.
We believe that outsourcing can reduce costs. But along with reducing costs, it also enables you to improve your operations while keeping your undiverted attention on scaling your startup.
Classic Informatics: Your Outsourcing Partner
Classic Informatics is a client-centric organization that offers complete solutions for web development, IT services, product engineering, app development, and much more. We team up with Startups, SMEs & Large Organizations to build and deliver user-centric products and solutions.
We help startups with end-to-end product engineering including project management, documentation, development, testing & growth. Right from the ideation stage of the product to its development and growth, we assist startups to become successful.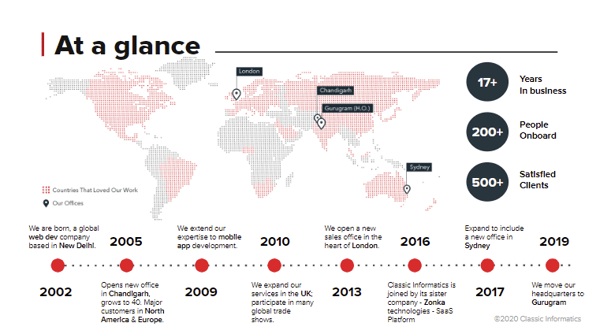 As your outsourcing partner, we can help you gain a competitive edge while reducing your costs! We have even helped a number of clients in doing the same. One of our clients, Mr. Francisco, founder of a healthcare portal, has been very satisfied with outsourcing is development operations to us. Quoting Francisco,
"I gave the remote developers, at Classic Informatics, a detailed description of what I needed and they started the development process. Weekly iterations with the team on Friday made it easier to connect and see the progress. They dealt with everything on a dedicated project management application and made it very very quick. They have offered assistance in each front of the development. "
So, why wait?
Start outsourcing and start saving costs!