As digital trends are changing at a skyrocketing speed and fierce competition in the software industry, we need everything faster. Faster development, Faster deployment, faster launch, and so on.
It is imperative to consider the right strategy, platform, and way of developing processes and applications with minimal effort and time.
Because you can't let your customers wait. The same applies to your employees.
And that is where no-code platforms come into the picture.
Developing applications faster using visualization tools and 100% cloud support, third-party integration, interactive and easy-to-use GUI is a dream come true with no-code platforms.
The no-code development platform market has recorded 7x growth in the last five years, with $21.2 billion in 2022 from $3.8 billion in 2017, as per Forrester.
Now the question is, which no-code platform should you choose to develop your app? There are many in the market — each better than the next.
While researching platforms to build innovative apps, various platforms call themselves THE no-code platform, further complicating our decision.
Remember, time is of the essence here. This is why we are going for no-code platforms, right?
Let's make this journey easy for you. This article will help sort out this and help you discover the one that fits you the most.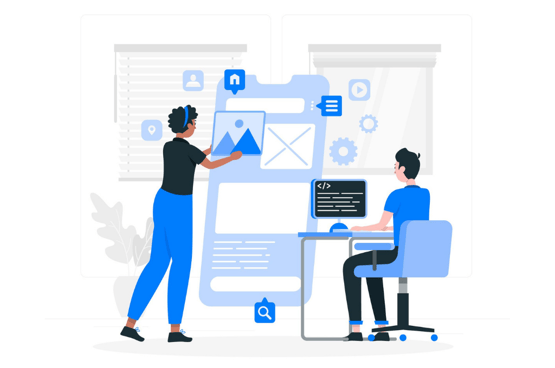 No-Code Platforms List For 2022
Let's explore some of the top and widely used no-code platforms by companies nowadays. The platforms below are based on their offerings, price, and features when developing applications to enhance business growth.
Betty Blocks
Betty blocks let customers create custom software applications with a quick drag and drop functionality and easy-to-access GUI, data management, and app creation. From customized customer portals to dynamic web apps, you can build everything with this interactive user interface.
Here users can install pre-configured blocks of Webservices and UI Components with one click. They can also share these components with other users in the organization.
The no-code tool is the best fit for sprints teams and requires regular updates on app functionality for their clients.
Why should one choose Betty Blocks?
Build complex applications without coding and shorten time-to-market.

Process and manage your data easily through visually modeling

Replaced code with a drag and drop interface with endless possibilities.

Betty Blocks is the only no-code platform that is ISO27001 certified.
Pricing: Betty Blocks allows users to sign up for a free product demonstration to get a product quote.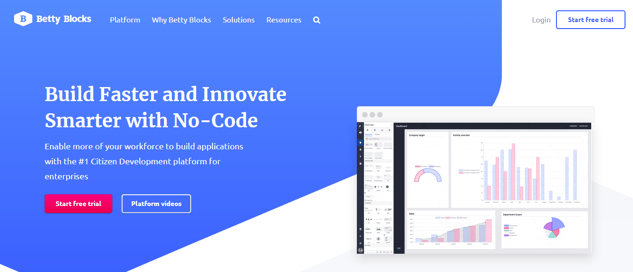 Salesforce
Salesforce is the most popular no-code platform, and it leads the race with the next level of faster, simpler CRM. Teams can build innovative and engaging apps faster, better and smarter.
This no-code tool helps businesses reimagine business workflows and thus boost productivity. Here you can simply use point-and-click tools to automate any workflow, or you can optimize an existing process.
The Salesforce platform capabilities like Lightning Object Creator, Lightning flow builder, and lightning app builder help you build applications more effectively using multiple options.
Why should one choose Salesforce?
The platform has powerful integration capacities

It helps you get richer experience and more productivity

Connects your integrated data to any networked product or device

Can easily embed visual workflows everywhere

Faster automation across connected systems using drag and drop functionality

Prioritize security and compliance regulations at every step
Pricing: Building custom applications will cost you $25. Extending Salesforce features to build workflows and processes for your entire organization will cost you $100.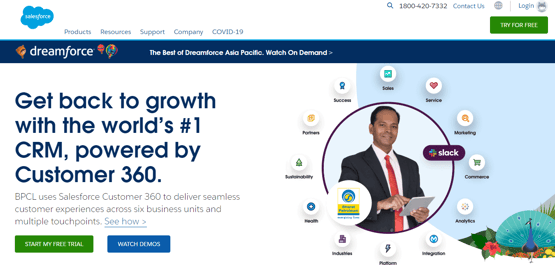 Pixpa
Pixpa is an all-in-one platform for creators and small businesses to create beautiful, professional websites complete with a built-in online store, blog, and client galleries. Pixpa's versatile platform has everything you need to showcase your work, share ideas and sell your stuff online without any coding knowledge.
Pixpa offers a full-featured e-commerce store builder with all the tools required to run your online business - products and inventory management, discounts, taxes, shipping, abandoned carts, and easy order processing.A unique additional feature photographers love is Pixpa's ability to sell images as downloads and prints with automated order fulfilment.
With a host of built-in tools such as SEO Manager, Marketing Pop-Ups, Announcement Bar, and much more, you don't need any extra plugins to start growing your traffic and converting more leads. Pixpa offers 24/7 fast and proactive customer support through live chat and email. There is also a comprehensive help centre with guides and step-by-step tutorials.
Why should one choose Pixpa?
I

t is a user-friendly platform combines simplicity and ease of use with flexibility and powerful features

It has beautiful, pixel-perfect templates that are modern and minimalist in design aesthetics are one of its core USPs. All templates are mobile-friendly and can be fully customized.


Pixpa's Customer Support Team is available 24/7 via live chat and email, with a response time of under 5 minutes.

Everything you need to optimize your website for search engines is built into Pixpa. No third-party plugins are required
Pricing: Start with a 15-day free trial. No credit card is required. Subscribe anytime with a 30-day money-back guarantee. Pixpa offers 4 different pricing plans – Basic ($3.60/mo), Creator ($7.20/mo), Professional ($10.80/mo), and Advanced ($15/mo)
Zapier
Zapier is one of the effective no-code platforms that helps you connect your apps and automate your business processes and workflows. It makes automation easier for business professionals who need to focus on core tasks.
It simply integrates, automates, and innovates your web apps and builds business processes faster. With this no-code platform, anyone can create workflows and apps with minimal clicks.
Why should one choose Zapier?
This no-code platform integrates thousands of web applications and tools helpful to users to ease their work.

It also helps you with marketing automation for small businesses to achieve huge profits in limited time and money.

Zapier is free to download and automate up to 100 tasks per month.

This low code platform helps you with the setup process at skyrocketing speed and is ready to use in no time.
Pricing: Free to download - paid plans start at $19.99 per month/$29.99 month-to-month.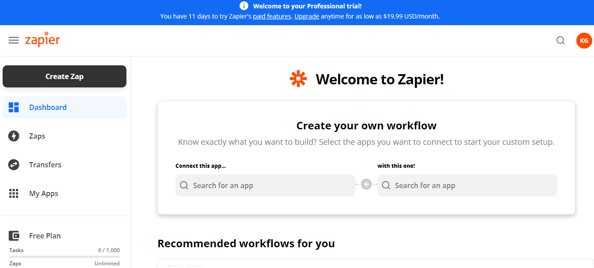 Budibase
Budibase is a modern, customer-focused app builder for building scalable and robust web applications that help reduce your development efforts and time. It makes apps within minutes using the quick drag and drop feature.
It is an open-source low/no-code platform assisting development teams in building innovative apps and automating manual processes in minutes. It simply transforms your data and processes into powerful internal tools. By bringing together everything on GUI, it provides you with the best development experience.
Budibase is known to improve the development velocity and app delivery speed by up to 20x.
Why should one choose Budibase?
Connect, fetch and query data from external data sources (Postgresql, MongoDB, MySQL, S3, CouchDB, Airtable, and more). You can also pull data into Budibase using a Rest API.

You can simply use Budibase's built-in database and tables to build apps from scratch.

It provides you with a simple and performant way to run calculations over your data within Budibase's built-in database.

It outputs real SPAs, and the apps are 10x performance than other platforms.
Pricing: Free to download and paid plans to start at $5 per user per month.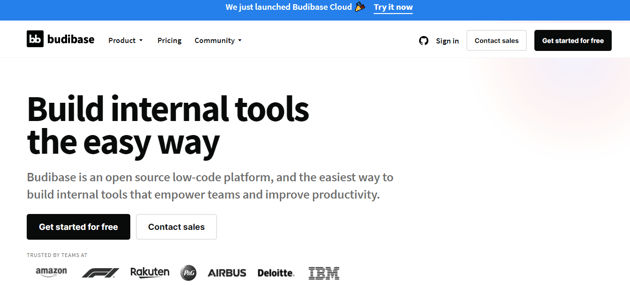 Bubble
Another widely used no-code platform that empowers development teams to build market-ready web apps is Bubble. It is simply a no-code, point, and clicks programming tool that creates robust applications with no code at all. Bubble enables the hosting of all applications on its cloud platform.
It hosts all applications in its cloud environment.

The Bubble is a fully customizable platform that helps you create engaging, multi-user apps for all browsers, including Facebook features.

It takes care of all the setup and provisioning required to run a web application.

A bubble requires no-tech expertise to build applications.

It can quickly edit SEO-focused aspects like meta tags, URLs, site maps, and more.

It takes care of all the setup and provisioning required to run a web application.

You can use up to 40 collaborators (editors, viewers, etc.) in one project

It supports more than 800 plugins for solutions like Stripe, Facebook, Google, etc.
Pricing: The core platform features Bubble branding, and Community support is free
-Core platform + API Custom domain and Email support will cost you $25
-Three units of server capacity, two application editors, two development versions will cost you $115
-Ten units of server capacity,15 application editors, 20 development versions will cost you $475

Landbot
Landbot is a popular platform when it comes to building no-code chatbots. And chatbots form a crucial part of any modern digital product. Now businesses do not need developers to build their chatbots. They can simply use the Lanbot no-code chatbot development platform to build their chatbots. Simplify your bot creation process using the pre-built chatbot templates and multi-use custom bricks available with this platform.
It has pre-built templates that make chatbot development easier and faster
It lets you turn the most used flows into multi-use custom bricks for easy reuse
It comes with different formats that require zero coding and can be implemented anywhere in the product
Pricing: Free sign-up and trial. It comes with different plans that start from €30/month. Larger businesses can get custom quotes based on the requirements.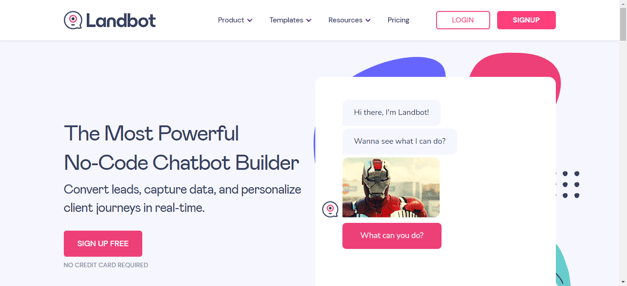 Quick Tips To Consider When Choosing A No-Code Platform
With companies have become more responsive and actionable today, it provides a radical change in the ways web applications are being built and delivered. They found no-code platforms faster way to move ahead in app development.
Still, they have many doubts in their minds when starting with no-code platforms.
We have here listed a few tips you should consider while going ahead with the no-code platform.
1. Make sure it contains pre-built and ready-to-use templates.
The platforms must contain easy-to-use templates to increase productivity. If you need a no-code platform for process automation, make sure it provides you with pre-built templates. Pre-built templates will accelerate your app development process and deliver you a more secure and reliable application. Ready-to-use templates help you build applications faster and easier.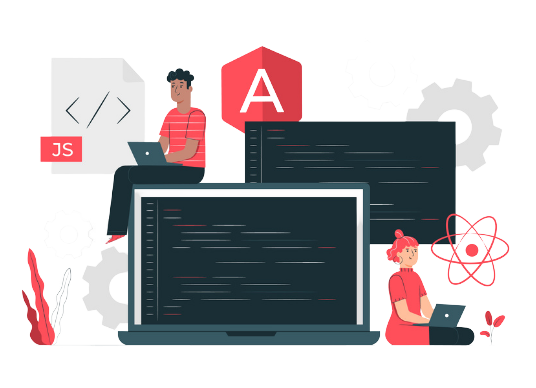 2.

It should support third-Party integrations.
Developing enterprise applications or internal business tools with third-party integration adds value to your product. You should go for a no-code platform that supports third-party integration to make it more scalable and continually adapting changing landscape of the software industry. Make sure your targeted users can easily connect their web applications to a large ecosystem of automated tools.
3. It should facilitate easy cloud deployment.
It is profitable to choose a cloud-based no-code platform as it provides additional security to your app. Also, it speeds up your app development process. With this, you can develop applications in a matter of days. The no-code platform must be cloud-integrated and facilitate fast and easy deployment of your app in the cloud environment.
4. It must be affordable.
Developing a new software or an application is a costly affair and incurs additional costs like hiring experienced developers or coders to assist at every stage of app development.
When choosing a no-code platform, make sure you consider a cost-effective solution that reduces the burden on the development team. Thus it leads the app development to meet digital innovation. Consider a no-code platform that is free or provides a low-cost monthly subscription. Also, it facilitates the development of countless applications.
Concluding Thoughts
Businesses today are looking forward to working with excellent web design and coding tools than ever before. Thus, helping even non-coders create mockups, front layouts, frameworks, and GUI solutions they require.
The companies have changed their way of developing apps with the present no code and low code tools. They are relying on the low-code and no-code platforms to build processes, streamline workflows and applications. With this modern and powerful technology operational, you don't need any service provider. Anyone can build applications of any kind with such platforms.
We at Classic Informatics help you select, develop and maintain your newly developed now-code applications, proper integration, and complete end-to-end now code development. Be it selecting the right platform, or designing a prototype, or app development, we are here to help you with all of these.