The increasing demand for applications and modernizations from the last few years has pushed businesses to encourage their development teams to perform faster and explore better ways of application delivery.
It started with changing the development approach to be more Agile. But now, it has evolved to minimize code used for quicker execution. Or, the low code way.
While it might not be the latest innovation in the market, low code development platforms have only recently gained their way to brands and organizations on a large scale. Market projections predict this approach will only grow in the coming years.
Gartner predicts that low code application development platforms will be responsible for more than 65 percent of all app dev activity by 2024, while Forrester expects the low code market to represent $21B in spending by 2022.
This means more and more businesses will try to work their way around the development style and the platforms. If you are reading this post, you could be one of those first-timers who wants to make a better decision in choosing a platform that fits your business the best.
As the title suggests, here we'll be comparing the top three players in the low code development market - OutSystems, Mendix, and Appian. And these are the ones we suggest for anyone who is a first-timer in the low code game.
We will be comparing each of the platforms based on the following parameters:
Overview

Architecture and Graphic User interface

Power-Packed Features

Low-code app creation

Pricing

Limitations
1. Overview
Low code platforms offer a user-friendly and robust environment to both coders and non-coders to help them build applications faster and smoother. These platforms help them with everything including the development and deployment of applications, seamless integrations, unique interface design, and many more with minimal coding.
Let's have a quick look at their individual offerings:
OUTSYSTEMS
OutSystems is the most popular and widely used modernized low code platform that is power-packed with AI automation, visualization tools, integration assistance, cloud architecture, and last but not least quick drag and drop features.
It empowers developers to build robust and scalable enterprise-grade applications using a model-driven development environment. Here you can craft impeccable customer experiences with modern applications using the pre-built templates. The applications you build are secure, resilient, manageable, and easy to scale.
Outsystems low code platform is a complete package of:
Accelerated development with visual, model-driven, AI-assisted tools
Artificial Intelligence enhances the entire application lifecycle
State-of-the-art architecture and cloud-native runtime
Collaborative Development With Seamless Integrations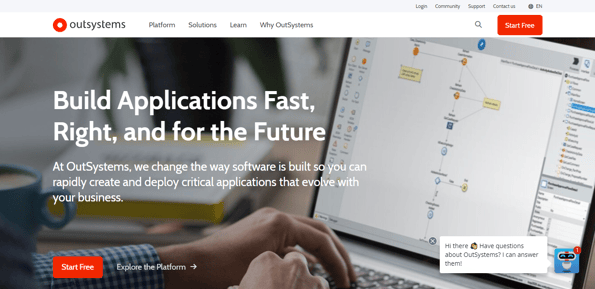 MENDIX
Mendix's low code platform facilitates abstraction and automation in a drag and drop GUI. It enables developers to build powered enterprise applications that improve your business revenues and, at the same time, make work processes simpler.
The cloud-native architecture of the platform delivers proven portability, scalable architectures, and mission-critical reliability to the applications built.
Mendix has received recognition as 2021 Gartner® Magic Quadrant™ for Enterprise Low-Code Application Platforms. Mendix is considered as one of the low code leaders that helps you build robust, scalable, and resilient applications without having a niche level of expertise.
Mendix platform lets you enjoy the power-packed low code services:
Easy-to-use visual modeling tools

A wysiwyg no code IDE

Cloud-native architecture and collaborative development

Embrace innovative applications with AI and cognitive services

End-to-End process automation and seamless Integration

APPIAN
Another popular low code platform, Appian, helps you deliver powerful and feature-packed applications using interactive GUI.
It simply manages and automates your business processes and workflows. With the Appian platform, you can assign tasks to teams, view their performance, monitor ongoing business processes, and many more.
They believe in simplifying complex workflows and building applications 10x faster than ever before.
Its smart and intelligent automation capabilities and seamless integration improve customer engagement and help craft inevitable user experiences.
The Appian Platform is a one-stop low code solution that helps you with-
17x accelerated application development.

50% reduction in development costs.

$13.42M in savings over three years.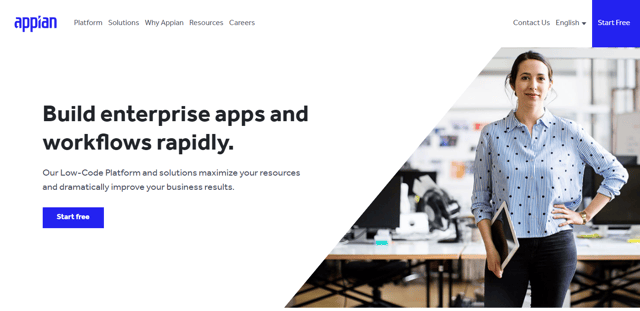 2. Architecture And GUI
These low code platforms empower you with advanced tools to build powerful applications and ensure high performance.
These platforms will provide you with cloud-native architecture that helps you build robust, and maintainable low-code solutions without compromising your standards.
OUTSYSTEMS
OutSystems' low-code platform helps teams build applications faster using the dashboard and pre-defined templates that provide you with interactive, easy-to-use, and hassle-free GUI. OutSystems platform includes multiple elements such as a user forum, job board, and Ideas tab where users can pitch improvements and new features for platforms.
Here you can create your own private cloud environment with its unique OutSystems URL.
But you have to manually download the OutSystems desktop integrated development environment (IDE) to go ahead with the development.
MENDIX
Mendix's low-code platform focuses primarily on large enterprises. It delivers users with an inevitable cloud-based experience through its built-in social intranet and collaborative development.
The architecture, set up, and interface of Mendix includes-
An easy-to-use dashboard with tabs such as Apps, People, Buzz, App Store, and Community tabs.

The updated version of Mendix includes a new web modeler UI, known as Atlas, with predefined page templates and redesigned Android and iOS apps.

Mendix app GUI comes up with an Options menu to help start developing and configuring your app, along with a Buzz tab.
APPIAN
Appian platform facilitates you building of powerful applications and business processes in quick simple steps. The platform comes up with compare and deploys tools to work with higher environments.
The deployment package allows users to revert changes using versions quickly.
Appian excels at reporting and provides the required tools to report any essential data captured in the request. One can present data in various ways, such as a pdf, charts, graphs, or a grid format.
3. Power-Packed Features
Companies at present want their products to be more digitized, innovative, and market faster than their competitors. With low code platforms, they can enhance their internal business processes swiftly to improve their efficiency and thus customer experience. These platforms are loaded with power-packed features that help you develop scalable and powerful applications.
The three platforms Mendix, OutSystems, and Appian, offer you best-in-class features with complete interface control and real-time monitoring of all applications.
Let's check out the features of all three of them:
OUTSYSTEMS
Starting with OutSystems, here are features you can enjoy during app creation:
Drag-and-drop GUI to create full-stack, cross-platform apps. Add your code when needed. No lock add code whenever required.

Deploy and update apps with one click.

It helps you analyze all models and immediately refactors dependencies. For large portfolios, it identifies all refactoring opportunities.

Quickly build great-looking mobile experiences with offline data synchronization, native device access, and on-device business logic.

You can quickly scale applications with OutSystems. Combine microservices with deep dependency analysis.
MENDIX
Moving further, here are features of Mendix you can enjoy during app creation:
Develop and deploy scalable, and robust applications without any expertise.

Visually design context-aware innovative applications, that deliver exceptional users experiences across a range of touchpoints and modalities.

Accelerate app development process with end-to-end automation

Develop powerful applications flawlessly with AI integration

Deliver end-to-end process automation with applications
APPIAN
And finally the third one, here are features of Appian you can enjoy during app creation:
Reduce development time as apps are designed once and deployed across all platforms.

The platform lets users view a business process's progress in real-time

Apply branding with GUI to ensure a consistent look and feel of apps

Delight end users by leveraging an extensive library of multi-experience UI frameworks and templates.

Connect and act upon data wherever it resides - RDBMS, cloud services, or legacy systems, all without any need to migrate data.

Automate the entire software development lifecycle with continuous delivery and continuous integration.
4. Low Code App Creation
Low code platforms provide you with endless digital solutions, be it about developing applications, streamlining business processes and workflows, managing third-party integrations, and so on.
Everything it can do with minimal coding and low cost.
It makes low code app creation easier and faster with quick drag and drop tools that allow users to build reliable and scalable apps.
All three platforms offer an easy and quick stepwise app creation experience to guide both coders and non-coders.
OUTSYSTEMS
The platform eases down your application development process. You can quickly create a database table from an excel file, or build an interactive form, customize design, or help users to publish the app with a single click.
It provides you with a robust, interactive, and easy-to-use app editor that allows you to automatically create tabs for you as you go in the application development lifecycle.
MENDIX
Whereas, Mendix assists you in fast low code app creation using pre-built templates. Also, the platform guides you with learning tutorials to quickly understand critical app templates.
Here you can simply start with UI design and wireframing instead of setting up the database. You can do it later to improve the app creation experience.
APPIAN
Coming to the third platform, Appian, it too offers a fast and easy app creation experience to your coders. The coders just need the modeling flow chart to make the process flow diagrammatically instead of using lines of code.
With Appian, you can create applications of all kinds irrespective of any industry.
Also, it enables developers to build the best products for their businesses and continuous platform upgrades.
5. Pricing
These platforms provide you with everything you require for building great apps. All three of them have different pricing plans depending on the number of users and applications developed.
Their pricing plans for teams of all sizes are as follows.
OUTSYSTEMS
Outsystems offers a free version environment to up to 100 business users. The basic package it offers is for 1,000 users starting at $4000 per month.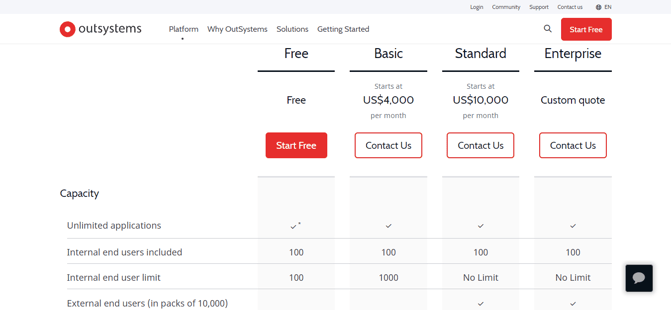 MENDIX
On the contrary, Mendix offers a free version for up to 10 developers. If you want more, you can pay based on the number of applications utilized. For paid Mendix subscriptions, it will cost you $1,917 per month.
Moreover, in the Pro edition of Mendix, you will have to pay $5,375 per month for unlimited app creation. On the contrary, the enterprise edition of Mendix will charge you $7,825 per month for more upgraded features.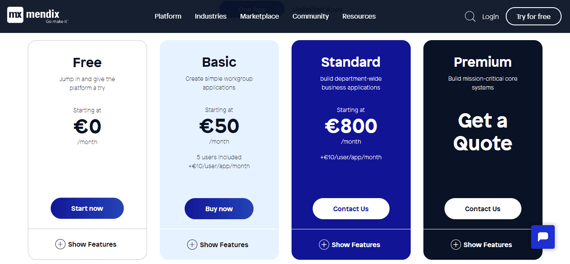 APPIAN
In the case of Appian, the trial edition is free with minimal features such as a separate and secure cloud, and all the basic platform functionality is available.
The application edition of Appian will cost you $90 per user monthly. You can simply create and collaborate one application along with other platform functionalities.
Whereas, the enterprise edition of Appian will cost you around $180/user/month.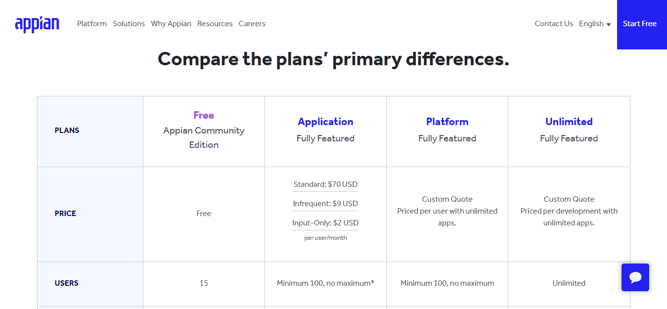 6. Limitations
Although all three platforms offer excellent services for low code development and app deployment, they do face certain challenges when developing applications. You need to consider that before making any decision.
OUTSYSTEMS
The app creation process in OutSystems is a bit rigid. It needs users to choose application types such as smartphones, tablets, etc., from the start.

There is no fully cloud-based option available in OutSystems.
MENDIX
Mendix is quite challenging when it comes to managing one-click deployment once the applications are built.

The free trial version of the platform supports only ten users.

Mendix integration with the enterprise ecosystem needs upgradation.

Mapping application objects to databases as compared to the drag and drop is a bit difficult.
APPIAN
The documentation process needs to be upgraded.

This platform lacks integration with other products.

It is difficult to develop applications faster with the authoring tool as it is a bit slow.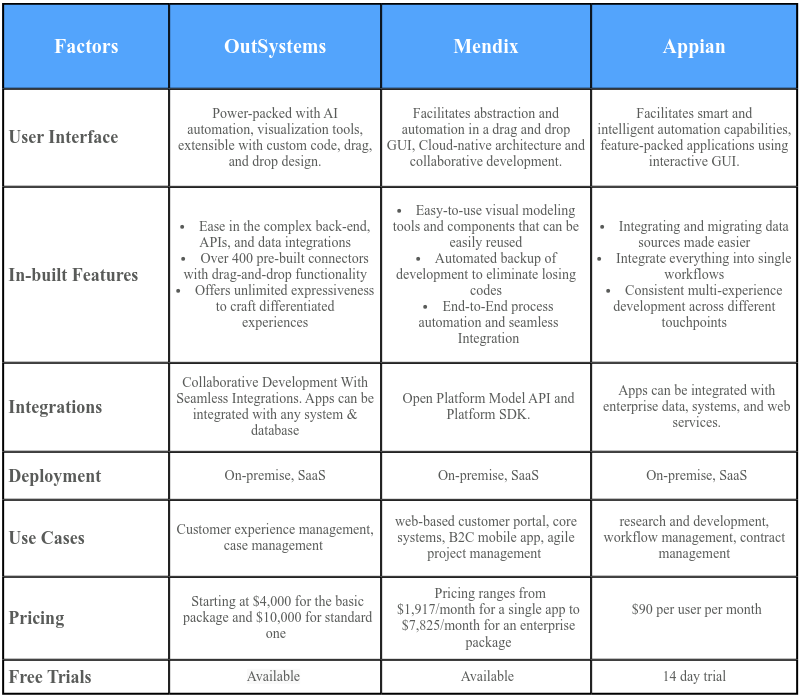 Mendix VS. OutSystems VS.Appian - Which Is A Better Option?
All three low code platforms cater to all kinds of business enterprises with interactive feature-packed GUI, smooth integration capabilities, drag and drop functionality, cloud environment, and many more. Everything is synchronized and collaborative from all aspects in all three platforms.
While OutSystems provides expertise in designing app interfaces and detailed instructions to build apps, Mendix offers an entirely cloud-based solution with proper IT project management and native collaboration.
Appian is considered best when it comes to building form-based applications. By using Appian's customization tools, you can build custom UI components with security compliance across multiple devices and browsers.
The choice among them ideally depends on what overall set of features you seek to add to your app development project. Each one of them is best in its offerings.
We at Classic Informatics offer you complete assistance with low-code application development. Reach out to us for a smooth digital transition.