The current year predicts a rapid increase in the market demand for application development that grows at least five times faster than the available skilled resources.
This is the reason why the demand and complexity of application development are at an all-time high.
So, in such a case, even thinking of automated systems, faster app development, a drag, and drop interface with minimal coding, and a low-cost investment is a dream come true.
With the emergence of low code platforms, businesses have now become more responsive, automated. actionable while accelerating digital transformation.
Almost 100% of enterprises that have implemented a low code platform had seen a greater return on these investments as per KPMG reports.
Looking to be a part of this low code race but don't know where to start from? Don't worry, we have you covered.
This article will be exploring the ways you can choose the best platform that could work for your specific needs.
6 Tips To Faster Digital Transformation With Low Code Platforms
With limited low code platforms ruling the software market, it is quite challenging for you to choose the best among them.
Check out six quick tips on how enterprises can select a low code development platform:
1. Be clear to who is going to develop the applications
Both low code and no code platforms are designed to serve both software developers or subject-matter experts and non-coders who can build visual interfaces and maintain applications in simply no time. They facilitate easy-to-use visualization tools and an interactive and ready-to-use GUI for building innovative apps, workflows, and processes.
The core thing you need to decide on is who will design, develop, and maintain the applications. Low code platforms require experts having some technical knowledge or owning niche software skills to build applications.
Before starting with the low code platforms, the development team should be excited and keen to learn the new platform and embrace its benefits.
Alternatively, you can hire developers or other non-technical employees owning the platform's skills.
2. Identify and evaluate multiple use cases
The pandemic has forced many companies to utilize low code and no code development approaches to develop and upgrade applications faster. Low code development implementation ensures faster acceleration of application development and delivery.
During low code testing, it's vital to consider different test cases and check what the platform can do or not with ease.
3. Calculate overall budget and app requirements prior
You might find different pricing budgets of low code platforms offering GUI with multiple features.
Some platforms charge you based on the number of application users you own. That means you have to pay more if there are more users or if you develop more applications than authorized with your plan.
The other platforms are based on the development scale. While selecting low code platforms, you might have to purchase multiple products separately.
First, it is crucial to understand the end-state development and production requirements. You must not get tempted by low prices while evaluating low code platforms. These platforms enable you to deliver impeccable user experiences, app development growth, and robust operational capabilities.
4. Prioritize integration needs
Low code technology has completely replaced all your additional license fees and applications in the present digital world. A low code platform is a key that helps you connect with any system. You can easily integrate APIs, cloud, and data center databases with low code platforms.
If you are into IoT data pipelines or machine learning models creation, then integration with low code platforms will be fruitful for your business's visual design tools.
Moreover, you can also start reviewing IFTTT (If This Than That) platforms to see whether they integrate with low code platforms and the functionalities and triggers its support.
5. Check out hosting and DevOps options
If you want fast cloud hosting with multiple options, low code platforms should be your first choice. You can efficiently perform hosting with available multiple data center options.
Some of the low code platforms:
Support the app development lifecycle, test in multiple environments

It helps you manage product backlogs.

Assist you in continuous integrations deployment and testing during app development.
You should know that low code platforms will not be as adaptable as the popular programming languages, including Java, .NET, and DevOps capabilities. The primary goal of using low code development is to enhance and simplify app development processes and operations. Here the question arises whether the technology meets the business and technical requirements or not.
6. Make sure it facilitates high-security standards and compliance
You cannot eliminate or skip compliance and security concerns. If you are developing applications that require high-security standards and HIPAA compliance, hosting constraints, auditing capabilities, you better evaluate these requirements first before heading towards low-code platforms selection.
Before selecting low code platforms for developing applications, you should consider the security considerations and data masking.
Undoubtedly, both low code and no code platforms have the potential to serve businesses with quality application development. So, it's better to invest your time and effort in researching the right platforms that perfectly fit your business requirement.
Top Low Code Platforms for 2022
As of now, you must have understood that how businesses should select the best low code platform to start with. The above tips will help you in developing fast and powerful applications with minimal coding efforts and time.
Further, let's discuss what the low code platforms available in the market are.
The Gartner analysts estimate that the low code market grew 23% in 2020 to reach $11.3 billion and will grow to $13.8 billion in 2021 and almost $30 billion by 2025.
These platforms have excellent potential immense capabilities to cater to seamless and robust business applications faster and smoother.
Check out the platforms given below to ensure your business's success.
Creatio
With Studio Creatio, you can simply automate business operations and build classy web apps in minutes. This low code platform will cost you $25 per user per month.
It is a widely used low code and process management platform that offers robust solutions and easy-to-use templates. You can create ready-to-use apps and solutions within minutes. It provides handy graphics and easy-to-access dashboards.
It facilitates you with:
Low code/no code automation to build configurative solutions flawlessly

Leading UI or visual modeling

Streamlining customer engagements and accelerate service delivery

Zoho Creator
Zoho Creator is a low code platform app builder to help you build and launch applications faster. This platform is powerful to use and facilitates you to connect your business data across teams. It helps you build applications with minimal coding and ultimately reduces your app development time and effort.
It facilitates you with:
Creating robust applications with minimal effort.

High-security standards

Easy to access the dashboard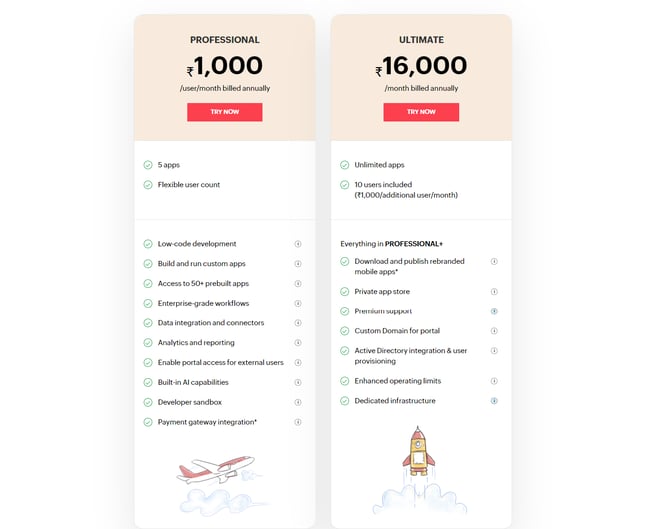 Appian
Appian is an intelligent low code platform helping companies build out-of-the-box applications that boost their business growth and improve customer engagement and efficiency. Also, it ensures high-security standards.
This platform will cost you $90 per user per month for standard licensing. It is a perfect combination of intelligent automation and low code development.
It helps you with:
Quick drag and drop tools.

Assist development with native AI services.

With no or minimal coding, you will integrate enterprise data, systems, and web services.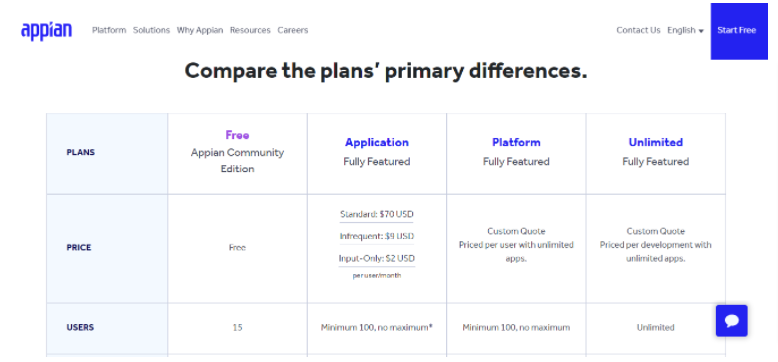 Business Continuity With Low Code Development
Businesses today are swiftly adopting trending technologies to adapt to changing business and industry trends. With low code platforms onboard, companies can save time while automating almost everything.
Moreover, the low code strategy helps businesses develop and lead digital transformation strategies to facilitate real business insights and provide a seamless digital experience to end-users.
The low code platform is diversifying and transforming companies into fully digital businesses.
Be it coders or non-coders, everyone in the organization can easily access the low code platforms and streamline workflows, modernize legacy applications, automate data integrations, and support data visualizations.
We at classic informatics assist you in developing secure and robust business applications faster with high-security standards. We delight our targeted users with selecting a powerful low code platform that supports visual design tools' quick drag and drop functionality.