The software development market is one of the most dynamic and volatile industries. All thanks to the new technology version updates, emergence of more advanced technologies, high-tech innovations, and whatnot.
No wonder businesses start hustling to join hands with the perfect software development partner to keep their products up-to-date and prevent themselves from going obsolete. Especially considering the kind of competition
The software development market a few years back had a completely different scenario compared to what it is now. This time the software industry is moving at a skyrocketing speed with frequently changing trends, emerging cutting-edge technologies, high-tech innovations, top-notch talent, and so on.
To stay relevant, businesses nowadays are eagerly accepting changing trends of the digital market, and software development companies are an aid to it.
Businesses of all kinds drive towards the best software development companies to develop their robust and scalable digital products that help transform businesses.
Companies now have the liberty to develop any type of application which in the IT industry is termed as developing custom software applications that are based on the desired technology stack, required skill-sets, expertise, and development methodologies.
This article helps businesses to get the best software built with the assistance of expert professionals of top-notch custom software companies. We present you with a list of the top 10+ custom software development companies that can help build excellent and customer-centric software.
Classic Informatics
Classic Informatics is a global web and custom software development company that offers complete web development solutions to businesses of all kinds. Partnered with Google and Microsoft it enables startups, SMEs, and enterprises to lead the digital revolution taking place. The company has expanded its offices across four locations - Gurgaon, Chandigarh, Sydney, and London.
The company has a team of more than 200 developers working with it. One can hire remote developers, build dedicated remote teams, or outsource a complete project to the firm for custom software development. Classic Informatics promises to deliver customer-centric technology solutions irrespective of your business requirements.
Expertise in:
Custom enterprise application development
Full-cycle custom software development
Mobile application development
Product development

FATbit Technologies
Being a prominent name in the eCommerce industry, FATbit Technologies is a leading custom software development company that uses agile methodology to develop highly functional software. In the year 2021, Clutch also awarded FATbit as one of the World's Top 100 software development companies. Dealing with technologies like PHP, LAMP, MERN, MODE, Java, JS, Laravel, Kotlin, and Swift, FATbit has an overall experience of over 18 years in the software development industry.
Along with custom development services, FATbit has developed a wide range of eCommerce business solutions that can be used to launch various types of businesses like online marketplaces, rental marketplaces, food delivery business, cab booking business, an online tutoring business, grocery delivery business, and more. All these solutions are fully customizable and come with 1-year of free technical support.
Due to its impressive work and product range, FATbit Technologies was also featured in the world's top business magazines like Inc. The Entrepreneur, Business Insider, and The Telegraph.
Expertise in:
Custom software development
eCommerce development
Agile development
MVP, CRM and ERP Development
Mobile applications Development
Digital marketing and business consulting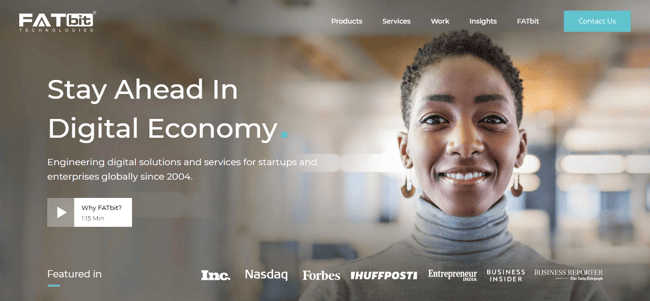 ELEKS
Having 1600+ multiskilled specialists of in-house team and12 offices distributed in different cities across the world, Eleks is the top custom software development company today. It is considered the best partner of choice for many of the world's leading enterprises, SMEs, and startups. They help businesses accelerate their business values through custom software development, product design, QA, and consultancy services.
Till now, they have delivered around 650+ end-to-end projects, 100+client accounts, and a net promoter score of 66. The team truly believes in the adoption of new trending technologies that can add charm to your software project.
With a client satisfaction rate of over 97%, they are considered a key strategic technology partner. Also, they believe in 3-fold success that is clients, their customers, and the communities they influence.
Expertise in:
Custom Software and Application Development
Product Design and Development
PoC Development and Feasibility Study
Blockchain
Security Advisory Services


A3Logics
A3logics is a 17 years old custom software development company having 587+ clientele, completed 1285 projects, and serving in more than 69 countries.
They have a skilled and expert team dedicated to leveraging technologies including Artificial Intelligence, Blockchain, Internet of Things, Big Data, Augmented Reality, Virtual Reality, etc. They provide IT consultation and software solutions to their clients that are tailored keeping the business objectives in mind.
Since 2003, A3logics is delivering top-quality services by delivering critical solutions and rigorously evolving through innovative delivery methods.
The tech-savvy professionals and developers bring the best IT solutions to the clients.
A3logics team tends to deliver the best IT consultations and software solutions that will help clients to boost their business.
Expertise in:
Blockchain Solutions
Website Development
CRM Solutions
Enterprise Mobility
Mobile App Development

United Infotech
Unified Infotech is an Award Winning technology company working with global Enterprises, and SME's. It provides end-to-end solutions for custom-tailored software, web and mobile apps.
They help clients accelerate their business efficiency through the combination of smart planning, a design thinking approach, and the latest technologies.
Unified Infotech is your true technology partner for providing innovative and impactful digital solutions.
Unified Infotech is serving for the last 10 years and has delivered around 1500+ solutions. They own a team of 150+ dedicated professionals that convert your product idea into reality and deliver an inevitable digital experience to the users.
Since 2010, they are committed to achieving and pushing the level of performance by leveraging the power of technology. They deliver end-to-end solutions to start-ups to small and medium enterprises.
Expertise in:
Custom Software Development
Web Development
Mobile App Development
Ecommerce Development

Inflexion
Since 1999, Inflexion has been delivering software development and related IT services. They have a clientele of 500+ customers serving 850+ skilled software professionals to deliver high-quality solutions.
Iflexion is committed to delivering maximum value to our clients to help them succeed in a constantly changing and challenging business world.
They leverage a large knowledge base to deliver solutions that meet customers' needs, business, and budget expectations. Their prime concern is not just to provide the best software solutions but also dedicated to meeting client needs and support them in growing their business needs today and tomorrow.
They go the extra mile to become our clients' long-term, trusted partners. The priority of Inflexion is not only providing professional services and solutions but becoming a true technology partner, dedicated to meeting client needs today and supporting clients' growing business needs tomorrow.
Expertise in:
Enterprise mobile apps
Ecommerce
Business Process Automation
Web and mobile development

OpenGeeksLab
OpenGeeksLab believes in deriving real value for customers, not just building apps. They empower end-to-end mobile solutions—both native and hybrid, regarding your goals, budget, and timelines.
OpenGeeksLab is a member of the IT Ukraine Association and takes an active role in information technologies development in our country and represents the region beyond its borders. Clutch has listed them as a top B2B company.
We will create your brand identity with an eminently crafted visual strategy to maximize all opportunities for your business growth.
Expertise in:
Custom Software Services
Mobile App Development
Web Development

7Edge
7EDGE is a custom app development company enabling the digital transformation of brands and businesses. Over the last 10 years, they have been an integral part of more than 500 web and mobile application projects.
7EDGE's with its customized engagement models enable fast and efficient delivery anywhere in the world. They are committed to promoting brands and businesses by enabling strategic consulting services with the best technologies and trends.
Expertise in:
Cloud technology consulting
Digital marketing consulting
Big data
IOT
Artificial Intelliengence
DevOps

The Software House
The Software House is an 8 years old custom software development company that is recognized by Clutch.
They have 170 professionals serving 150 clients and deliver 200+ custom software development projects.
The company helps CTOs, Product Owners, and businesses of all kinds who want to develop a top-notch product or scale up their development teams.
Expertise in:
On-demand agile development teams
Full-cycle product design & development
Modern software architecture
Cloud adoption & engineering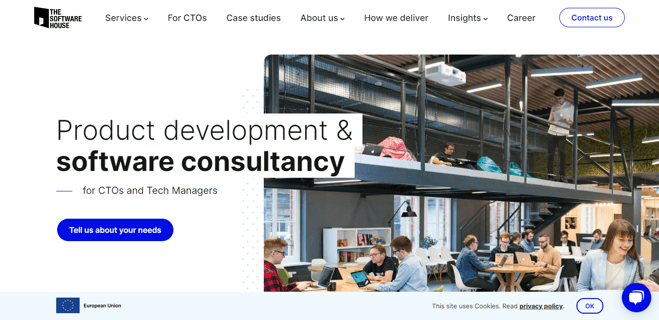 Fingent
Fingent is a top-notch custom software development company for the last 16+ years and has delivered around 700+ projects for clients across 4 continents, and have offices across the US, UAE, Australia, and India.
They are a global partner of Odoo and a partner of K2 for the US region.
Fingent helped Johnson and Johnson to improve their productivity by 50%. NEC reduce their resource wastage by 50%, and Sony increase value addition to their projects by 300%.
Fingent tends to build strategic software solutions for businesses of all kinds across the globe. Their project management approach and a bunch of skilled professionals equip well to address clients' and complex business challenges with high-quality, cutting-edge, secure, and easy-to-use software. Fingent brings sophistication and intelligence to every project we undertake.
Expertise in:
Custom software development
Enterprise software development
Product development
Web application development
Cloud application development
FrogsLayer
Frogslayer is a custom software development and digital innovation organization that completed more than 250+projects today and has 1m+user supported each day. Frogslayer helps clientele build, launch, and scale robust digital products that create new revenues and boost greater results.
A dedicated team of professional developers, designers, testers, architects, and consultants ready to grow your businesses by keeping everything customer-centric.
They believe that "client's results work not the technology that drives us".
Expertise in:
Custom Software Development
Mobile App Development
Web Development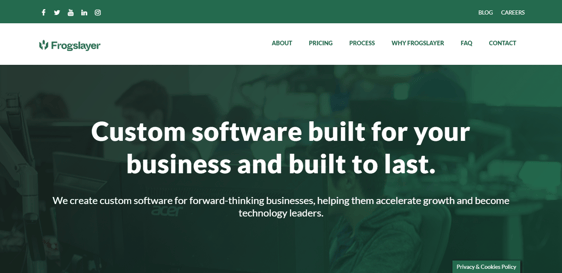 Concluding Thoughts
When it comes to custom software development, businesses should always prefer nothing but the best. All of these custom software development companies listed have earned good ratings on review sites and data-driven platforms.
They have worked with global clients and build world-class software. You can drive through their portfolios, industry experience, and technical knowledge in the market to make a better decision.
This curated list of custom software development companies makes it easier for any business to choose the right partner to get its software built.
Ensure to check all the companies on various factors including their experience, expertise, methodology, etc., to find the best custom software development company in 2021 to materialize your idea.