The world of software development keeps evolving with the advancements in the technological world.
To strive and thrive in this dynamic and volatile ecosystem, businesses need to stay a step ahead and keep delivering on their customer's expectations. They need to ensure that the software they build is not just solving the problem it promises but is also up-to-date with the latest tech and trends in the software realm. Only then can any digital product can stay relevant.
And that's where a software development company can come to their help.
The best software development companies have years of experience, a wide spectrum of technologies, and a remarkable project portfolio. Be it custom software development, mobile app development, enterprise-grade application, or a simple MVP development, your software partner should facilitate you with complete solutions so that you enjoy hassle-free development and launch.
Today, small /medium-sized businesses, large enterprises, startups, and businesses of all other scales drive towards the best companies offering software development services. They want real-time power-packed business software to stay ahead and scale their businesses. And they know joining hands with a top service provider can make things more streamlined and speedy for them.
This article aims to help businesses get their software built with the assistance of expert professionals from top-notch software companies.
So, without further ado, we present you with a list of the top software development companies that can help build excellent software.
#1. Classic Informatics
A global web development company, Classic Informatics offers complete web development solutions to businesses of all scales. It is a Google and Microsoft Partner that enables startups, SMEs, and enterprises to lead the digital revolution. It was incepted in 2002 and has expanded its offices across four locations - Gurgaon, Chandigarh, Sydney, and London.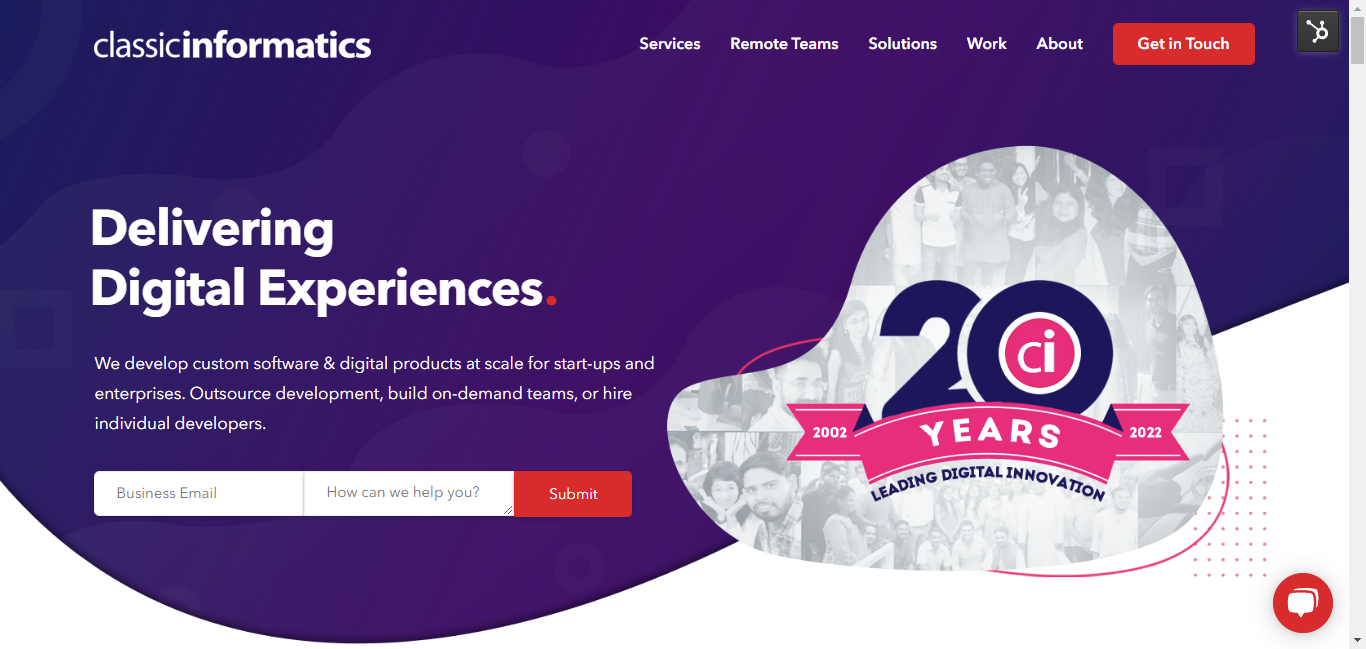 The software development company has over 200 developers working with it. One can hire remote developers, build dedicated remote teams, or outsource a complete project to the firm for custom software development. No matter what the business requirement, Classic Informatics promises to deliver user-centric technology solutions to suit their tech needs.
Expertise in:
Full-cycle custom software development
Mobile application development for Android, iOS, native & cross-platform
Product development, migration, maintenance

Digital transformation solutions like low-code/no-code, digital insights, robotic process automation, and more.
#2. DotSquares
DotSquares is a renowned software development agency that comprises 700+ software professionals. The company is headquartered in Albourne, United Kingdom, and has other offices in Australia, India, and the USA. It holds certifications from Google, Microsoft, and CMMi Level 3. It has a state-of-the-art infrastructure that enables the smooth development of software of all scales.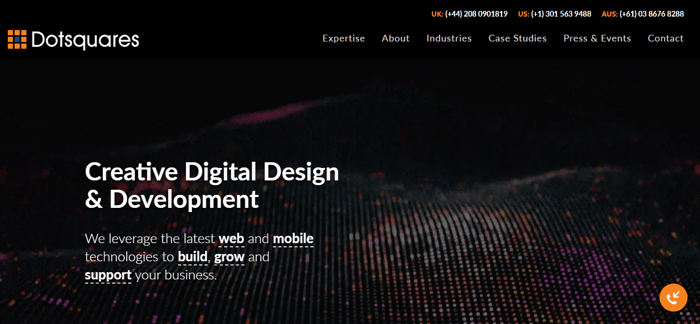 This software development firm has been building powerful software for the past 17 years. One can find custom software solutions to reduce costs and enhance business processes and IT performance. It has an exceptional experience of working with over 10954 clients and delivering over 2000 web apps in a wide array of industries.
Expertise in:
Custom software development

Web application development

Mobile app development




#3. FATbit Technologies
FATbit Technologies is a custom software development company, headquartered in Mohali, India. The company commenced its operations in 2004. It is a 200+ professionals strong company that takes pride in synergic, precise, and qualitative work through its Agile practices.
FATbit offers turnkey scalable, customizable, and flexible eCommerce solutions, and mobile applications at competitive prices for SMEs and enterprises. Some of the leading eCommerce solutions of FATbit are Yo!Kart, Yo!Coach, Growcer, Yo!Rent and VivoCabs. This marketplace software is 100% customizable and comes with one year of free technical support.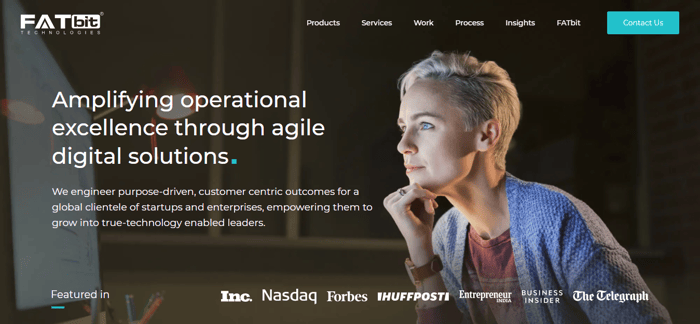 Additionally, it aids in the growth of your business through its business consultation and digital marketing services.
Expertise in
White-label turnkey eCommerce solutions
Software development and customization
Mobile application development & website Development
Business Strategy Consultation
#4. Spire Digital
Spire Digital is a 20-year-old Denver-based digital product development firm that transforms business through design and technology. This software development company provides strategic consulting, user experience design, software development, DevOps, and staff augmentation to clients worldwide.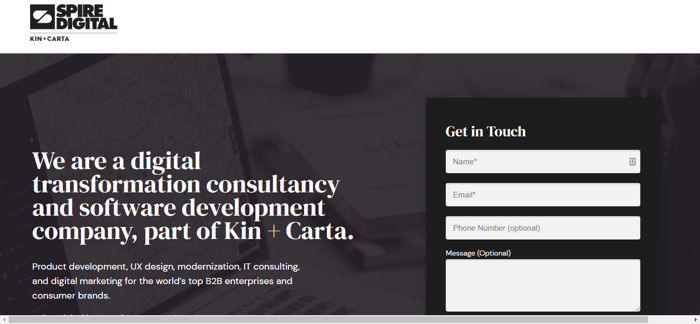 Spire's services are geared towards satisfying the product and innovation needs of customers around the world. Spire helps startups and enterprises in a variety of industries including web mobile, IoT, or blockchain.
Expertise in:
Web Development

Native and Cross-Platform Mobile Development

Microservices and API Design and Development

Emerging Technologies like

IoT, Wearables,

AR/VR,

Blockchain,

Automation, and DevOps
#5. Experion Technologies
With the tagline of building trust, not just software, Experion Technologies is a product company that delivers on its promise of quality. The software development agency started in the year 2006 with a team of twelve committed professionals and is 1000+ strong. It holds a track record of assisting over 300 customers across 32 countries.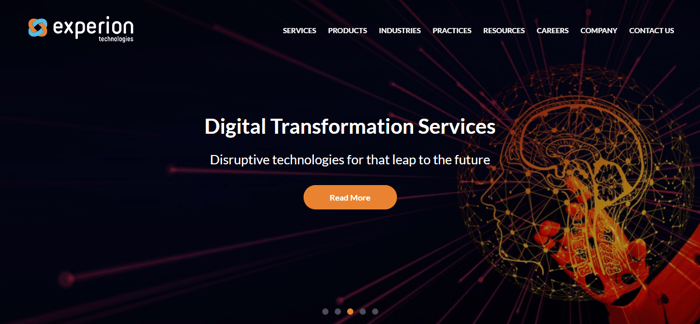 With its headquarters in Trivandrum, India, it has offices in different countries including the UK, the United States, Australia, New Zealand, Germany, and many more. Experion Technologies professionals deliver reliable and scalable custom software applications and products to their global clients.
Expertise in:
Product engineering
Custom software development
Full-cycle software solutions for startups
#6.

Groovy Web
A leading IT services and consulting company, Groovy Web provide custom web solutions, react native App, Software Development Services with trending Node JS framework. The mobile app and web development company started in 2015, and is one of the top rated web development companies having excellent ratings on Clutch and various other platforms. Its Full-fledged team of 80+ people is having extensive expertise in different fields including web development, custom development, product development and mobile app development.

With headquarters in Nadiad, India, Groovy Web has delivered more than 550 projects with a 99% client satisfaction rate from small startups to big enterprises. Being a highly regarded web development company, Groovy Web is known for its striking approach, effective project management, and execution. The websites they build are visually impactful and extremely focused on improving revenue and conversion rates.
Expertise in:
Mobile application development

Web development

Chatbot Development

MERN Stack Development
#7.Britenet
Britenet is a software development outsourcing company since 2006 and currently employs more than 800 professionals. They create robust systems that support operational processes in many business areas.
With the support of expert professionals, Britenet successfully implements domestic and international projects with a myriad of technologies. They provide clients with premium services and access to innovative solutions with excellent cost control. Moreover, they are truly committed to upskilling their employees by encouraging their active participation in numerous industry events and technology conferences every year.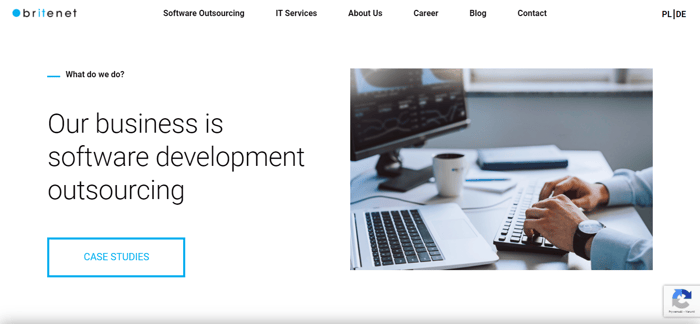 Britenet now has one of the largest Salesforce teams in Poland, with 285 certificates held by its members.
Expertise in:
Software outsourcing
Software development & testing
Business Intelligence
Mobile Apps
System Support and Maintenance
#8. Daffodil Software
Daffodil is a trusted software product company partnered with 100+ organizations across the globe and has been continuously helping their software products to become more robust, teams more productive, and processes more efficient.
They are unique from others as they look beyond technologies and deliver innovative and progressive solutions. The professional team at Daffodil innovates with the latest technologies, design approaches, and development methodologies to build cutting-edge software products.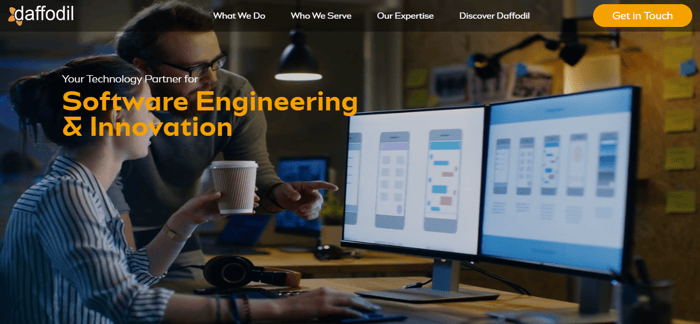 They have more than 1000 employees working currently and serve more than 1500 customers in over 32 industries and 25 countries. They are driven by a passion to push the boundaries of technology, thinking out-of-the-box approaches, and solve complex business challenges.
Expertise in:
Mobility
Custom Software Development
Artificial Intelligence
Digital Commerce
#9. Itransition
Itransition is a 20 years old trusted global software development company that tends to deliver software consulting and development services to clients worldwide.
Over 2000 + diverse IT professionals with strong technical skills and business knowledge effectively handle software projects of any scale and complexity.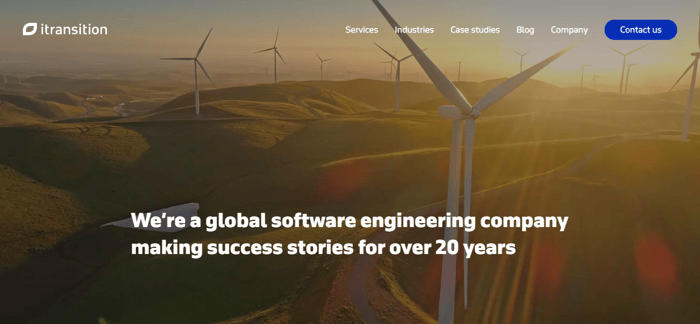 Itransition has been recognized among the world's leading software outsourcing providers.
Expertise in:
Custom Software Development
Software Product Development
Enterprise Application Integration
Software Testing & QA
Dedicated Development Centers
#10. SoftwareMill
A leading Poland-based software development and consulting company, SoftwareMill empowers businesses by delivering world-class software suiting their business needs. With over 68 team members and 11 community leaders, SoftwareMill offers complete software solutions to solve business challenges. It promises to take care of all business needs about software development.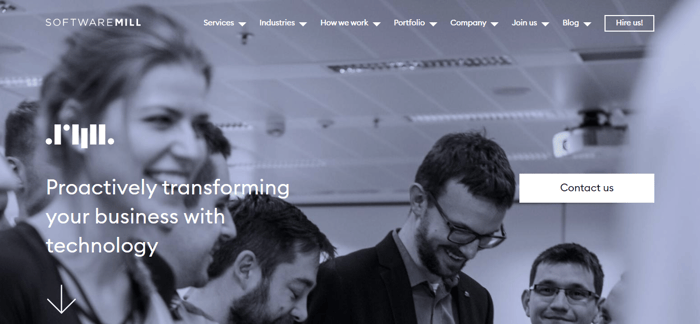 This software development company follows the agile methodology of working and believes in keeping everything transparent. Its self-organizing teams familiarize themselves with the project quickly and start working to build world-class software applications.
Expertise in:
Custom software development
Backend/frontend development
Java & Scala software development
UI/UX designing
#11. Liventus
Liventus is a full-time custom software development company that offers dedicated teams of full-time developers, designers, marketing professionals, network managers, and business consultants.
Liventus specializes in enterprise software and application development to help clients streamline their business processes and workflow smoothly.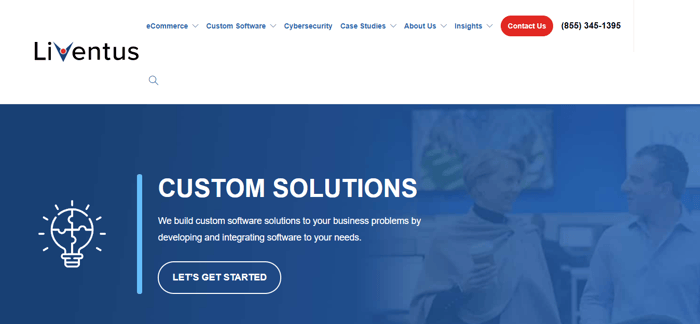 They are a top FinTech firm having experience in security protocols and delivering innovative solutions.
Expertise in:
Software and application development
CRM systems
Ecommerce solutions
IT Automation
#12. Door3
DOOR3 is a technology consultancy and software development company located in New York. It is known for delivering reliable vital software solutions on time and within budget.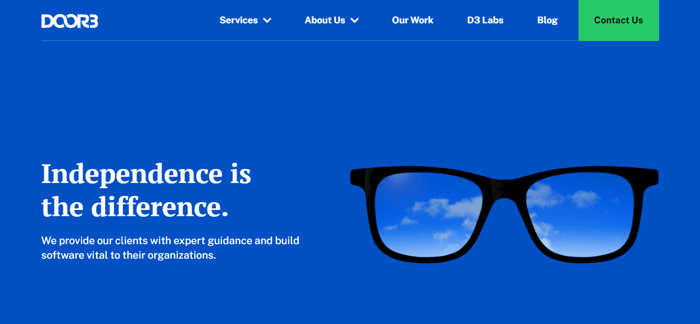 Founded in 2002, DOOR3 is headquartered in New York and supported by a global team of talented professionals committed to building things of lasting value.
Expertise in:
Custom Software Development
User experience design
Software consulting
#13. Miquido
Having 10 years of professional experience with 150+ projects delivered under the assistance of 200+ brainiacs, Miquido is considered one of the best software development company aims to solve real business challenges with robust and cutting edge technologies. They know very well how to transform compelling business ideas into exceptional digital products. Their clients are brands like Abbey Road Studios, HelloFresh, Nestle, Skyscanner, BNS Paribas, and many more.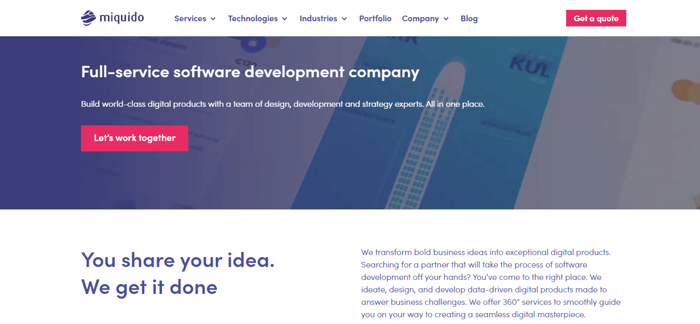 Miquido is a Google-certified company, covered by Time & Forbes, and named as the Top Mobile App Development Company in the UK.
Counted among the top software development companies, Miquido is known for delivering complex 360-degree services with total transparency in project development. They are also known for following business-oriented processes that help them build long-term relationships.
Expertise in:
Web & Mobile Development
Artificial Intelligence
Product Design & Strategy
Voice Assistants & Chatbots
#14. Pixlogix
Pixlogix is an Award-Winning Web Design and Development Company in the USA and India delivering digital solutions to clients all over the world.
Here professionals serve front-end development services like PSD to HTML conversion, HTML website development, WordPress development, Magento eCommerce development services, Extension development, and Selling, Graphic design services, logo design services, and even more to boost brands growth.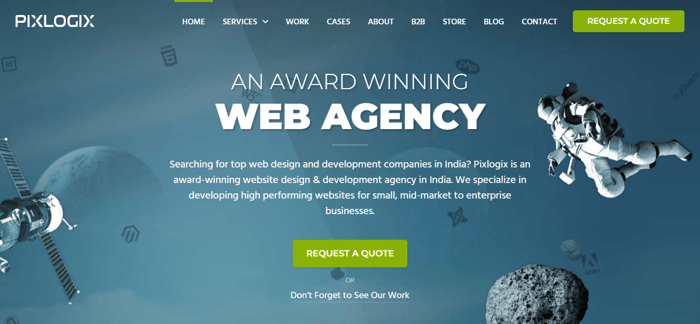 They provide supreme services worldwide at affordable prices with 100% client satisfaction and ready to help global clients in boosting their productivity, proficiency, and workflow.
At present they are leading the web design industry with the delivery of 7600+ projects and still counting. Our expert team provides you with next-generation services and solutions.
Expertise in:
Magento eCommerce Development

WordPress Development

Website Design

Mobile App Design & Development

Graphic Design
Wrapping Up
When it comes to software development, businesses should always prefer nothing but the best. All of these web development companies listed have earned good ratings on review sites and data-driven platforms. They have worked with hundreds of international clients and enabled them to build world-class software.
You can drive through their portfolios, experience, and tech knowledge in the market to make a smarter decision.
This curated list of software development companies makes it easier for any business to choose the right partner to get its software built.
Make sure to explore all these companies on various parameters like their experience, technology expertise, methodology, etc., to find the best software development company in 2023 to materialize your idea.
---
Last updated: 12th January 2021