Customer experience is all about understanding and responding to your customers expectations as early as possible. Improving customer's satisfaction, loyalty, and advocacy should be your primary concern when it comes to delivering an inevitable customer experience.
Today, Global Tech Giants are experiencing the power of Drupal and delivering an inevitable user experience to its customers. With the ever-evolving technological innovations, Drupal easily manages and delivers personalized content across different channels and devices.
See how Drupal helps businesses to satisfy their customers with incredible user experience amid COVID-19.
In this article, we'll go all over about Drupal, its benefits, latest version launch, features and so on.
Let's get started.
Drupal is considered pivotal for companies to embrace the web content management system to meet the ubiquitous demand for personalized content. And it all starts with engaging customers, lead generation, measuring revenues from various platforms.
Drupal 8.9 and 9.0 will be released soon in June 2020.
Let's first discuss a brief about what Drupal is all about?
Drupal is a powerful content management system (CMS) that provides marketers and entrepreneurs to develop and manage sites, multi-channel digital experiences, shopping experiences and integrate a diverse ecosystem of digital marketing, and related tools and technology.
The content management system is flexible, open, easy to integrate with, and easy to deploy for digital marketers and entrepreneurs. It easily connects to marketing automation, CRM, email marketing, analytics, optimization, and other digital solutions.
Benefits Of Integrating Drupal CMS
Here are some benefits business enterprises can get while building a website on a Drupal-based platform.
Content publishing at Rocket speed
Maintaining Uniformity and Consistency in Delivering Customer Experience across the Different Channels
Improving Operational Efficiency by facilitating Content Publishing with less or zero support from the technical team
Using a single code base to easily manage multiple platforms to simplify management of code base


Drupal Serving Unconventional Market Demands
Using a Drupal-based platform, enterprise owners can build a fully optimized and powerful website for every device that integrates easily with all your marketing tools.
Drupal is all set to meet these unconventional market demands right away.

Content Presentation With A Headless Architecture
Today, customer experience is considered the new standard to measure digital business success. Drupal facilitates the content presentation and too with a headless architecture.
Headless architecture is an architecture that is without the front-end components that is front-end framework and templates. Drupal helps to integrate front-end technologies like React and Angular. It will add a new dimension to the digital experience.
Balancing The Hardware-Software Relationship
Frequently changing consumer demands making enterprises find new ways to distribute content across different channels. The sudden increase in Smartphones and portable devices usage have triggered the origin of stand-alone software apps.
It requires an easy integration between hardware devices ( like an apple watch) and software to showcase the content in the desired format.
Digital Experience+ Digital Innovation= Drupal CMS
Personalization With Machine Learning And Predictive UX
By launching advanced analytic capabilities, data mining, real-time insights, and machine learning, business enterprises are trying to discover patterns in data and forecasting to deliver the best digital user experience.
According to an Accenture report, 65% of customers preferred shopping to those digital e-commerce platforms that deliver relevant and personalized promotions.
For business enterprises, machine learning has the power to scale across a wider range of businesses.
Acquia Lift Connector, a Drupal module, supports integration with Acquia Lift service. It provides an enhanced user experience for web personalization,testing, and front-end components.
Chatbots To Drive The Business Value
How can we forget Chatbots? By providing a conversational UI that interacts with user is vital for any organization. Chatbots is all about understanding what user want to know, then passing information to the backend, and at the end deliver them with faster and better responses. In Drupal, Chatbot API helps integrate Chatbots with your website.
Exploring Markets With Augmented Reality (AR) And Virtual Reality (VR)
Drupal leads when it comes to digital innovation with cutting–edge technologies. By the year 2022, there is a predicted increase in the market size of Virtual Reality and Augmented Reality.
Watch out some success stories of famous brands showing how Drupal is powering the internet.
Why To Say Yes To Drupal?
Digital Innovation- A Platform For Digital Innovation And Ideas
The latest Drupal CMS facilitates continuous digital innovation at leading brands like Tesla motors and Grammy. Using Drupal CMS, digital marketers and web developers can develop and easily manage incredible web, mobile and social experiences. With Drupal, they can improve and adapt changes instantly just with the help of digital innovation and ideas derived from the Drupal community.
Rocket Speed-Build New Sites And Enhance User Experiences
In Digital marketing, speed matters the most. The organization needs a platform that supports them to upgrade speedily when it comes to digital innovation. By using Drupal's flexible platform, marketers and developers overcome bugs as they can run a fast and agile team and create an inevitable and seamless user experience.
Highly Scalable- World's Busiest Sites Run On Drupal
Drupal works best for the entire world's high traffic websites like Grammy.com and The Olympics where there is no chance of any kind of failure. Apart from delivering support to the busiest websites worldwide, Drupal will scale your business and your brands for the next-generation digital transformation. It helps you providing immense power so that you can become a next-generation brand.
Brands Using Drupal
To give you some real-life examples, we are going to show you a glimpse of some classic and prestigious websites made at Drupal-based platform.
Tesla Motors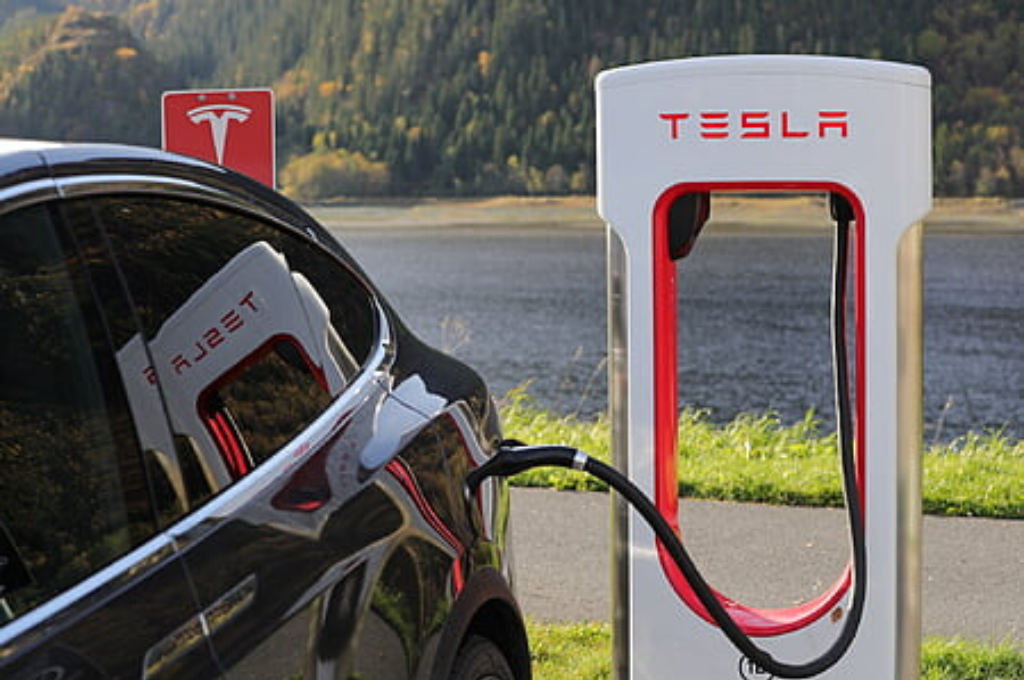 Tesla, the world's biggest electric car manufacturer whose electric cars and direct sales model revolutionizing the auto industry build their multi-language website on Drupal.
The Grammy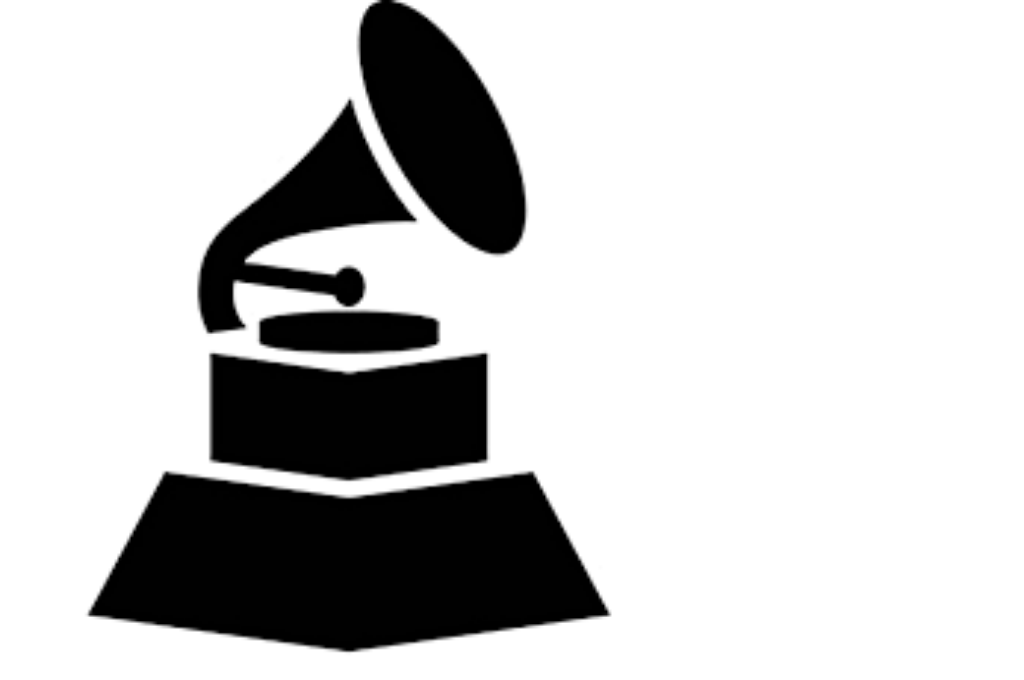 The Grammy Awards is the world's most prestigious awards event runs grammy.com on Drupal. It showcases videos, share interviews of the celebrities, and the other event news.
Pfizer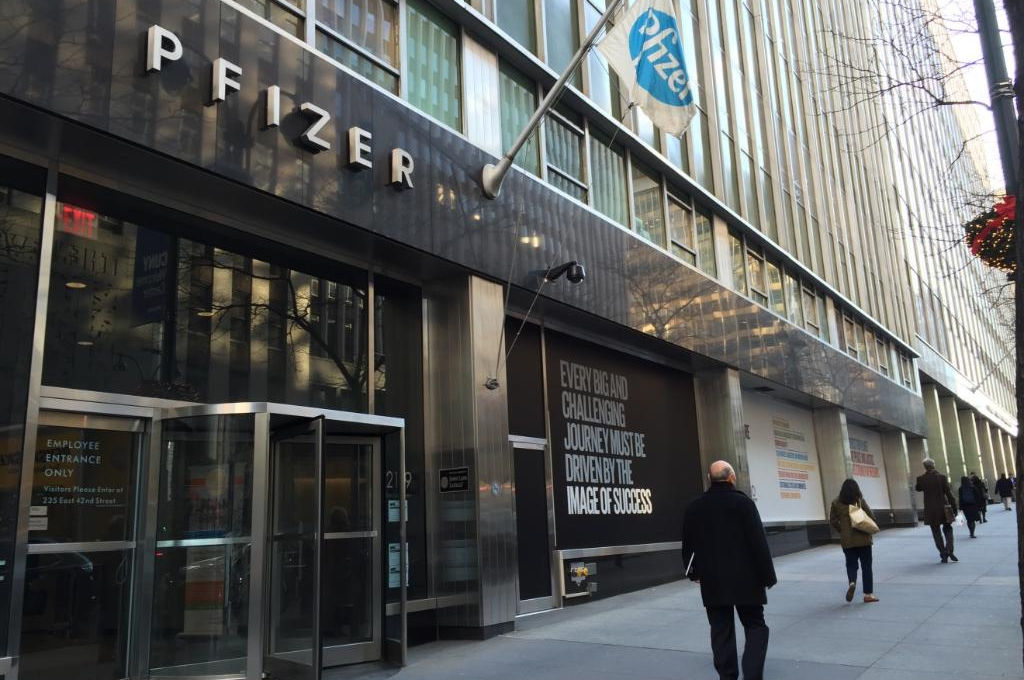 Pfizer is one of the world's best bio pharmaceutical companies that run multi-lingual websites on the Drupal-based platform. It can serve its client with the detailed information of the products and the health-related advisory.
NBC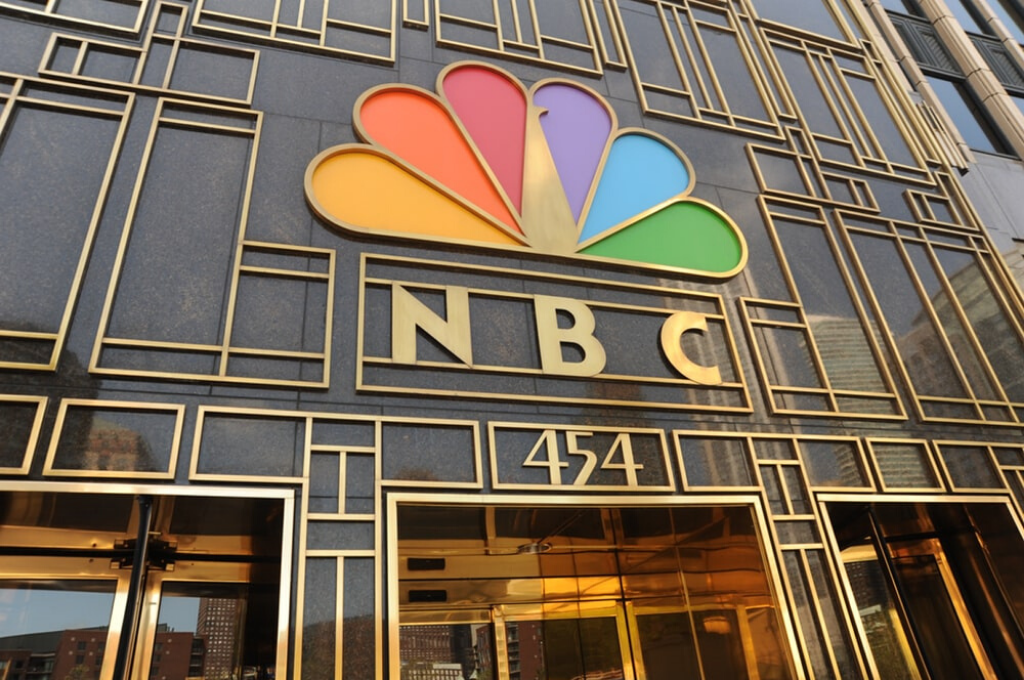 Drupal powers NBC to showcase TV episodes, sports, and entertainment news to all the viewers worldwide.
McDonald Australia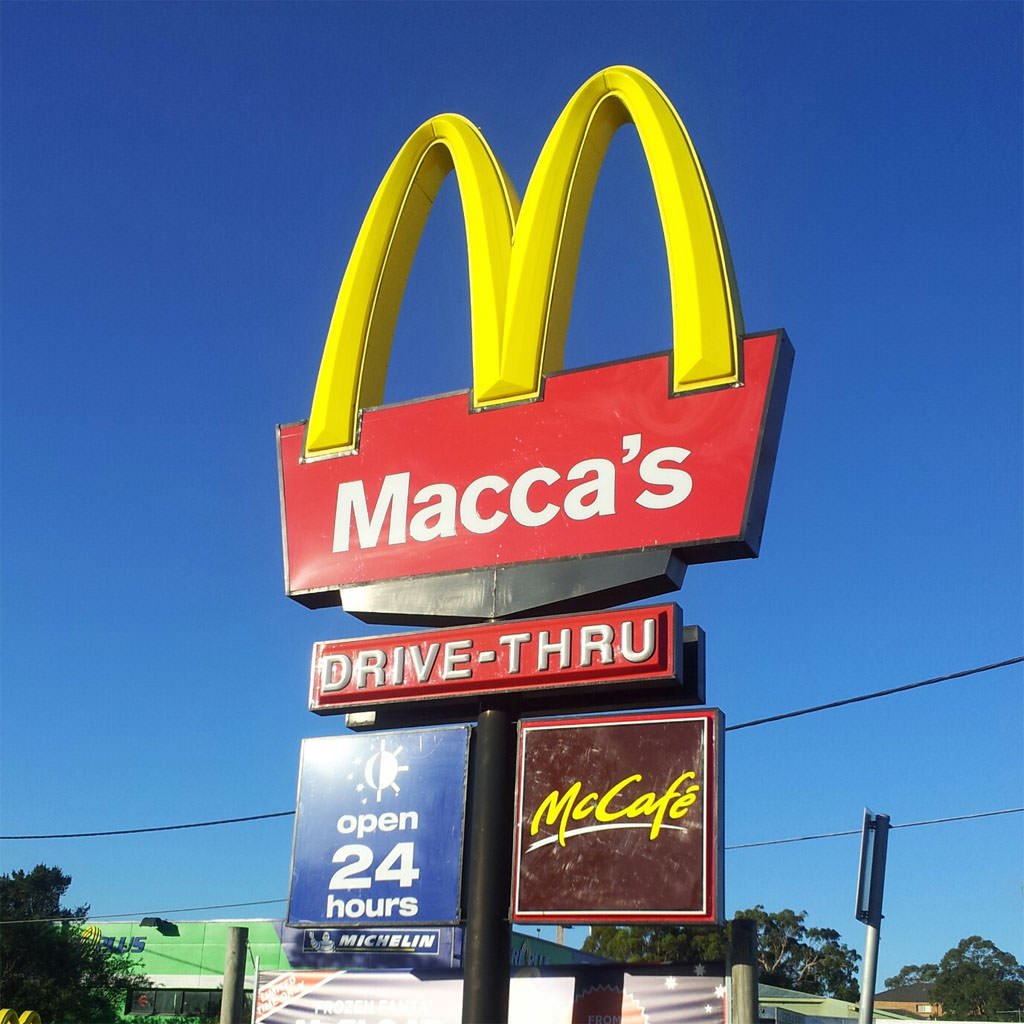 MacDonald's Australia branch also decided to create a website that is highly scalable and fast to build, so they decided to dive into the Drupal content management system. The website provides offers, menus, job opportunities, and so on.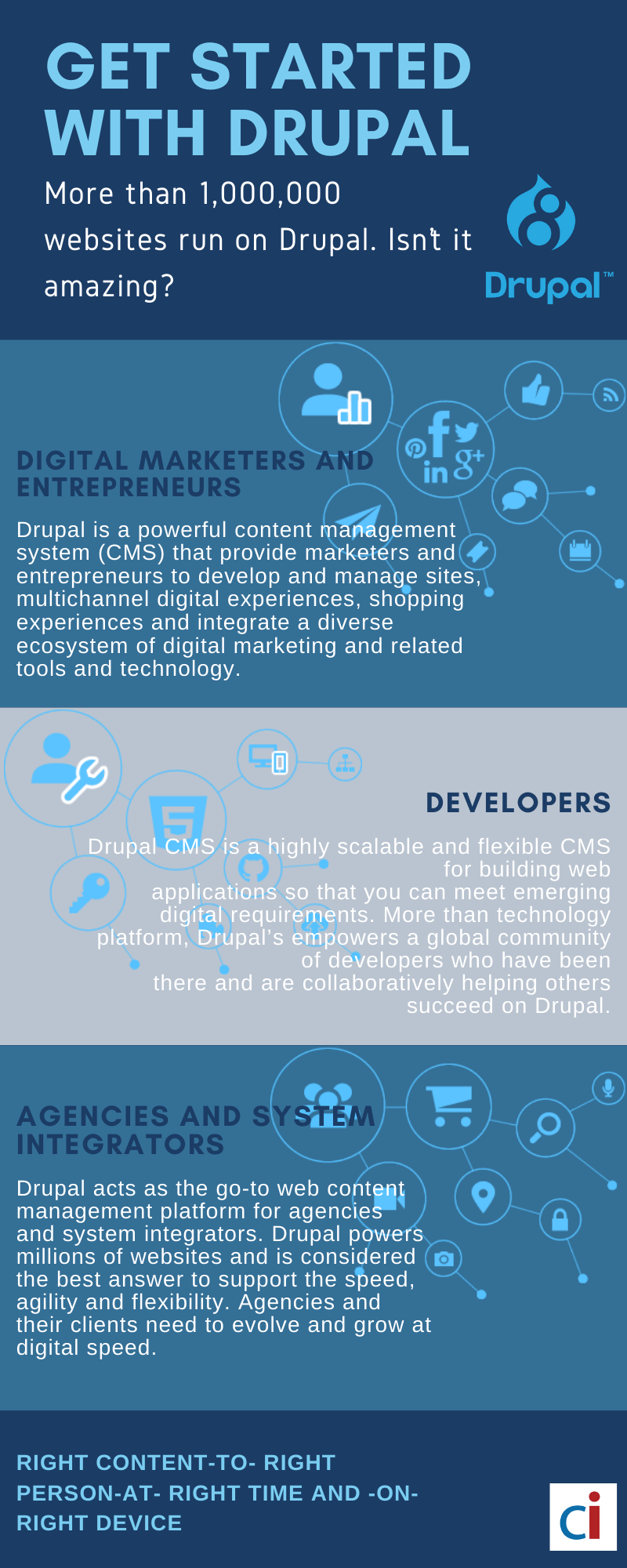 Let's have a look at the upcoming new version of Drupal as Drupal 9.
The previous version that is Drupal 8 is highly dependent on Symfony 3, which has an end-of-life date November 2021. This clearly states that after November 2021, the security issues will not get fixed. In that case, we have to end the life span of Drupal 8 no later than November 2021. And by November 2021, we all have access to Drupal 9.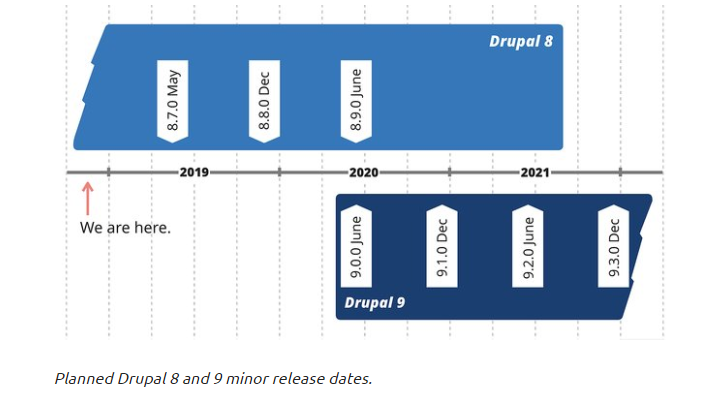 Source: Drupal
We want to give web developers and site owners at least 1-year upgrade from Drupal 8 to Drupal 9. We decided it is better to release Drupal 9 on June 3, 2020, instead of releasing it in December 2020. This facilitates website owners an 18 months upgrade. It also provides the Drupal core contributors an additional space if we can't finish Drupal 9 timely for a summer release.
Deriving Drupal 9 From Drupal 8
Adding new functionality as backward compatible code and experimental features, instead of defining a separate codebase we are developing Drupal 9 in Drupal 8.
For example:
We planned to release Drupal 9 with Symfony 4 or 5. But as mentioned Drupal 8 currently depends on Symfony 3. While Symfony 5's release is less than a year away and on the other hand, Symfony 4 was released the previous year.
Practically, Drupal 9 would be integrated with Symfony 5, both for the latest symphony improvements and long time support. But as Symfony 5 hasn't released yet, so we can't say about the changes.
Currently working on Drupal 8 with Symfony 4. But, finally, our aim is to make Drupal 8 work with Symfony3, 4, or 5. So, that we can fix bugs if any before starting Symfony 4 or 5 in Drupal 9
Drupal 8 didn't support the media library. Currently working on that so content authors can use existing media from a library.
Why To Love Drupal 8?
Drupal is easy to build
Drupal is Secure
Drupal is Flexible And Scalable
Drupal is all about faster and responsive development
Drupal support multi-site functionalities
The Final Word
Drupal's modular approach and ready-to-go configurations provide fast access to the market and the ability to keep pace with digital evolution. Drupal is among the leading technologies dominating the IT industry and providing businesses the flexibility and scalability to innovate by keeping your user's behavior and preferences in mind.
At Classic Informatics, we help you build classy and Digital-First websites that can deliver your clients an inevitable user experience and also improves your ROI.