There are several catalysts for change in the workplace. The outcomes of an internal audit of corporate practices, processes, and procedures, the implementation of new technology, a shift in customer values, or an overall rebranding or restructuring of the entire company.
However, these are usually planned changes or cultural shifts.
The year 2020 brought in an unprecedented time leading to a sudden forced shift in the way of working. It focused on how workplaces evolve in reaction to a catastrophe leading to the ushering on the future of work.
The usage of totally remote or hybrid work arrangements is one of the workplace developments we've seen more of in response to the COVID-19 dilemma. Managing a workplace transformation like this requires rerouting resources, ensuring that personnel is sufficiently supported outside your office, modifying the corporate budget as needed, and ensuring that your business operations are ready for the move.
Let's look at the differences between a fully remote and a hybrid work style, as well as the benefits and drawbacks of each. We will also tackle how you can make the proper selection for your startup business.
What to consider with hybrid vs remote work?
There are several factors that one needs to consider while choosing between hybrid and remote working for startups. Below, we have jotted down some of those factors and discussed the two approaches consequently.
1. Startup office space
Both fully remote and hybrid remote work lend themselves to distinct parts of the business and work culture and ideals. In hybrid remote work arrangements, for example, where employees have an office space to meet and collaborate, collaboration is more easily reinforced. Companies that emphasize individual autonomy, self-improvement, and communication are better suited for a remote workforce since the flexibility of working from home encourages employees to pursue such values.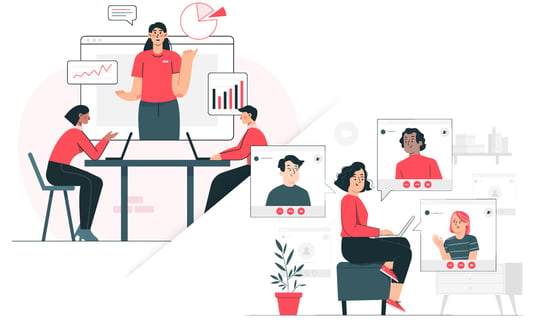 For remote attendees, hybrid calls are ineffective. Leaders making the journey to hybrid-remote might consider repurposing existing office space to allow for more individual desks and meeting rooms. This emphasizes that the office is just another location from which to operate remotely.
One can manage some of the tasks from the comfort of their home by collaborating with coworkers through simple text messages. Whether coming up with catchy email subject lines or creating some new content for the website, office space becomes obsolete for such tasks.
Eliminating conference rooms serves as a coercive function, ensuring that all employees may collaborate and removing the temptation for in-office employees to assemble around a single camera for a video chat with distant attendees. Consider recording the conference so that you can edit your videos and send it to employees in case anyone missed it.
Leaders might choose to set aside one or two prominent spaces for team onsite, when whole teams or sub-teams will go on particular dates to meet in person (e.g., fiscal year planning, team bonding, etc.). It's still crucial to keep track of the outcomes of these meetings and make sure that everyone is represented. Make sure to include a specific call-to-action at the end of your meetings so that everyone is on the same page.
Zoom is developing in-office video conferencing solutions that recognize individual faces in a shared area and display them in panes for remote colleagues. We expect technologies like these to help level the playing field of cooperation as hybrid-remote becomes more common post-COVID.
You wouldn't want your business to be one of the Kickstarter fails or just any other sort of startup failure right from the beginning. Thus it is crucial to make the right call whether to go with hybrid or remote work.
2. Hosting individual and team meetings
Some sectors, such as SaaS, are well-suited for remote operations. Being entirely remote would be a simple move with things that can be delivered online. Others, such as a retail store with a physical location, find it nearly difficult. Regardless of the company's offers, some business processes may necessitate in-person meetings. For example, as an eCommerce store, you can choose a proper WordPress booking plugin through an online meeting. However, if you need to decide what type of textile you'll use for your store clothing, it's better to meet in person.
In-person meetings with the project manager, for example, may help your sales team achieve more significant results. You could even be one of the eight out of 10 executives that prefer face-to-face meetings to close business. Evaluating corporate procedures to see what works best for different systems will significantly impact how your workflow evolves in the future.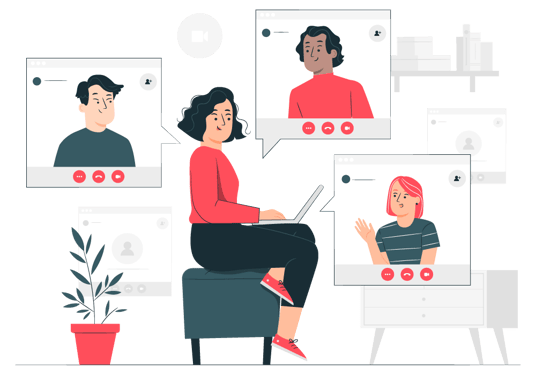 You don't have to commit to a remote hybrid office if you find processes that demand in-person interaction. Sales teams and executives that prefer face-to-face meetings can still do so outside of a dedicated office location, allowing the company to benefit from the cost savings of a fully remote office while still responding to individual demands. All of these unquestionably come into play to improve customer service in the long run, which can only be a positive for your startup.
Permanent and hybrid remote employment both offer their own set of benefits. While neither model will perform equally well for all companies, considering your workforce, corporate infrastructure, and business goals will help you decide which path is best for your company's needs when deciding between remote work and a hybrid office. Regardless of the workflow model you choose, its success depends on you, the business owner, making a deliberate and determined effort.
3. Fair perks for startup employees
Stay-at-home orders in 2020-2021 demonstrated that a large portion of the workforce could accomplish their work from home and are also happier and more productive when they do so. As a result, business owners must choose between going all-in on remote work or adopting the increasingly popular hybrid model, which combines remote work with time spent in the office. Not to mention, an efficient employee will undoubtedly contribute to an excellent customer experience.
Your employees are the ones who will be most affected by a remote or mixed remote approach. Employees will be less productive if they are uncomfortable, valid for both at-home and office workers. Overall, studies demonstrate that remote workers are more effective and available than their in-office counterparts the majority of the time. However, this isn't generally the case for everyone. If a significant section of your workforce has struggled in the past year due to the call to work from home, hybrid remote work may be a better fit for your company. However, current employees are not the only ones to think about.
Remote opportunities attract the most remarkable talent. There are several benefits of hiring remote developers or other talents. Because they are not bound to a specific place, tiny businesses have a far bigger talent pool, spanning the country or perhaps the globe. Because employees must reside a commutable distance from an office, hybrid offices that demand in-office hours, even part-time, do not have the same employment benefits.
The advantages of hybrid and remote work
When we think about choosing between hybrid and remote work, there is a requirement to know the benefits of both. By understanding the benefits of hybrid and remote work, one can know what to choose. Below, we have highlighted the benefits of both.
Hybrid model benefits
The first model we'll be discussing is the hybrid model. This is the model where the team has the flexibility to choose their lace of working. They are not confined to a particular place. They can choose to work from the home, office, or anywhere else they like. It holds several benefits for the employees. But let's also focus on the benefits that the hybrid model has for businesses.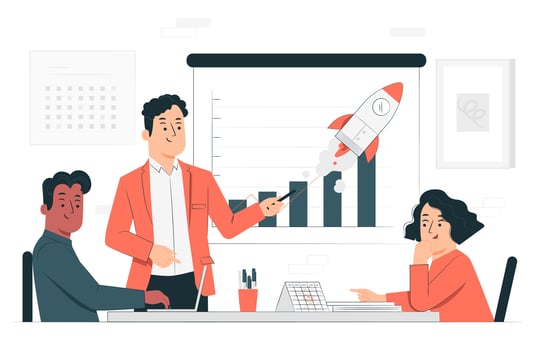 Higher productivity

A hybrid strategy can provide flexibility while empowering people to work to their strengths, increasing production. Teams can build a strong customer retention strategy and achieve a balance of creativity and cooperation by promoting a culture that considers remote work beneficial to completing deep-focus tasks in the office.

Organizations must spend equally in four different work modes, according to Gartner, to ensure a thriving hybrid environment:

Synchronous

Working together, together: Groups are co-located and hold meetings in a common area.

Working together, yet apart: Teams are dispersed, but virtual meetings are held.

Asynchronous

Working alone and together: Teams share workspaces but do not work simultaneously.

Working alone and apart: Teams are dispersed, with individuals undertaking intense work from afar.




According to McKinsey, the companies that saw the most productivity gains during the epidemic supported and encouraged "small moments of engagement" among employees.

Fewer business expenses

Less office space is necessary when there are fewer employees in the company at any given moment. A hybrid strategy can result in significant rental cost savings as well as savings on office supplies. Vending machines and water dispensers, for example, don't need to be refilled as frequently as they once did. While new equipment and software development may be required, the cost savings from decreased overheads will far outweigh this investment.

An employee could quickly do content marketing campaigns and email marketing campaigns from the comfort of their home. Such tasks could be dealt with efficiently and, in turn, reduce the expenses for all parties involved.

More employee satisfaction

Employee engagement and satisfaction hinges on autonomy: Employee happiness will rise if you give your team members complete independence and decision-making power over how, where, and when they work.

Allowing employees to work from home will enable them to put their health and family first. It's an opportunity for businesses to pay attention to employee morale and ensure that they have everything they need to perform at their best. Such setup also helps employees build an online community with their co-workers to discuss work-related and non-work-related issues in private. Moreover, if, for example, you use certain software for that, consider responsive and engaging web application design to help your employees navigate better.




Allowing for hybrid working demonstrates that firms care about their employees and foster a positive workplace culture. Employees are happier, more engaged, and more productive as a result. Companies with happy employees outperform the competition consistently.

Employers who use hybrid workers should provide customized solutions to their staff, such as ergonomic equipment or portable workstations. Employers should offer more regular individual online 'one to ones' to assist employees in attaining their full potential, both personally and professionally, without catch-ups in the office.
Remote model benefits
Now that we have discussed some of the benefits of the hybrid work model, it is time that we throw light on the different benefits that businesses, especially startups, can enjoy while working remotely. Keep reading to find out.
Better employee well-being

Individually, remote working can reduce the distractions that come with working in a crowded environment. Employees can focus on jobs that demand more focused attention since there are fewer interruptions from peers, which can be a significant source of lost time.

Due to improved engagement, remote working can help minimize absenteeism. Employees, for example, can continue to work even if they have a cold or other minor health difficulties, rather than having to take the entire day off to avoid infecting others. All this contributes to employees' well-being, encouraging them to start a podcast or take up a non-work-related hobby, which contributes to work productivity.

Despite these advantages, remote working isn't always the ideal option for some individuals, such as those who lack a dedicated workspace.

Nevertheless, running errands, attending an online class, getting kids off at school in the morning, or being home for a plumber or a carpenter, are all chores that are simpler to juggle when you work from home.

Lower costs

It might be costly to commute to work. Travel expenses, parking, lunch, coffee and snacks, birthday cakes, colleague gifts, work attire, etc., the list goes on and on. Some firms even provide a stipend for refreshments or clothing as a perk. Working from home saves money on these costs, which can add up quickly. This means you'll have more money to spend on other things, which is always a good thing.

Gas, car maintenance, parking fees, transportation, a professional outfit, and other expenses can all be cut back or eliminated. These small sums add up to more money in your pocket.

Employees aren't the only ones that benefit from the savings. Companies that allow workers to work from home during a pandemic, such as Twitter, Square, Facebook, and several Shopify like websites, to mention a few, will see considerable long-term cost reductions.

Many remote employees pay for their remote working equipment, which isn't true for all jobs. This is especially true for freelancers who work on a project-by-project basis.

Freelancers generally buy their laptops and other equipment and claim them as company expenditures, which means the employer has one less thing to worry about.

Saving time

Commuting consumes a significant amount of time, energy, and money, particularly during peak hours. Without a doubt, these hours and funds could be put to better use.

Remote work allows individuals to manage their schedules in addition to saving time on commuting. Some people prefer to work in the mornings over the afternoons. In the evenings, some people come alive with new thoughts. You can work whenever you want as long as it doesn't interfere with your coworkers' schedules and you meet deadlines.

However, when employees work remotely, they frequently incur additional costs such as power, heating, equipment use, etc.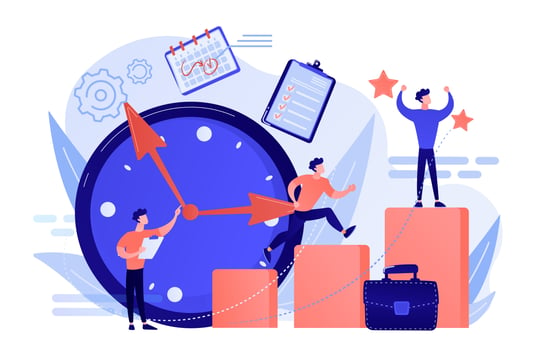 Many companies that enable remote work and save money on office space, parking, travel reimbursements, and other expenses offset some of these extra expenditures when their workers work remotely.
Tasks such as detecting and stopping bot attacks and keeping a bot protection score will help your company enormously. It might not be the safest to tackle such issues from the comfort of your home using an insecure server. This is a rare drawback in a remote work model.
How to choose the right model for your startup?
Now that we have highlighted the benefits of both remote working and hybrid working models, businesses might feel confused about the model which fits them best. The following section will help you make a smarter choice after analyzing the required factors.
Consider the team size of your startup
When a new team needs to be formed or an existing team needs to be reviewed, team size arises in many companies worldwide. While this isn't the only aspect that influences how a team behaves, nor is it the most essential in most circumstances, it is undoubtedly a pertinent subject that requires a rational response.
Teams of various sizes behave in a variety of ways. Do you need a whole digital marketing team or only a PPC consultant for your startup? Do your employees need business mentors and an advisor? If you don't find the right balance when it comes to the size of your team, you could face a slew of avoidable issues. Teams that are too small risk a skills gap in a critical area, while too influential groups risk losing productivity and cohesion.
The following three factors have the most influence on the size of a team:
What are the goals the team is attempting to achieve?

Different companies have different requirements. A team of painters, for example, can never be too large because a larger team will paint the building faster than a smaller crew. A corporate team of auditors, on the other hand, will not have the same effect and may see more harmful outcomes as a result of having an overly large team.

How many distinct and diverse roles are required to achieve the team's objectives?

What is the absolute minimum amount of distinct positions your team requires to succeed if you sell courses online? How many professionals are needed to successfully conduct a marketing campaign? It would be best to guarantee that the team does not have any skill gaps, as this could obstruct success and lead to frustration. However, you should avoid putting too many employees on the same team with comparable work abilities and duties because they will lose interest and productivity.

Is there a time limit for completing the work?

To complete all of the necessary tasks on schedule, work that must be completed fast may necessitate a larger workforce with more working power. This is especially true if the functions do not necessitate much inventiveness. Smaller teams with more cohesion and pleasant talks about the job are better for longer-term initiatives.
Determine your startup growth stage
While it's true that no business is without its challenges, each stage of the business lifecycle presents its own set of challenges to address and overcome. You'll need to be adaptable in your thoughts and adjust your strategy as you go. Indeed, various tactics are required for market penetration instead of achieving growth or maintaining market dominance.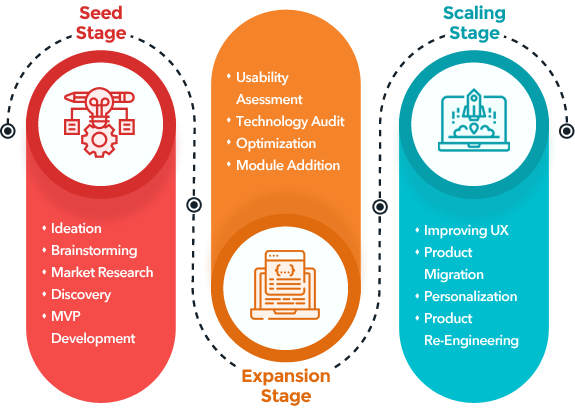 According to the latest Startup Genome Report, self-destruction is the primary cause of failure for 90% of companies. Their founders' own poor decisions or lack of foresight, not so-called "bad luck" or market conditions, caused them to fail. Understanding where you are in the business lifecycle can help you remain ahead of the game and defy the odds by anticipating the problems and barriers that await you or are on their way, depending on the phase you are in or about to enter.
Not all businesses will go through each stage of the business lifecycle, and those that do may not go through them in the same sequence. For example, some companies may see explosive growth soon after launch, prompting the founders to payout and go to the "exit" stage. Making the appropriate selections at each level, on the other hand, will necessitate your regular mix of gut feeling and sound business judgment.
Set your budget and define business expenses
Getting your startup funding is not an easy task, but before jumping into that, you'll need to understand the budget and expenses of your business. One of the most crucial duties for a new business owner is to develop a budget for the company to understand predicted revenue, costs, and cash requirements.
Because you don't have any previous data, you'll have to make a budget based on your best guesses for revenue and expenses (otherwise known as a profit and loss statement). This guide will focus on businesses that sell items, including service businesses that don't sell anything.
Consider why you need to take the time to prepare a budget before you begin. Even if you don't want bank financing, developing a budget is helpful for any new or existing firm.
Make wise financial choices. Your business budget serves as a financial road map in many ways. It assists you in determining where your company's finances stand right now—and what you need to do to meet your financial objectives in the future.
Consider employing cryptocurrencies for your startup transactions, as it is a popular way of purchasing and selling. Exodus is a convenient wallet to add crypto payment options to your website and make peer-to-peer swaps. since it has lower transaction costs and is less volatile. Moreover, using a crypto portfolio tracker to monitor your wallet can also help you keep track of your crypto assets and payments.
Incorporating cryptocurrencies into your firm could be advantageous in a variety of ways. For example, attracting a crypto-enthusiast audience could result in a higher conversion rate. Another essential benefit is security: when cryptocurrencies were first created, their primary goal was to provide secure and quick transactions. This method is still used by most cryptocurrencies today, assuring the security of your clients' data.
Determine where you can save money or increase revenue. Your business budget can help you find areas where you can cut costs or boost revenue, increasing your profits in the process.
Obtain financing to expand your company. You'll need to present a detailed budget that outlines your income and expenses if you want to seek a business loan or raise money from investors.
Conclusion
The correct work model is determined by your business goals, employee needs, and whether or not it will help you achieve your company's overall vision.
Permanent and hybrid remote employment both offer their own set of benefits. While neither model will perform equally well for all organizations, considering your workforce, corporate infrastructure, and business goals will help you decide which path is best for your company's needs when deciding between remote work and a hybrid office.
Regardless of the workflow model you choose, its success depends on you, the business owner, making a deliberate and determined effort. With that as a model to follow, your organization and its employees will make the change smoothly.