COVID-19 pandemic seems to have become a part of our lives and everyone has learned to live in the new normal. Future of work is here and everyone has become acquainted with working remotely from anywhere to maintain social distancing.
The virus is still is spreading drastically and the numbers are spiking at an alarming rate with each passing day. This global pandemic has affected not just individuals but all the businesses across the globe.
We took the required measures to ensure the safety of each member of the Classic family during this global pandemic. However, we also understood that ensuring continuity was the need of the hour. Thus, we have advised all our employees to work from home for the time being.
Considering the condition we are faced with, working from home isn't a luxury anymore. It has become a necessity! And during this period, we have incorporated some remote working tools into our everyday working regime.
Like us, there are multiple organizations that have adopted this routine and would be seeking tools that could help them stay productive and serve their clients while being safe. So, here is a write-up that lists down some of the best remote working tools in 2021 when working from home or from anywhere that we have been using and loving.
Basecamp
Basecamp works as a lifesaver when you are working from home, and we have realized that now. It makes everything super easy. Whether you want to add some information for your teammates to view, ask them some questions, need them to answer some questions on a regular basis, everything is available on Basecamp. Basically, it is a one stop shop for your remote working needs.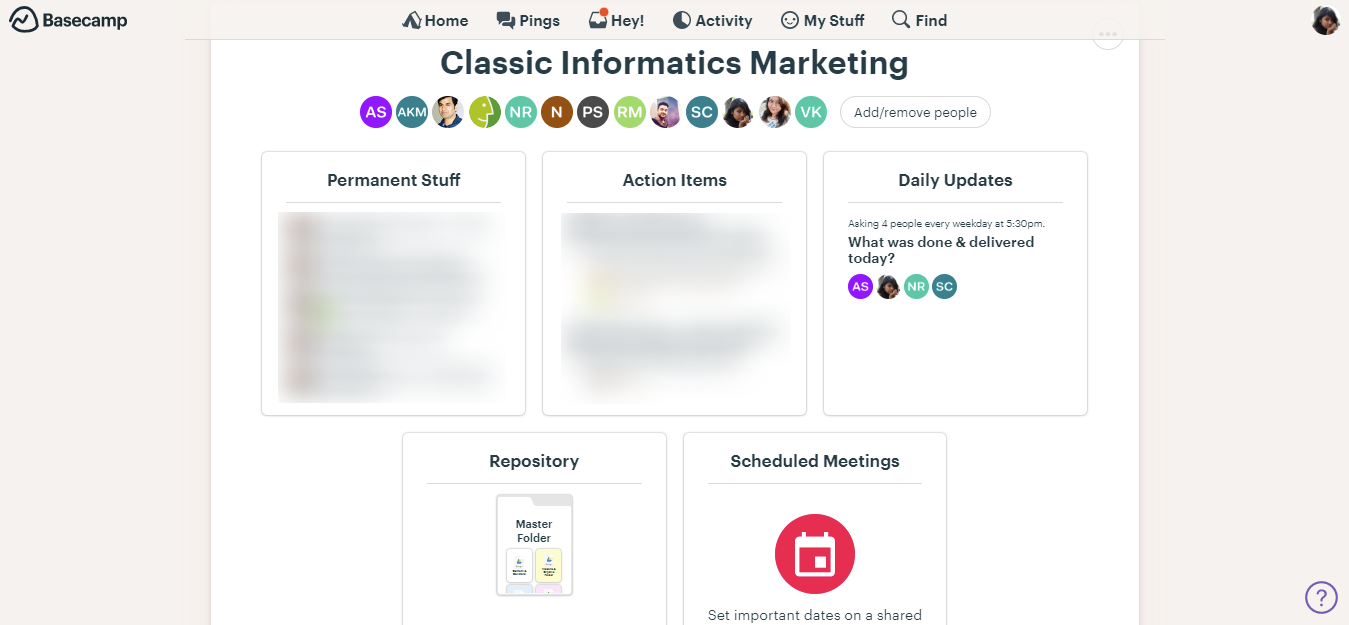 Undoubtedly, this is one of the best remote working tools for 2021 for all your project needs. You can add as many projects as you are working on and it will keep everything in different tabs in clean format. No hassle, no clumsy design; just a simple interface to keep everything in place. You can find everything at their dedicated spots.
The managers can even create notifications in the form of check-ins were the team members can tell what's on their plate for they day, what all they did the entire day, the tasks completed for the particular project in the week, and much more.

You can have a repository where all the important information can go and all the members of the team would have access to it at any point of time.

Managers can add to-dos, anything urgent, etc., and the team members can check it off once it is done.
Don't worry! It won't keep pestering you. It even enables members to change who all need to be notified of any comment made.
Slack
We've been using slack regularly and knew it would help during this work from home phase, but didn't know it would turn out to be such a big help. One of the biggest challenges that we thought we'll have when working remotely from home was miscommunication. And Slack made sure it did not interfere with our way of working.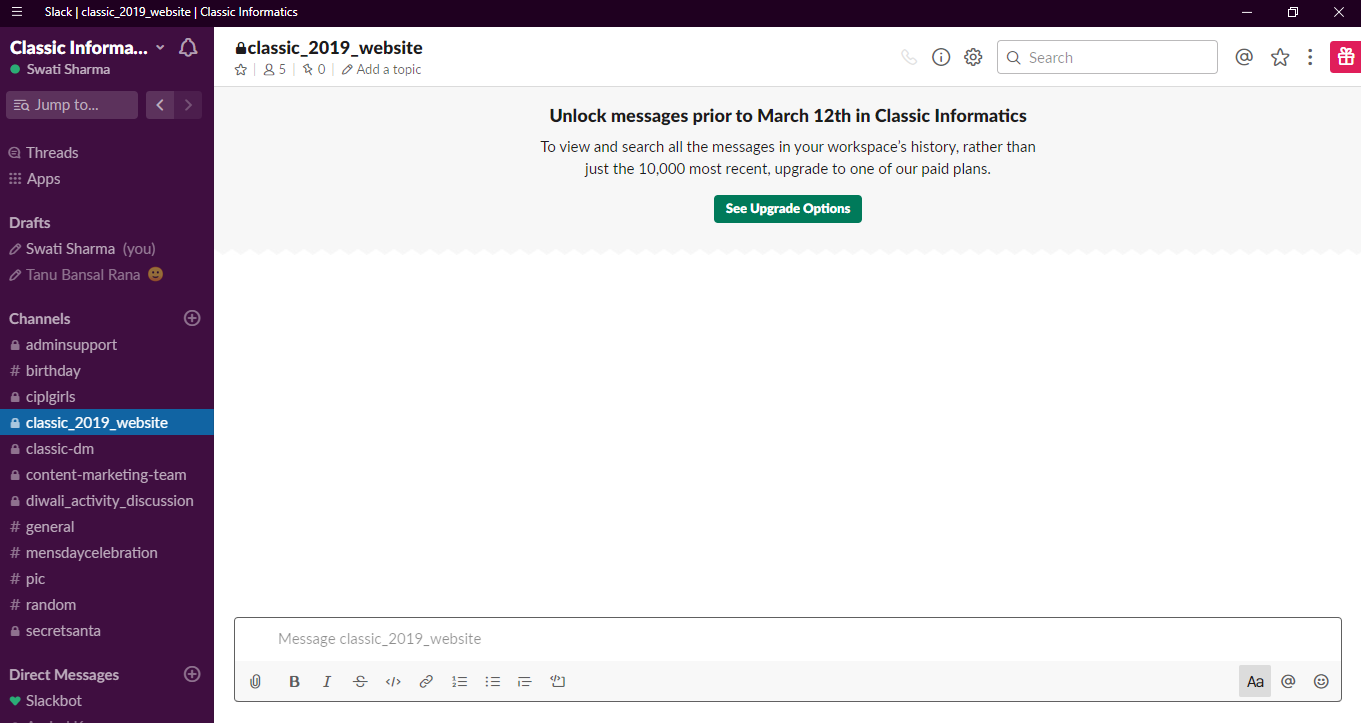 Slack is a tool that eliminates any chance of miscommunication. It is the best communication tool out there and its simple, colorful, and light interface makes it fun to chat with the teammates regarding any work or task.
Channels can be created on Slack for each department where the team members can discuss things and find quick solutions.

Like other messaging apps, Slack is also very light and rich with features. You can reply to a particular message, mention the people, delete unnecessary messages, and whatnot.

Sharing files is easy, and you can even pin the documents or see all the downloaded documents in one place on Slack to keep a close track.

You can even integrate other collaboration tools like Basecamp or JIRA with your Slack to get instant notifications.
A great feature is that you can send messages to yourself to jot something down and it would act as you go-to notepad.
Zoom
One of the first questions our team, especially the developers, had when they were faced with situations like this is how do we conduct our meetings, daily stand-ups, or meetings to discuss the projects at hand? This is where Zoom comes it. This has proved to be a phenomenal group video calling too. It allows teams to come together via video conferencing.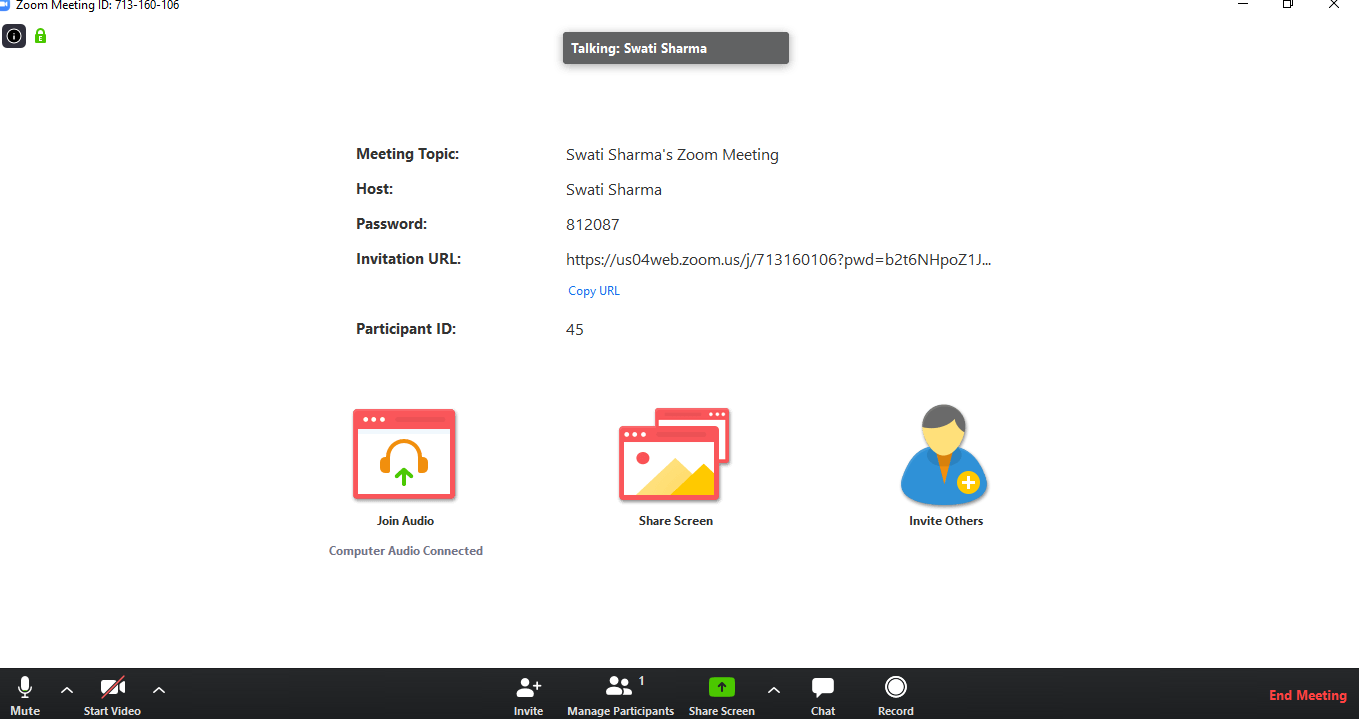 It is easy to host a meeting on Zoom. You can host meetings in the following manner:
With your camera on for the view
With your camera off for just the audio
With just the screen sharing option
You can even join a meeting that has been scheduled or is taking place instantly.
When you need end-to-end conferencing that include content sharing, screen sharing while on a video call, Zoom is the first tool that should come to the mind. Ever since virtual meetings became a thing for everyone, Zoom has introduced a number of new features, making it one of the most convenient and popular remote working tools in 2021.
Toggling the screens during the course of a meeting is also super simple. You are always saved from any awkward moment while you are conducting a meeting with your senior or even your client.
WebWork Tracker
Keeping a track of what the team members are doing while given work from home came out to be one of the biggest challenges for us. We've heard cases where employees took undue advantage of the remote working and not be as productive as they were at office. After some research, we came down to WebWork Tracker. This tracker seemed pretty intuitive and easy to work with. Now that our teams are using this tracker, it seems a good choice.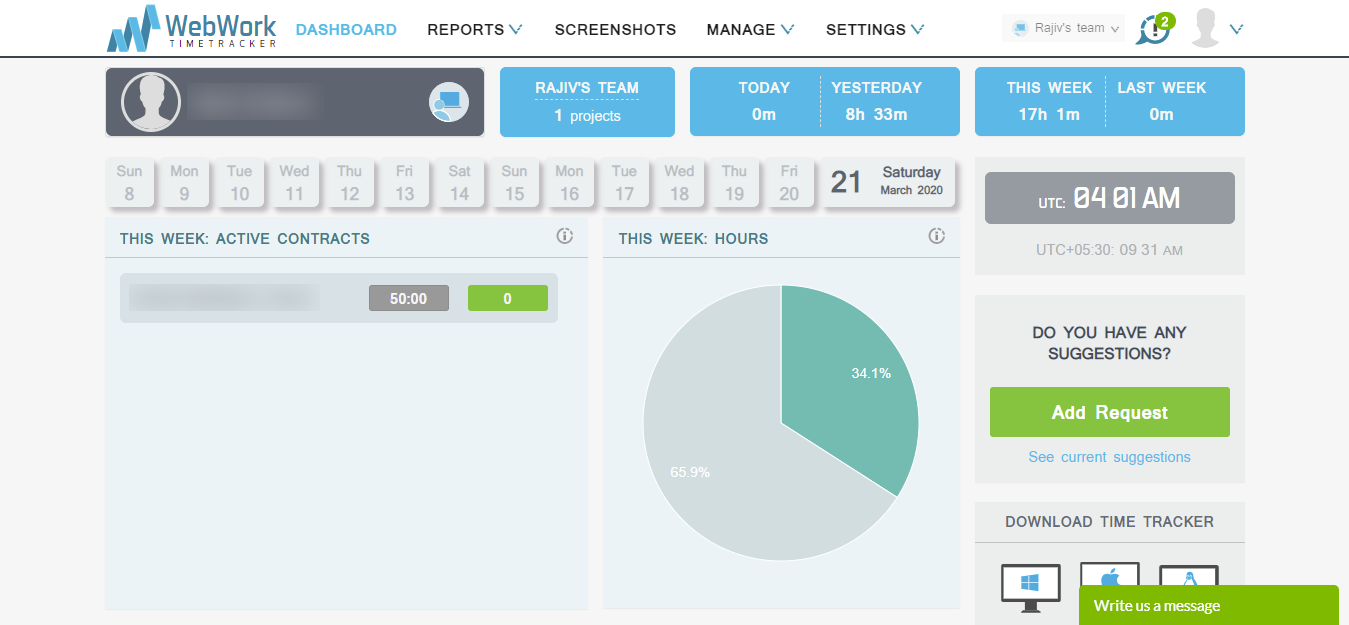 You can easily create your teams on this tracker and get your team started on the tasks by assigning each individual.

It takes regular screenshots of the screen and also tells the productivity level, if the person was productive enough or not.
The online reports generated by the tracker have also come out to be very beneficial. The statistics, timesheets, and all other reports can be easily exported as well.
G-Suite
While it needs no mention, G-Suite is certainly the best collaboration tool during the remote working or work-from-home scenario like these. We would've been in such a fix had we not been working on Google suite. It was always fun and easy to work on Good Doc, Google Sheets, etc., and it proved even more helpful in this situation.
You can find it really easy to share in real-time what we were working on and if any document needed any changes. Especially the marketing and content team loved how collaborative Google Suite came out to be during this time.
Everyone could access the file and docs that are present on the cloud. We created shared folders where each of us could keep our work and it minimized the number of to and fro of files and docs.
Kickidler
Kickidler is another type of employee monitoring software that every company should have to monitor the everyday work of its employees. From time tracking and analyzing employee productivity to viewing an unlimited number of monitors online and even recording computer activity, Kickidler offers all functionalities. Through continuous monitoring, you can easily amp up your employees' earnest efforts.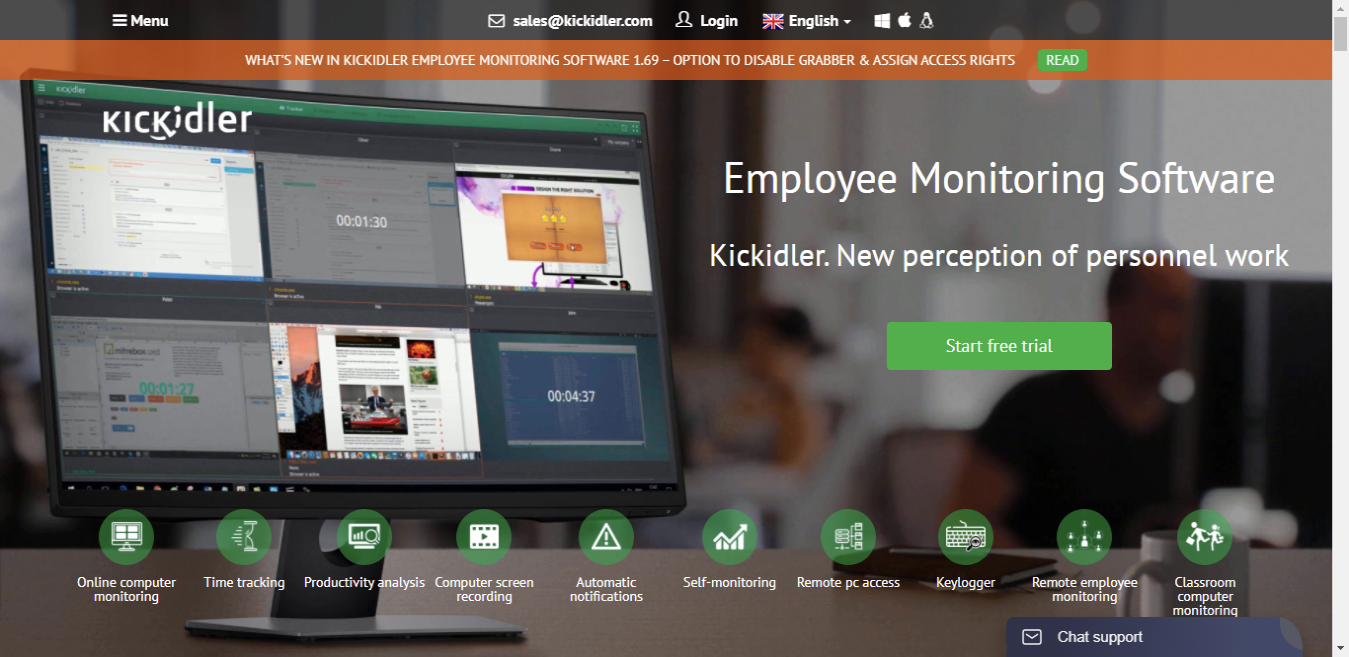 The list of Kickidler's features goes on. Just several months ago the developers of the software released an update – Autokick – aimed at making employee monitoring even more manageable.
The program lets you create automatic notifications that pop up when a violation from the set program occurs.

Kickidler also has a self-monitoring interface that helps employees track their own productivity statistics. For example, if you spend too much time stalking that ex-best friend of yours on Facebook, the program will notify you that it's time to return to more productive tasks.

Keylogger is another convenient feature of Kickidler that covertly records the keys struck on the keyboard and violation control function.

Another really helpful feature of the Autokick update of Kickidler is that it allows the employees themselves to turn Grabber (the software agent) on and off, which is great if you're a remote specialist who works from home on your personal PC.
You need not worry if your remote employees are working as required or not. Just use this amazing work from home tool l in 2021 by downloading on you Window, Mac, or Linux OS and get started with continuous monitoring.
Zonka Feedback
Regular Employee Feedback helps engage employees, increases productivity, retention, and teamwork. Feedback is very important and while most of us know it, we sometimes do nothing about it. At Classic Informatics, however, we really think it's important to regularly hear the voice of employees and get their feedback.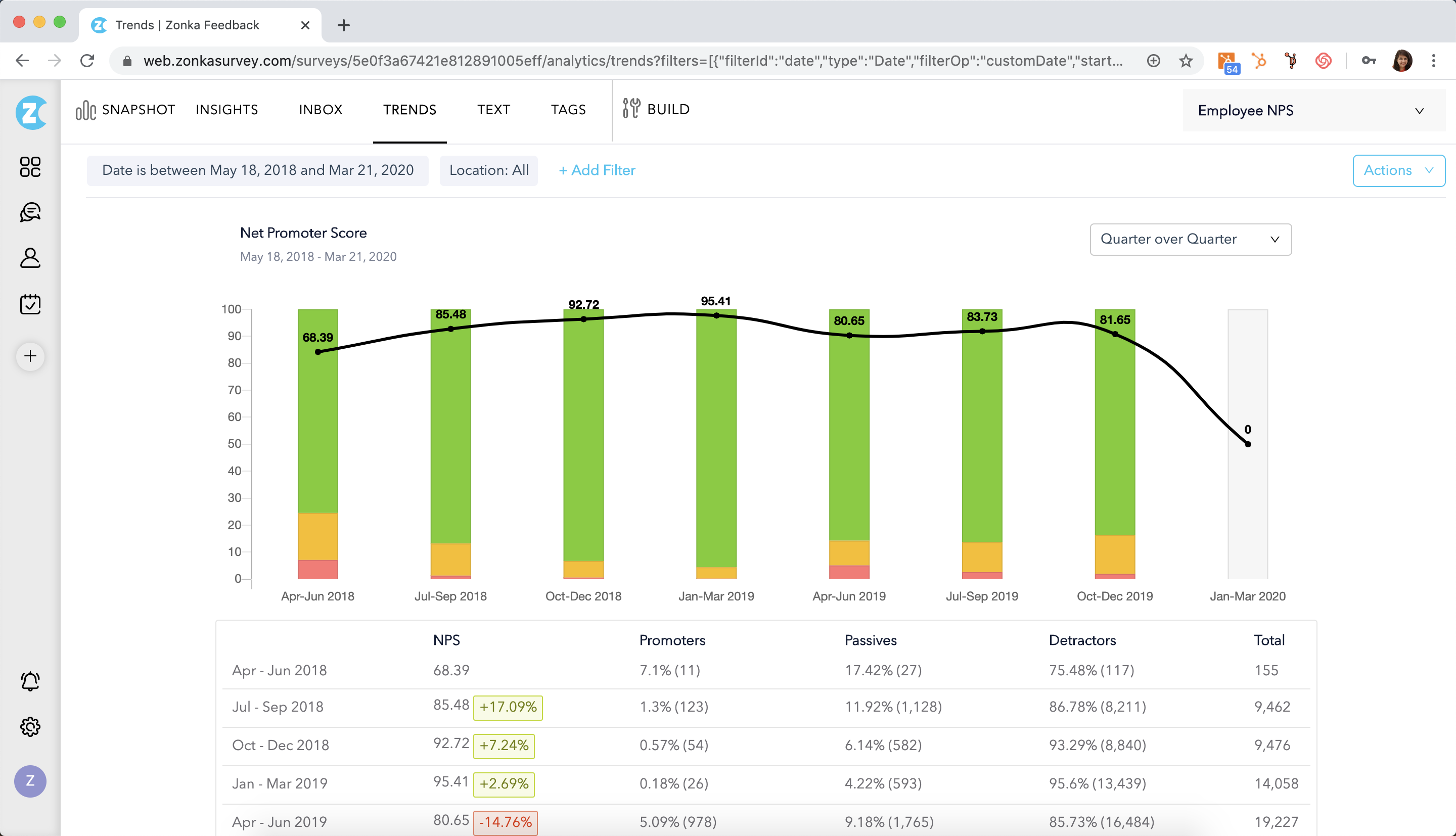 With Zonka Feedback's Employee Feedback Software, we can set up different surveys by different departments, for different touchpoints like pre-interview surveys, post-interview surveys, Onboarding surveys, general employee feedback and more.

Each department can run their own feedback forms and surveys.

We can send employee surveys via email and SMS or embed them on our website for employees to share their feedback. Zonka's Survey App helps do this effectively.

We can also run fun quizzes to keep our workforce engaged and happy - think of this as a Friday Fun session, just remotely.
Real-time reports and insights are very helpful in gauging the pulse of the employees and take important business decisions.
ProofHub
ProofHub has been a game-changer for remote teams. It's a lifesaver when it comes to managing projects, communicating with team members, and keeping everything organized in one place.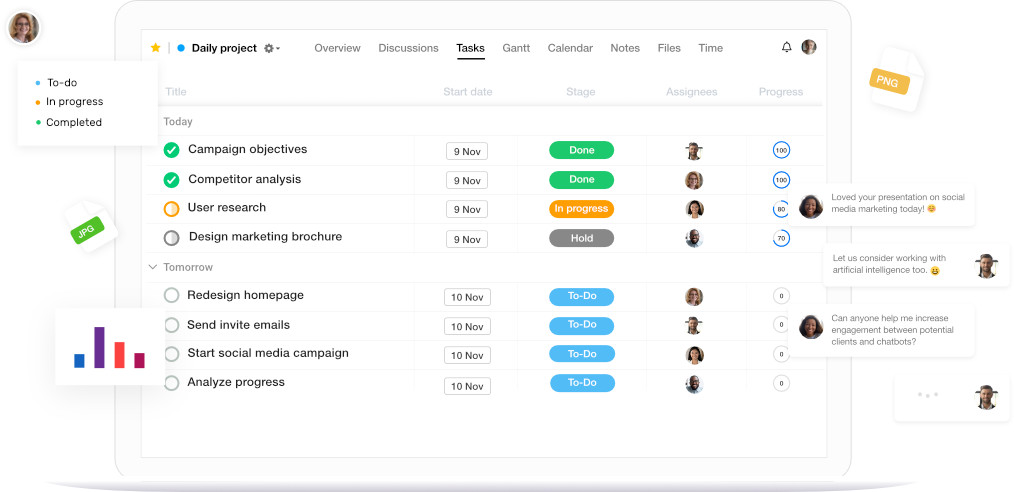 Whether you need to share information, ask questions, or receive regular updates from your team, ProofHub has got you covered. ProofHub truly streamlines the remote work process and keeps everyone on the same page, no matter where they are working from.
The built-in chat feature is the most prominent feature of ProofHub. This eliminates the need to switch between applications for communication and file sharing.
Online Proofing helps to quickly collaborate on files and images without the need for switching between applications.
Task management such as assigning tasks, monitoring progress, and work reporting becomes easy when working with ProofHub.
With ProofHub's time tracking feature, you can monitor how much time is being spent on each task, which is particularly useful for billing and invoicing clients.
ProofHub is completely transparent, which allows team members to identify bottlenecks early and rectify them. It can be a powerful tool for remote work, enabling you to boost productivity, facilitate communication, and keep your team on track, regardless of their location.
Fyle
Fyle is an AI-based expense management software that helps boost your employees' productivity by taking care of mundane, repetitive expense reporting, tracking, and management tasks.
With Fyle:
Employees can create an expense report via text message, Fylemail, Slack, Gmail, and Outlook with just one click. If they have a paper receipt, they can use the receipt scanning feature to scan and extract all the vital information without any manual effort.

Employees can then easily upload all their expense reports and receipts onto the software, where your finance team can easily access and review the expenses. The ease of reporting, submission, and approval helps employees and finance teams spend less time and energy collating physical records for tax season.

You can also easily take care of tedious, manual tasks such as a credit card reconciliation process. With the expense software, it can help reconcile credit card transactions, expenses, and receipts automatically. Thanks to the feature, your accountants are free to do more intuitive work, and they can spend less time correcting errors.

Your finance team can enforce company expense policies rigorously. The expense software comes with a policy check engine that can audit employee expense reports in real-time. With the help of a robust policy check engine, you can help curb potential fraud and increase compliance across organizations.
Turning to automated solutions can help an organization to save time and money. It can eliminate tedious paper-based expense processes and allow your finance and accounting team to easily review, audit, and reimburse employees while meeting all the stringent deadlines.
Beaconstac's QR Code generator
When it comes to remote work, effective communication is key, especially with customers. And that's where Beaconstac comes in as a valuable tool for remote workers.
Beaconstac is a powerful QR Code generator platform that can help remote workers in marketing and sales stay connected with their customers. The platform's user-friendly interface and top-notch security features make it a promising choice for many popular companies.
It can be used to create QR Codes for a wide range of applications, including QR Codes for packaging, social media, product manuals, etc., helping you manage your customer needs anywhere in the world.

The platform offers a variety of design options, allowing users to choose from different colors, shapes, and styles to create a unique and eye-catching QR Code with the ease of a few clicks.

Beaconstac offers Google Analytics integration so you can easily track the performance of their QR Codes in real-time, allowing you to see how many people have scanned the code, where they are located, and what device they are using. This information can be used to refine marketing campaigns, optimize product packaging, and improve customer engagement.

Beaconstac also integrates with over 5000+ CRMs, sales, and HR tools, such as Slack, Basecamp, and JIRA. This integration allows remote workers to get instant notifications and stay on top of their work, no matter where they are.
Beaconstac is a must-have QR Code maker for businesses looking to stay ahead in today's fast-paced digital world. It allows users to become location agnostic and leverage the remote work model to the fullest without any hassle in providing their customers with the best digital experience.

Jotform Tables
Jotform Tables is an all-in-one workspace for you to collect, organize, and manage all your data. It is the perfect solution for remote working teams when a spreadsheet just isn't enough. It allows seamless collaboration by sharing your tables in one click.

With Jotform Tables you can:

Collect data quickly & easily.
Create online forms to gather responses from your teammates and auto-populate your tables with submission data.
Import CSV or Excel files to work with your existing data or add new entries manually.
Organize your data with ready-to-use column types without having to know any coding.
Share your tables to quickly collaborate with teammates, colleagues, and clients.
Assign entries to your teammates and track your progress.
Use one of the ready-made templates to match your every need.
Send your data to other parties or software, create PDFs, send emails, and many more.
Jotform Tables is as useful as a tool can get for remote-working teams who want to boost their productivity by seeing their data differently.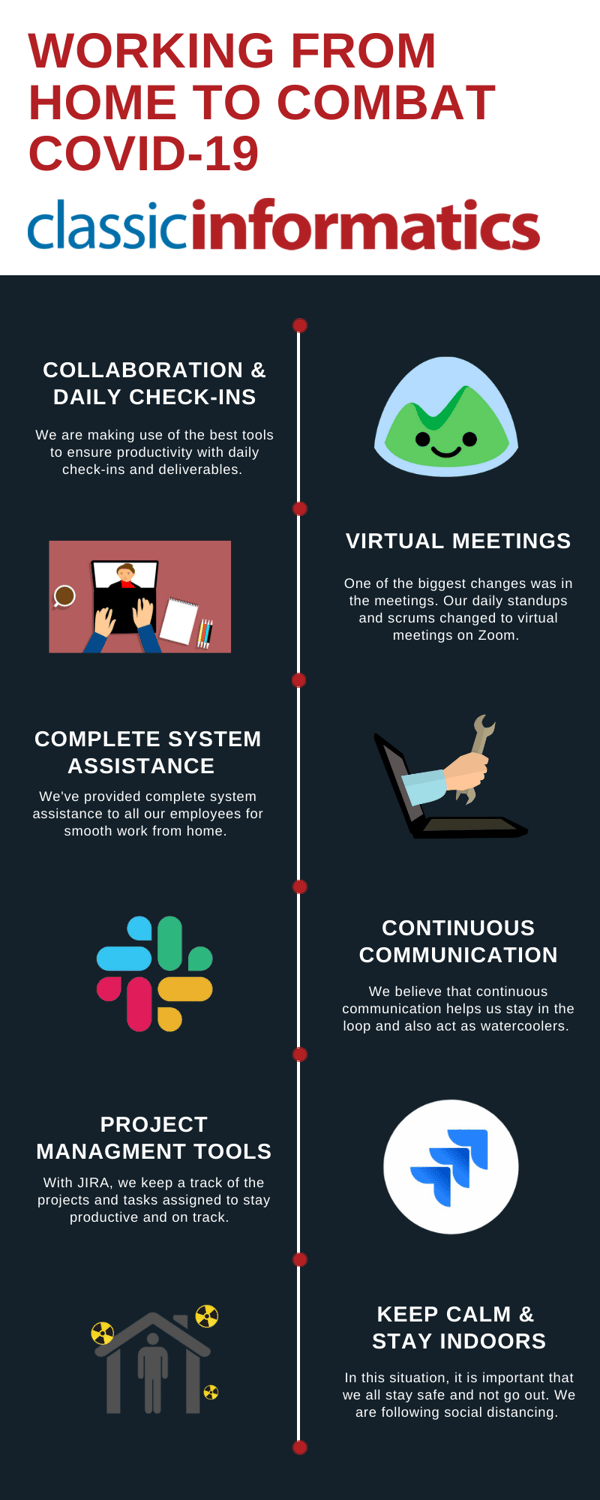 Work From Home To Ensure Safety
These are some of the collaboration, video conferencing, and productivity tracking tools that you can make use of if you are also in self-quarantine. This is the time when you need to stay at home and work remotely with your tech teams. But you can certainly not let your work, especially your client's work be affected by this. Make the right use of these remote working tools in 2021, know all their features and use them effectively to produce more while at home.
Stay safe, stay productive!
---
Published on: 21st March 2020; Last Updated On: 3rd December 2020