Upwork's latest future workforce report has highlighted several remote work trends we had anticipated in the past few years. The report suggests that by 2028, almost 78% of departments across all industry verticals will have remote workers. Not just that, the young generation managers would also be seen allowing remote work as part of their future workplace planning.
And this trend isn't just to sustain the growing flexibility or work-life balance demanded by today's workers, it is also owing to the many benefits that hiring remote developers or any other worker offers. Today, businesses are placing a high value on hiring remote developers for their projects owing to various benefits like:
You save on the costs in terms of the per-hour per hour fees paid to the remote developers

You save on time as the remote developers are not bothered by smaller in-house tasks

You get access to a vast talent pool that spans across the globe

You can rest assured that the agencies for outsourcing to India have high-quality standards in place to keep a check on the work delivered
And these are just at the surface.
There are several other benefits that businesses are ready to avail by hiring remote developers. And no doubt these benefits are attracting more businesses to hire remote developers or even build complete remote teams for their next project.
However, despite knowing all the benefits and advantages, many still hesitate from switching to the remote or future of work model.
One of the main reasons behind this is the growing uncertainty around the credibility of the developers or the agencies from where they can be hired.
And that's exactly what we aspire to solve with this blog.
There are countless organizations across the globe offering remote developers for hire for all your project needs- from product development to cloud & DevOps engineers to AI-ML enthusiasts, to engineers of all scales. Some offer individual remote developers, while others work on offering remote teams.
In fact, different companies offering remote developers have varying engagement and pricing models. Some only offer remote developers on a project basis, some on an hourly, and others on a monthly basis. The same goes for pricing. You can find developers on an hourly basis, monthly salary basis, or even for specific project requirements.
Indeed, remote developers or remote development teams added success to many million-dollar companies, including Buffer, Facebook, and Spotify. Remote teams not only provide flexibility to work but also provide a pool of skilled talent to assist in developing a top-notch product.
Have other questions about hiring remote developers? Here are some useful resources that will eliminate all doubts:
However to help you with the best remote team at your service, here we've come up with a refined list to hire a talented remote team of developers.
So, without further ado, let's get started with the list of top companies for hiring remote developers.
#1. Classic Informatics
The 18 years experienced software development company, Classic Informatics, facilitates companies to set up an agile and flexible team of strategists, developers and project managers catering to client-specific requirements and timelines. They work on several engagement models and scrum-based agile software development methodologies to choose from depending on company needs.
The professional team helps organizations scale their product development team to deliver better by integrating specific tech talent into the distributed teams. One can partner with them for SaaS product development, complete digital transformation initiatives, startup solutions, enterprise-grade application development, and more.
Expertise:
Expert professionals with rich industry experience ready to work on any project

Proven processes, agile methodology

Follow industry-standard best practices

#2. X-Team
X-Team has been providing the world's leading brands with high-performing, on-demand teams of developers since 2006. X-Team provides a long-term, painless solution for the modern engineering department. They provide high-performing, on-demand, and scalable teams for leading brands.
X-Team facilitates companies to hire remote developers, full-time, or for in-house teams. Their flexible contacts allow companies to scale up or down according to their need, while also retaining full control over project timelines and workflows.
Expertise:
Full-time developers working as part of the in-house team

Highly talented and scalable teams

Ready to hire professional and skilled developers

#3. Arc
Arc has around 20,000 developers and all of whom have been hired using Silicon Valley-standard review processes. Arc serves companies looking to hire developers on a freelance or full-time basis or through remote teams.
The remote developers are hired here through an efficient and organization-specific hiring process that has the most common traits with those of Silicon Valley giants.
They also offer permanent hire packages and even offer a trial period for the first three months.
Expertise:
The pool of developers specialized in front-end and back-end

Skilled and experienced talent at flexible rates

4x faster hiring through streamlined requirement-centric processes

#4. Endive Software
Endive Software provides a complete team of talented pool, including creative developers and professionals, to assist startups, small businesses, and enterprises with transformative web and app solutions. They help build innovative and robust digital solutions and deep industry expertise to lighten digital transformation across enterprises.
By utilizing the latest technology and frameworks, the design, build and deliver client-centric robust web solutions to transform the businesses and boost sales.
Expertise:
Rich Experience across different industries

Rich client portfolio with 250+ clientele worldwide

Disciplined, and client-centric work processes for transparency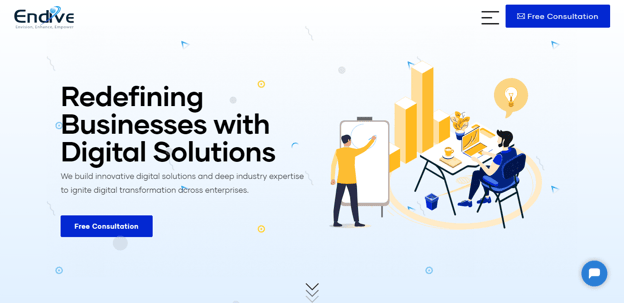 #5. Net Solutions
The 20-year-old custom software development company, Net Solutions provides their clientele with robust, customer-centric platforms and end-to-end software development solutions. They function as a remote development team that takes care of the project assigned with the help of a skilled pool of talented developers.
Net Solutions always takes into consideration the exact requirements of their global clients and nourishes them with their years of experience. They can work on their own with an in-house development team. This reduces the stress of hiring app developers and, in turn, helps businesses focus on completing goals.
Expertise:
Helps in transformative business development

Follows customer-centric and scrum-based agile approach

Design thinking approach to develop top-notch products and services

#6. Techcronus
Techcronus mainly focuses on mobile app development solutions for startups, enterprises and small and medium businesses. It satisfies the need to hire dedicated mobile app developers for in-house teams by functioning as your remote team.
Their list of services covers web and mobile app development, UI/UX design, maintenance and QA and business intelligence and analytics.
Expertise:
Proven process methodology and quality management system

Flexible engagement models allowing you to scale business

The pool of expert professionals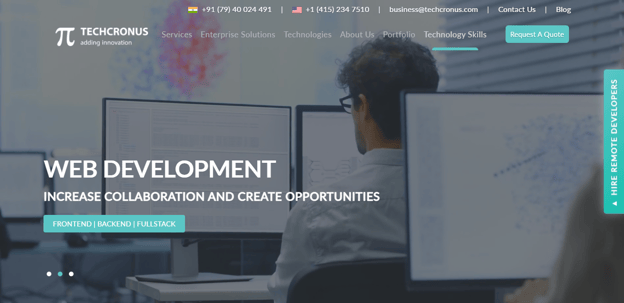 #7. Rentech
Rentech's development teams help companies bring a plethora of cutting-edge technologies to develop top-notch and innovative solutions. They have rich experience in web development, mobile development, digital marketing, and Artificial Intelligence. Whether you need a fully functional enterprise solution or a remote team to craft custom native Android and iOS apps, Rentech can help you seamlessly in all of them.
Expertise:
Rich skill-set in 250+ technologies

Communicative, flexible, and hands-on developers and engineers

Rich Experience across different industries

#8. YouTeam
YouTeam is a global marketplace where companies can hire remote developers or complete remote teams. They help companies contract offshore talent within just one week while enabling faster progress on projects
You can easily interview the candidates directly and have complete control of choosing the finalists. YouTeam has a seamless platform for payments and contracts that companies can use.
Expertise:
Customer Success Specialists are always at your assistance

Facilitates short-term technical hiring for fast-growing companies

Facilitates flexible, efficient scaling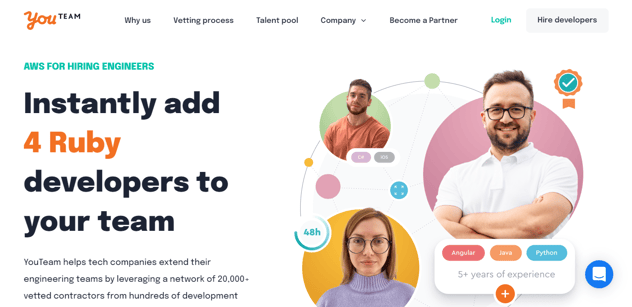 #9. I
TCraftship
ITCraftship provides top-notch software developers who change the landscape by filtering the best engineers for your large or medium scale project requirements. Companies can get customized recommendations and project-oriented teams with a defined client roadmap here.
Also, it combines coding experience with recruitment to help startups find the most appropriate and capable developers, matched perfectly to their business needs.
Expertise:
High-level hiring and screening processes that test skills and experience

Diverse and rich portfolio of top talents to choose from

Hassle-free process




#10. Trio
Trio helps businesses hire remote developers via an intensive filtration process. They mostly cater to small and medium-sized businesses and help them access top professional talents.
The trio is specialized in finding and hiring software engineering talent. This helps you get the top cream among the pool of resources. Trio collaborates with global professionals such that hiring companies are given a wide choice of developers that satisfies their business needs
Expertise:
Facilitates dynamic skill allocation

Pool of talented developers and experienced professionals

Easily manages payroll, benefits, and compliance for all your developers

Final Thoughts
Hiring developers or planning to hire remote software developers is a bit hard and time-consuming process. These companies help businesses to get skilled and expert remote tech talent and boost their sales.
Remote development teams were once a choice of only a few enterprises. But today with the evolving tech innovation and trending now.
You can find all types of skills and talent when you decide to incorporate remote developers into your team. You can:
As we know, remote working is here to stay for coming years and more and more businesses are going to continue their work processes from remote locations in 2023. By using remote working tools, remote workers are now well prepared for the coming challenges or gearing up for the evolving trends.
Managing a remote team is quite a tough task, but the benefits it provides to entrepreneurs is enormous.