Low code development brings a radical change in the way enterprises to develop softwares and apps. With low code into existence, they have now begun to realize long-term benefits and seek app-based solutions built swiftly to meet their business requirements.
This has changed the entire dynamics of doing app development.
Low code is a modernized version of app development. The technology makes it easier for developers to develop apps by facilitating users with click and drop functionality with no to minimal coding.
It can do a lot to boost your efficiency while building robust and innovative app solutions. Low code technology promises you to deliver everything businesses are looking forward to in this digital era- faster development, low cost, quick integrations, and, last but not least, minimal coding.
They can turn down every citizen employee into coders with just simple drag and drop UI. Building complex and critical applications were never this easy.
The total spending on low-code development is expected to hit $21.2 billion by 2022, signifying a 40% compound annual growth rate.
All the multiple use cases defined below showcase how much potential does low code technology has.
Let's have a look at some of them.
1. ERP System
Wonder if you could develop a customized ERP system on Zoho creator? LATAM- a textile manufacturing company does this. The company makes use of low code technology to build a tailored and robust ERP system on the Zoho platform.
The Zoho platform permits companies to develop innovative solutions and upgrade existing ones. Here you can simply track the app and also create product prototypes and manage multiple operational processes.
2. Mobile-Friendly Web Application
Developing a mobile-friendly web application is far simpler using low code platforms.
US-based driver assistance uses a low code platform by Quickbase to build a user-friendly web application for customer requests processing.
This app allows its users to send their service requests, check their status, and manage request data in real-time. The company will handle all the requests in one digital environment and maintain customer-facing processes transparency.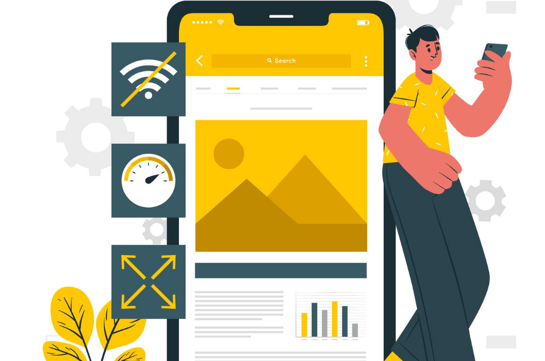 3. IoT Enabled Smart App
Developing IoT apps is a new trend now. IoT solutions provide you with increased operational efficiency and enhance customer engagement.
Enterprises today are looking for new ways to deliver IoT-enabled functionalities. Developing IoT apps are a bit complex and critical. They need seamless integration between disparate systems such as sensors and other communication devices to collect data.
IoT can seamlessly integrate with low code platforms to build a web or mobile app that turns IoT data into actionable insights for end customers. A leading brand of grow light systems, Hortilux used the Mendix platform to build IoT-enabled apps.
4. Spreadsheet Usage
Apex Imaging offers you re-branding and re-imaging for businesses. The company provides you with comprehensive and innovative business solutions. The company then turned to low-code solutions to help with spreadsheet efficiency. With low-code development, spreadsheet usage has increased. The newly developed low code applications permit you to perform similar tasks with less coding effort and minimal time.
5. Revenue Acceleration
The Spur Group is a part of the financial stream of both big agents, Microsoft and Google. It is a consulting firm that offers revenue acceleration for businesses. They help you advertise go-to-market expertise that helps enterprises get data-driven, top-quality results. They use applications with minimal or no coding to facilitate new joiners. This process can also affect employee retention rates.
6. Customer Service Improvement
You must have heard about the largest banks in Australia. It's none other than Bendigo. Also, it is one of the Appian's primary case study the popular low code technology demonstrating low code development. The bank officials want to divert their attention towards customer service and create new positions to improve customer service.
It ultimately increased the workload of the enterprises. Thus, to overcome this challenge, Bendigo bank shifted its interest towards the Appian platform. The minimal low code platform proves to be an excellent solution for developing enterprise-grade apps.
With Appian low code platform onboard, the bank has created 25 customer-centered apps around a year and a half with minimal time and cost.
7. Healthcare Solution
A leading healthcare Saga faces a big challenge and saw an increasing need for in-home care for seniors. They need to be flexible and agile enough to respond quickly to rapidly changing customers' needs. They want to create a home-care scheduling system that fulfills their requirements.
Mendix provides a solution that took only 6 months to develop and charges less than 5% that other providers quoted.

8. Ecommerce Portal
An eCommerce portal is one of the best digital platforms to deliver your customers an impeccable user experience. Web-based eCommerce platforms are considered cost-effective to provide you with a seamless customer experience and add value to your business.
Gone are the days when we use methods that are a bit time and resource-consuming. Low code technology supports developers to incorporate IT and business processes to deliver innovative and robust solutions.
Companies can now build the interface once and reuse it multiple times for multiple purposes and devices. A waste management company, Suez, used the Mendix Platform to build an eCommerce portal for its customers.
Last Words
The list mentioned above of low-code use cases will expand further as more businesses geared their interest towards low-code platforms. These platforms help faster app development by developing robust and innovative applications with quick drag and drop features and customizable building blocks.
Today, more businesses strive to make smarter choices with available low code platforms, explore greater depth in the low code platform capabilities, and bring more success to your business.
We at Classic Informatics, help you with complete assistance while delivering low code application development services. Be it planning a strategy or constructing an architecture, PoC development, and more, we do it all for you.