The immortal existence of 4G technology and the continuous growth of 5G technology is spreading globally delivering fast access information and seamless user experience to the users.
There are a plethora of frameworks in the mobile app development market that provide the developers with exceptional unique features. These features deliver high performance, huge library support, and many more.
React Native is one of the frameworks used for cross-platform mobile app development.
Tech Giants like Facebook, Instagram, Pinterest showed their interest in React Native mobile app development to build their apps for both iOS and Android platforms.
You must have these apps installed on your mobile phones for sure.
Do you ever get to know how these apps are developed? Or what are the technologies used to create these apps?
If your answer is no, then definitely you are at the right place. In this article, you'll come to know everything about this versatile and cutting-edge technology i.e. React Native.
It's right to say that mobile phones are half soul of every individual when it comes to Android or iOS. A mobile app development company works a lot to incorporate all the benefits of the app development that should deliver to the consumers. Be it a mobile app with superlative User Interface (UI) OR providing a seamless User Experience (UX) OR apps with compatible platforms.
And check what? The REACT NATIVE introduced.
All About React Native
React Native is an open-source JavaScript framework natively catering mobile applications for iOS and Android. By using React Native, web developers can write code for mobile applications freely with the comfort of a huge JavaScript library.
Instead of targeting the browser, it focuses mainly on the platforms. React Native focuses mainly on User Interface, which makes the apps load quickly and easily and gives a seamless user experience.
Here's a sneak peek to the React Native features:
Code Once, Apply Everywhere

Transform any web project into a mobile application flexibly

Deliver personalized UX to individual users on the same app

Minimize the cost and Ease of Integration

The Efficiency of Native app development increases many-fold

Develop MVPs faster

Huge JavaScript library
The React Native framework has come out to be the most compelling framework and has become a number 1 preference of most of the mobile app development company. Nowadays, the React developers are in great demand in the front-end development market.
Do you ever think why this framework is enjoying so much popularity? Why tech companies are hiring React Native developers in a bulk? Why they are greatly in demand?
You will get the answer to all these questions in the below article.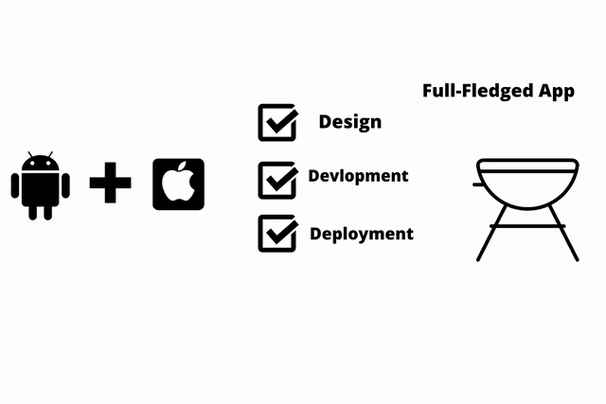 Top 10 reasons to Choose React Native in building Mobile Apps
One-Stop Solution for Multiple Platforms
React Native app development facilitates the developers to write the code once and use it everywhere. The code can easily run on multiple platforms-iOS and Android.
This framework utilize rich Facebook's UI library to make straightforward and easy codes for the implementation and execution of ReactJS. What all the things you require to develop a sound React Native app- A JavaScript development proficient in native UI elements, APIs and hybrid mobile app development design.
Faster App Development with Minimal Costs and Resources
The React Native JavaScript framework is famously known for its agility and scalability. The framework facilitates you with a seamless experience and too with speed to its users. Now, using this framework, you can reduce the cost of development and time almost by 70%. You can now develop an app without compromising on quality.
Ease of Transformation from Web Page to Mobile App
As with the React Native framework, we can reuse the code by making a single update for two platforms. The framework is quite modular and intuitive. With this, developer can easily understand the pile of codes that run by the application. Detecting bugs between codebases is also easier in the framework. All these advantages help developers to save time when transforming web pages into a mobile app.
Supports Faster MVP (MINIMUM VIABLE PRODUCT) Development
The MVPs can be developed faster with the React Native framework as the chances of bugs get reduced because of a single code. In addition to this, it also speeds up the testing process. With React Native, you code a less and deliver quality a lot faster. Startups get the biggest advantages from the React Native framework while MVP development. All you just need to develop 30% modules, the rest 70% components are reusable.
Deliver Personalization to the Mobile App
By using the React Native framework, you can get a personalized UX to your users on the same app. In React Native architecture, you can segregate Native code, Framework code, JavaScript code, and styling. This facilitates developers to easily deliver different styles to the app from the server-side.
Easy Debugging
As the React Native framework has benefited developers with the re-usable components that requires only one update for two platforms. It makes the bug detection between code bases a bit easier. Your team by making just a single decision to fix the bug and update the app.
Performs well in limited budget constraints
Every young entrepreneur commencing a new Startup wants to earn more returns using less resource and time in this tech-savvy market. By implementing this framework and hiring React Native developers will definitely save your time and money. This is the reason as to why this framework is so popular for mobile app development.
Support 3rd Party Plugin
Third party plugin eradicates the needed for specific Web View functions. The plugin can be linked with a native module through the React Native framework. The processes are linked with varied app options for smoother running, faster loading and better memory management.
Shining future in the coming years
Mobile app development companies are going to use React Native framework for decades to come. The React Native Framework is developed to solve complex codes in less time. Nowadays, React Native developers are highly in demand and performing their best in the mobile app development market.
Access to Native API makes UI Smooth
The React Native developers can easily make the User Interface smooth along with quicker responsive outcomes. By using the React Native framework, the developers can develop mobile apps without compromising and any complexity.
Wrapping Up
I think all your queries related to React Native framework will get resolved in this article. I hope these top 10 reasons gives you a crystal-clear picture of what React Native is all about and why it is more popular in the mobile app development world. Thus, to summarize it all, if you want to develop an all-time hybrid as well as a Native mobile app, that is user-friendly and provides a seamless user-experience, you know where to turn to.