Spending months, sometimes even years, in building and launching an internal or customer-facing application is no longer a feasible option for businesses.
They want it deployed fast. Maximum within a month or two of getting the idea.
And that's where low-code platforms come into the picture.
These platforms promise businesses everything they are looking for in the era of digital transformation - faster development, lower cost, smarter integrations, and obviously low to no coding.
They swear to turn even citizen employees into developers. With simple drag and drop, they let anyone build complex and critical applications in days.
True, driving business innovation was never this easy.
No wonder, the low-code market is expected to explode and touch the $27 billion mark in 2022. However, like any other market, the growth of low-code development's popularity led to a rise in the number of low-code platforms. This, in turn, created a conundrum for enterprises and other businesses planning to opt for low-code application development.
Which low-code development platform to choose to build their app?
That's where this write-up will help.
Here, we will help you choose the perfect low-code application development platform. You can read about some popular low-code platforms and also some quick tips to choose the right one.
Best Low-Code Platforms
With so many platforms promoting themselves as the best low-code development platform, it is imperative that you find out the one that is right for you.
Let's throw some light on the top low-code platforms that are trending in the digital ecosystem right now. The platforms listed below are chosen based on their offerings, price, and the features that they have when building applications for innovative business growth, streamlining internal workflows, and even enhancing customer experience. Let's have a quick look.
1. Outsystems
Outsystems is one of the most popular low-code platforms that promise to let businesses build any critical enterprise-grade applications right and fast. The platform is an infusion of model-driven development with cloud, AI, and DevOps. Businesses of any scale can build modern cloud applications fast. Whether you want to improve customer experience, automate processes, modernize applications, innovate workplaces, or anything else, Outsystems has a template to build that.
Here are some of the amazing features that one can enjoy with Outsystems:
Offers unlimited expressiveness to craft differentiated experiences
Ability to build an application once and get it to work anywhere
Comes with smart capabilities like speech-to-text, sentiment analysis, and other AI connectors
Ease in the complex back-end, APIs, and data integrations
Over 400 pre-built connectors with drag-and-drop functionality
Price: Free plan, Basic for $4,000/month, Standard for $10,000/month, and custom quote for Enterprise plan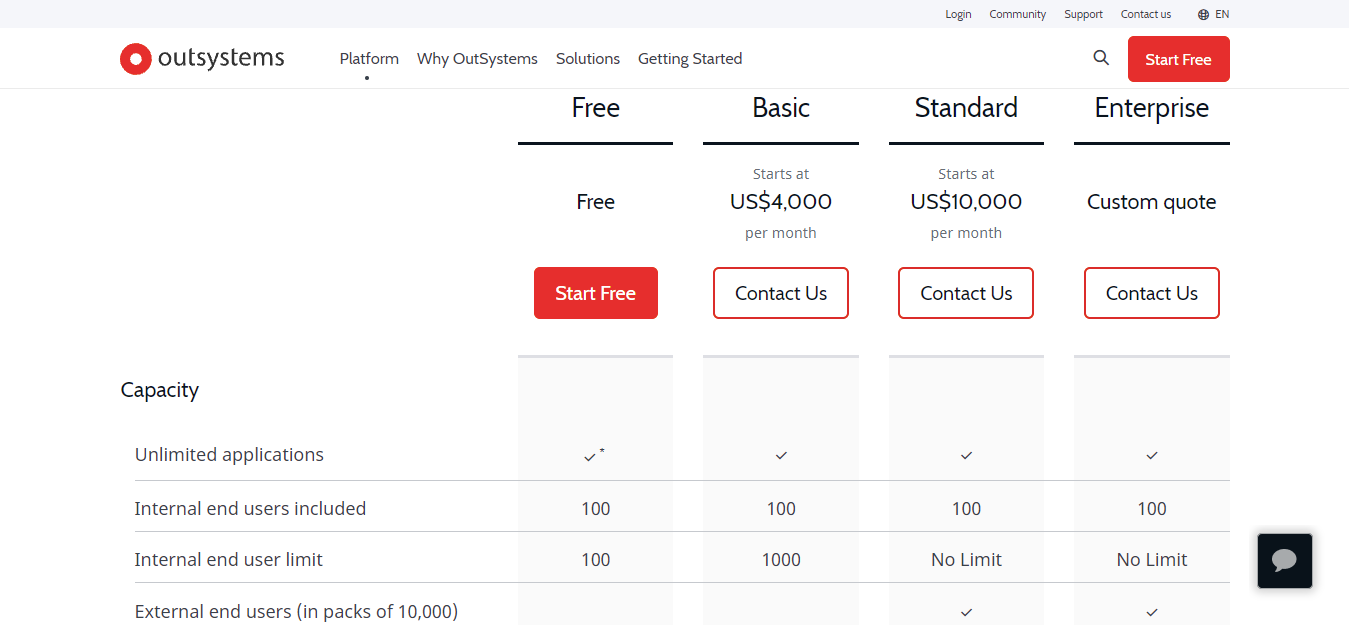 2. Mendix
This platform enables anyone to build anything from enterprise-grade applications for hundreds of people to smaller tools for individuals or small teams. Mendix has received recognition as 2021 Gartner® Magic Quadrant™ for Enterprise Low-Code Application Platforms. Claiming to be the leader in low-code, Mendix allows you to build applications and deploy on private cloud, public cloud, or even on-premise.
Some of the cool facilities that you get with the Mendix low-code platform are:
Price: Free community version, basic starting at $58/5 user/month, Standard at $925/month, and custom quote for Premium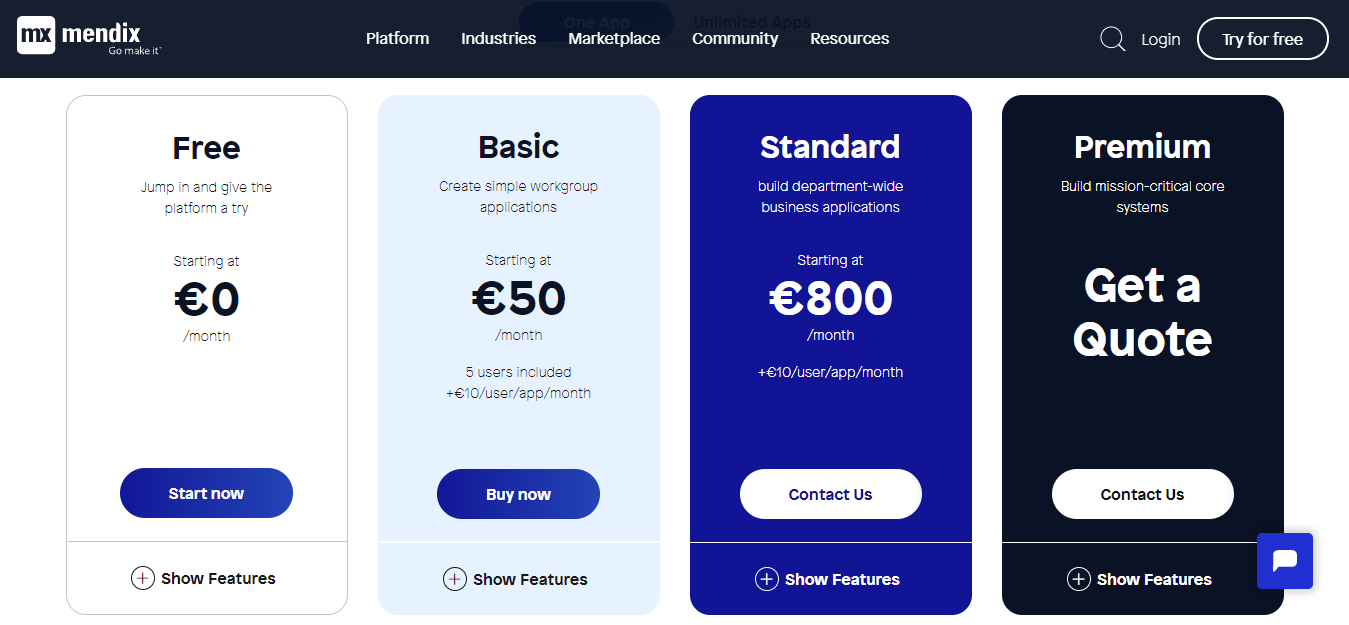 3. Appian
Promising to deliver powerful applications, Appian is one of the most popular low-code platforms that enable businesses to build and launch faster. What makes Appian stand out from other low-code development platforms is its smart and intelligent automation capabilities. By building applications on this platform, one can enjoy endless smart solutions like business enhancements, efficient workflows, increased customer engagement, and more.
Features that make Appian a popular low-code development platform are:
Integrating and migrating data sources made easier
Build cool user interfaces
Integrate everything into single workflows
Consistent multi-experience development across different touchpoints
Eliminates the need for data migration by allowing data integration
Price: Free community trial, Standard $70/user/month, Infrequent at $9/user/month, input-only at $2/user/month, and platform and unlimited at custom quote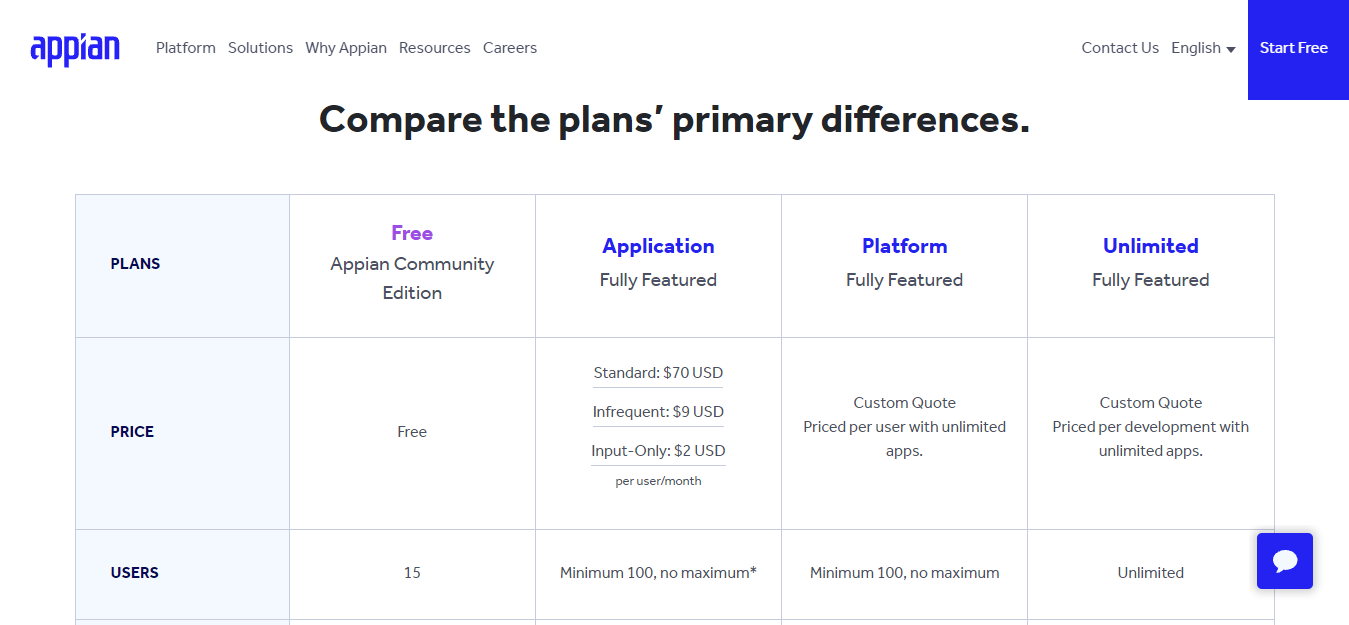 4. Creatio
With the tagline that says 'Everyone can automate business ideas in minutes', Creatio promises to enable anyone to build an application in a jiffy. The platform comes with out-of-the-box templates and solutions that enable anyone to build an application in days not months.
Some of the features that make Creatio stand out are:
Artificial Intelligence and Machine Learning tools to make data-based decisions and ensure faster development
Visual modeling tools to build an awesome UI
App Wizard that enables you to build any type of applications
Out-of-the-box functionalities that do not require you to build from scratch
Drag and drop features for ease of use
Multi-device compatibility allows you to build apps for any platform or device
Price: Enterprise Edition for $25/user/month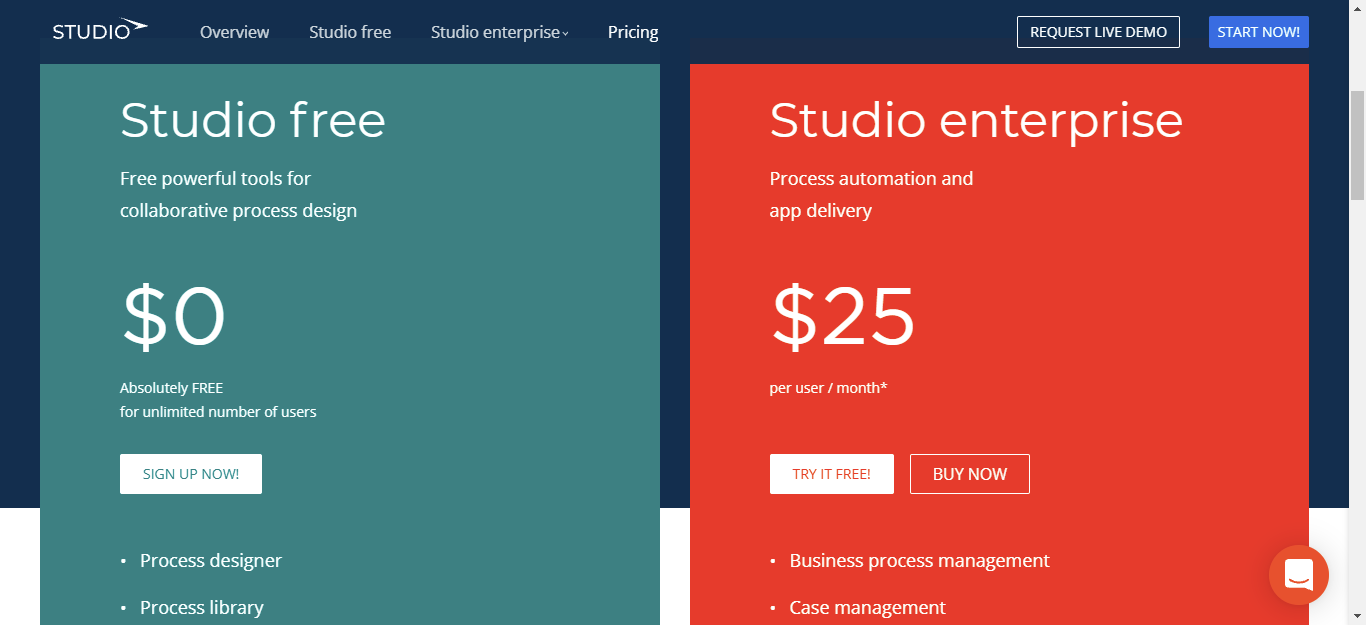 5. Kissflow
Another popular platform that enables enterprises to build applications fast is Kissflow. This platform promises to reduce chaos while automating application development. It promises to provide you with the simplicity of no-code development while building using low-code. The platform will allow you to build custom applications without the need for custom coding. It
Some of the features that make Kissflow so popular are:
Uncomplicated and simple interface to build
Ease to link and integrate with APIs and other tools
Pre-built templates that eliminate any need for coding
Build customized pages, landing pages, using forms, widgets, and more
Ease in releasing new features and enhancing its capabilities
Seamless integration with popular ERPs, CRMs, and more
Price: Standard edition at $3,000/month with a free trial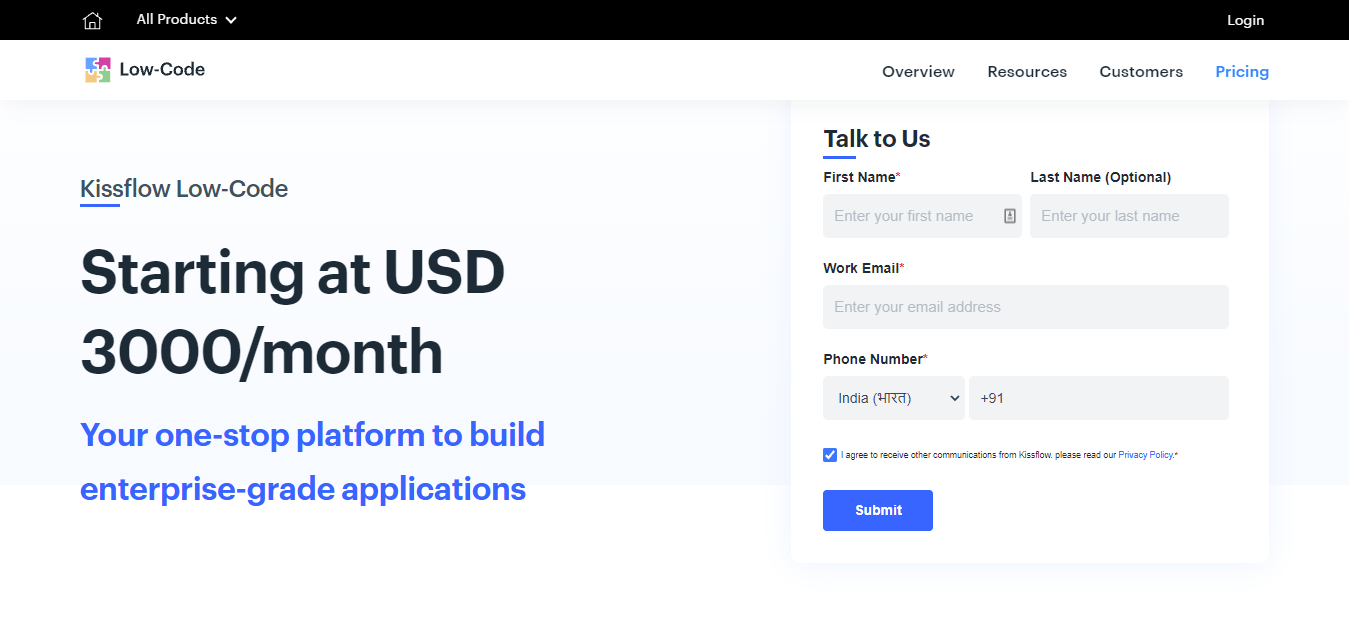 Tips To Choose The Right Low Code Platform
When it comes to building an app using low-code, the platform you choose to build it on plays a crucial role. However, as this is a recently popularized approach to building applications and products, not many are sure as to which platform they should choose.
Below, we have listed down some quick and effective tips that will help you choose the right low-code platform for your application development.
Expect Developers' Involvement

Many organizations feel that just because they are building an application on a low-code platform, they won't be needing any IT help or support. However, this is not the case. There will be IT involvement even when building low-code applications. And organizations must be ready for it.

There is a larger infrastructure that the apps need to function in. The app that even the citizen employees create on a low-code platform requires integration with the enterprise IT systems. The app would even require to ensure compliance with the system. That is where the IT department comes in.

Moreover, there can be some low-code challenges, code customization requirements, and other things that a non-IT person would find hard to solve. IT involvement can ease the process and make it quicker.

Know The People To Work With

One of the most important things to know when working with low-code platforms is to know who will work on it. Although low-code platforms market themselves as tools that enable anyone to build an app, it does require designated individuals to design, develop, and maintain it.

These tools require certain coding experience, hence, you need to choose someone with a little bit of experience with coding.

Make sure that the people that you choose to build the application have the time and experience to ensure its ongoing maintenance.

Evaluate Multiple Use Cases

Low-code applications work well for a variety of use cases. That's why it is always important to identify and evaluate the use cases for the application before selecting a platform. One can have different requirements from the applications like enhanced workflows, data integration, or simply a better user experience. Keeping all these use cases in mind can help in shortlisting the right low-code platform.

Before choosing a platform, make sure that you have analyzed all the use cases the platform can be used for. Make sure that you do not select a platform based on one use case only. Evaluate for multiple use cases and select the one that offers maximum functionalities.

Prioritize Integrations

As mentioned above, low-code development will require some kind of integration with enterprise IT systems, cloud, APIs, and other databases. Depending on the requirements, there can be low-code applications that might require complex and hefty integrations along with continuous maintenance. You wouldn't want that.

It is important to analyze all the required integrations and prioritize them accordingly. Make sure to select the platforms based on the integrations that you have prioritized. This will make things a lot easier when you plan to integrate them with your enterprise system.
Closing Lines
Today, a number of startups, SMBs, and enterprises are relying on low-code platforms to build their internal, consumer-grade, and legacy applications. These platforms eliminate the need for IT vendors or service providers. One does not need any coding experience to build applications now. Anyone can build an enterprise-grade application rapidly with such platforms.
However, maintaining the low-code applications, ensuring integration with larger enterprise IT infrastructure requires expert assistance. This is where we come to help.
At Classic Informatics, we offer complete assistance with low-code application development. Right from strategy and architecture to platform selection, implementation, management, PoC development, and more, we do it all for you.