"SOCIAL DISTANCING " is the message widespread these days around the globe due to COVID-19 outbreak.
The COVID-19 pandemic is rapidly putting startups in a critical situation. Thinking about the present and the coming future scenario, Startups are also worrying about the rising economic uncertainty and losses that come with a pandemic.
The United Nations has alerted that the COVID-19 outbreak could cost the global economy $1 trillion this year alone, and top IT firms are advising new-aged startup founders about bracing ourselves for turbulence.
Yes, we can argue that there are always few companies who gained profit during the crisis, but we cannot deny the fact that there are many companies especially startups who faced challenges like downfall in business activity and disruptions with supply chains.
According to the World Travel and Tourism report, the COVID-19 pandemic could cut 50 million jobs globally in the travel and tourism industry.
Not only the tourism, food chains and hospitality industry are also hitting hard due to the pandemic and lockdown.
53.8% of employees at the big U.S tech firms are concerned about job security. The whole world's economy is shattering and facing hard times.
Key Takeaway
Investors are advising startup founders to have a close look at sales forecasts, hiring plans, and expenses and considering all other assumptions about their business.
The turmoil can also provide opportunities, as changing markets and circumstances create new challenges to solve and opportunities for startups to grow their business.
Difficult times come up with the true challenges and bring out the true character of the company leaders.
Make the best use of digital tools and platforms to communicate with teams for the smooth functioning of business processes.
Place your customers always at priority.
How Government is supporting Startups during Economic Uncertainty Worldwide?
See how the government of the countries all over the world are granting startups cash benefits amid pandemic.
Entrepreneurs in Australia are provided with cash grants up to $25,000 in addition to other tax breaks.

The Small Business Association (SBA) in the US declared "disaster assistance loans" for up to $2 million for small businesses affected by COVID-19. In addition to this, an express loan program for exporters whose overseas sales are badly affected during the pandemic.

Italy, the most affected city in Europe due to COVID-19, announced a €25 billion relief packages for small businesses, including tax credits up to €20,000 yearly. Also, France government announced a €4b cash injection for startups.
How Private companies are supporting Startups during a pandemic?
See how private companies all over the world are granting startups cash benefits amid pandemic.
Tech Giant Facebook announced $100 million in cash grants and advertising credits for up to 30,000 small businesses in 30 countries in which the company operates.

Kabbage, an online lender, developed an online platform where customers can visit and buy gift certificates for small businesses to redeem after the crisis subsides. The drowning businesses can immediately receive the cash that helps them to stay afloat.

Citibank has abandoned fees and penalties for small businesses affected by the COVID-19 outbreak.
Tips to lead your Startup during a pandemic
Here are some tips startups can implement during a pandemic:
Abandon budget accountability and forecasting
No forecasting of business costing or project schedules should be done during the crisis. Don't question any individual or teams responsible for existing budget and projects schedules.
Think survival, not strategy
This is not the right time for preparing long time plans related to budgets and project deadlines. Strategy will be framed by keeping in mind that whatever is necessary to keep the company afloat until the crisis fades.
Keep your eyes on the result
As your ability to strategize will be limited, but still you can aim at some general goals beyond survival.
The Lehman Brothers also collapse due to 3 disruptive crisis: 1st is breakdown of dot.com, 2nd is 9-11 attack and 3rd is a global financial downfall.
Due to these crises, the startups faced a big fall in the infrastructure, bank balances, workforce, and even market reputation.
Prepare for the Frontline war
Currently, the startups are facing two crises at once: the business downfall leading to disruption in all business operations and the widespread of a pandemic. This time is more important to look after the health of the business as well as the employees.
Put customers first
Your people's health takes precedence over the health of the business. It's time to think about their customers first. You can't put people's lives on the verge of the company.
Make two separate teams for handling crisis
Startups should develop two separate teams, one dealing with everyone's health, others responsible for positioning and delivering the right resources to continuing customers.
Communicate on daily basis
During the crisis, the teams should communicate with greater frequency than the frequency of changing conditions. Daily meetings and seamless communication will make the situation a bit easier for everyone to resist.
Communicate comprehensively and widely
Every stakeholder, whether an employee or a supplier should communicate in a comprehensive and wide manner and needs to understand what's being done to preserve the company and how efforts to do so may impact them.
Key Risks For Startups in Economic Crisis
The present economic crisis due to pandemic is going to affect all companies-MNCs, medium-sized organizations, small-sized businesses, and startups in the coming time. Moreover, the COVID-19 outbreak might get even worse and result in economic collapse.
Startups should be ready to handle the following risks:
Downfall in business productivity
COVID-19 pandemic triggers the economic crisis in businesses around the world. It will have a great impact on startups, decreasing business productivity as well as workforce productivity. Numerous sick leaves, global panic might affect our business operations.

Problems with Investments during the crisis
You should have an amazing product idea and a well-thought business plan to run a successful startup. For this, you need to pitch the investor for funds. But in the crisis, it will be quite challenging for the startup entrepreneurs to get any investment. Danny Crichton from TechCrunch advised startup owners to review and optimize their expenses as it has become difficult to get Venture Capital.
Disruptions in Supply Chain Management
COVID-19 badly affects the supply chain management across various industries- manufacturing, software development bears substantial financial losses. Suppose, if your startup delivers software services in manufacturing industry, then the crisis might lead to shortages of material, delays in order, and changes in product quality.
What Startups Founders saying during COVID Crisis?
As China is returning to normalcy and business as usual, the Chinese entrepreneurs can serve as a reference point for Indian startups to in what direction they should move ahead during crisis.
Andi Chen, co-founder of Chinese startup Whale dealing in software and tech solutions said, "Things are back to normal now, but for the last two months, we spoke to clients, gathered data on a regular basis, and organised brainstorming sessions internally, for the management and product teams on how to operate during this period".
Helene Melby Brodersen, Eco Online Head of PR, Brand & Communication, says that, "The crisis of the pandemic of COVID-19 has changed many rules on health, environmental and safety issues. For companies to be on top of the situation, they need to change their processes to adjust to the new rules."
The steps they took to handle the business during crisis was to hiring the best talent, reinforcing objectives and targets internally, and lastly not changing overall sales predictions despite the virus.
Dev Khare, partner at Lightspeed India Partners Advisors said," This is a good time to examine the quality of revenue and quality of growth in companies. Invest in product quality and intellectual property".
Solutions For Startups To Survive In Economic Crisis?
The below five steps are to be considered by Startups to address pain points during the global economic crisis.
Set Up Online Conferences
Due to mandatory work from home policy, businesses are now looking for more opportunities to set up for online conferences when there are in-house team discussions and for client calls. Zoom meetings, Slack are some video conferencing tools to assist you with this task. Online conferences help startups to bring all the people into discussion when it is vital during the crisis.
Search for the alternative Payment Methods
Food delivery startups in the US started a trend and implemented a contactless 'pickup' delivery. Other food chains like Starbucks, McDonald's and others followed the same.
Logistics problems caused by COVID-19
Many companies witnessed challenges with the supply chain management. US-based startup Austin introduced a smart solution for the better supply chain management. It enables clients to track the product status with an opportunity to automate non-compliance conditions. Austine raises $17 million of investments in 2020 due to this advancement.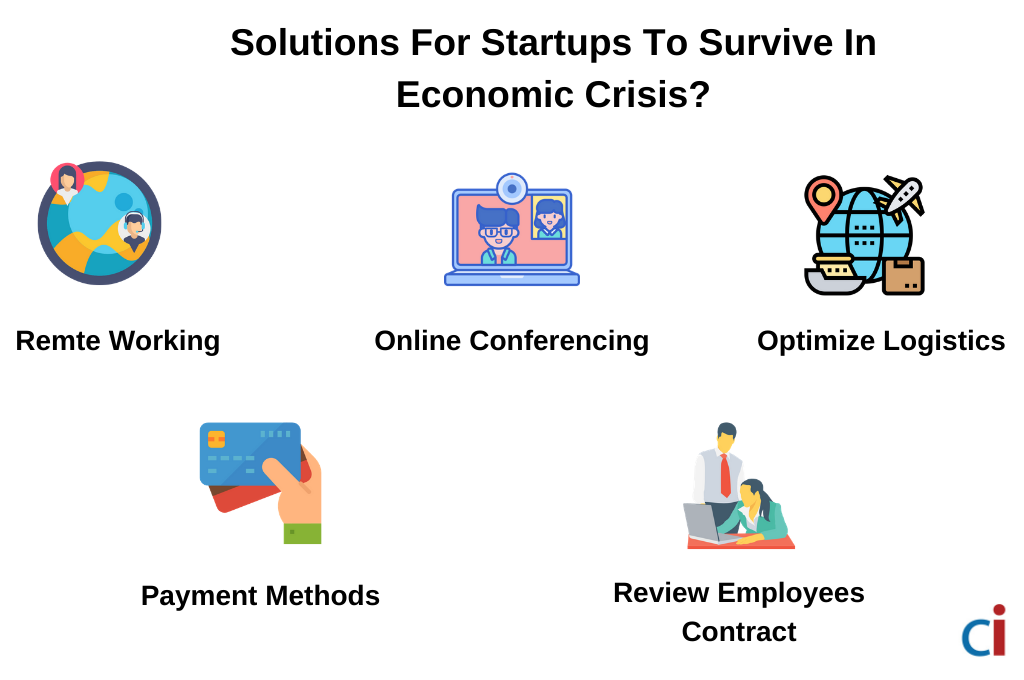 Encourage Remote working
To prevent widespread of virus and implement social distancing all companies around the world like Microsoft, Google, and others have issued mandatory work from home policy for all the employees. They are now shifted to remote working.
Review an Employment Contract
Paid sick leaves, spent days on quarantine must be included in the employment contract. This will develop loyalty and trust among workers and employees towards their organization.
Winding Up
We should expect that the COVID-19 crisis will change our business and society in the coming future. For startups, it time to be courageous and have patience in managing your business operations and costs amid pandemic. Make the best use of digital tools and serve your clients with the best services and also keeping your team's safety in mind. Now, you're well equipped with the risks and their solutions for startups. Develop a plan in accordance with this and also undertake precautionary measures to mitigate risks.
At Classic Informatics, we cater startups with the best software products that help them to run their business operation smoothly even in the economic crisis.