For all those who are planning to outsource, we have put together an Outsourcing Costs Guide. This is an all-encompassing guide that will tell you everything you need to know about your costs, calculations, savings, and tips to save more for a successful outsourcing relationship.
There are plenty of ways to protect the Intellectual Property for the outsourced development work!
Introduction
Information Technology outsourcing accounts for 72.3% of the technology outsourcing spendings (USD 88.9 billion) in 2017, according to recent reports from Statista.
Outsourcing is an imperative part of the global world. It is viable and often a necessary option for businesses looking to expand their product-range or services. However, this option comes with a caveat if not handled properly— the potential risk to your Intellectual Property (IP).
Since the developed application is your property, it becomes necessary to take some steps to ensure the property remains under your ownership. Irrespective of whether your company is a startup or up-and-running company it is advised to seriously consider IP protection. Your outsourcing contracts must include clauses and thoughts that help you to protect your IP.
While most of the IP protection processes are time consuming and expensive, it may prove worthwhile step at a later stage. IP are assets and have significant value and must be protected; here are some tips and steps that would provide some inputs to keep your IP rights intact.
IP Rights and Outsourcing
There are many reasons for outsourcing technology work like web development services, the following are some of them:
Cost reduction by outsourcing from low-cost location

Tax and business benefits for doing business in some countries

Effective tapping of specific skills and striking the balance between knowledge, skill and labor costs.

Opening up newer markets by expanding presence into newer locations

Mitigation of certain work and business-related risks such as HR delays, attrition, and scalability.

Balancing the existing budgets by making available the cost-reduction related savings for more important business purposes.

Easier scaling up or down by hiring companies that have the capability to add resources easily.
Outsourcing technology work such as mobile app development has its own issues and risks such as cultural differences. language problems, possible communication gaps, potential unpredictability and potential loss of intellectual assets; these need the attention and care by you for the outsourcing to be effective and successful.
Although all of these problems can be addressed and impact minimized, particular attention must be paid to the intellectual assets. As a business looking forward to IT outsourcing services such as software or web development services, you should have some processes that define and sustain the IP rights.
As a part of work, you may need to share a lot of details related to technology, applications, and processes. Many aspects could go into the formation of the contract details. Although certain details may be kept confidential from your side it would still become necessary to share not only the details but also the resources. So unless explicit statements are included in the agreements, there is a potential for IP to be used in an unwanted way; this is especially important as outsourcing contracts often limited in time. This brings into question the need, necessity and modus operandi to be followed in the protection of IP rights.
Protecting IP in Outsourced Development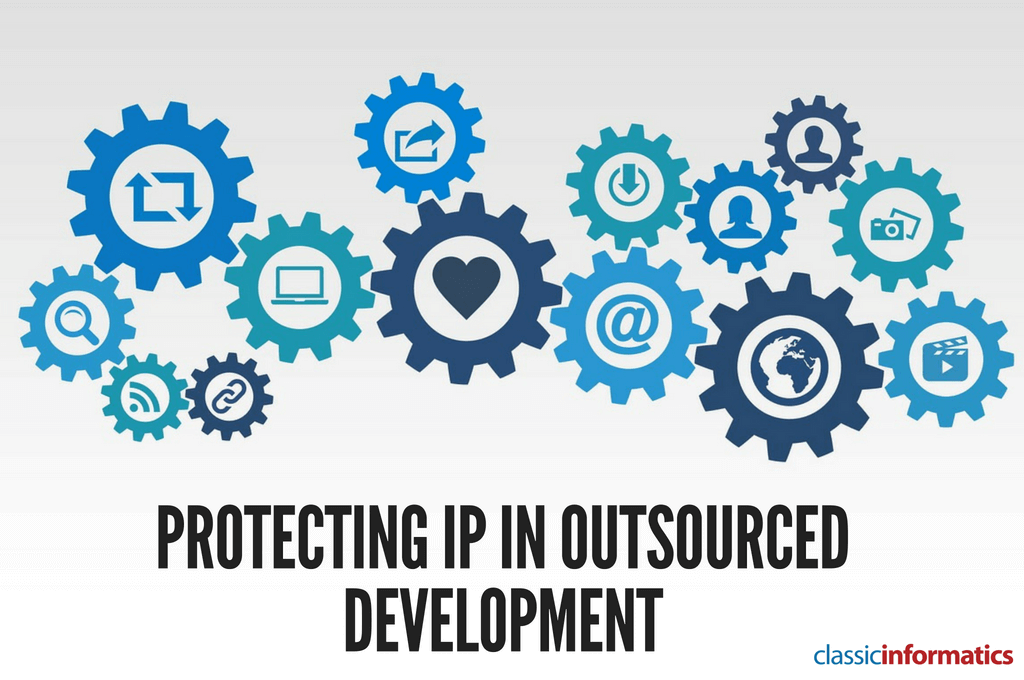 There are some points to be considered related to IP protection while opting for outsourced development:
1. Planning Stage
Details of the contract must be defined in terms of the outsourcing process, outsourced material and concept of ownership at the planning stage of the outsourcing contract (before the contractors are identified). The planning process should reveal all details about IP rights and the implementation of policies to be followed, including mitigation and remedial steps.
2. Right Choice of Partner
It is important that the partner chosen for the outsourcing contract has the technical capabilities for delivery and fulfillment; so this means that the partner must have people with the required skills and has competencies to take care of the work. It is also important that the partner is inclined favorably towards IP rights protection applicable to you.
3. Comprehensive Contract Details
The contract details must be formed, understood and signed with full cognizance of work details, the list of parts and products, and delivery as well as the IP rights, limitations, actions, and remedies. The contract must have exclusive details related to all important work aspects and IP rights.
4. Legal Framework
This must include all courses and alternative details related to the legal protection of IP rights. Starting from license terms, NDA, Limits and restriction of information share outside of the two stakeholders, the legal framework adopted must include courses of actions in case any of these are violated. This must lead to inclusion of guidelines in the contract provisions related to policies and remedial actions in the case of overstepping.
5. NDA and NCA
Non-Disclosure Agreement is a legal provision that restricts the agreeing side from sharing the details related to work including the documentation. Similarly, Non-Compete Agreement provides for a legal restraint on the partner from using the IP of you for competitive purposes.
6. Due Diligence
This legally indicates the care that must be exercised by your partner in safeguarding the IP interests of you. This requires you to bind the partner by this legal means. This may require from your side to know more details about the partner work environment that can provide insights into their security and safety practices.
It is important from your side to have strong intention and interest towards your IP, backed by actions to ensure that the outsourcing agreement results in a technically fruitful and legally viable partnership.
Legal Means and Methods to Protect IP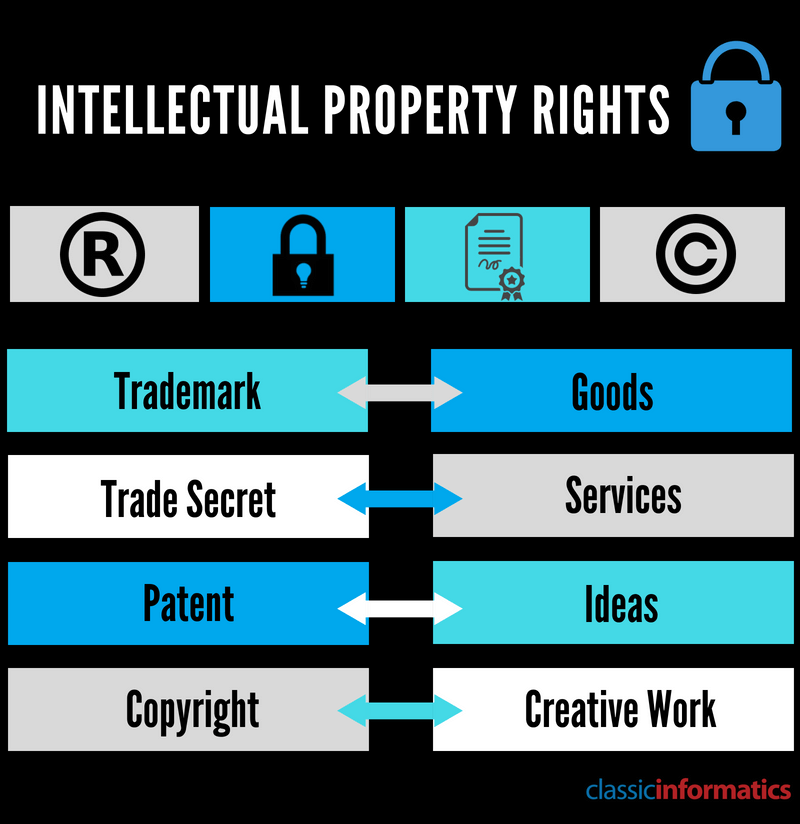 There are many legal means and methods to secure the IP rights some of which are discussed below:
1. Copyright
This is a legal power applied to a collection of creative works. This legal power enables you to reproduce, distribute or extend the works in public or private. This also vests authority in you to extend the copyright to others either for individual work or collective work. Generally, this applies to a set of documents, or creative arts or other types of IP.
Copyright for any collection can be registered with the local copyright authorities; it takes 2 to 3 months for the process and copyright valid for the age of the author (of collections) and additional seventy years; however, it is worthwhile keeping an eye on the law if any amendments could lead to modification of the terms of copyright.
2. Trademark
Trademark is a legal recognition of a brand name via symbols, marks, emblems or logos.
Typically this applies to goods and the related uniqueness but can be extended to software as well. This can be registered with Trademark authorities, it could take up to six months to process and is valid for a period of ten years after which it must be renewed.
Trademark cannot be applied to other IP such as documents or technologies or Ideas.
3. Trade Secret
A trade secret is a law that is applicable for IP in the form of formulas, designs, processes, compilation, programs, and other intangible assets. The objective of this is to protect the owner of the IP from competitive prying and stealing.
The law protects the owner against unauthorized commercial of the trade secret and helping to maintain the trade secret. However, the trade secret is recognized by law as a secret as long as the owner maintains it.
Trade secret works complementary to the patent protection.
4. Patent
Any innovation of a new product or formulation or technology can be applied for a patent, which gives exclusive rights to the owner on whom the patent is approved.
The patent application process may sometimes take as long as few years and each patent protection is valid for 17 to 20 years. Certain types of software and information technology would come under the purview of patents.
Above four provide legal means to apply restrictions and seek remedial measures in the case of violations for your technology and software.
IP Strategy
IP has become an important business aspect for many companies, particularly technology like application software and web development company.
IP protection is important for business sustenance so the IP strategy must be aligned with the business strategy. While the complete life cycle of the IP may govern many factors related to this strategy, for our context this is important from the outsourcing contractor point of view.
IP strategy development must include the way IP is handled throughout its various stages in order to ensure that the exclusivity and the uniqueness is maintained. In the continuum, it is also prudent to review the IP strategy in due course of time and conduct regular IP audits.
Checklist
Here is a short checklist in case app, web or software development outsourcing is about to become a reality for your business:
Identify the work, technology shared, outputs in the form of documents, software and applications from IP and its protection point of view.
Choose contractors who have the capability and scalability and also are willing to align with your IP strategy.
Formulate and sign the contract terms that cover various aspects of the business including IP rights.
Conduct periodic IP audits and IP reviews that would include the purview of outsourced technology work.
Review the available legal framework for any new provisions or amendments and align IP strategy accordingly.
Conclusion
Intellectual property belongs to your company and you are entitled to derive value out of this. One of the risk factors in outsourcing the technology work is a potential loss of IP. In effect, you could and must take numerous steps to ensure your IP remains with you.