For all those who are planning to outsource, we have put together an Outsourcing Costs Guide. This is an all-encompassing guide that will tell you everything you need to know about your costs, calculations, savings, and tips to save more for a successful outsourcing relationship. You can also Download Outsourcing Costs Guide and read it on the go!
If you are considering outsourcing a project to an offshore team for the very first time, you might be nervous – and that's normal. There's a lot that goes into a successfully outsourced project.
You need to select the right team, ensure safety of your intellectual property, check the timezone difference, and many other things before outsourcing to India or any other country.
With more than 18 years of experience in managing outsourced development projects, we have seen our share of successes. After more than 2000 projects delivered, we put together this handy guide to help you navigate IT outsourcing for the very first time.
If you are also planning to outsource software development to India, this guide can be very helpful.
Why Outsource? What Can Be Outsourced?
Outsourcing has become an increasingly popular solution for businesses throughout the world. There are many advantages of outsourcing to India and businesses are certainly ready to leverage them. Some of the most common reasons a business may choose to outsource software development include:
Reduce time to complete a project
Gain access to additional talent
Free internal resources for other purposes
A shift in company focus or objectives
Decrease and control operating costs
And it may come as no surprise that IT related projects, such as app and web design, top the list of jobs frequently outsourced to offshore development teams.
That trend is expected to continue into the foreseeable future.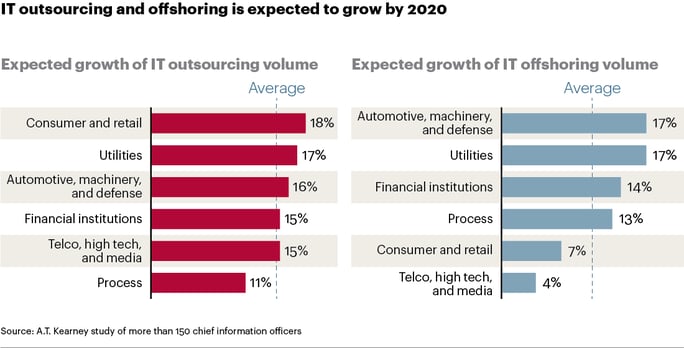 Source - A.T. Kearney
For several years now, India has been rated as the top choice for offshore development. That is largely due to its relatively large access to talent combined with fairly low costs.
Although just about every type of job can be outsourced to an offshore team, there are also challenges that must be addressed.
5 Keys to Successful Outsourcing
Before selecting a software and web development outsourcing services provider to handle your next project, give consideration to the following five keys to success.
(1) Choose the Right Partner – It is vital that you select an outsourcing company that has the skills and experience your project requires. A prospective partner should be able to show you similar examples of successfully completed projects, and identify an acceptable solution based on your needs.
(2) Consider Their Methodology – There are a number of different methodologies – or approaches – used to complete development projects. Two popular choices are Agile and Waterfall. Give consideration to the methodology this prospective partner intends to use. Does it line up with your expectations?
(3) Choose the Right Platform – Consider the technological platforms used by the partner you are considering. For instance, if you need a mobile commerce application developed, does this team use Magento? Or are they utilizing another platform or framework you aren't familiar with?
(4) Set Clear Expectations – Take nothing for granted, and do not be afraid to reiterate your expectations. What you want from this project, and its necessary deadlines, must be clearly communicated in no uncertain terms. Mention everything in the outsourcing contract you form so that there is no room for any unsaid assumptions.
(5) Analyze the Value Proposition – Value, by definition, is the relationship between cost and quality. Keep the bigger picture in mind. You need to choose a partner that is able to able to deliver the quality you need, without exceeding your budget – and vice versa.
5 Keys to Managing an Offshore Team
Based on our vast experience, there are five keys you will need to successfully manage the offshore team you choose to partner with:
(1) Effective sprint planning – The phases of your agile development project will be broken down into individual 'sprints'. It is crucial that you are actively involved in planning each sprint and that you keep the objectives of each phase of development crystal clear.
(2) Project management tool – No matter whether you choose Basecamp or another project management platform, you will need a remote working tool to effectively share resources, plan diligently, and communicate with your team sitting across the globe.
(3) Meet regularly – Schedule meetings with your offshore team regularly – both daily and weekly. It is also advised to have your on-site team regularly work with your offshore team, ensuring involvement in day-to-day processes.
(4) Develop leaders – Your role in outsourcing web or mobile app development, or any other project, will become substantially easier if you are able to establish effective leaders on your offshore team. Identify talent early, and delegate responsibilities as appropriate.
(5) Detailed reporting – Each phase of software development needs to be carefully measured, tracked, and reported. Implement procedures for regular reporting, and ensure to carefully review reports as they emerge.
Everything Must Be Tracked!
The success of your outsourced project will depend heavily upon these three factors:
Planning

Execution

Conversion
Each of these factors needs to be measured, tracked, and reported as outlined above.
Planning at the onset is crucial to set pace and establish a roadmap for success.
Execution is not just about day-to-day tasks, but also forecasting for necessary contingencies when challenges arise.
Conversion is how you determine your true ROI. As phases – or sprints – are completed, analysis needs to occur to ensure your project is on track. This needs to measure both the investment of time and money.
Conclusion
Outsourcing is the way of the future. If this is your first time selecting an offshore partner, follow the keys to successful outsourcing and offshore management outlined in this guide.
Yes, outsourcing a project can be a daunting task – but it can also make very efficient use of resources and result in a dramatic increase in ROI.
Question of the Day – If you are considering a project to outsource, what is it? What is your biggest concern right now?