For all those who are planning to outsource, we have put together an Outsourcing Costs Guide. This is an all-encompassing guide that will tell you everything you need to know about your costs, calculations, savings, and tips to save more for a successful outsourcing relationship.
Not having the right outsourcing contract can cost your company fortune!
Don't believe us?
Here is an incident that might change your belief:
In the 1980s, a petroleum company outsourced all of its information system functions. When the invoice arrived after just a month of service, it had $500,000 extra than the fee agreed upon. This was a whopping 50% more than the actual cost! This happened because the managers at the company had 'ASSUMED' that the services would be covered in the outsourcing contract they signed. However, it was not documented there. The outsourcing vendor was legally authorized to extort the extra sum as the services acted as above the baseline and were bound to act as additional charges!
Now that we have your undivided attention, let's dive into the main questions around outsourcing contracts. These are:
What is an outsourcing contract?

Why do I need an outsourcing project contract?

What are the different outsourcing contracts?

What are the main components of the outsourcing contract?

What is an ideal outsourcing contract format
What Is An Outsourcing Contract?
If you are new to outsourcing and are planning to outsource IT services to India, China, Ukraine, or any other country, this question is bound to enter your mind. Let's decode what outsourcing contracts are.
In the simplest terms, outsourcing contracts are nothing but legal documents that contain every single detail of what you are expecting from the outsourcing company. Not just the work, it also contains information and details regarding the quality parameters, timelines, pricing, rewards, etc., of the outsourcing arrangement that the two parties are getting into.
Types of Outsourcing Contracts
Once you know what an outsourcing contract is and why you need it for your next outsourcing venture, it is now time that you understand the different types of outsourcing contracts that are prevalent in the market and which one would be suitable for you. Without further ado, let's start reading about the different types of outsourcing contracts:
Time & Material Outsourcing Contract
Let's start with one of the most popular and the oldest outsourcing models- the time & material outsourcing model. This model is used when the software development project is a long-term one and an estimate of the time required or costs cannot be made in advance. No prior estimation of the outsourcing cost can be made in this type of outsourcing contract and model and it works on the basis of the IT services or product required and the time taken to complete it. This is one of the popular types of outsourcing contract that adds to the flexibility and makes it seamless to complete projects that require long time. The time & material contract ends only when the requirements of the client are fulfilled as the final delivery.
When Should You Form Time & Material Outsourcing Contract?
When flexibility is the core requirement of the project

When defining the scope of the project is not possible

due to

its complex & raw concept

When emerging technologies

are required

for your project's completion

When the idea is too innovative to make advance estimations

When you still want control over your project while having an external team work on it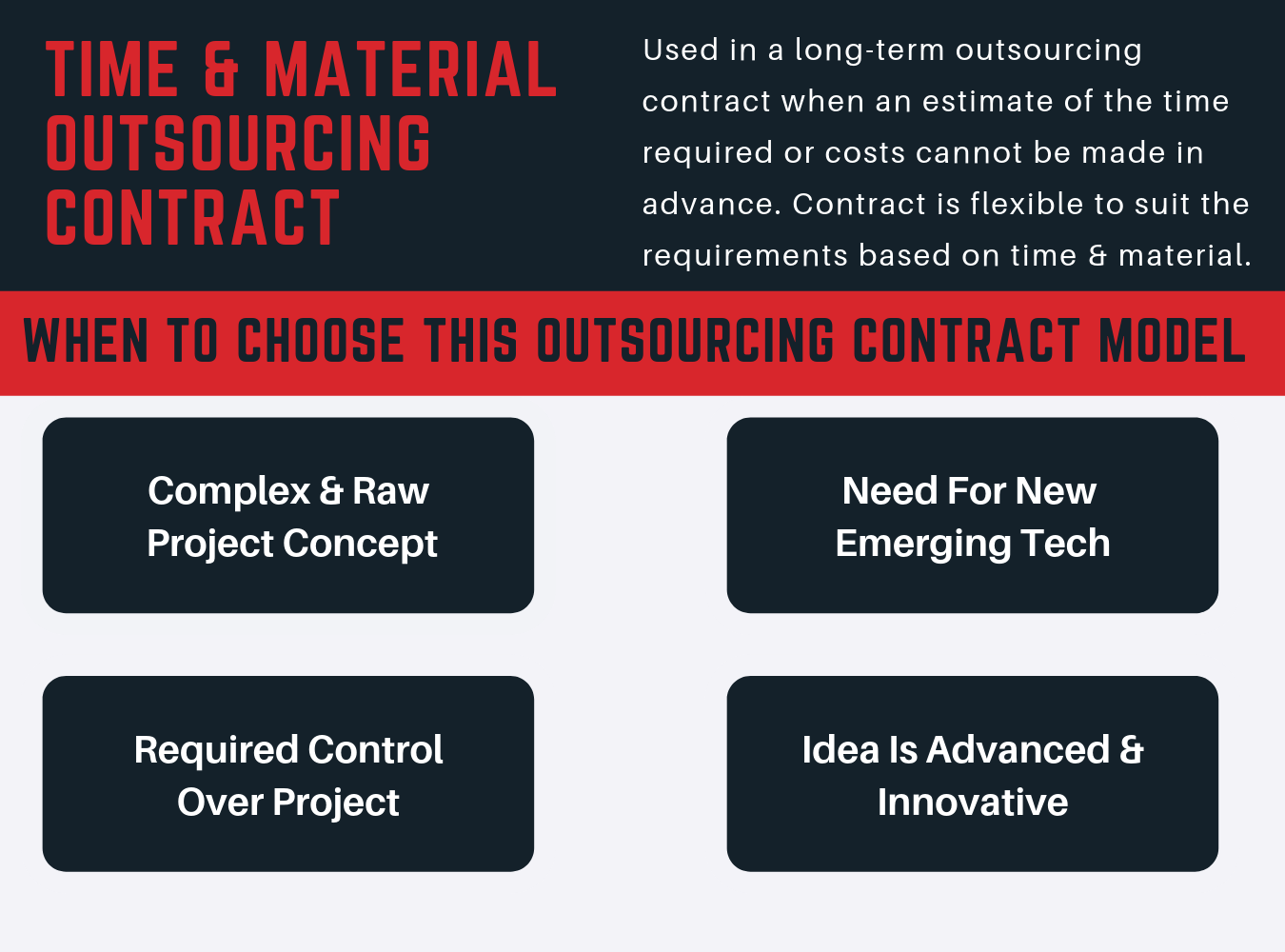 Fixed Price/Managed Project Outsourcing Contracts
Another popular outsourcing agreement form is the fixed price outsourcing contract. In this form, the company outsourcing IT services to India or any other country creates a Request For Proposal or RFP and the outsourcing company places a bid on the same.

It is like a managed project and your requirements are clearly mentioned beforehand in the RFP along with the estimated costs. As the name suggests, it has a fixed cost that is to be paid for a particular type of service taken. The fixed cost outsourcing contract minimizes flexibility or your involvement in the project scope. This is one of the most commonly used types of outsourcing contract majorly used for IT outsourcing services.
The outsourcing company usually has a project manager who takes care of the project and ensures that the product is delivered within the committed time and the cost decided upon. The only requirement in such projects is that you should have a clear view of what you want from the project and mention it clearly beforehand.
When Should You Form a Fixed Price Outsourcing Contract?
When you know exactly what you require and are able to describe it to the outsourcing company as well

When the project work requires a smaller time-frame to complete

When you know that the project is simple and not many changes would be required once it is completed

When you are not worried about handling control of with the managed project approach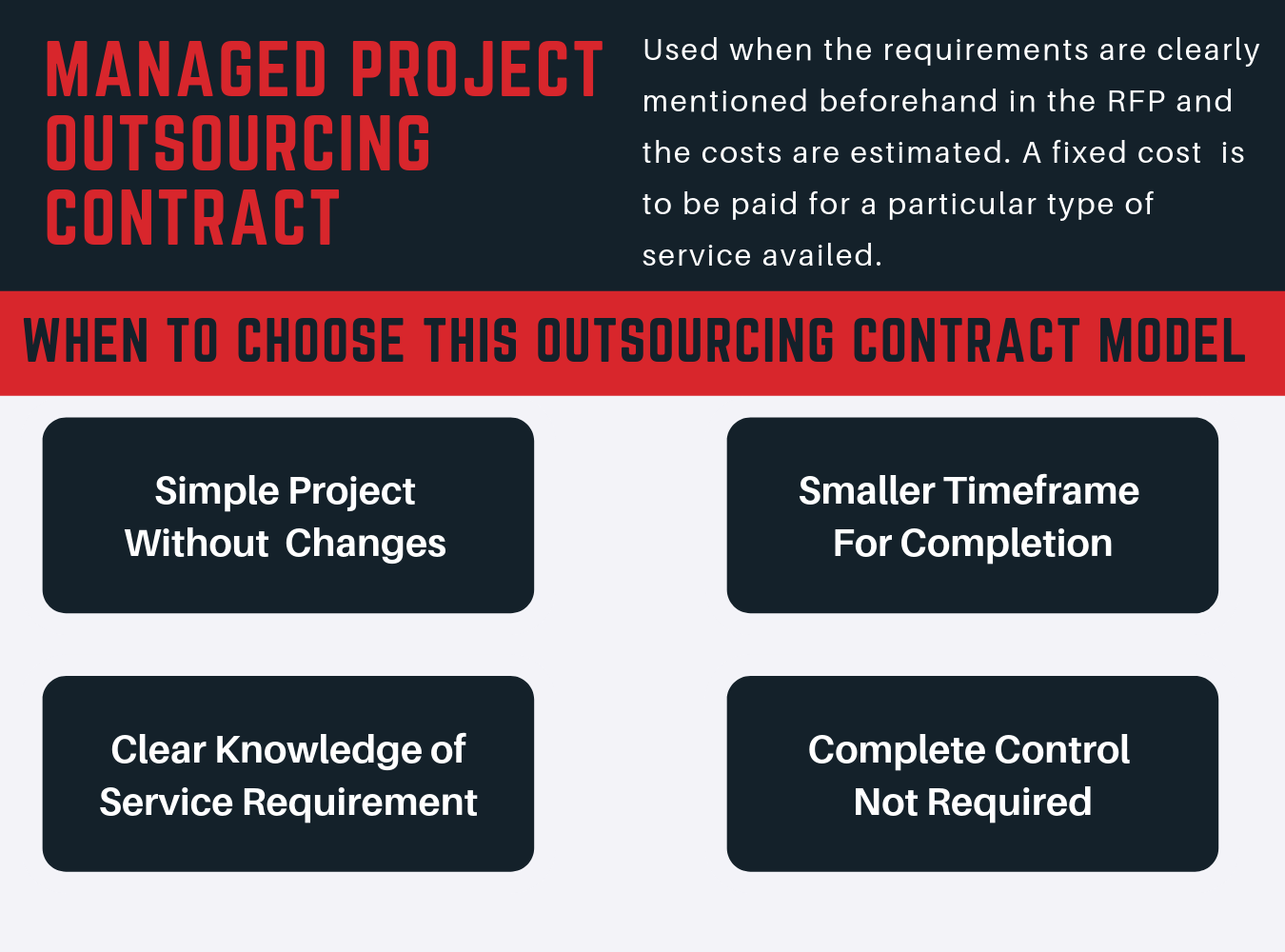 Dedicated Team Outsourcing Contract
The next in the list of types of outsourcing contract is the one where you are hiring a dedicated team for outsourcing. In this model, you can hire a dedicated team that is working on nothing else but your web development work.

You are hiring a team for your development tasks and the outsourcing contract would have clear specifications on any type of goals or details in advance. The team would act as an extended part of your in-house team and can be asked to work on any project. You can choose various engagement models to build and collaborate with the team so that the communication is smooth and clear.

In this outsourcing contract, you need not enter the exit strategy as the collaboration with the remote teams might not end anytime soon. When you have a team of specialists working for you, you might find yourself entrusting the remote tech teams with new projects or product development work.
When Should You Form a Dedicated Team Outsourcing Contract?
When your project is complex and requires constant iterations & modifications

When you are planning for a long-term relationship with the team of developers
When you want to have control over the offshore teams and the tasks they are handed
When you are planning to expand and need an expert team of developers working solely for your project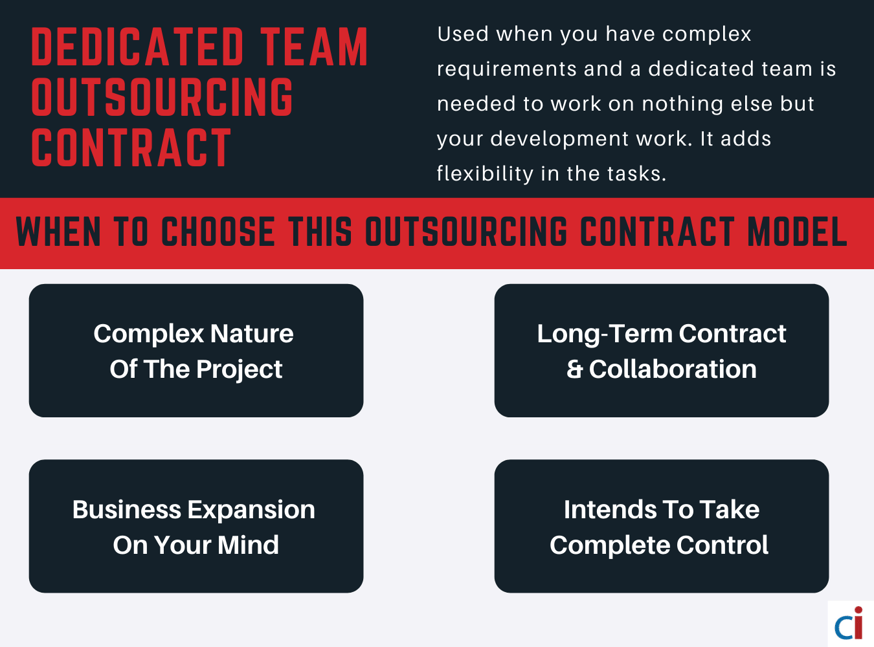 Components That Make Up A Good Outsourcing Contract
This brings us to the most important part of this outsourcing contract write-up. When the discussion is about outsourcing contracts, especially IT outsourcing contracts, it cannot be complete without talking about the main components that are needed in it. There are various outsourcing contract terms and conditions that you need to mention in the outsourcing contact too. You can find the main components of outsourcing contract below: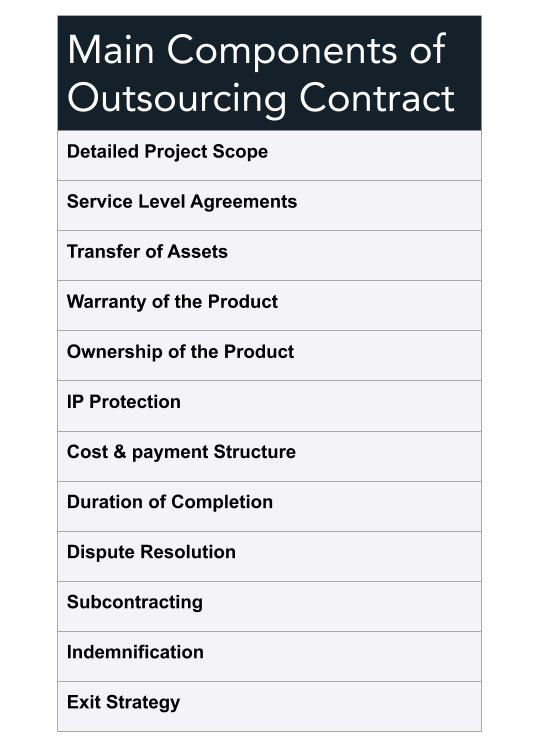 Detailed Project Scope
The first thing that an outsourcing contract must have is detailed project scope. It describes what services requirements are there at your company's end. One can also include the RFP in this section of the contract and along with it, attach the response the outsourcing company sent while bidding. But make sure that the finalized scope of the project and services is mentioned clearly for the offshore teams to understand.
Service Level Agreements (Benchmarks)
SLAs or Service Level Agreements are the components used for obtaining a service guarantee from the outsourcing company. It sets a benchmark for the quality of services that the company would be offering. It helps in motivating the remote developers and meeting the expectations of your company.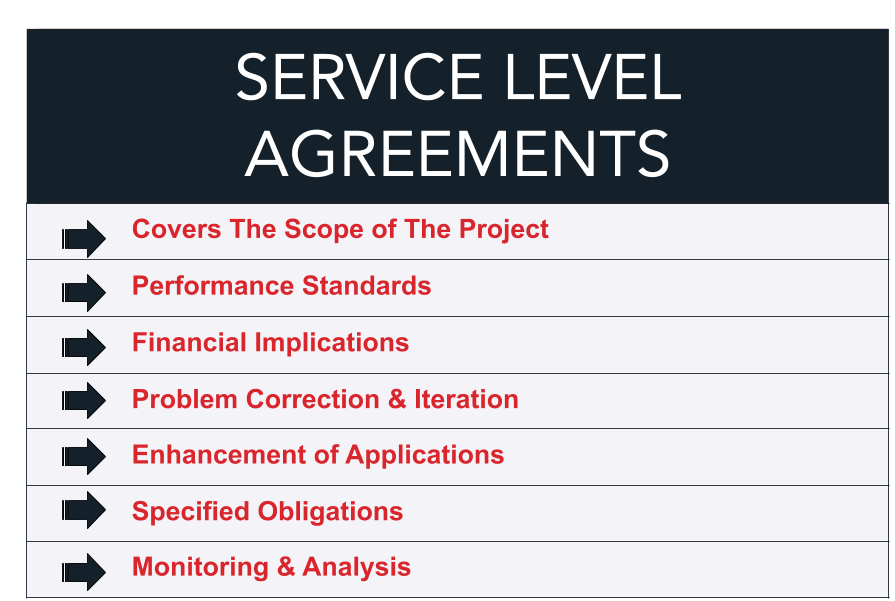 You can set the level of performance you are expecting and also include contractual provisions to penalize the company in case it does not meet with the service level. It is encouraged to keep the SLAs as comprehensive as possible. Include critical service levels, key service levels, and other metrics to measure the performance.
Transfer of Assets
There are various IT assets that need to be transferred while making an outsourcing arrangement. These assets might include telecommunication equipment, computer hardware, leases on equipment, software licenses, etc. A formal sales agreement is required to formally transfer these assets to the outsourcing company.

When transferring software licenses, there might be some extra cost or licensing fee in transferring these assets. In addition to that, taxes and stamp duties might also be attracted when transferring these assets. You need to take this into account as well while agreeing on the outsourcing contract cost. Also, make sure your contract for outsourcing services is comprehensive of all such transferring costs.
Warranty For The Product/Project
There are various risks and uncertainties associated with outsourcing development to offshore companies. The outsourcing vendor might even breach the contract and litigation around that would not only attract a lot of expenses but might also drain you or your company of time and effort. It is always advisable to prepare for the worst. Explicitly mentioning the way of recovery of any such losses in the contract is imperative as well.
Ownership or Governance Of Product
Every company would want the complete ownership of the intellectual property and the final product. However, in some outsourcing contracts, it might be so that the ownership of the software created might be shared by the vendor and the company outsourcing IT services.

This happens when the outsourcing company is customizing its existing software or presenting an extension of its existing software to the client. Whether you are getting a new software created or getting application modernization, the company needs to clearly mention the ownership rights of the software in the outsourcing contract to avoid any disputes afterward.

Your operations might be paralyzed if complete ownership of the product is not given to you. The source codes and modification control should be accessed by the customer to avoid such problems in IT operations in case of a sudden termination or breakdown in the outsourcing relationship.
IP Protection Clause
One of the biggest inhibitions of the clients is they feel their intellectual property, their ideas would be stolen when they share it with the outsourcing company. When outsourcing development to India, China, or any other country, mentioning clauses to protect your IP is undeniable.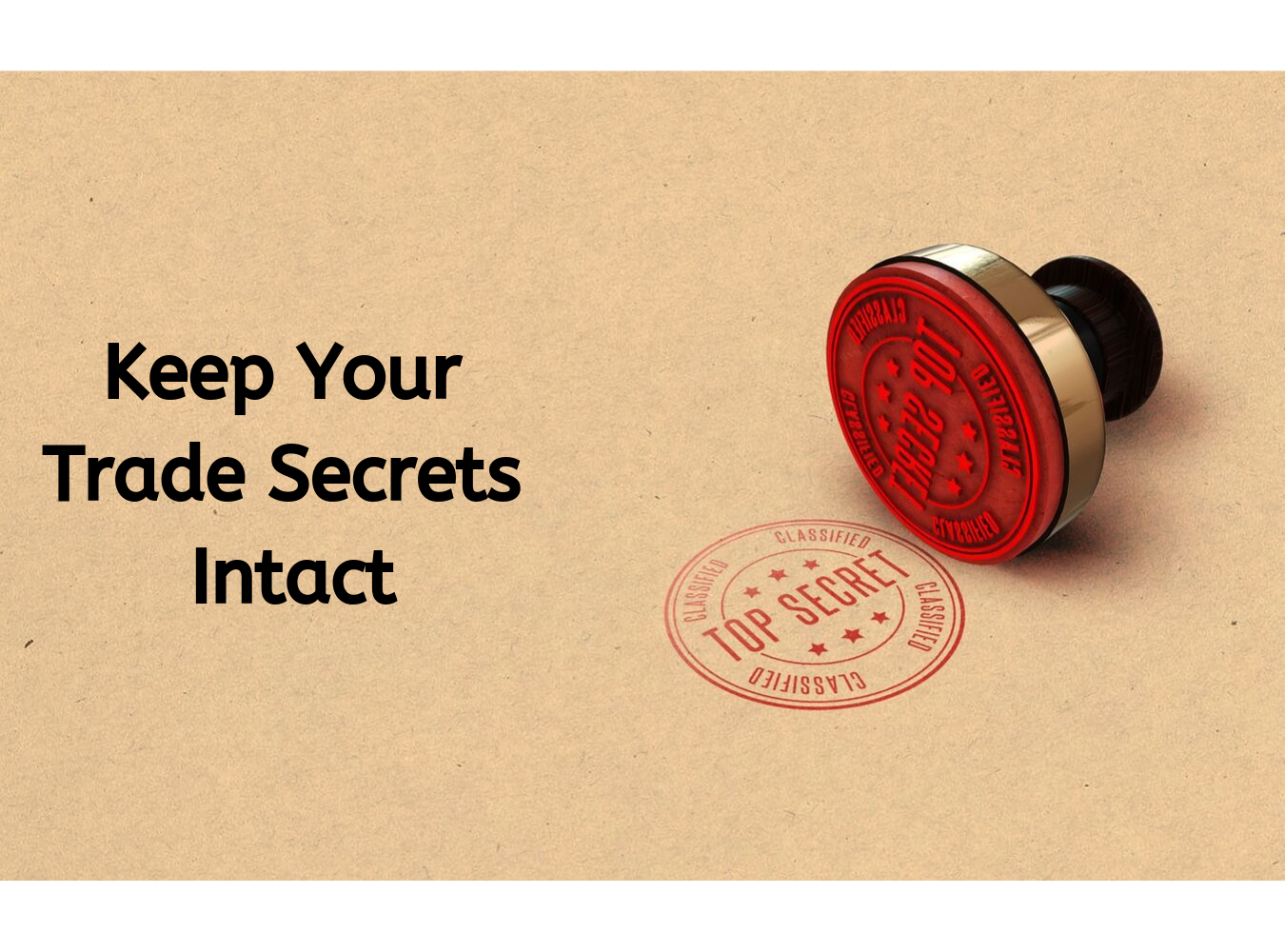 Including the Non-Disclosure Agreement and Non-Compete Agreement, mentioning legal terms & conditions for licenses, restrictions of information sharing, etc., should be kept in mind. The outsourcing relationship should be a legally viable one in all forms to ensure the complete protection of IP. Outsourcing due diligence should also be performed. Some other ways to protect your IP legally are:
Copyright of your intellectual property
Trademark for software or other goods
Trade secret of the information
Patent protection & application
Cost & Payment Structure
This comes to help especially when the outsourcing model is the fixed cost model. In fact, the pricing of the outsourcing arrangement, mode of payment, and the payment structure should be clearly mentioned in any outsourcing contract. It should answer the when, how, and whom of pricing. Apart from that, the amount to be paid along with its break-up should also be clearly mentioned.

The price that both the parties agree on should include all the services availed, the software license fees, taxes, stamp duties, and everything else. There should also be a section to cover any re-negotiation of the costs in a said period of time in accordance with the changing tech market dynamics. Fixed and variable price components should also be mentioned, changes in costs over time, etc., should also be mentioned.
Duration For Completion
In many cases, like the fixed-cost model, the scope of the project is pretty clear and deciding a deadline is not very difficult. Mentioning the duration for which the contract would exist is important in the contract. The duration of your contract matters a lot in the success or failure of your outsourcing venture. Here's an example to explain the same.

BBC signed a 10-years long monolithic contract with Siemens Business Services for outsourcing IT services in 2004 and the commitment cost it a lot. With time, it wanted to outsource its IT services to various vendors but couldn't because of the IT contract it had signed.

That's why it is important to create different smaller milestones after which you can actually move out. It is never advisable to have a long-term contract signed initially but sign a smaller contract and extend it as time passes.
Dispute Resolution Section
When you are getting your work done from a team outside of your company, the chances of disputes arising balloon-up. And you need to be ready for such disputes to save yourself from getting into legal battles. A third-party or an arbitrator should be assigned and his/her existence be mentioned in the outsourcing contract to resolve such disputes.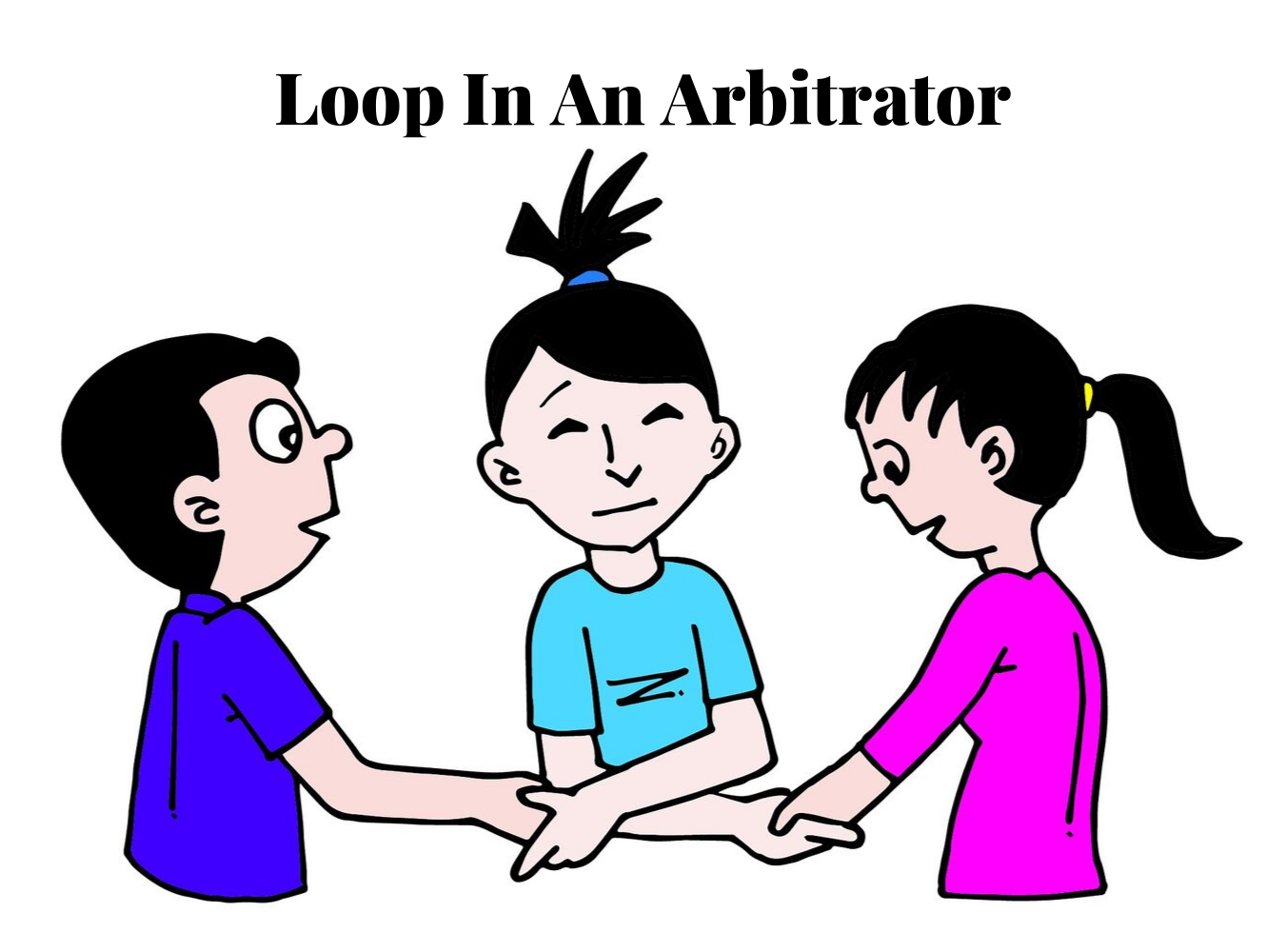 Subcontracting Clause
Another question that outsourcing buyers generally ask is if the services would be provided by the outsourcing company itself or be further sub-contracted to some external developers. While many outsourcing companies yearn for this flexibility in the outsourcing contracts, it's totally on your discretion to allow or deny sub-contracting.

In case you are agreeing to let the outsourcing company sub-contract, mention the extent to which you can allow subcontracting. Also, ensure that the service provider is still taking complete responsibility for the services rendered. You can also ask the outsourcing service provider to let you know about the resources that are handling the tasks.
Indemnification Clause
There are many legal issues in outsourcing contracts. An indemnification clause ensures that any neglect on the part of the outsourcing company is overborne by the service provider only. This protects your company from incurring any type of loss during or after the project.
Exit Strategy
How do you terminate the outsourcing relation? Would it hurt your business? Will you still have complete control over the software? All of this needs to be covered in the exit strategy section of your outsourcing contract.
This might be the last but is one of the most important components to include in your outsourcing contract. You need to be very clear about the termination of the relationship. Answer all these questions in the exit strategy:
What assets or elements would be given back to the service provider and what would remain with you?

Who would have the rights of the software?

How soon would the assets be transferred back?
Signing Off The Contract
Signature is the most important part of your outsourcing contract. By signing the contract, you legally state that you have read everything and agreed to it. You would be legally bound to the contract once it is signed and hence, you cannot blindly sign a contract. Here are some things you should keep in mind when signing an outsourcing contract:
Services and their complete description
Double check the payment structure and overall cost
Make sure the exit strategy does not bind you in any way
Read the terms & conditions around your IP again
See if there are any restrictive clauses mentioned
Outsourcing Contract: An Ideal Format
When forming an outsourcing contract or outsourcing contract for any business process, it is important that you follow a clear and concise format. Once you know how to get outsourcing contracts, you need to be sure that the contract you form is fully-comprehensive and includes all the right fields and information. You can even find IT outsourcing templates that you can use to create your own outsource contract. Here is an ideal format that you can follow in your outsourcing contracts.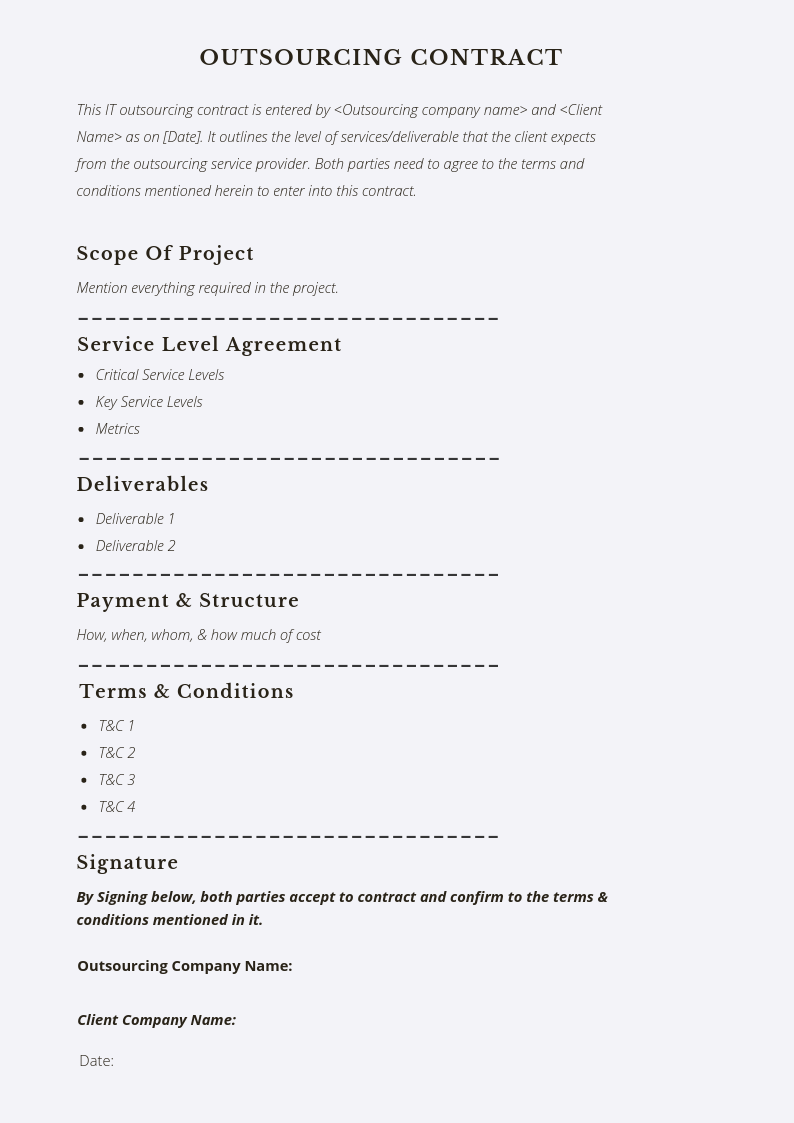 On An Ending Note…
Before you form a contract for outsourcing services, there would be negotiation on the parts of both the outsourcing service provider a well as the outsourcing service buyer. Create a skeleton contract first and leave the scope for negotiations. Once the negotiations are done post-reading the first draft, you should get on to forming the final draft of your outsourcing contract.

While you are forming your outsourcing contract or IT outsourcing agreement, the first thing that you should keep in mind is to include everything in complete detail to avoid any type of misunderstanding or missing out of information. A well-drafted outsourcing contract, in many cases, might be the key to a fruitful outsourcing venture.
How Classic Informatics Work



Classic Informatics is a global web development company that is praised for creating clear yet comprehensive IT outsourcing contracts and working diligently on them to fulfill each outsourcing relationship that we form. Our outsourcing contracts are directed at optimizing the business performance while minimizing cost and adding value in each venture.
---
Published On 2nd October 2019