A Developers vision
What is Symfony?
Symfony is a bunch of stand alone PHP libraries

What is Symfony2 Framework?
A set of bundles containing configuration and bridge classes
These glue the components together, giving the developer a consistent experience
Symfony 2 is a PHP Framework for web development
Symfony 2 is MVC
Symfony 2 is OOP
Symfony 2 is not Symfony 1 (>=PHP 5.3)
Symfony 2 is HTTP-centric
Symfony 2 is like bits of Rails and like bits of Java
Why Symfony2?
Based on project needs Symfony can be used as:
Micro framework (single file apps)
Symfony Components (stand alone)
Symfony comes with tight integration with many open source projects like Monolog, Assetic, Doctrine, Propel.
Powerful and easy routing.
Very advanced and useful template engine TWIG
Symfony2 VS Zend:
After the launch of Zend framework 2 (ZF2) all the major things offered in Symfony2 are available in ZF2
Both Symfony2 and ZF2 are the next generation frameworks using PHP 5.3
Symfony have pre integrated Twig template engine where as now ZF2 comes up with ZfcTwig Modules to support Twig
Symfony2 and ZF2 are both good for enterprise products
Things You should Know before starting with Symfony2:
Namespaces in PHP
YML
ORM ( Object relationship Model )
Understanding of design Patterns
OOP concepts
What can you expect?
22 High quality Components
DependencyInjection EventDispatcher
HttpFoundation DomCrawler
ClassLoader CssSelector
HttpKernel BrowserKit
Templating Translation
SerializerAl Serializer
Validator Security
Routing Console
Process Config
Finder Locale
Yaml Form
Highlights of Symfony 2:
Rewritten from scratch for PHP5.3
Based on the HTTP specification
Very stable and solid API ( 12 preview releases, 5 beta releases, 6 release candidates, 9 stable releases )
Extensible through the creation of Bundles ( replacement for sf1plugins )
Flexible configuration using YAML, XML, annotations or PHP
All configuration is compiled to PHP code and cached
Lots of unit tests
Source code audited by independent security firm thanks to donations of the Symfony Community
Extensible Configuration with Service Container / Dependency Injection
Complete redesign of Forms support
Validations
Extensible Security with Authentication / Authorization
Advanced and powerful templating through Twig
Routes configured with YAML, XML or Annotations
ESI Caching support out of the box
Assets management with Assetic
Translations
Environments
What are Bundles?
Bundle is like a plugin, except that even the core framework is implemented as bundle.
Your code is an equal citizen with the core
Symfony2 is a set of standalone PHP component libraries, glued together by a group of removable "bundles"
Let's get into some action..
Download Symfony2 from http://symfony.com/download
Unzip it into your localhost
Run the config file http://localhost/Symfony/web/config.php
This page identifies any problem with your setup
If you want to configure your setup using GUI then click on "Configure your Symfony Application Online"
Else you can directly edit Symfony/app/config/parameters.yml
Let's create some pages..
The 3 step approach:
Request comes in – Symfony matches the URL to a route
Symfony executes the controller (PHP function) of the route
The controller (your code) returns a Symfony Response object
Famous Hello World:
Our goal is to create a Hello world like application
In two small steps…
Step 1: Define a route
In our case we are using YML but xml can also be used to define routes

Add the following route to app/config/routing.yml

** Routes can also be defined as XML,PHP and annotations
Step 2: Symfony executes the controller of the route


Step 2: Create the controller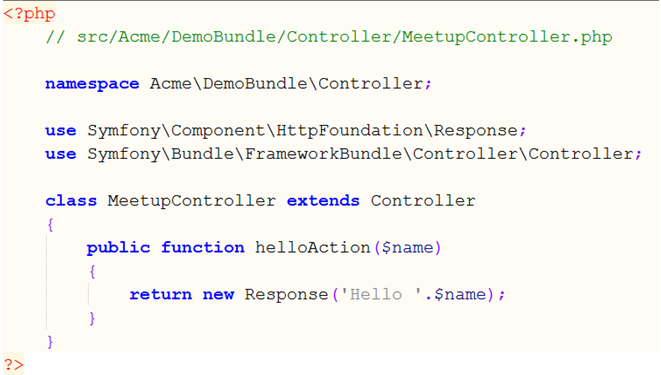 The controller returns a Symfony Response object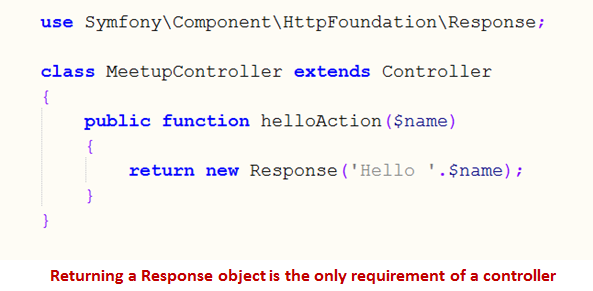 Routing Placeholders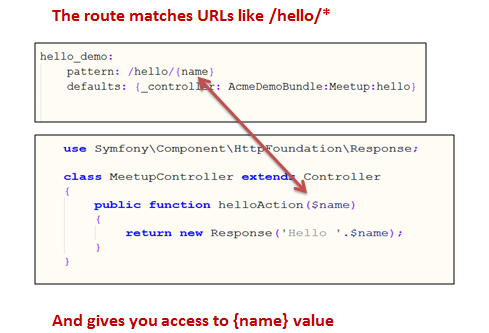 Finally!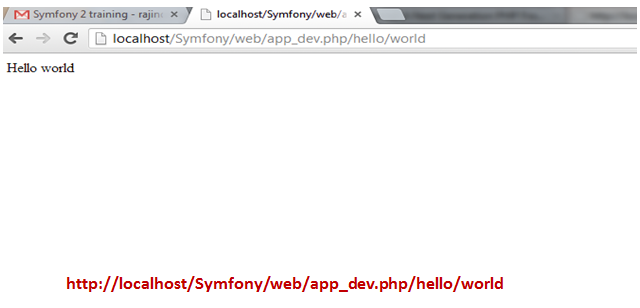 2 Steps to remember:
Create a route that points to a controller
Do anything you want inside the controller, but eventually return a Response object
So far so good….
Now lets move to templates…
Why template…?
Template help you separate your presentation layer from your business logic.
In a nutshell separate your PHP code and HTML code
Lets Render a template in our controller..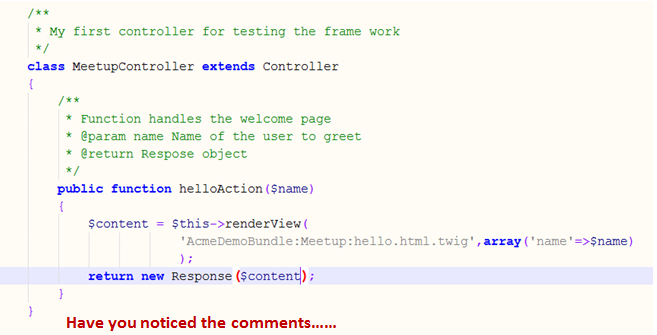 Create the template file..

Still Working

Twig saves a lot of time ..
Learn more about Twig from official documentation: http://twig.sensiolabs.org/
Moving Forward …
Lets create another page to check Ajax and Database calls
Configure database..
All application configuration is placed in "app/config" folder. The one we need to edit is App/config/parameters.yml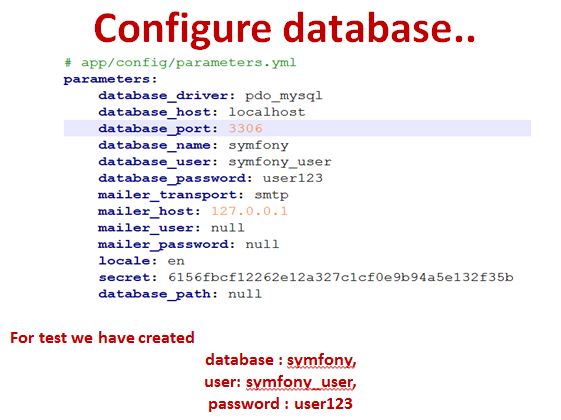 Users App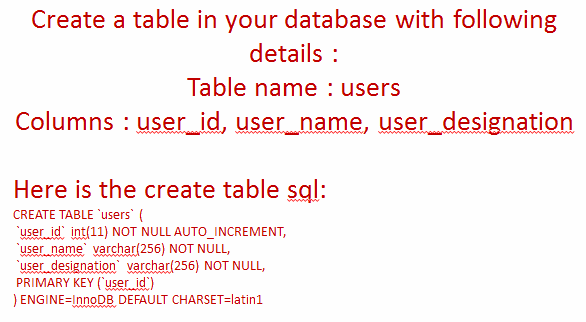 Now we will create Our first form to add users to this table
Step1 : create Your route
Step2: define action in controller
Step3: define template
Step4: create your form
Users App – Step1

Users App – Step 2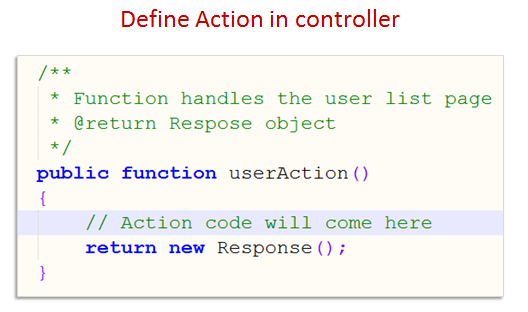 Users App – Step 3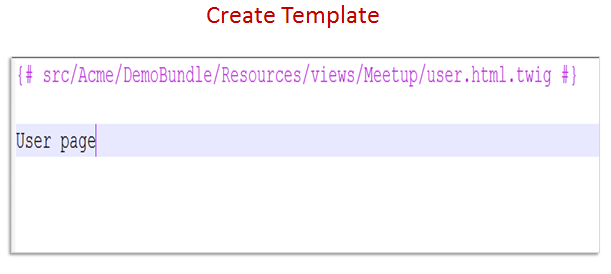 Users App – Step 4
Create Form
For creating the form we will use Symfony2 Form Framework
Form component in Symfony2 is a very powerful framework that makes the tedious task of dealing with forms easy
As with all Symfony2 components, it can be used outside of Symfony2 in your own projects
For using Form component we need to create our Entity, in our case User
By using the Symfony Form component we create forms that can be re-used in the entire application which leads us to create our form type, in our case UserType
User App Step 4 – create Form -User Entity class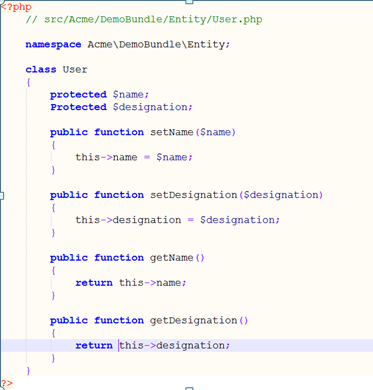 Users App – Step 4 – Create Form – User Form Type class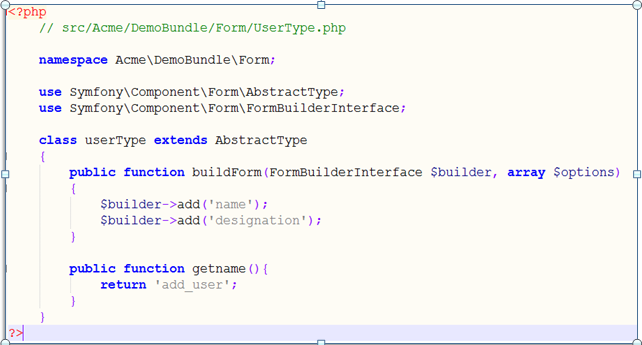 Users App - Step 4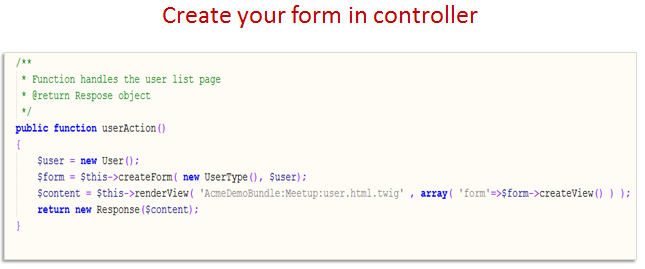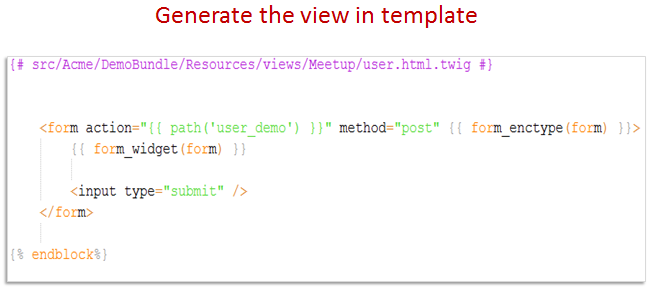 And its Alive!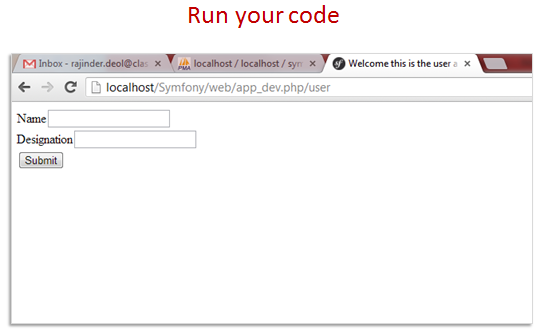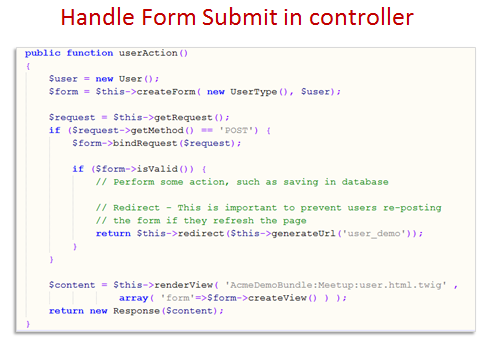 Define validations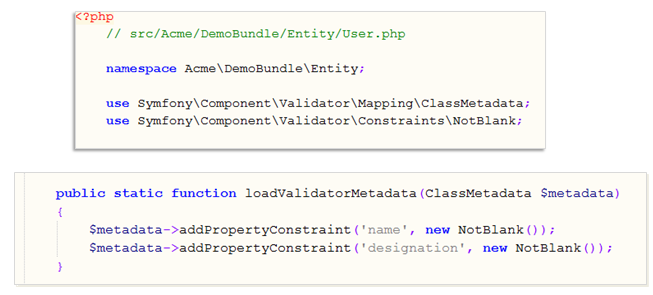 Save data to database
Symfony2 uses Doctrine2 ORM for Database abstraction
We will reuse our User Entity class
Define Database Mapping using Annotation
Save the record in the database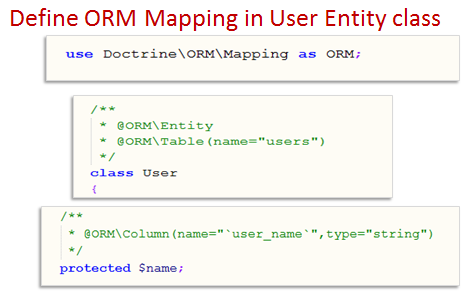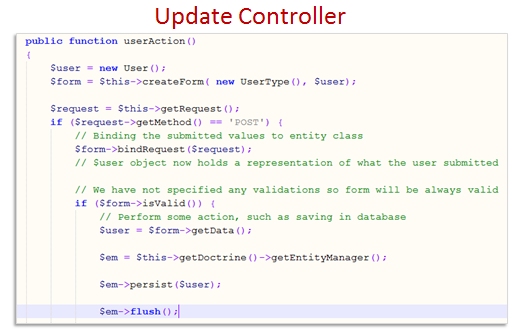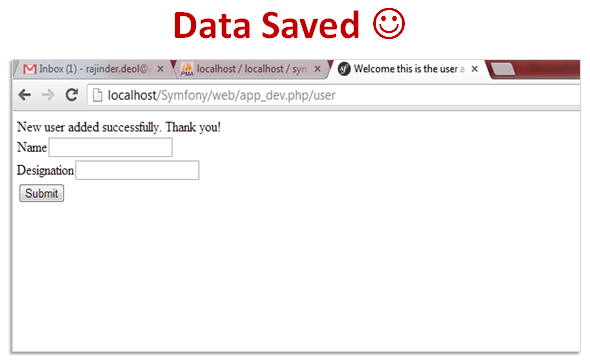 View Saved Users
We will now create a new page to show saved users
Step 1: create route
Step2: Create action
Step3: Create template
Create Route

Create Action

Create Template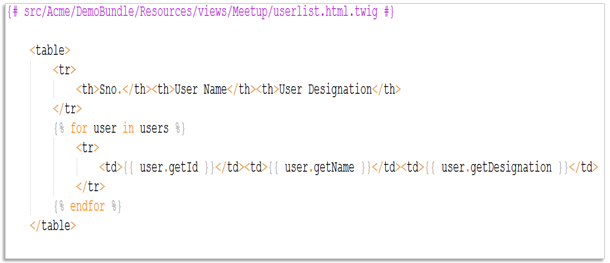 Add Navigation and Style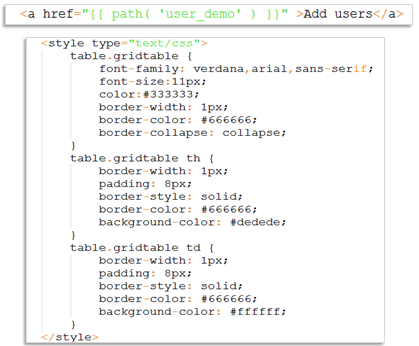 Much Better