For all those who are planning to outsource, we have put together an Outsourcing Costs Guide. This is an all-encompassing guide that will tell you everything you need to know about your costs, calculations, savings, and tips to save more for a successful outsourcing relationship.
---
The ways companies work today has changed much when you compare it to two decades ago. Outsourcing and distributed teams are some of the most common work-models that are increasingly being adopted by the companies.

According to Statista, in 2018, the global outsourcing market amounted to $85.6bn, whereas the market size of IT outsourcing amounted to $62bn.

The trend of distributed team is on the rise. A survey conducted by the Global Workplace Analytics and the FlexJobs has found that remote work has increased by about 91% over the last decade. When the last twelve years are considered, this figure turns out to be about 159%.

Outsourcing and distributed teams work-models are different concepts, yet they share some similarities. The similarities and differences between outsourcing and distributed teams are discussed in this post under the following headings -
Definition
Outsourcing involves contracting out a business process or service to a third-party service provider. For example, if a business in the United States requires a web app, it can outsource web development to an outsourcing company in India.
The term distributed team is used to refer to a group of individuals who work from different geographic locations rather than working from the same office location. They make use of the internet for collaborating with the team members. For example, some members of the team may work from a company's office located in California, while other members may work from New York, London, etc.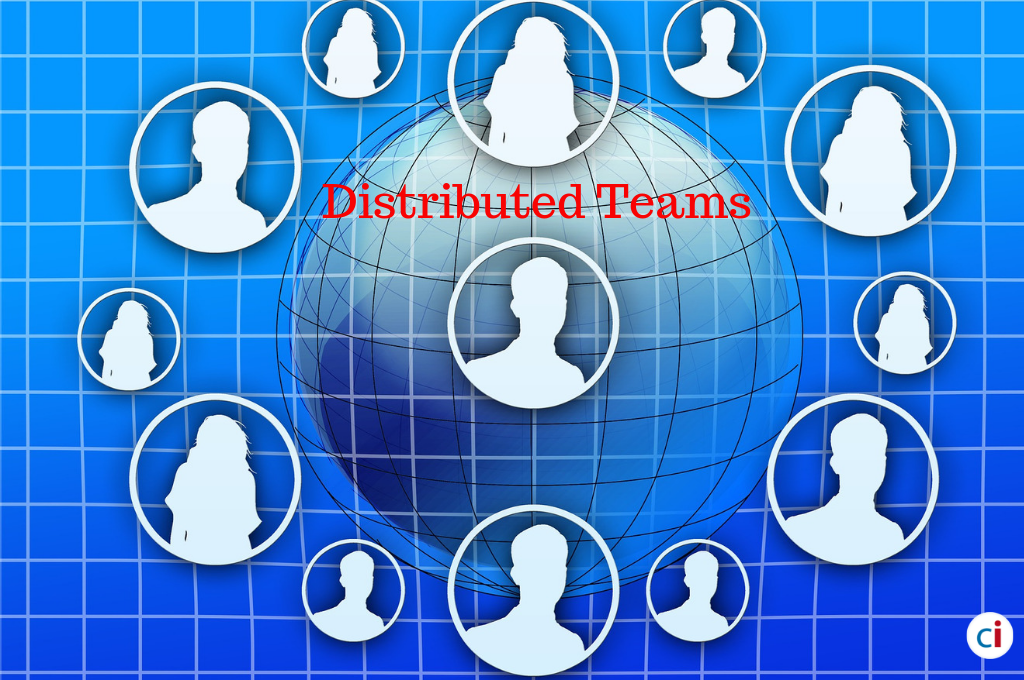 Main Benefits
The advantages of outsourcing development to India are plentiful for any business. Some of the main advantages of outsourcing are given here below -
Concentrate On Your Core Business Processes: Outsourcing allows businesses to concentrate on their core processes and outsource their non-core processes such as HR, IT, accounting, etc. to outsourcing services providers. This helps them to accelerate their growth.
Reduced Costs: Outsourcing brings huge cost savings for a business. Businesses in the United States and other western countries outsource usually their projects to the countries where wages are relatively quite less. For example, a business in the US looking for mobile app development services provider can save a lot of money by outsourcing to India.
Expert And Experienced Professionals: By outsourcing development to India, businesses have access to expert and experienced professionals that can deliver high-quality products on time. You can find a web development company in India and plug the technology gap.
Easily Scale up and down: Outsourcing allows you to easily scale up or down the outsourced team according to your requirements. You don't have to get into the problems associated with the hiring and firing of regular employees.
24 Hours a Day Work Cycle: Due to the time-zone difference, an outsourcing service provider in a country such as India works when a business in the US is not working. This provides the business a twenty-four hours work cycle leading to increased productivity.
Distributed team work-model provides its own set of benefits to both employees and companies. Some of the main benefits of distributed team work-model are discussed here below -
Access To Global Talent Pool: This is one of the most significant benefits offered by distributed teams to the companies. Companies can build up their distributed teams by hiring the best professionals available across the globe. They don't have to restrict themselves to the local or national talent pool. In the distributed teams work-model, the distance between the company's office location and employee's office location has no role to play.
Round-The-Clock Productivity: Members of the distributed team are spread across the time-zones. This means that work is in progress round-the-clock. This also saves a company from running different shifts in the office to have a 24-hour active workforce.
Cost Savings: Building a distributed team saves a company the expenditure involved in buying a new office space or in expanding the existing one. A company also saves on expenditures such as office furniture, IT equipment, electricity bills, etc.
Diversity and Innovation: As team members in a distributed team belong to different cultures and countries, this can help in having different thought processes, and as a result, innovative ideas may sprout up.
Better Employee Retention: If due to some personal reasons, a highly valued member of the distributed team has to change his or her location, then the company does not have to lose that member. He or she can start working from the new location.
Happier Employees and Increased Productivity: Members of the distributed team enjoy much better work-life balance than the conventional in-house employees. They save on commuting time and are able to work in a distraction-free environment of their choice. Satisfied and happy employees result in increased productivity.
Location
A business can outsource development its project to an outsourcing service provider present in its own country or in a different country. Members of a distributed team may be present in the same country or in different countries.
Workforce
The employees of the outsourcing services provider perform the outsourced tasks, members of the distributed teams may or may not be the company's employees.
Disadvantages
Outsourcing offers many benefits to businesses, but that doesn't mean it has no disadvantages. Some of the disadvantages are loss of some control, hidden costs, data security issues, product quality issues, difficulties in communication and collaboration, etc.
As with all working models, distributed team working-model has some disadvantages. One of them is communication problem. Although there are many chat and video tools available, these tools cannot take the place of natural communication that people have when they are present face-to face in the same room. Language and cultural differences between the team members also make working together difficult.

The chances of mistrust and conflicts are more among the members of a distributed team than the in-house employees. If there is some technological issue for a team member such as internet not working or a problem with the laptop, then that member of the distributed team will get cut off from the rest of the team.
The above discussion will help you in understanding the concepts of outsourcing and distributed teams. It is hoped that this post will help you better decide what is best for your business - outsourcing or distributed teams.

If you are still confused whether to adopt outsourcing or distributed teams model, then one of the best approaches is to make use of a combination of outsourcing and distributed teams, i.e. you can outsource distributed teams. Outsourcing distributed teams will help you reap the benefits of both outsourcing and distributed teams model.
---
Originally Published On 11th June 2019; Updated On 5th September 2019