For all those who are planning to outsource, we have put together an Outsourcing Costs Guide. This is an all-encompassing guide that will tell you everything you need to know about your costs, calculations, savings, and tips to save more for a successful outsourcing relationship.
The General Data Protection Regulation (GDPR) is the European Union's regulation on data protection and privacy of citizens of the countries that fall under the region of the European Union. GDPR regulates the processing of the personal data of the individuals in the EU by an individual, a company or an organization whether located in EU or not.
The GDPR came into effect on 25 May 2018 and its main goal is to help EU citizens to have control over their personal data. GDPR applies to all companies or organizations that process the personal data of the citizens of the European Union regardless of the location of the companies or organizations.
Personal data can be any information that can be used to identify a person directly or indirectly. Some examples of personal data include name, email address, photograph, identification number, location data, bank details, IP address, online identifier, telephone/mobile number, credit/debit card, medical details, personnel number, number plate, customer number, address, etc.
Besides the above-mentioned examples, any special characteristic that expresses physical, mental, physiological, genetic, commercial, cultural or social identity of a person can serve as a form of personal data.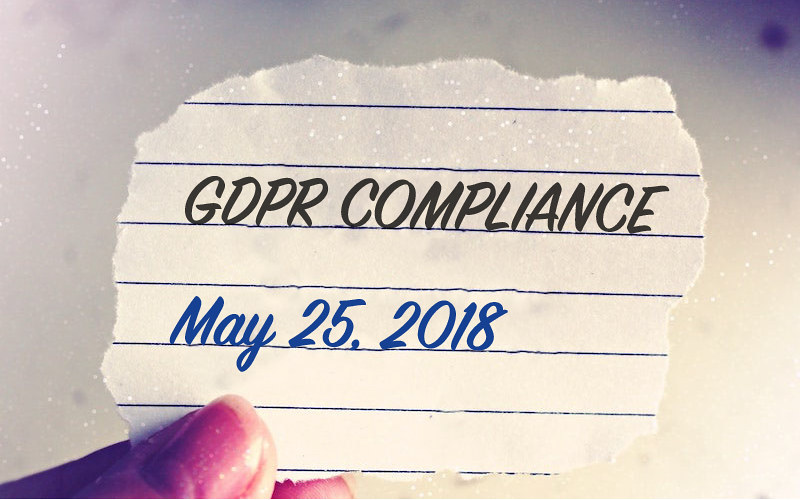 What GDPR Implies For Companies And Outsourcing Service Providers?
Under the GDPR, data management is carried out by the "controller" and the "processor." How the personal data of an individual is used is determined by the controller. The role of the processor is to process the personal data on the part of the controller. Outsourcing services
providers play the role of the data processors and the companies that outsource are the data controllers.
Two months after the GDPR came into effect, Enza Iannopollo, senior analyst at Forrester, said -"Many companies have reported a decrease of about 25 percent to 40 percent of their addressable market. These are customers or prospects that have not given their consent to receive marketing communication or be profiled."

In the current scenario, only GDPR- compliant outsourcing service providers, irrespective of their location or type (whether they develop products or employee relocation services), can process the data of EU citizens. For non-compliance with the GDPR, both data controller and data processor can be fined up to €20 million or 4% of a company's total global annual turnover in the last financial year (whichever amount is greater).
Outsourcing firms that want to work with EU-based companies require strengthening their data security and privacy policies in order to align themselves with the standards laid down by the GDPR. GDPR has changed the relationship between the EU-based companies and the outsourcing services providers.
For example, an EU-based company may require a customer relationship management (CRM) software for managing its European customers. Under the GDPR, it can outsource software development to an outsourcing company in India, but it must impose a set of obligations on the IT outsourcing services provider. These obligations should include data handling and security practices that the service provider should follow in order to be fully compliant with the GDPR.

In the case of data breach, both the company and the outsourcing provider can be held liable and penalized heavily. Therefore, both the data controller (company) and the data processor (outsourcing services provider) should strictly adhere to the guidelines laid down by the General Data Protection Regulation (GDPR).
Steps That Can Help An Outsourcing Service Provider In Becoming GDPR-Compliant
If in case, your outsourcing firm has to process data of the individuals living in the European Union, then your firm should do all that is required for becoming fully GDPR-compliant. The following steps can help your firm in becoming fully compliant with GDPR:
Know What Is GDPR: More you know about the GDPR and its effects on your business, the better you will be able to deal with it. First of all, you should identify which of your business processes require changes in order to attain full compliance with the GDPR. If in case, you run a large-scale outsourcing firm, then you should make all of your employees aware of the GDPR by providing training to them, so that each and every department in your organization knows how to safely handle the users' data.
Have A Review Of Your Technologies And Business Processes: Review your business processes and look for where they are lacking in following the GDPR standards. Adopt new procedures and, if required, hire specialists so that you are able to meet the standards. Examine the technologies that are actively being deployed in your firm. Check if these technologies are adequately meeting the technical requirements for ensuring data security and privacy as required by the GDPR.

For example, if you are web development outsourcing company and deals with the personal data of the European citizens who interact with your client's website, then you should make sure that this data is properly secured in a manner that no data breach can occur. If you find any loopholes in your processes or technologies, fix them as early as you can.
Set Up A Data Register: As part of the GDPR, data protection associations have been set up by the European countries. They have been setup for the purpose of enforcing the GDPR and monitoring compliance. You should create a data register, which is a record of data processing activities. If for any reason, a data breach takes place, you will be required to show the data register to the data protection association.
Build A Data Security Roadmap: Having a data security roadmap helps IT outsourcing service providers in prioritizing where the greatest security risks are present and in setting up goals and milestones. Data security techniques like encrypting, pseudonymisation, etc. can help outsourcing firms meet their security goals.
Carry Out Periodic Assessments: Once you have set up and put into practice the technologies and processes required for becoming fully compliant with the GDPR, your next step is to carry out periodic assessments for ensuring everything is working as expected. Keeping data management and security in order will help you in preventing any sort of data breach, and will therefore, save you from heavy penalties for GDPR non-compliance.
With the General Data Protection Regulation (GDPR) in effect since last year, the IT outsourcing companies in India that deal with the data of the citizens of the European Union are currently strictly adhering to the requirements of the GDPR. Outsourcing to India not only ensures data security for the European clients, but also results in timely delivery of high-quality products and services.
Originally Published On 13th May 2019; Updated On 3rd September 2019