Updated on 1st December 2021.
According to Statista, in 2019, the worldwide revenue generated by e-commerce stood at an astronomical figure of USD 2,027,945 million. Emarketer further predicts that retail e-commerce sales will expectedly touch USD 5.514 trillion this year in the US alone. Over 50 percent of the American retail e-commerce marketplace has been dominated by the multi-vendor marketplace giant Amazon this year.
Ease of Creating A Multi-Vendor Marketplace
Considering the figures, it is hardly surprising that an increasing number of businesses are keen to tap into multi-vendor marketplace businesses.
What is striking, however, is the ease with which an Amazon or eBay clone can be created. Of course, the client may want to have their own USP or try out a different revenue model---but the fact remains that it is quite easy to set up such a platform using the right technology.
The Right Platform
With the soaring popularity of multi-vendor marketplaces among both consumers and businesses alike, it is only to be expected that e-commerce platforms should expand their feature sets to accommodate a greater number and diversity of users.
Magento, the old guard of the e-commerce platform world, may serve well in this role. By default, Magento may not be meant specifically for multi-vendor marketplaces. However, the flexibility of its ecosystem of extensions is one of Magento's main advantages. You can either go for the extension path or take the help of the services of a custom Magento development company and customize the platform according to your needs.
Magento as a Multi-Vendor Marketplace Platform
Magento, especially Magento 2, is highly reputed for its reliability, robustness, and scalability. Many essential features that are required by multi-vendor marketplaces are present in Magento by default. In fact, it provides an outstanding mix of superior customer experience while meeting vendor requirements.
The following features make Magento one of the best options for business owners:
Magento has the provision to handle comprehensive management of orders, including tracking orders.

It provides a versatile feature-set of inventory management tools, including the approval of products, returns, and exchanges.

Magento has communication features like customer emails, delivery, and order notes.

The platform provides a thorough invoicing system.

Magento has a wide variety of payment and shipping options.

It provides ways to manage and organize customer information.

Exhaustive customization of the frontend is on Magento, although an organization should hire Magento developers

to achieve this objective swiftly and efficiently.
Advantages businesses can enjoy when considering Magento as a multi-vendor marketplace platform.
High performance

More 50 plus payment gateways integrated

A number of extensions and modules

Easy integration with third-party software and APIs

PWA support for an inevitable mobile experience and sky-rocketing performance

Highly scalable and easy customization
A Comparative Analysis of Magento & Woocommerce
While it is definitely true that Woocommerce can be installed and used with ease when compared to Magento 2, we must not lose sight of the fact that the latter is an e-commerce framework that can function just as suitably at the enterprise level. It is richer in terms of functionality and is equally intensive in terms of required resources.
As per BuiltWith reports that in January 2021, a total of 3,876,748 websites use WooCommerce or 68,000 of the world's top million websites. That's 0.2% of all websites or 6.8% of the top million websites.
Hosting Type - Magento 2 makes a heavy demand in terms of hosting. In fact for multi-vendor marketplaces where there are going to be several numbers of vendors or sellers along with high traffic and SKU, a dedicated server is most recommended which is robust and reliable.
Woocommerce, on the other hand, is not only characterized by its ease of use but also places minimal demands on the host and its server environment. It weaves its magic just as well in a shared hosting space with more resources becoming needed as the traffic count spirals upwards.
If you want to build a small online store for your business then under certain circumstances Woocommerce might be more suited. However, it is to be remembered that Woocommerce is a plugin for WordPress which is akin to Magento extensions.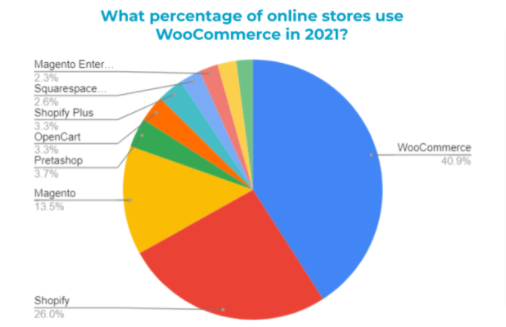 Source
On the other hand, Magento has been created keeping in mind the specialized needs of the e-commerce world. In fact, Magento 2 boats of many features that make it ideal for serious e-commerce like Redis, Support for Varnish, Static Code Generation, FPC, and the DI command-line utility. woocommerce lacks in support for such vital e-commerce features.
API & Multivendor Mobile Apps - With the prevalence of m-commerce or mobile commerce at this point in time and the fact that it is only likely to become even better in the future, this is of critical importance. Something common to both platforms is the REST API which means you can build mobile apps of your marketplace with comparative ease. Not only does REST also facilitate the integration of the marketplace with ERPs and CRMs that companies use or any other kind of integration with third-party software.
The predicament that usually lies before businesses that are looking forward to adopting the Magento 2 framework is that the very nature of the platform makes it imperative that you choose proficient Magento development services for your e-commerce development project.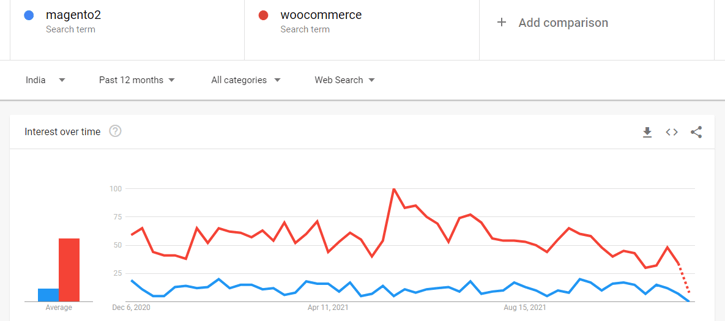 The Extension Option
You may be hesitant to fully customize the appearance and code of the Magento platform to suit your multi-vendor marketplace needs with the help of Magento development. The following extensions may be able to carry out their tasks with ease and finesse:
Our Final Thoughts
Newer breeds of e-commerce platforms have occasionally projected that building a multi-vendor marketplace platform is not only easy but also may appear to fit the model better than Magento. However, Magento's open-source nature makes any type of customization---even complex and complicated variants---possible, if not easy. It has also found widespread adoption among both merchants and developers.
Magento is an ideal platform for your multi-vendor marketplace needs if you need complex and comprehensive customization. The versatility, dependability, and huge availability of support and related resources, not to mention the rich developer talent pool, make it the go-to e-commerce platform for the widest range of businesses---even if it is for multi-vendor marketplaces.