Last Updated on 9th December 2021.
E-commerce has been around for quite a long time now and has grown into a booming industry, picking up momentum in the global market like wildfire. Thanks to e-commerce, nowadays people can buy all kinds of things sitting in the comfortable confines of their homes and offices without visiting an actual market. Not limited to the comfort of buying things online, e-commerce websites also allow people to sell almost anything, helping save on costs and traveling.
Mobile commerce is also getting very popular at the present time. With the proliferation of smartphones and tablets in the technology sphere, shopping on smartphones and tablets has become routine. Commerce has further shifted the retailers' focus to building and enhancing their online business to stay in the race.
If you are contemplating the prospects of building your own eCommerce website, knowing which platform will yield the best results is essential. There are a number of multi-vendor platforms and services available for this task, but only a handful of them is considered worthwhile today.
At the present time, most of the developers want to make choices from the platforms of Magento, WooCommerce, and Drupal. If you are also confused to make the decision, you must know about all the specifications, features, pros, and cons of all these platforms.
Let's take a brief look at the three most popular platforms available today.
Magento
Magento is specially designed for e-commerce websites and it is like a complete content management system. You can find it like WordPress that is used for e-commerce. eBay, one of the biggest e-commerce organizations in the market owns Magento. Its latest version, Magento 2 is one of the hottest e-commerce platforms at the present time.
Let's take a look at the features of this excellent platform for e-commerce development:
Key Features:
You will find the support to add an unlimited number of products on the e-commerce store with it. A Magento development company can assist you build and maintain your e-store with different features. Some of the benefits of using Magento are:
It is available with its independent layout and theming system, therefore, you will get excellent features for customizations in the website layout.

It will include efficient APIs so you will be able to stay connected with third-party solutions easily.

There will be the support of an intuitive admin interface as well as you find product creation tools.
Pros of using Magento:
Excellent for scalability because you will not face any kind of trouble handling large e-commerce stores.
It will give excellent tools for easy management of commercial e-commerce websites.
There is a very fast process for the customers to check out. you will also find the default option of guest checkout at the store.
Integration with authorize.net, Paypal and Braintree out of the box.
Cons of using Magento:
It is more comfortable how to use for the developers as compared to regular users.

The Enterprise edition of Magento is very costly.
On the basis of all the features and information listed above, you can say that it can be a good choice for the professional developers are going to work on e-commerce projects. You can easily find the best Magento development companies in India to build your eCommerce platform. However, it is not a very user-friendly solution when we will compare it with both of other platforms.
WooCommerce
WooCommerce is a very popular platform and most of the WordPress users and WooCommerce developer know that. More than 400, 000 websites are based on this extremely popular development platform.
With this platform, you will find all the required advanced functionality and it is available with the innovative capabilities to give you the freedom to create a user-friendly and performance-oriented website for your business.
Here are some of the most important and useful features of Woocommerce that make it perfect for e-commerce development:
Key Features:
You will find support for a limited number of products in your store
It is available with a robust extension system that is based on WordPress plugin format

You will find a large number of free and premium theme options

It will give you options to choose from all the payment processors with the use of extensions
Pros of using Woocommerce:
It is free to set up the store by using this platform so you will only pay the web hosting expenses

If you are comfortable working on WordPress, you will not find any trouble with it as a beginner

For the users, extensive documentation is available. You can contact the back team to get the required information or help

With the use of the extension, you can integrate with Google Analytics easily
Cons of using WooCommerce:
If you are not a WordPress user, you have to learn 2 new platforms

You will need to be aware of the cost of premium themes and extensions
Woocommerce will be an excellent choice for the new users if you don't have any experience in e-commerce development but you are comfortable with WordPress platform. It is available as an open-source platform so you can download and use it for free whenever you are looking for such excellent features for your e-commerce development project.
Drupal Commerce
Drupal Commerce is another open-source e-commerce platform that is available with its brilliant features and innovative tools to give the perfect solution to Startups, SMEs, and Enterprises alike.
This platform is popular for a long time for many good reasons. Whether it is about performance, security, or integration with third-party applications, you will definitely find an excellent way to use this platform in the most effective way.
It can be an excellent choice because of the features given below for the development projects:
Key Features:
It will provide an easy payment gateway system for very fast and secure transactions for the customers

You will find the excellent way for the integration of third-party applications by using the tools of Drupal

It is very easy and quick to customize the pages of the websites with its customization futures and tools

It is perfect for large-scale e-commerce websites because of the ability of big data handling
Pros of using Drupal Commerce:
Drupal commerce websites are very efficient for the maintenance and Management

As a developer, you don't need to worry about the limitations of the core Framework while using Drupal Commerce

Excellent for the customizations and integration of the website

It will provide the benefits of flexibility for the projects of e-commerce development

Very easy integration with all the major social media networks for your website
Cons of using Drupal Commerce:
The beginners may find trouble to use the features of Drupal Commerce

There will be a high cost of paid themes and extensions
Drupal Commerce is available as a very flexible, reliable, and secure platform that will give a bunch of features to the developers for the projects of e-commerce website development.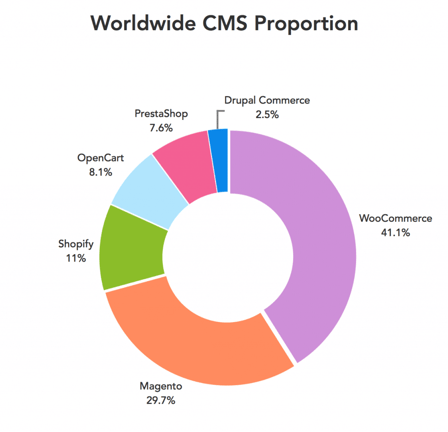 As per the studies, Woocommerce is currently the largest e-commerce platform with 41.1% share and Magento is following it with the share of 29.7 % of worldwide CMS proportion.
However, Drupal commerce is the most stable platform among three because of the availability of 99.82%. Woocommerce is the least stable platform with an average availability rate of 99.52 %.
Magento is also a very stable platform with an average availability of 99.71%.
Comparison Table
If you are looking to understand the difference of all these e-commerce platforms in a better way on the basis of their performance, pricing, reliability and security, there are some of the facts that you should know about it.
Features
Magento
WooCommerce
Drupal Commerce
Price
Free-to-use community version with several premium options

Completely free
Premium add-ons and plugins are available

Free to download and use but Drupal support can be expensive
Modules and themes are largely free, with paid options available

Hosting

Premium plans include hosting
The complexity of Magento requires a high amount of server power (ideally a dedicated server)

Self-hosted. Little server space required
Self-hosted. Little server space required (depending on size)
Support
Community and premium support

Community and email/ticket support
Paid options are available

Small support community
Paid support available through the Commerce Guys, Drupal's paid e-commerce service

Features
Lots of out-of-the-box features
Good out-of-the-box functionality with multiple features available through plugins (more than 400)
Basic functionality with more features available through the extension marketplace
Inventory
Unlimited

Unlimited in theory
Practically, no more than 3000 products (depending on hosting and developer expertise)

More extensible than WordPress
Will happily handle tens of thousands of products

Security

Magento has more built-in security than competitors
Security patches are regularly rolled out

Security is as good as third-party hosting and WordPress updates
High reliance on plugins for features adds a layer of vulnerability

Drupal is usually considered to be more secure than WordPress
Customizability

High degree of customizability with programming knowledge
Several hundred out-of-the-box themes
Development experience is a must

Easy-to-edit themes
A host of features are available through plugins
Very beginner-friendly

Drupal is relatively easy to use but it can take beginners a while to get the hang of it
A basic understanding of PHP is required
Limited packaged themes
The Verdict
You can make choice as per your requirements and budget in the following ways for your e-commerce project:
For Startups: For Startup founders, it will be good to go for Magento or Woocommerce platforms because of the stress-free and very easy-to-use process. You don't need any kind of special knowledge to run and manage the website. You can use online tutorials and can follow the easy steps for installation and setup of your website with it. Woocommerce will be comparatively easy to use and more cost-effective when you are looking for expansion of the business.
For the Developers: If you are going with the Magento platform, you will require your dedicated servers or cloud services for the website. It will be good to go for Woocommerce if you want to stay with WordPress hosting for WordPress Woocommerce development. Drupal commerce will be a good choice if you are already using Drupal 7 or you are going to consider it for your project.
For End-Users: Between these three platforms, if you are developing a website where people will pay an annual subscription fee for premium content, or if a membership service is a key function of your online business, then Drupal Commerce is your best bet.
Ready to take the next step towards your success with your e-commerce website? Hire Us!
With over a decade-long experience with cutting-edge eCommerce technologies such as Magento, WooCommerce, Drupal, and Shopify, our subject matter specialists help you build, maintain & scale applications to build on your revenue streams.