"Stay home, Stay safe" is not the only message buzzing around these days. But "remote working" is also on every techie's mouth.
It seems as if the remote work revolution is unstoppable. As technology is rapidly growing the world is becoming more connected. And with this, the future of work is also changing. Today, companies of all sizes are exploring "remote work" style and are setting up 100% remote teams.
Remote development is getting popular among organizations as apart from providing the flexibility of work to the remote developers, it also helps to deliver successful products faster.
Mass remote working in the US could stay after COVID-19, according to the Gartner report.
What is Remote Working?
Remote work is a working style that permits working professionals to work outside of an office environment. The employees working remotely are called "remote developers". They can work remotely from anywhere apart from the office such as home, co-working space, coffee shops, or any other place.
Remote working leads to
Better talents
Cut on costs
Improved productivity and a lot more
Tips For Hiring Remote Developers
So, if you are looking at remote hiring, here are a few tips to equip you for making great remote work possible.
Search for the best fit for a remote team
Hiring a remote team is quite a tough task to be done. Hiring remote developers simply means searching for a set of skills required to excel at remote working.
Few remote working skills are:
Excellent communication skills
Powerful collaboration skills
Strong organization skills
Good Time Management skills
Having a sense of Accountability
Evaluating your candidates based on these skills is necessary as apart from technical skills these are equally important for the candidate to clear the test. The candidates can showcase their true potential based on these skills.
You can also test your candidate with the pre-employment assessment solution for all the skills they need to succeed in their remote roles. The test will unlock the real insights that help you in making shortlisting decisions.
In addition to this, also test candidates for their comfort level with video conferencing tools (Zoom, Slack, Teams) as a lot of meetings happen via video calls.
Clearly stating what you are looking for in the ideal candidate
Searching for an "ideal candidate" is important and plays a bigger role in remote hiring as it states the key remote working qualities that candidates must have.
A lot of potential candidates might get rejected as don't feel like a good fit. Writing it out your ideal candidate description is important to shortlist the right candidate fast.
Also, remote profiles might require specific time zones and location requirements. The time and the location should be clearly mentioned so that the candidates can check if they are comfortable and if they can't they won't apply for the position. Going for a CTO cheat sheet can simplify your remote hiring experiences.
Choosing the right platform to look for the skilled developer
As so many candidates are actively looking for remote working opportunities, they already know the "top go-to places" which are not job portals like Monster and Indeed or LinkedIn platforms.
So, don't post your remote jobs on these channels, if you want to get the right candidate. For selecting the best ones to choose these job boards:
WeWorkRemotely: This job portal is one of the top platforms for searching for the top best remote talent professionals. With categories spanning Design, Sales, Marketing, and DevOps help you to select the best talent based on your requirements.
AngelList: Best place for startups to find and hire remote talents with all the latest skills.
Stack Overflow: A ready to a go-to job board for hiring remote developers looking for work-from-home opportunities.
Remote.co: Just like WeWorkRemotely, this job platform also hosts jobs across many different teams and roles.
Remotive: Remotive is a popular job portal looking for roles in remote work.
Upwork: Upwork is also a commonly used platform where multiple job profiles are posted for remote workers.
Organizations must try these job platforms to get the best remote working professional hired.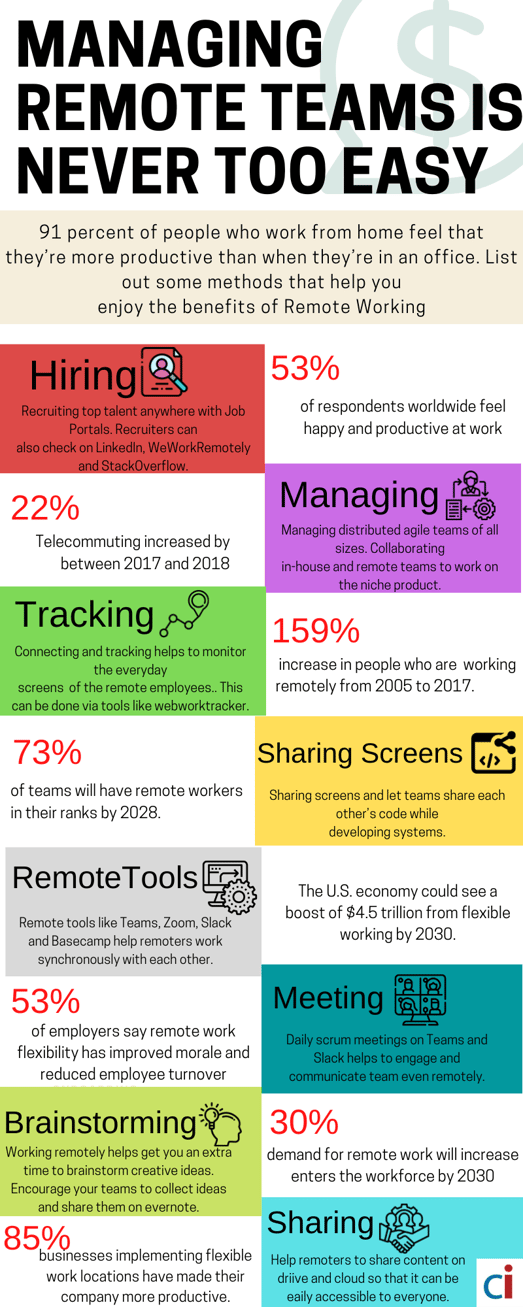 Determine whether the candidate fit for culture and values
It is difficult to understand whether a candidate is a fit for your company's culture and values even if you meet candidates face-to-face. But when it comes to remote teams, it is even more challenging as there is only virtual interaction.
So, how you will measure someone's fit for culture and values?
For this, first, you need to define your culture and values.
Then convert these ideas into assessment tests, surveys, or interview questions where you can actually measure your candidate's skills.
For shortlisting the best candidate that fulfills your software requirements, the testing of skills should be done considering all aspects related to remote working.
Discuss SOW (Statement Of Work)
The complete details of the work (SOW) should be clearly described in the job description so that the candidate can easily understand it. The SOW document also helps in matching the right and desired skill set required for the project to be accomplished with the potential of the candidate.
The limitations, pressure, and workload associated with the job should also be described in the job description.
The year 2020 depicts the no. of people want to work remotely. 98% of respondents told us that they would recommend remote work to others.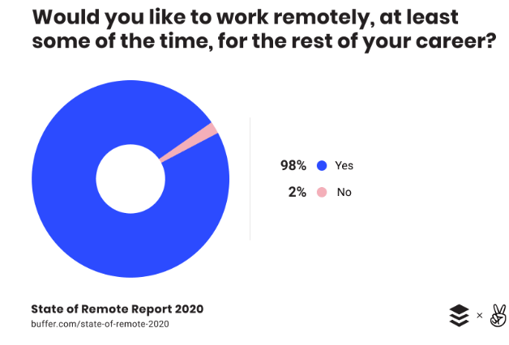 Remote working comes with challenges as well as benefits, though they vary from person to person how to manages it.
Benefits of Remote Working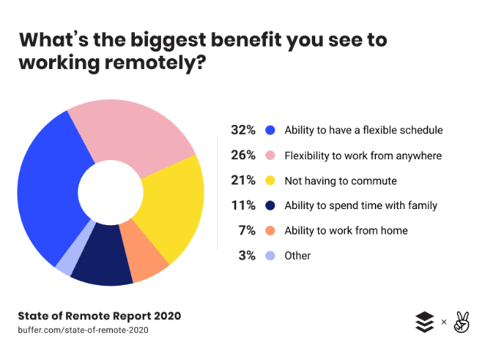 Remote working is the fastest growing trend these days. Almost all companies in the world, especially software development and IT companies are benefiting from this trend the most.
Developing a hybrid team consisting of onshore and offshore developers is trending in the IT industry right now. Remote hiring comes with a lot of benefits to both the businesses and the employees.
Let's have a look into this:
Increased productivity as compared to onshore employees
Reduced traveling time and other expenses
Increased employee satisfaction
Easy scaling of teams
Faster completion of the project due to extended working hours
Access to a larger pool of talent
Reduced upfront cost for the project infrastructure
No legal procedures for hiring remote workers
Better employee retention rate
A Gartner, Inc. survey of 317 CFOs and Finance leaders on March 30, 2020,* revealed that 74% will move at least 5% of their previously on-site workforce to permanently remote positions post-COVID 19.

Source: Gartner
Winding Up
Handling a skilled remote development team is quite a challenging task, but the benefits it provides can bring in offering employees flexibility, and thus reducing expenses are large. Before moving further in the recruitment process, just follow these steps to ensure success.
At Classic Informatics, we follow a 4 step process to hire remote developers. We also offer dedicated solo specialists on immediate availability who work as a part of your internal or distributed team, following your process to go. Keep in touch with us to get the best and most productive remote team.