According to Fulcrum Research, 80% of enterprise content is unstructured. This challenges the corporate world to deal with a huge repository of unstructured content and convert it into a meaningful resource. The answer is a robust, efficient, and scalable Enterprise Content Management System.
Choosing the right ECM for your business largely depends on answering questions like "How will you troubleshoot it?" and "How will it help your business?"
The ECM Market is flooded with CMS solutions. Among so many options, several companies continue to prefer Drupal.
Introducing Drupal
Drupal is one of the best-known web content management tools as well as a customized tool to assist you to build a robust and scalable content management strategy. Business leaders and expert developers search for a platform that is highly reliable, secure, and flexible to develop powerful applications. They need a well-defined architecture that is integrated with third-party applications to go ahead with web and app development.
Drupal helps businesses create real-time enterprise-grade solutions that empower web innovation.
Here listed Drupal features as Web Content Management System.
Ensures scalability
Follows mobile-first approach
Highly Secure
Integrates easily with a wide ecosystem of digital marketing technology
Easy content authoring
Flexible content architecture
Support Multisite deployment and multilinguality
You must be wondering what made Drupal reach this enviable popularity. So let's take a look at those reasons.
Versatility
Drupal's versatility makes it a reliable CMS in many ways.
Presentation Layer – It has a very convenient presentation layer for easy and enjoyable authoring with the help of built-in integration. Drupal 8 provides a WYSIWYG-based, integrated editor that comes in very handy to create content rapidly.
Multi-Channel Delivery – Drupal's multi-channel delivery is an ideal feature to reach out to customers with a variety of devices. You can preview the content for any device such as a smartphone and optimize it for speed before posting it.
Collaboration – Your web development team has to share content and media for better productivity. Group collaboration, management of user-generated content, and handling activity streams of multiple users are some of Drupal's best features.
Language Compatibility – Your Drupal-managed application provides the facility to download content translations for about 100 global languages. It also allows you to hide or display the content according to the language being used, giving you a responsive web design.
Seamless E-commerce Integration – Drupal allows you to integrate eCommerce solutions seamlessly to your enterprise portal. Its eCommerce features include managing product catalogs, shopping carts, orders, and payments.
Integrated and Open-Source Platform
You can judge Drupal's integration capabilities by the fact that it provides 1800+ themes and 24,000+ free plug-ins to the active development community. It is the only CMS that fulfills all requests of corporate and small business websites, eCommerce sites, social media networks, and blogs. Drupal is the largest open-source content management platform in the world with over 15 million downloads, and nearly 1.14 million websites are currently using Drupal Core. Twitter, for example, has a community of 750,000 Drupal developers. It uses Drupal's web content management and community capabilities to power "dev.twitter.com," Twitter's global site for developers.
Scalable & Low Ownership Costs
Drupal is flexible and extendible but with the increasing requests landing on your website, it slows down. Websites can be scaled up successfully if you add complexity in increments. For scalability, the Drupal community supports 'Pressflow - a branch of Drupal core' and 'Varnish - an advanced and fast reverse-proxy. Being open-source, Drupal costs a lot less than proprietary CMS tools. Small to medium-scale enterprises that cannot afford high-end development tools can manage their web content efficiently with the free but robust Drupal.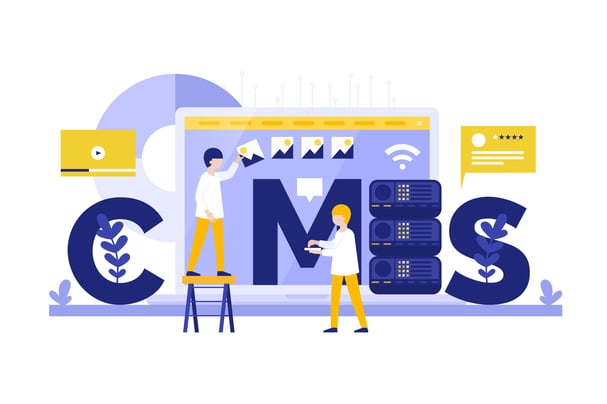 Highly Customizable
Drupal can be customized by adding new features, themes, and the latest updates without the loss of existing data. Enterprises can require a huge range of extensions based on their content needs. Drupal provides this feature with customizations as well. The templates provided by Drupal can be personalized to fulfill business requirements. Drupal customization also includes custom module development, site testing for quality assurance and deployment, optimization, and maintenance.
Drupal and the Cloud for Enterprises
Drupal is a robust and efficient CMS. However, when it uses cloud services and tools, its benefits increase tremendously, especially for larger enterprises. You can have a single Drupal core installation in a multi-site environment, without storing it with your application. The application code does not need any modification, but you can upgrade or downgrade the performance of your application by only configuring the Drupal core.
A good example showcasing Drupal's prowess on the cloud is The Economist. It manages 1.2 million articles and blog posts, digitizes the monthly print magazine, authenticates users with tiered subscription levels across the web and apps, and serves customized homepages to millions of users a day.
Drupal 10 is planned to release in June 2022.
Conclusion
Because of the above-mentioned reasons, it would be appropriate to say that Drupal qualifies as an enterprise content management tool. Its success in your organization will depend on how well planned the implementation is.
However, as with any new system implementation, for the best results, it is better to start with a simple and basic core and add complexity to the application in small increments over time.
Have you implemented Drupal in your enterprise? What challenges did you face with the implementation? Let us know in the comments below, and thanks for reading!