Being in the eCommerce business, I'm sure relaxing is just the last thing on your mind right now!
There's the increased pressure of closing the year with increased revenues! You have to leverage the much-awaited opportunity that the holiday season brings.
We all know, year after year, eCommerce sites have been minting money by selling anything and everything to the over-excited holiday shoppers. So, you must also be wondering- how hard would it be for you to boost your sales!
But there's a catch! Online shoppers are getting smarter!
Unlike a few years back, they are conducting research, comparing prices, checking the discount offers, awaiting sales launches, and above all, visiting several sites before making a purchase.
And if you are a startup, you also have to fight the established brands that are throwing in money on promotions to ensure they snatch all the profits.
So, how do you actually boost sales? This is where this article would come to help!
Going through it, you would not just find ways to improve your holiday season sales but it would also prepare you for 2020! Let's have a read.
Leverage The Direct-To-Consumer Models
DTC models, i.e., Direct to Consumer models, would become the future of eCommerce, leaving ending the eCommerce vs retail war once and forever.
This means that brands, even smaller eCommerce ones, can sell directly to their end customers without involving any middlemen. They can build real relationships and collect the customer data for a personalized experience and launch product that your customers can actually want.
Moreover, you can also eliminate the cost for the middlemen and actually sell your products at a lower price, while still making a profit.
Casper, a mattress company, started out in 2013 with a unique proposition- selling only a single type of mattress that gets delivered in a small box and expands to full size. Add to it, they offer a 100-day return policy (donating returned mattresses to charity). Casper's DTC model helped it become the mattress king and has raised $239.7 million till 18th April.
There are many other eCommerce startups like Glossier, NatureBox, Reformation, and many more that have leveraged the DTC model to grow and boost sales.
This holiday season, go direct and offer a better experience.
Offer A Clean Checkout Channel
Imagine you've found the perfect dress for this Christmas on this new shopping site but as you add it to your cart and move on to checkout, the site asks you a bunch of unnecessary questions and ask you to create a profile and what not! What would you do? Abandon cart!
A lengthy and complex checkout process is one of the biggest hindrances towards completed sales. A study by The Baymard Institute states that over 26% of the shoppers abandon the cart because of a lengthy checkout process.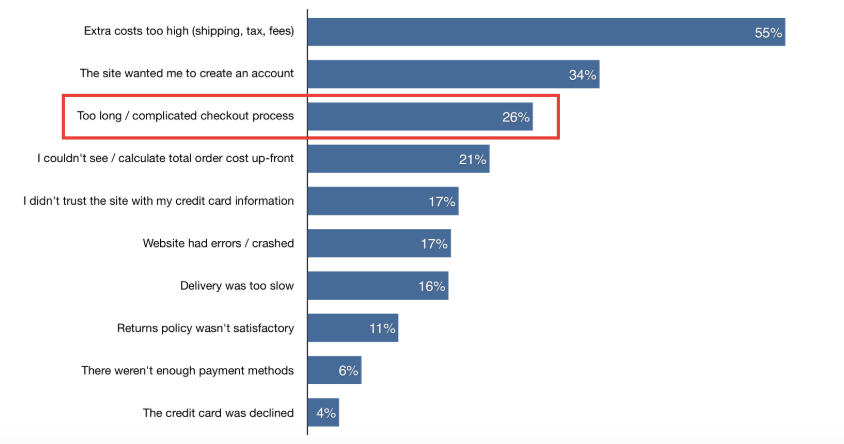 Eliminate any friction during checkout. This can be achieved through the following steps:
Don't overwhelm the users with too many fields at checkout (12 form elements & 7 form fields at max)
Offer guest checkout
Allow social registration for quicker checkout
Integrate Paypal, Amazon Pay, and other mobile wallets
Those shopping for the holiday season are in a hurry to finish off with the shopping beforehand and prepare themselves for a relaxing holiday. Make sure your shoppers are able to reach the checkout page within three clicks. Don't leave them lost in space once they add the product to the cart. Take them to the checkout page!
As a startup, even a single abandoned cart could hamper your sales. So, optimize the checkout and compel them to complete the purchase.
Revise Your Prices & Notify Customers
Another study by The Baymard concluded that 60% of the shoppers tend to abandon the cart at the checkout step due to the additional costs. These could the taxes added to the item, shipping costs, or any other additional price.
While lower prices and no shipping fee or taxes is something that eCommerce startups can use to entice the shoppers all year round, the holiday season is the best time to make up for the year's profits with this trick.
Offer free shipping on all merchandise
Give price inclusive of tax and make it visible across your website
Give special offers for each spend threshold
Send out special offers to those with a subscription
With the holiday season closing in, one of the best tips for eCommerce retail is to get started with revising their prices and sending out a message across to their audiences about the same. Perform in-depth research on the competitors and the market to gain insights and cut down the prices. Promote this price revision activity across all channels like on your website, on the app, push notifications, emails, and messages to the potential customers.
Encash the Customers' Fear of Missing Out
Whether we are talking about increasing eCommerce sales in the holiday season or increasing sales in general, a proven way is to harness the customers' FOMO aka Fear of Missing out.
A perfect example of encashing FOMO, especially for releases is leveraged by Kylie Jenner's Kylie Cosmetics. It utilizes quite a number of tactics based on FOMO:
Not unpublishing or removing the out-of-stock products to create exclusivity
Sending out restock alerts across all social media channels
Order screenshots on Twitter to ramp up the feeling of scarcity
Holiday season is the best time for eCommerce startups to harness the human psychology of FOMO. Here's a great example of FOMO marketing applied by Lou & Grey for their Black Friday sale.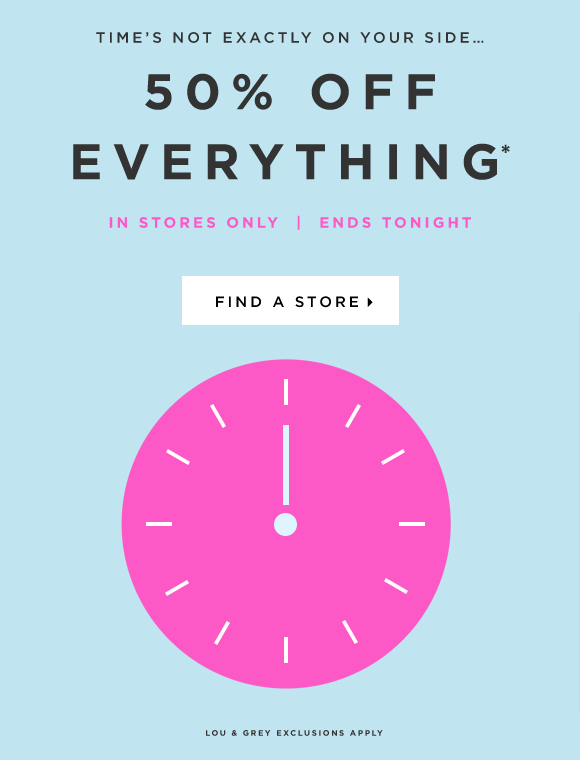 There are many ways startups can implement this fear of missing out in their holiday sale marketing plan. Here are some ways:
Add urgency to your flash sale with a countdown timer
Display the items left in the stock
Show the users making a purchase
Leverage social channels to showcase the offers
Launch Your PWA If Not Done Yet
Progressive Web Apps have become a must-have for all the eCommerce owners. With mCommerce gaining popularity and expected to account for 53.9% of all retail e-commerce by 2021, neglecting the mobile customers would be a fatal flaw for the eCommerce owners.
As a startup, funding for native apps can cost you heftily. When planning eCommerce development, going for Progressive Web Apps would certainly be the way to go.
PWAs would offer the users a complete mobile app experience on the website itself. And this UX would be seamless on all mobile devices, irrespective of their operating systems or platforms. Your eCommerce site would look like a native Android app when viewed on an Android phone and if an iPhone user views the site, it would appear as it would in the native iOS app form.
While this tip could help the startups throughout 2020, it is important that they invest in PWA technology before the holiday season and make their website holiday-ready. The optimized site speed, functionality, look, and navigation of the site on PWA would be the factors leading your startup to success in 2020.
So, What Now?
Gear up for the holiday season! And even more, gear up for 2020!
2020 would be the year of futuristic technologies. Many eCommerce store owners are even expecting this year to bring in a much-expected trend to the fore- drone delivery. Bigshots like Amazon and Dominos have started experimenting with this technology and the use of drones for locals short deliveries could be another trend for startups to watch out for.
The biggest tip for all the eCommerce startups would be to boost sales is to follow the latest trends and deliver as the user expects. After all, satisfied users is the definite key to conversions and sales.