For all those who are planning to outsource, we have put together an Outsourcing Costs Guide. This is an all-encompassing guide that will tell you everything you need to know about your costs, calculations, savings, and tips to save more for a successful outsourcing relationship. You can also Download Outsourcing Costs Guide now and read it on the go!
In-house product development refers to the development of a company's product by a team of developers that are employees of the company. Outsourced web or software development refers to the development of a company's product by a team of developers that are not the employees of the company. They can be freelance developers, or as usually is the case, employees of an IT outsourcing services provider.
For your core business projects and activities that are performed on a daily basis, building an in-house team makes full sense. Your in-house staff can be trained to your business' specific needs. The team members are always available whenever you need them. So, it is faster with in-house team to fix bugs and solve technical issues. Also, in-house staff members readily adopt company's culture.
There are certain disadvantages associated with in-house development that fuel transition from in-house to outsourcing. Some of these disadvantages are given below -
Small Talent Pool
For building an in-house team, you have to search for the right talent for the job. Unlike outsourcing, you cannot hire people from across the globe. The talent pool that you can utilize is limited by geography.
Hiring And Training
Hiring and training employees is a cumbersome process that consumes a lot of resources in terms of time and money. When hired developers leave the company, the whole process of hiring and training has to be again repeated.
High Cost
Keeping an in-house team means paying salary to each member of the team along with bonuses, insurance and other employee benefits. Apart from these, the company has to bear costs related to IT infrastructure and utilities such as electricity, etc.
When To Begin Transition From In-house To Outsourcing?
Whether you run a start-up, small or medium-sized business (SMB) or a big company, you will be able to judge when is the right time to begin transition from in-house team to an offshore team.
When you start noticing the following trends, you can think of moving from in-house to outsourcing -
A Task Is Consuming A Lot Of Your Business' Precious Time
When a task has taken the shape of a time-killing beast, an action on your part becomes warranted. For example, if your business website's development and maintenance is consuming a lot of your resources, then it is a wise step that you hand this job to a web development outsourcing services provider. This way you can focus all your energy on your core business functions that propel your business growth.
If You Are Not Getting The Desired Product Quality
If your in-house team is doing its best but is unable to deliver the expected product quality, then instead of hiring a new in-house team, you can consider outsourcing your project.
For example, if your team of developers has consistently failed to develop a mobile app that can help you achieve your business goals, then because of the advantages that outsourcing offers, it is better to look out for a mobile app development outsourcing services provider instead of rebuilding a new in-house team.
Your In-house Task Is Not Cost-Effective
If in case, a task being performed in-house is not cost effective, you can consider assigning the task to an outsourcing company. For example, IT outsourcing companies in India can do the job at a very low cost compared to developed countries while delivering high-quality product on time.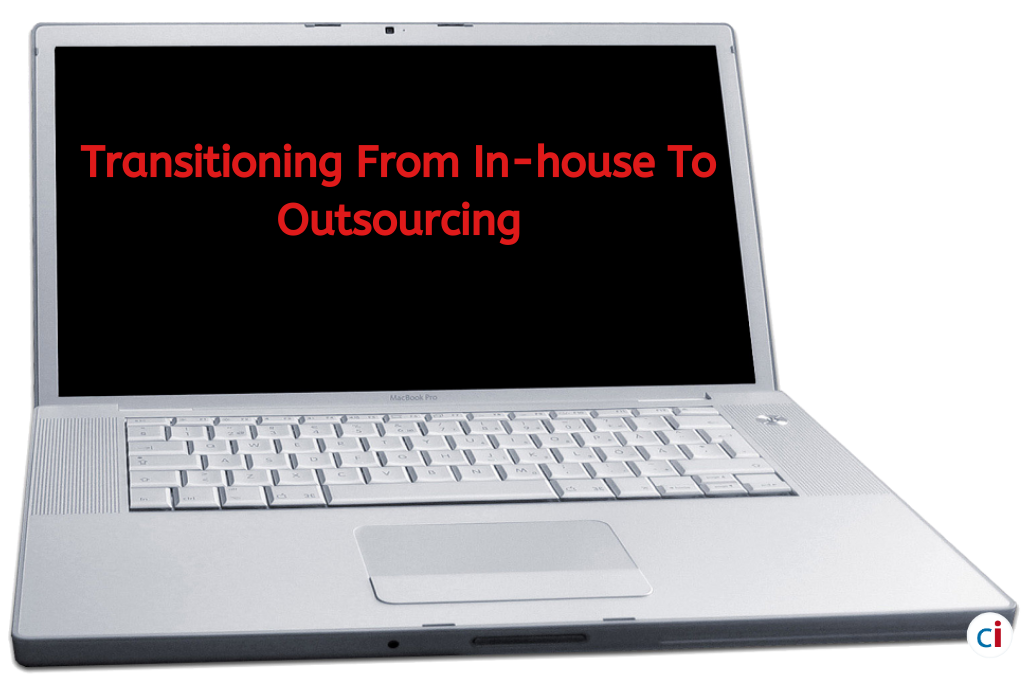 Points To Consider When Transitioning From In-house To Outsourcing
Before outsourcing your project to an outsourcing services provider, you should consider the following points -
Answer The Question - Is Outsourcing Really Required?
Answering this question is very important as it will give you a clear picture of what benefits you will get by outsourcing your project. If by outsourcing you can get your project accomplished in a timely and cost-effective manner while getting the desired quality and if outsourcing your project will save you enough time to focus on your core business, then outsourcing is a sure shot solution for your business needs.
Select The Best Match For Your Requirements
There are many IT outsourcing companies in India and other developing countries. Select an outsourcing services provider that has rich experience and expertise in providing you exactly what you are looking for.
Besides experience and expertise, you should also consider a provider's turnaround time, and the tools and technologies it deploys to accomplish the project.
Choose The Most Suitable Engagement Model
Whether you want to outsource software development or are looking for web or mobile app development outsourcing, there are different engagement models available to choose from.
You can opt for dedicated teams if you want developers to work dedicatedly just like your own employees in your time-zone. You will be able to exercise full control over your offshore development team.
Another model is remote developers model, in which you can hire developers that work remotely according to your terms. You may make use of them as an extension of your in-house team.
If you are looking for a fully managed solution, then you can go for the managed projects model. In this model, from the beginning to end, an outsourcing services provider will fully manage the outsourced project. If you want, you can choose the members that will form the team.
Take Note Of Those Extra Costs
Businesses primarily opt for outsourcing to save money. But, they forget to take into their notice that there are certain hidden costs associated with outsourcing.
Some of the hidden costs are cost involved in choosing an outsourcing services provider, cost associated with project transfer and initiation, costs associated with coordinating with the offshore development team and managing relationship with the provider, etc.
Elaborate Provider On The Product Details
Provide your outsourcing company full details about the product that you want it to develop. Make them note down all the product specifications and discuss in detail about the features that you want in the developed product. All this information will help offshore development team to efficiently and timely provide you the product matching your expectations.
Define Your Terms And Conditions Clearly In The Contract
Before signing a contract with an IT outsourcing services provider, ensure that it covers all your terms and conditions in an easy to understand language. This will save you from any conflicts later on.
Make Your Vendor Sign An NDA
Have your outsourcing solutions provider sign a non-disclosure agreement (NDA) or confidentiality agreement with you, so that your project and its details are kept secret between you and the vendor.
Take Full IP Rights Ownership
Your software, mobile app and web development outsourcing services provider must provide you full IP rights ownership of the developed product and its code.
Ensure Vendor Follows Stringent Data Security Measures
Data security is of prime importance when you think of transitioning from in-house to outsourced development. Make sure that the outsourcing vendor you have selected follows a strict security policy. Look for security measures such as firewalls, data flow control, and database monitoring gateways.
Make sure that the employees of your IT outsourcing services provider have been given the required training needed for handling sensitive data. Also, confirm that the vendor strictly monitors the internet traffic in its organization and conducts regular security audits to ensure all applications, databases and network devices are safe.
If your outsourced project deals with data of the citizens of the European Union, then ensure that the outsourcing vendor you want to work with adheres to the General Data Protection Regulation (GDPR) guidelines. Similarly, if the health data is being dealt with, then guidelines of the Health Insurance Portability and Accountability Act (HIPAA) are required to be followed by the vendor.
Check Language And Communication Skills
Before outsourcing product development to the vendor, test the language and communication skills of the developers and the vendor's project manager. This can be done by having a video conversation with them. Firstly, you can explain what you require from them for your project, then you can ask them to explain to you what they have understood.
Check Culture Adaptability
By having a video call or by visiting the vendor's place, you can talk about your work culture and learn about the vendor's work culture. If you think that the vendor's team will be able to match your work culture, you may choose the team.
By taking into consideration the above-mentioned points, you can smartly and securely transition from in-house product development to outsourced development. A smooth and safe transition will help you to effectively reap all the advantages of outsourcing.